First of all – congratulations!
You must be absolutely over the moon with excitement. Sharing the news with your loved ones is probably at the top of your to-do list, but what's the best way to spill the beans?
Have you thought about breaking the news with pregnancy announcement songs?
That's right – songs. Why settle for texts, phone calls, and FaceTime when you can go the extra length to make your pregnancy announcement even more special and memorable?
Pregnancy is a special time. So, why shouldn't your announcement be just as unique?
As you prepare to embark on this beautiful, life-changing journey, it's important to create lasting memories along the way, and what better way to do that than with a special song?
Before we put on our headphones and explore songs perfect for pregnancy announcements, it's crucial to pick the best time to share the news with your loved ones.
How long should you wait? Here's what you need to know.
The Best Time to Break the News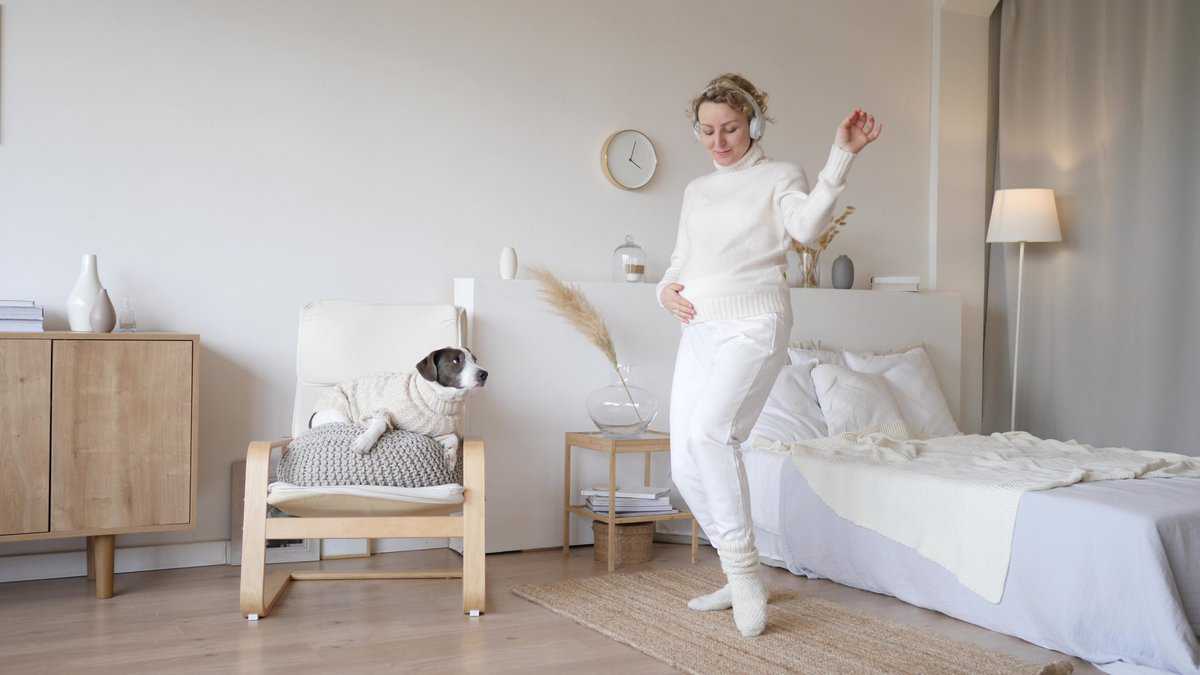 When you find out you're pregnant, you may feel the urge to tell everyone immediately. But, as the dust settles, you may find it notably harder to decide when to share the news.
It's important to decide after the initial excitement fades.
How do you do that? Well, it's not exactly rocket science, but it can be tricky.
Most women opt to wait until the end of the first trimester. Why? Because the risk of a miscarriage drops after the first trimester, and it gives you time to process your thoughts.
Before telling anyone, sit down with your partner and work it out together. Since they may have different preferences, you have to talk until you end up on the same page.
Have an honest, open-hearted conversation before moving forward.
When you're ready, consider who should be the first to know.
Sure, it's up to you, but it's a good idea to start by telling your closest friends and family. It's their support that will make a difference throughout your pregnancy – and after.
If possible, tell them in person. Songs about pregnancy are more suited for sharing the news with a wider audience as a fun way to announce your pregnancy on social media.
Waiting until the end of the first trimester is probably your best bet, but you decide to do it. Remember that once the cat is out of the bag, there are no takesies backsies.
Give yourself time to process your emotions. Gather your thoughts.
Remember: this is your journey, and you decide how and when to share the news.
Take your time. Don't feel pressured to make up your mind right away.
You want to be completely comfortable with your final decision.
And when you're ready, why not let the music do the talking?
Why Announce Your Pregnancy With a Song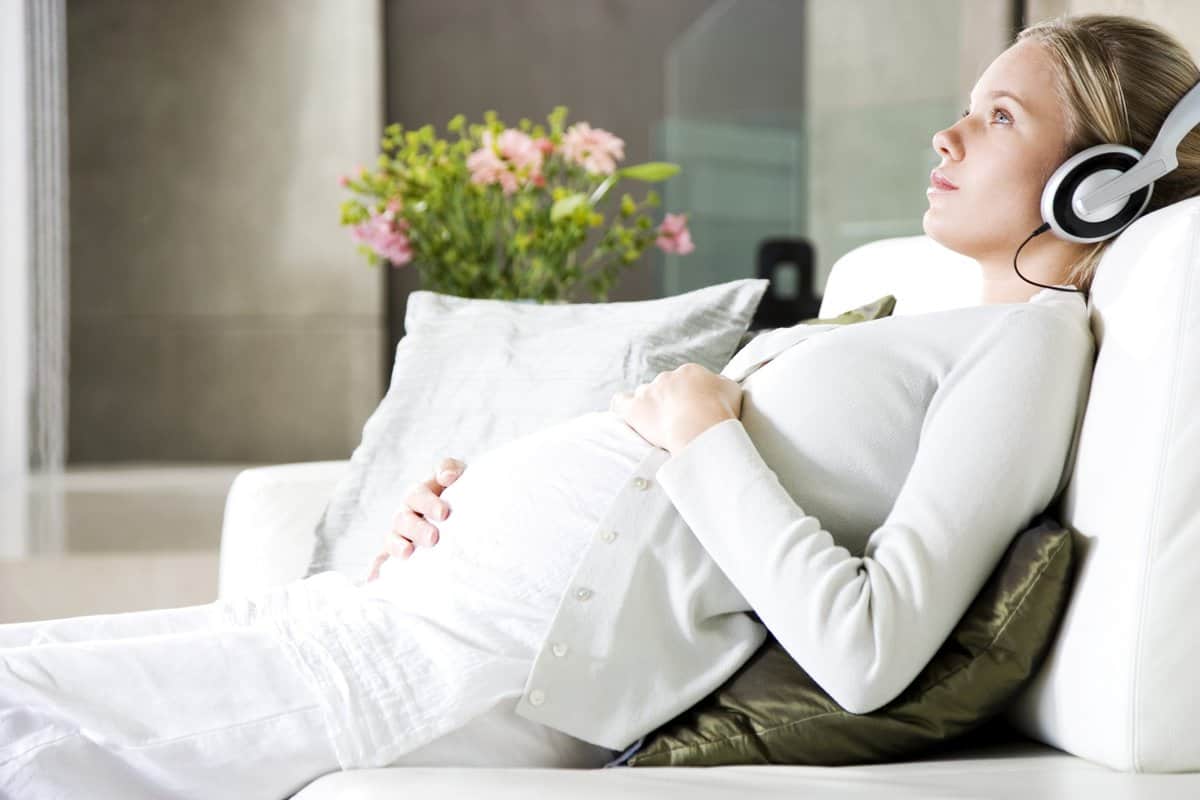 From announcing your pregnancy with homemade cookies to sharing the wonderful news with cute, clever or witty pregnancy captions – there are many avenues that you can take.
So, why not consider adding a musical twist to your pregnancy announcement?
Pregnancy announcement songs are a surefire way to engage your audience.
If you're planning to share the news on social media, you want to grab attention in the never-ending flow of information online, and that's precisely why a song is a great choice.
You can enjoy complete freedom to pick a song that matches your emotions. You can find inspiration in our suggestions or choose a song with special meaning.
Either way, the choice is yours to make, and you can personalize it however you like.
From heart-touching ballads to upbeat anthems, there are various songs to consider.
What's the first thing that comes to your mind?
Take the time to think it over because you have an endless sea of options. Do you want something that reminds you of a special moment in your life, or something totally new?
Our selection of songs about pregnancy is sure to set get the ideas flowing. But, before we start, let's take a moment to explore the benefits of listening to music during pregnancy.
Benefits of Listening to Music While Pregnant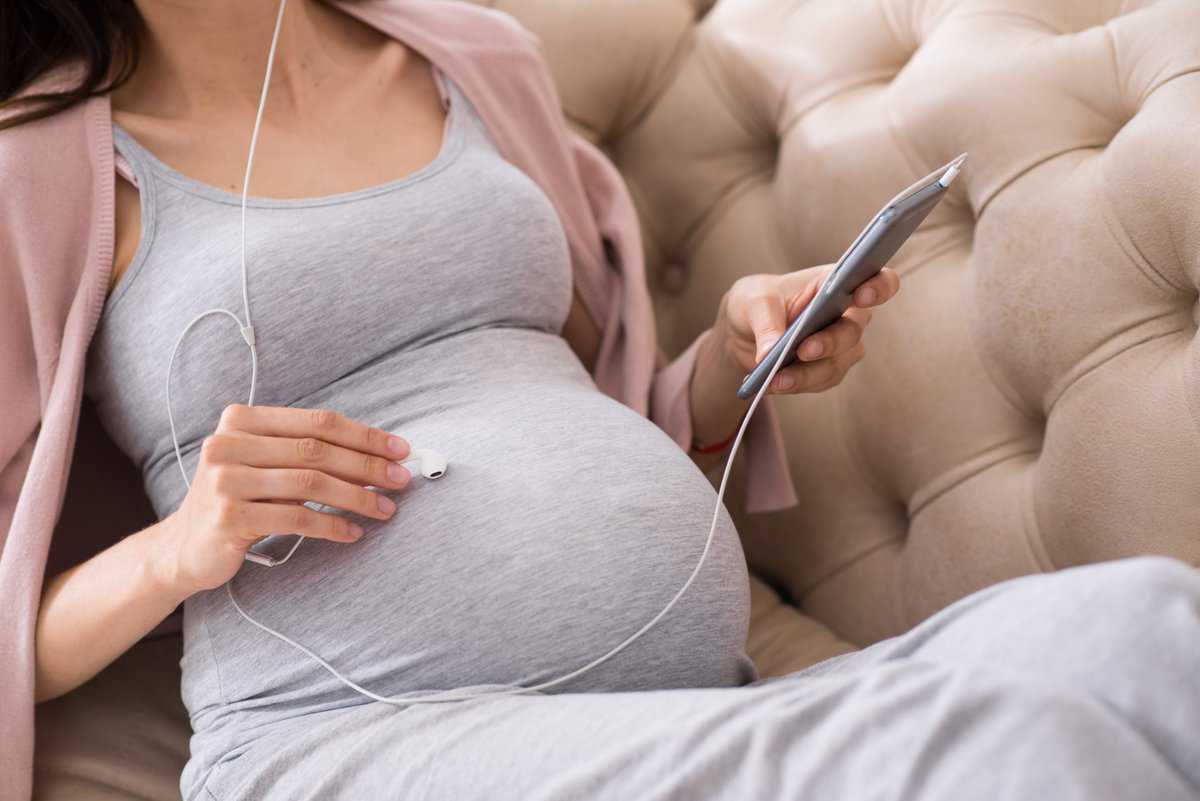 This journey is a rollercoaster of emotions. Sometimes, it's the excitement bubbling inside you, but other times you have to deal with some unwanted guests – stress and anxiety.
Making sense of your emotions and navigating the ups and downs of pregnancy should top your to-do list. You have to make a conscious effort to take care of your mental health.
What's the best way to go about accomplishing that, then?
Well, there's a variety of things that pregnant women can do to lessen stress and anxiety, from staying in shape to practicing relaxation techniques – to listening to music.
While it's important to practice multiple stress-reducing activities in your day-to-day life, music is easily accessible and can offer comfort and improve your mood right on the spot.
Songs about being pregnant can really make you feel all kinds of things. Some may bring tears to your eyes, while some can make you want to get your groove on and start dancing.
Either choice is good because they serve its purpose. Sad songs can help you sort out your feelings, while upbeat rhythms and tunes can give you a sense of empowerment.
What do you want to get out of them? It's your call.
Listening to music can also help you deal with the everyday craze of life. Whether you need a moment to yourself to unwind, relax, or just jam out, music can be a great tool.
But, there's another benefit of listening to music that often goes overlooked.
It's fun for your baby, too! Not only fun – it's actually beneficial to their development.
Just put the headphones directly on your baby bump and share your favorite tunes with your little one. Your baby is able to hear and detect sounds – so why not play some music?
Let's jump right into our selection of the best pregnancy announcement songs.
The Best Pregnancy Announcement Songs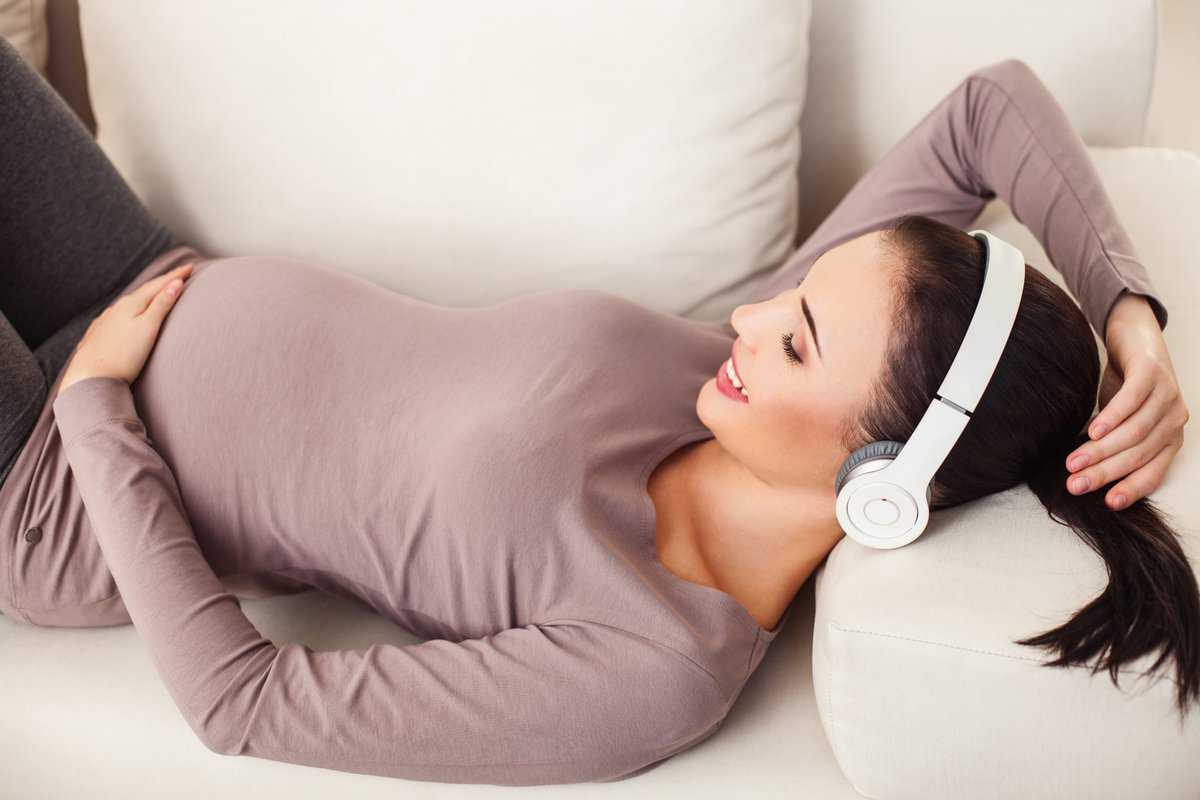 Now, finding just the right song may take some time. There's a sea of options to explore, but it all really comes down to your personal taste. We're here to help you get started.
Even if you don't manage to find the perfect song for your pregnancy announcement in our song list, it's sure to get you pumped and excited about this next chapter of your life.
So, grab your headphones, kick back, and let's dive in.
1 • Guns N' Roses – Sweet Child O' Mine
Let's kick things off with a classic rock song, shall we?
"Sweet Child O' Mine" is technically not a song about having a baby or being pregnant, but the thing about music, or any kind of art, is that it is always open to interpretation.
While the song was originally inspired by a romantic interest, the lyrics are written ambiguously. That gives it a layer of profoundness that would otherwise be unreachable.
You wouldn't be able to tell who the singer is referring to without any context.
But that's the beauty of music, isn't it? You get to experience it in your own way.
"Sweet Child O' Mine" is among the best and most popular pregnancy announcement songs. Why? Well, it's just so catchy. You can't help but tap your feet along to the rhythm.
Everyone who hasn't been living under a rock knows this song. So, it's sure to grab attention. If you're going to use it to compliment your announcement – it's a cool pick.
2 • Pharrell Williams – Happy
Want to put a smile on everyone's face?
Look no further than "Happy" by Pharrell Williams, the most popular feel-good anthem that celebrates joy and happiness and is guaranteed to get everyone in a good mood.
"Happy" is a song that inspires positivity on any given day but can also set the perfect tone for your pregnancy announcement. Why? Because it's just so catchy and uplifting.
This is basically your go-to option if you want to get people as excited as you are.
While "Happy" by Pharrell Williams is not a song that specifically touches on the joys of pregnancy, it sure does capture the vastness of emotions you must be experiencing now.
Despite the challenges that lie ahead, you're stoked and eager to tackle them head-on.
"Happy" reminds you to stay positive and grateful.
You're expecting a baby, and that's something to get excited about!
So, if you want to share your infectious excitement with your closest friends and family, "Happy", with its upbeat tempo, inspiring lyrics and catchy chorus, is your best bet.
3 • Whitney Houston – I Will Always Love You
"I Will Always Love you" by Whitney Houston may seem like an unusual pick for a pregnancy announcement, but it delivers a powerful message about love and hope.
As always, the lyrics mean different things to different people, and that is the beauty of music. It allows you to give it your own spin, feel the song and find your own meaning.
Lyrics are never meant to confine. They're meant to inspire us to think more broadly.
Despite the fact that "I Will Always Love You" is a song about the persistence of love after a relationship's end, it can also symbolize a parent's love and hopefulness for their child.
It's a reminder that your bond with your child is unbreakable, no matter what happens.
So, if this song resonates with you, captures your emotions, or has a special meaning for you, don't hesitate to use it as a pregnancy announcement song on your social media.
Remember: there's no wrong song to use. If it speaks to you and if you're happy with your choice, then that's all that matters. This is your own personal journey, after all.
Don't aim to please others if you have something unique on your mind.
Go for whatever you feel is right.
4 • Katrina & The Waves – Walking On Sunshine
You can't have a list of pregnancy announcement songs dedicated to celebrating the arrival of a new life without including "I'm Walking On Sunshine" by Katrina & The Waves.
Everyone knows and loves it – and it's downright impossible not to vibe to it.
It's the perfect feel-good song to express your excitement.
The main reason we've added "I'm Walking On Sunshine" to our selection of songs about pregnancy is because it perfectly captures the emotions you're experiencing right now.
Elated, over the moon, and beyond yourself – this song fits like a glove.
Even if you're not planning to use it as your announcement song, you should still give it a listen. It's going to lift your mood and take your mind away from the day-to-day stress.
Right now, you're feeling on top of the world, and what better way to celebrate and encapsulate that beautiful feeling than with a song that's all about dancing through life?
Yes, there's a lot of uncertainty and a lot of challenges that lie in wait, but it's essential to stay optimistic, to celebrate life, to be present in the moment, and enjoy the journey.
You will soon have a baby to look after. Do your best to prepare.
5 • Bob Marley & The Wailers – Three Little Birds
Bob Marley is known for spreading positivity across the world. He's all about love, peace and harmony, and his song "Three Little Birds" embodies all of that in a meaningful way.
Sure, it's exciting to know that you're growing a tiny little human inside you, but there's no denying that it can also be nerve-wracking. Still, it's perfectly normal to feel this way.
Pregnancy comes with its ups and downs, but you're still the captain of the ship.
"Three Little Birds" is as reassuring as it is positive. Let's face it, when you're entering the unknown world of pregnancy for the first time, it all seems scary and overwhelming.
You have to navigate unknowns, and face a lot of challenges head-on, but it all works out in the end. So, if you're feeling overwhelmed, let this song remind you that you've got this.
While "Three Little Birds" by Bob Marley wasn't written exclusively with the intent to empower pregnant women, its message is universal and can resonate with anyone.
That goes to show how powerful Bob Marley's music actually is.
The melody is catchy, comforting, and sure to lift your spirits during this exciting yet sometimes stressful time as you look to tell the world that you're expecting a baby.
6 • Kool & The Gang – Celebration
Do you really want to get your groove on?
"Celebration" is a classic hit from the '80s that's sure to get the party started.
It's a great song to celebrate just about anything, but it's the perfect song to kick off your new pregnancy adventure. No two ways about this one – it's all about positive vibes.
"Celebration" by Kool & The Gang is a special song that has a way of bringing everyone together. The melody is sure to get your friends and family just as excited as you are.
You're entering a new chapter in your life. You might have mixed emotions. You might have to face obstacles, but "Celebration" reminds you to appreciate your blessings.
You're carrying a child. What's more special than that?
"Celebration" isn't just about getting down on the dance floor. It's also a reminder to appreciate and enjoy the little moments in life – to stop and smell the roses, as they say.
We all tend to get caught up in the hustle and bustle of life, but it's the little things and moments that matter most. We all need to take breaks and to enjoy the present moment.
Otherwise, life may very well pass us by.
That's why it helps to listen to songs about pregnancy.
So, celebrate life by noticing its beauty more often and cherishing every step of the way.
7 • John Lennon – Beautiful Boy (Darling Boy)
Got a baby boy on the way? This song might be just the one for you. If not, keep scrolling because there are a lot of other pregnancy announcement songs for you to choose from.
Ever heard of John Lennon? Who hasn't? He's kind of a big deal. But you may not have heard this particular song before, celebrating the bond between a father and his son.
"Beautiful Boy (Darling Boy)" is a perfect choice for announcing your pregnancy if you're expecting a little boy. It's an emotional song that may tug at your heartstrings.
John Lennon expresses his hopes and dreams for his child – something that every parent can relate to. Despite the fear and uncertainty of life, we all want what's best for them.
We want to protect them from the craziness of this world, but John Lennon sings, "Say a little prayer", reminding us of our own vulnerability as parents that tend to worry a lot.
When you're pregnant, parenthood may feel like light years away. But, best believe that it's just around the corner. Before you know it, your baby's out there exploring the world.
As much as we want to protect our kids, we can't hold their hands every step of the way. We have to trust that we've instilled the right values and taught them the right lessons.
In this song, John Lennon reminds us that we as parents, can only do so much. One day, they will set sail, and you will have to let them make mistakes. It's how we all learn.
So, do your best to prepare your child so that they can handle whatever comes their way.
8 • Mumford & Sons – I Will Wait
"I Will Wait" may have been intended as a spiritual song about the singer's relationship with God, but music is like a canvas – it can be interpreted in so many beautiful ways.
This song is really about new beginnings, and you're in for a big one.
"I Will Wait" captures the essence of your two biggest feelings right now – excitement and anticipation. You're about to start a new chapter in your life. You've already started it!
Having a baby is all about cherishing every moment, even the difficult ones. There will be many ups and downs on your journey, some mistakes, too – but it's all worth it in the end.
While some songs about pregnancy make for an upbeat pregnancy announcement, "I Will Wait" is more about the spiritual and emotional journey of waiting for your bundle of joy.
It's a real rollercoaster. It's not all rainbows and unicorns. Your emotions can go all over the place during pregnancy, but it's important to stay focused on being driven by love.
You may not have given birth yet, but you're already a parent in so many ways.
Hold on tight, enjoy the ride, and know that the day will soon come.
9 • Stevie Wonder – Isn't She Lovely
A timeless classic that stands the test of time, "Isn't She Lovely" is an incredibly sweet, upbeat song that makes for a perfect choice to announce the arrival of your baby girl.
Yes, baby girl, because "Isn't She Lovely" is suited for parents expecting a daughter.
"Isn't She Lovely" by Stevie Wonder describes that otherworldly moment the first time you lay your eyes on your child – the pure bliss and joy that hits you like a ton of bricks.
No doubt about it, it's one of the few feelings that are so beautiful that they make up for all the adulting that we have to do. It's a feeling that makes up for all the sleepless nights.
In terms of simplicity, this song is a breath of fresh air. There are no confusing lyrics or pointless philosophical mumbo-jumbo. It's all about that special, life-changing moment.
Let's not forget to mention that the melody is outright contagious. So, don't be surprised when you catch yourself humming the tune for days on end, having it stuck in your head.
10 • Creed – With Arms Wide Open
"With Arms Wide Open" is a song with vast emotional depth.
Songs like "With Arms Wide Open" are nothing short of an emotional rollercoaster. From endless anticipation to worrying about what's to come, it's a relatable musical ride.
Even before your bundle of joy arrives, you start to experience all sorts of changes. That's precisely what this song captures. It's about hope, dreams, fears, love, and gratitude, too.
This song not only prepares you for the moment your baby arrives but also for everything that comes after – the first steps, the first words, the first "Mom," and the first "Dad."
It's kind of like a parenting starter kit, except it's, well, a song.
Songs about being pregnant are great for breaking the news on social media, and telling your friends and family, but they're also a pool of knowledge and wisdom that you can use.
Picking this song is sure to tell everyone just how much this means to you.
11 • Celine Dion – A Mother's Prayer
"A Mother's Prayer" by Celine Dion is a sweet song that perfectly captures the essence of motherhood. The lyrics speak directly to all the hopes, fears, and love of being a mother.
It's an emotional one, so don't be surprised if there's some waterworks. Might want to prepare some tissues in advance, just to be sure. But it's absolutely worth your time.
"A Mother's Prayer" is like a pep talk that you didn't know you needed. Sure, there will be tons of question marks at first, but you're ready to take on this new, exciting journey.
Your baby is not here in your arms yet, but you already feel a strong protective urge. It's a feeling that's hard to put into words, but Celine Dion does it in "A Mother's Prayer."
You have to trust that you're ready and able to tackle the challenges that lie ahead.
Even though your baby is not born yet, you're already a mother. You prepare more with every passing day. So, don't fear what's to come. Embrace it with your heart and soul.
12 • James Brown – I Got You (I Feel Good)
Who doesn't know this song, really? You've likely heard it before. And, yes, it's about a romantic partner, but that doesn't mean that you can't use it to break the big news.
There's more than one way to cook an egg, so to speak.
The song "I Got You (I Feel Good)" is about a significant other, but there's no reason not to make your pregnancy announcement about your partner and your journey together.
After all, you've made a baby together. So, celebrate!
What makes James Brown's "I Got You (I Feel Good)" such a fitting choice to spill the beans on social media? Well, it's catchy, fun, upbeat, and sure to get people smiling.
No way anyone listens to this song without bopping their heads and screaming those classic 'Heys' in perfect harmony. But, it's not just a funky song with a catchy beat.
It's about staying positive and making the most out of your pregnancy adventure.
It's about feeling good, despite the difficulties that you might face.
With the right attitude, you can tackle anything life throws your way. So, besides the good vibes, "I Got You (I Feel Good)" is sure to get you feeling more confident than before.
13 • Reba McEntire – You're Gonna Be
When you find out that you're having a baby, it's not just joy that fills your heart. It's like you've discovered a new, unexplored layer of your heart and soul, and dived deeper inside.
It's not just your everyday life that changes, nor solely your priorities that alter, but you, as well. In a way, you're not only waiting to give birth to your baby but to yourself, too.
You have to relearn to love and accept yourself as these transformations occur.
"You're Gonna Be" shines a spotlight on the whirlwind of emotions inside you. It's proof that songs aren't just catchy tunes to dance and vibe to but journeys of self-discovery.
So, what exactly does Reba McEntire actually tell us?
Well, Reba McEntire doesn't like to sugarcoat things. She sings about all the fears, dreams, and uncertainties of bringing a new life into this crazy world.
So many things must be going through your mind – and that's perfectly normal.
Having a baby inevitably gets you thinking (and often overthinking) about their future. There are going to be many mistakes, setbacks, and failures. You have to believe in your abilities.
Reba McEntire reminds you that there's nothing that you can't handle.
This song is also a great source of inspiration if you're a single mom.
14 • Carrie Underwood – All-American Girl
There are many good country songs that are relatable during pregnancy, but Carrie Underwood's "All-American Girl" might be the best song if you're having a little girl.
Sure, the melody is catchy and laidback, but it's the lyrics that really stand out.
Carrie Underwood signs the story about a father who was expecting a baby boy but ended up with a little girl instead. Still, he falls head over heels in love with his baby girl.
As Carrie Underwood puts it, he ends up 'Wrapped around her finger.'
The music video is worth a mention as well because it takes us on a journey, capturing every precious moment of the father's little girl, from her birth to her graduation day.
The beauty of country songs is that they often tell stories that are close to our hearts.
You might think that these moments are so far away when you're still waiting for your baby to arrive, but songs about having a baby can help you get ready for what's ahead.
They can also get you all giddy with excitement. That's why Carrie Underwood's "All-American Girl" is a perfect pregnancy announcement song if you're expecting a little girl.
15 • George Strait – I Saw God Today
Our last pick is George Strait's "I Saw God Today", a heartwarming country song that tells the story of a father who has just witnessed a life-changing event – the birth of his baby.
We've had some groovy songs on our list, but this one is all about sentimental value. It captures that incredible moment when you finally get to hold your baby in your arms.
When your baby grabs your finger for the first time, the world stops. Everything changes. You just freeze, kind of like a deer in headlights. There's nothing quite like it.
That's the real miracle of birth, isn't it? Not only the event itself but the emotions that come along with it. It's like being hit by a wave of love and responsibility all at once.
Yes, it's scary, but it's also life-changing.
"I Saw God Today," and similar songs about having a baby give you a glimpse of what you may feel when your baby finally arrives. You can't really prepare, but it's nice to know.
So, if you want to celebrate your journey with a pregnancy announcement song that's full of joy, love, hope and optimism – George Strait's "I Saw God Today" is a real no-brainer.
In Conclusion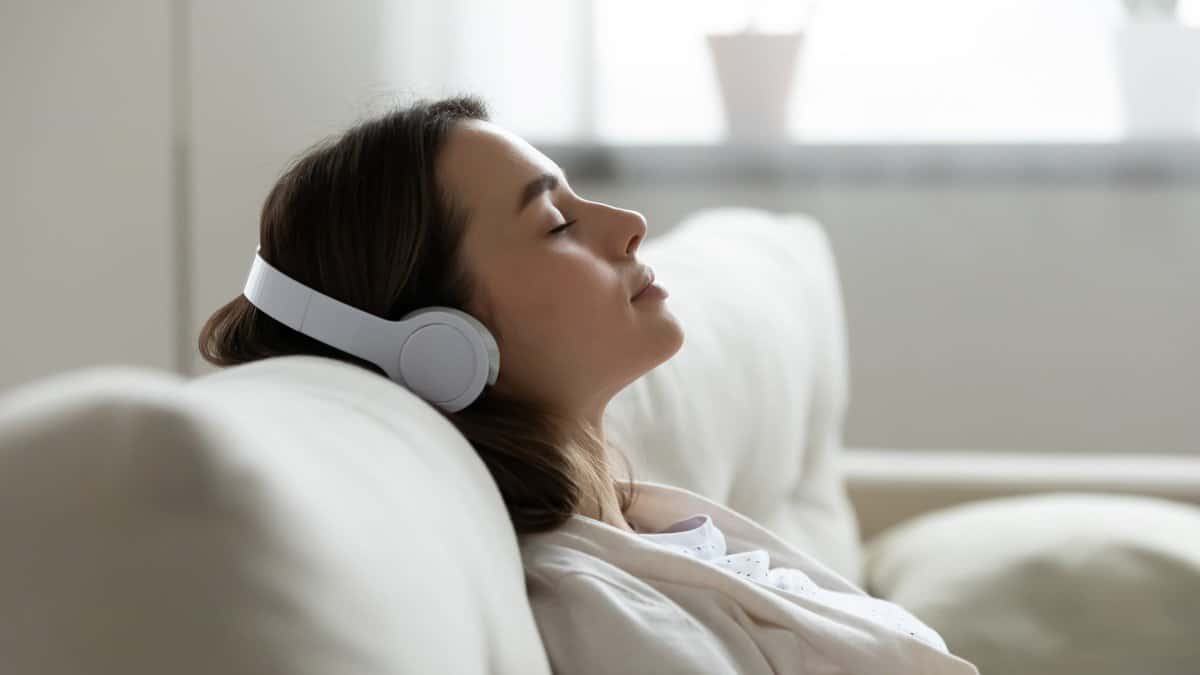 As you can tell, pregnancy announcement songs come in a great variety. While the list is nothing short of endless, we've rounded up the best songs to share with your loved ones.
From country songs like Carrie Underwood's "All-American Girl," which has a meaningful message and a beautiful music video, to Stevie Wonder's classic hit "Isn't She Lovely."
The list goes on and on. There's no shortage of options available when it comes to songs about having a baby. You could easily spend your whole pregnancy listening to them all.
So, if you want to tell the world that you're expecting a baby, our selection of pregnancy announcement songs is sure to give you some ideas and help you find the perfect one.
While these songs are great, they're not just catchy tunes to vibe to. These songs serve as a reminder that pregnancy is a journey full of ups and downs – and that it's special, too.
During this time, listening to music can help you navigate your emotions as you get ready for your baby to arrive. So, put on your headphones once in a while to relax and unwind.
Undoubtedly, having a baby can be just as stressful as it is exciting. Let the music take you away. Songs can help you find shelter from the chaos of everyday living.
Take some time to yourself and let the music work its magic.
Don't forget: when choosing the best song to tell the world you're having a baby, remember that you don't have to feel pressured to pick something others love.
This is your journey, your baby, and it's your personal decision.
So, pick something that makes you happy and let the world hear the good news.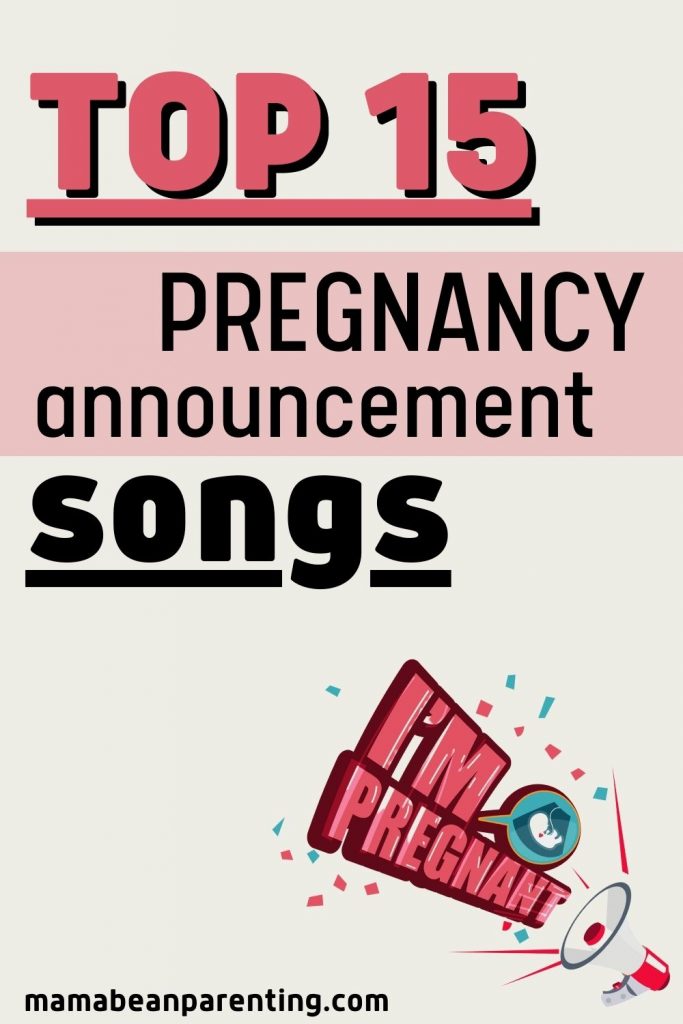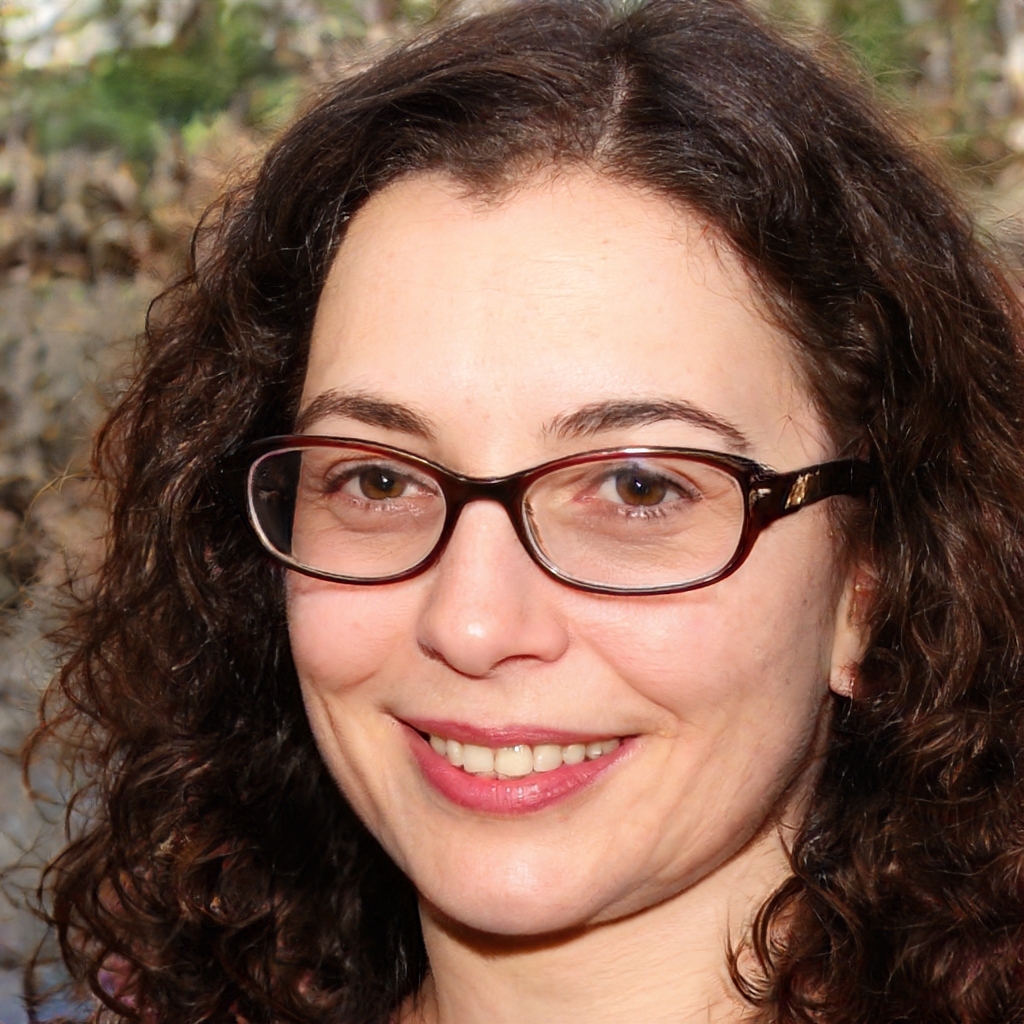 Mother of three and a primary school teacher. I've always loved being around children and helping them, so I chose my path as a teacher. It is sometimes hectic with three children, but I am 100 percent into it and wouldn't change it for anything in the world.