"When does baby hair texture change" is a more common question than you think.
Many people would say they don't care about this, but when you have a baby, you notice every little detail and you're interested in everything.
A baby's hair texture seems irrelevant, but knowing these things can help you take care of your baby's hair.
It's also fun to learn more about this topic. You never know how your baby's hair will look in the future and it's always exciting to expect something.
Being a first-time mom is life-changing, and everything is important to you.
You enjoy every moment of your baby's life and you care about every detail connected to their health, appearance, and happiness.
If you want to know when baby hair texture changes, keep reading. This article will teach you all about baby hair.
When Does Baby Hair Texture Change?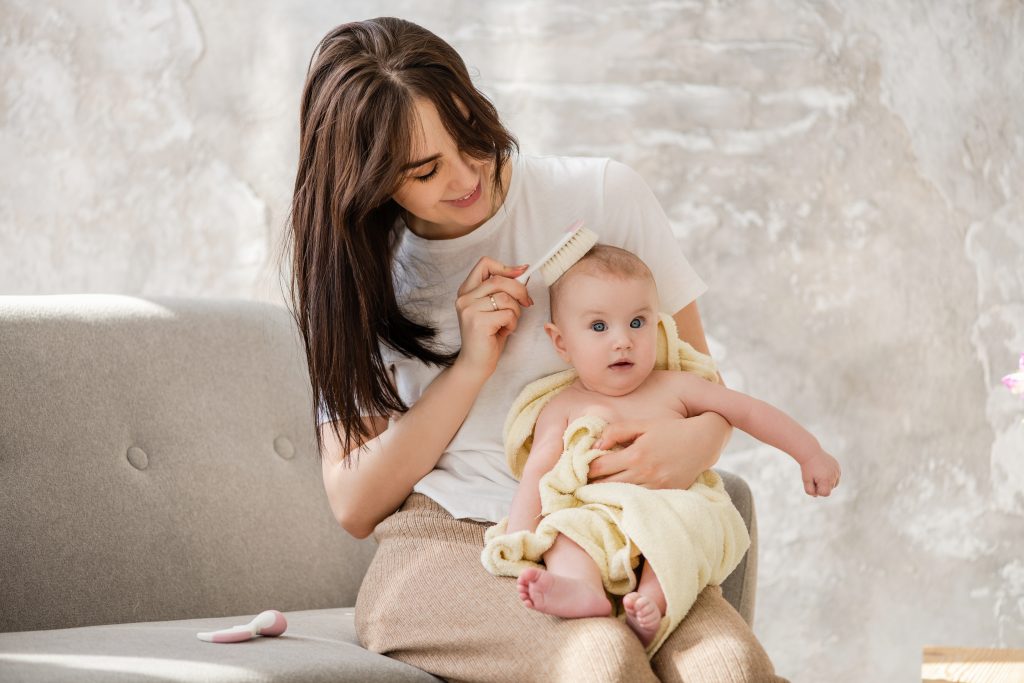 Your baby's hair grows in phases and will change for the first two years.
All babies tend to have soft, silky hair that becomes coarser and different. It's not so silky and soft anymore with time.
When your baby is 24 months old, you will notice that its hair is different than before and that it has a certain shape.
According to science, your child's hair will still grow and change until they're 8 years old.
When we talk about hair texture, we have to remember that everything is individual. You shouldn't expect certain things to happen, and you shouldn't be surprised if your child ends up with a different hair than you've anticipated.
But let's explain when baby hair texture changes and how. You should know more about hair phases.
Lanugo Hair Phase
Lanugo is the first hair your baby has. This hair type starts to grow while your baby is still in the uterus.
Lanugo hair is soft and thick, but it falls out in the first weeks and months after birth. It's even possible that lanugo hair disappears while your baby is still in the womb.
In this case, the hair is absorbed by amniotic fluid. Lanugo hair is soft and grows all over the baby's body, not just the head.
Lanugo hair is essential for your child's skin. As you know, babies are born with vernix caseosa all over their bodies.
Vernix caseosa is also called birthing custard because it looks like a waxy, cheesy substance.
The role of this substance is to protect the baby's skin from amniotic fluid. Lanugo hair is essential for that protection because vernix is attached to lanugo hair.
That being said, lanugo hair is important for your child's skin, and that's why it grows all over the baby's body.
This type of hair is normal for newborn babies, but if lanugo hair is present when someone is older, this could mean there is some kind of disease present.
Vellus Hair Phase
Since you know that the lanugo hair phase lasts for a short period, it's logical that some other type of hair will replace lanugo hair.
Vellus hair comes after lanugo hair. It's important to know that vellus hair starts forming even while your baby is still in the womb.
It starts to replace the lanugo hair slowly. Vellus hair is even finer and softer than lanugo hair.
Compared to vellus hair, lanugo hair is much thicker and darker. Vellus hair is present on everybody's skin during childhood, and most women have body parts with vellus hair.
For example, the fine hair you see on your face when you face the sun, that's vellus hair. It's commonly known as peach fuzz.
Most vellus hair becomes terminal hair during puberty. This happens due to hormonal change, which is expected during puberty.
If you notice an overgrowth of vellus hair, you should know that it can be a symptom of some medical conditions. Some diseases can also cause undergrowth of vellus hair.
Terminal Hair Phase
The terminal hair phase begins when your child is about 12 months old, and it last for one year.
In this phase, vellus hair becomes terminal hair. Terminal or androgenic hair is thick and coarse.
Your baby grows, and the hair also grows and changes. With time, the hair follicles of their hair develop into adult form.
The oval-shaped follicles are related to having straight hair, while round-shaped follicles are connected to having curly hair.
If the child's hair becomes wavy over time, it means that the hair follicles and their shape are somewhere between oval and round.
Hair Texture And Genetics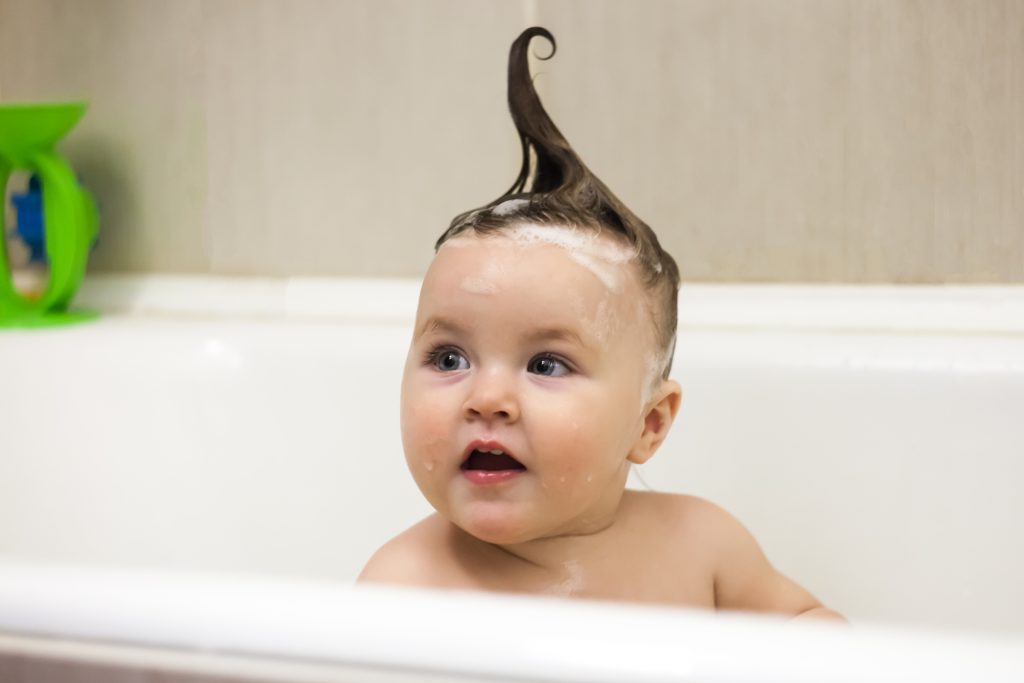 As you can see, the answer to the question of – when does baby hair texture change is quite simple. You can expect it in the first two years of the baby's life.
The child's hair continues to mature through life and puberty. Like everything else, hair is also something that changes as the child grows.
Most of these changes take time, and you probably won't notice the happening day by day.
Many parents are curious about their baby's hair texture and hair change. We wonder if our kid is going to have straight or curly hair.
We also want to know more about hair color.
The good news is that baby's hair texture depends on genetics. So, look at your and your partner's hair.
Your baby may inherit hairstyle from someone else in the family too. Genetics plays an important role when it comes to baby hair texture, hair growth, and hair color.
Hair Care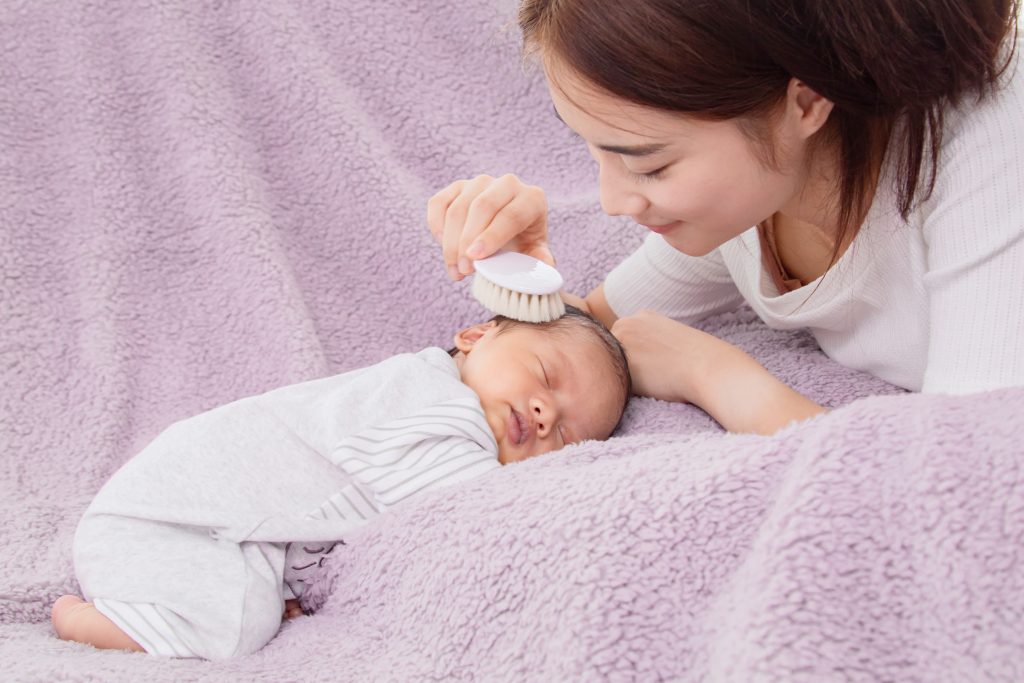 We like to pay attention to our hair. Most women use different hair products to look good.
Using Olaplex and healthy dry shampoos is something common nowadays.
We also like to use gentle products for our babies. But do you know everything about baby hair care?
Baby hair care is simpler than ours but still needs your attention and dedication.
You need to find the right hair care if you want to improve your baby's texture and overall appearance.
Many people with curly hair don't know how to care for their curls. Using the wrong products can lead to a messy look.
So if you're interested in when a baby's hair texture changes, you will also be interested in caring for a baby's hair.
I will give you some essential tips about taking care of straight and curly hair, but there are some general rules to follow when discussing hair care.
First of all, keep it simple. It will be complicated until you find the right products, but create your routine and stick to it when you do.
Most kids don't like when we touch, brush, or wash their hair. This is not something unusual, but it's challenging for a mom who wants to take good care of baby's hair.
Try to think of fun ways or some games connected to hair care. You can pretend that you have a hair salon.
You need to encourage them and help them to forget about their fear of hair care. Another common problem is the fear of hair dryers.
Some kids love it, but some don't. This can be a problem, especially if your little one has longer, thicker hair.
When hair is left wet for too long, it's possible to get an ear infection or a headache. This is inevitable if you let your baby outside after hair washing.
So, find a good hair dryer that works fast. If the child loves it, that's great. If the child is scared, then find a way to make the hair dryer interesting.
Decorate it with some stickers your child likes. Pretend that the air dryer is a wind. Find a fun way to introduce hair care to your child.
Curly Hair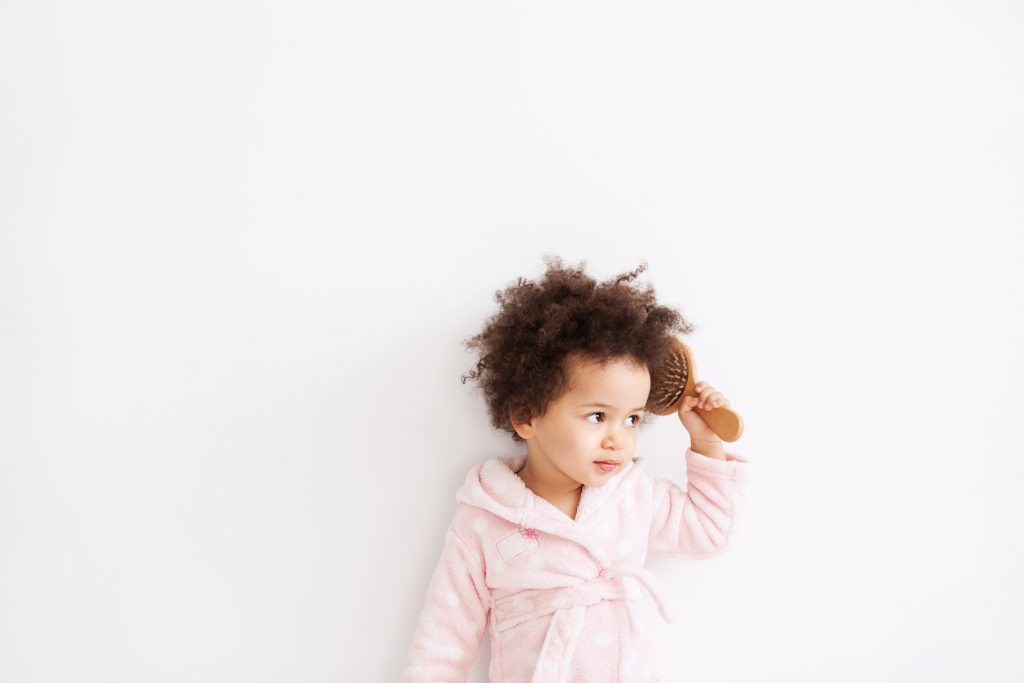 Curly hair is more difficult to deal with. If you want to make a great curly hair look, you have to invest in some products, and you have to learn a few tricks.
Don't Wash It Too Often
If your baby's hair is not super-dirty, washing it every day is unnecessary. Curly hair can easily become dehydrated or dry, and washing it too often can lead to these complications.
When your baby's hair is dry and stripped from its natural oils, it will be very hard to comb it or style it.
Combing sessions will be painful, and your child will hate taking care of their hair. So, to avoid this, wash your baby's hair once or twice a week.
Use Mild Shampoo
No matter which baby product you're using, it should be gentle and good for the baby. Use high-quality products recommended by health professionals.
For washing your baby's curly hair, choose a good shampoo without harsh detergents and ingredients.
It's okay to use something stronger once a month to deep clean the scalp. Harsh shampoos will dry out the hair and cause itchy scalps.
Many shampoos are marked as baby shampoos. Unfortunately, most of them aren't gentle enough or beneficial. This is why it's good to do your research and find the best shampoo for your baby's hair texture. Look for products with good ingredients.
Moisturize The Hair
Curly hair can become dry, frizzy hair in no time. Not washing your baby's curly hair too often and using gentle shampoo is important, but using something to moisturize the hair is even more important.
When it comes to choosing the best hair conditioner, hair mask, or leave-in product, this is something that will take time.
Once again, finding good products requires your time and research skills. Curly hair needs to be hydrated. It will be healthier, but it will also look great when it's moisturized.
Using Oils
We all know that oils are amazing for nurturing hair, but what about baby's hair? You can use oil on your baby's hair too.
Oils are great for your baby's scalp, hair growth, and hair thickness.
Natural oils like coconut, olive, or argan oil are the best option. However, baby oil is also great for hair and skin care.
Finding The Right Brush
Finding the right brush is crucial for taking care of your child's hair. It's even more important to find a good, detangling brush when your child's hair is curly.
Curly hair should only be brushed while it's wet. Brushing it when it's dry will create messy hair.
Straight Hair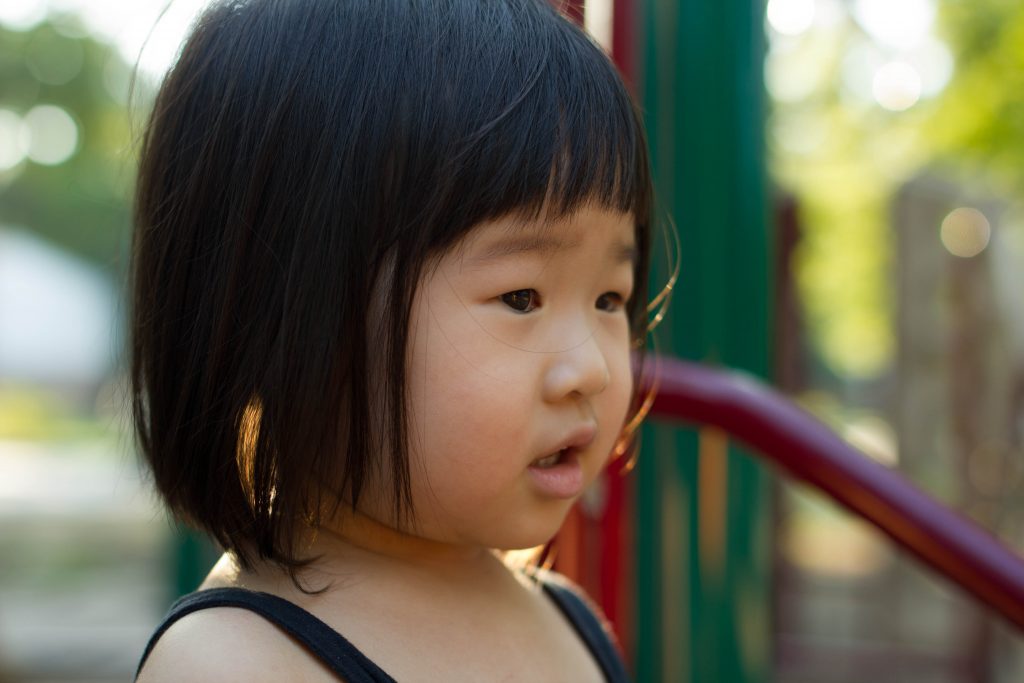 When it comes to taking care of your child's straight hair, it's not so much different than taking care of curly hair.
Still, there are some differences and rules to follow. Straight hair is a bit easier to handle, so you won't have to worry too much.
You Should Wash Straight Hair More Often
Straight hair tends to be oily and it gets dirty much faster, unlike curly hair. For that reason, try to wash 3-5 times per week. If your baby's hair is very oily and dirty, you can wash it every day.
Choosing The Right Shampoo
Mild and gentle shampoo is necessary for all hair textures, but it's even more important to find a great shampoo if the child has straight hair.
Since you will be washing straight hair more often, it's important to find a shampoo that's not too aggressive.
There are many natural, gentle shampoos for everyday hair washing. It's also important to focus on the scalp when washing the hair.
There is no need to wash the rest of the hair every other day. If you do that, the hair will become brittle and frizzy.
Be Careful With Conditioning
Every hair needs moisture, but when your baby has soft hair that's also straight, you have to be careful when using a conditioner or a hair mask. Leave-in products can also be tricky to use.
Just like you should put shampoo on the scalp only, you should also put conditioner and similar products on the ends only.
This way, you won't make the scalp greasy. Don't use too much of moisturizing products, and try to follow instructions.
Detangle The Hair Often
Straight or curly hair – detangling is a must. But, since curly hair is hard to brush out when it's dry if the tangles are not visible and messy, it's okay to wait until it's wash day.
Straight hair requires frequent detangling.
As I've said, straight hair is usually soft hair too, and if you don't detangle it as soon as possible, you might have to cut it.
We all know that detangling and hair knots are not fun, especially when a child has issues with these things.
Baby Hair Growth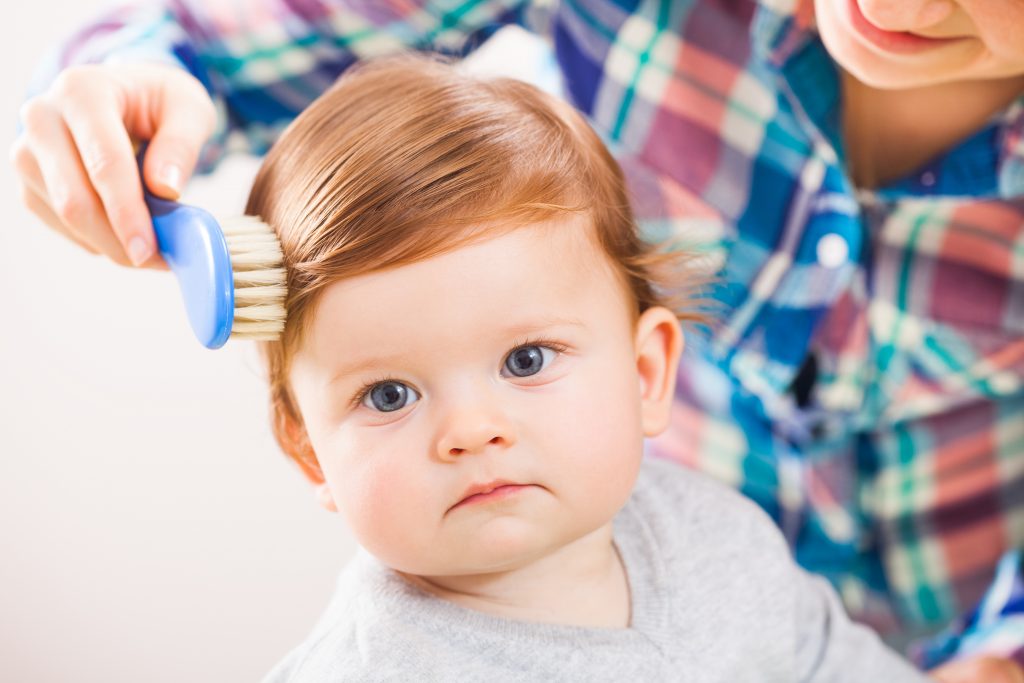 As your baby's hair grows, hair change is inevitable. Hair grows without any help, but sometimes we want to speed up the process of hair growth.
Sometimes you want your child to have long, beautiful hair. In some cases, your child wants longer hair. Besides good hair care and good products, it's important to give your child healthy food for hair growth.
Proteins, vitamins, and minerals are essential for healthy, thick, and long hair. Don't use any supplements or products for hair growth.
Focus on a more natural approach.
Good eating habits and healthy food will be helpful for many things. Another important thing is making sure your little one drinks enough water.
Hair needs hydration from the inside too. The hair follicles will grow hair faster when your body is hydrated too.
One of the best natural hair care tricks for hair growth is using natural oils and massaging the scalp.
For example, organic coconut oil is great for smooth hair, dandruff, shine, split ends, and dry hair. This oil is also amazing for hair growth.
Gently massage the oil to your baby's scalp. Take your time, and leave it on for some time. Massage will do wonders for blood flow and hair stimulation, and coconut oil will act as a hair food.
These are some basic tips if you want to help your child to grow long, healthy hair. If your child is older, you could consult with a health professional to see if some more "serious" products are allowed.
Baby Hair Loss
In the first few months, it's normal for your baby to have bald spots because they spend most of the time on their back.
It's also normal for your baby to lose newborn hair in the first months. When your child starts sitting up, the baby hair will be long gone, and the bald spots won't exist.
If you notice hair loss and your baby is older, this could happen due to tight hairstyles, friction, or even stress. When your baby is fussy for a longer period, that can cause hair loss.
These things are temporary, and they usually go away on their own. Sometimes cradle caps can cause hair loss, but you have to deal with this problem.
Using prescription lotion, shampoos, or creams is a good way to treat cradle caps. I suggest using natural oils to remove the cradle cap.
Breast milk is also amazing for curing cradle caps, so think about using breast milk bags to store breast milk so you can use it all the time.
Hair loss can be caused by some serious medical conditions too. If you notice that your baby is losing hair for some time and has no new hair, you must visit a doctor.
Why Is My Baby's Hair So Important To Me?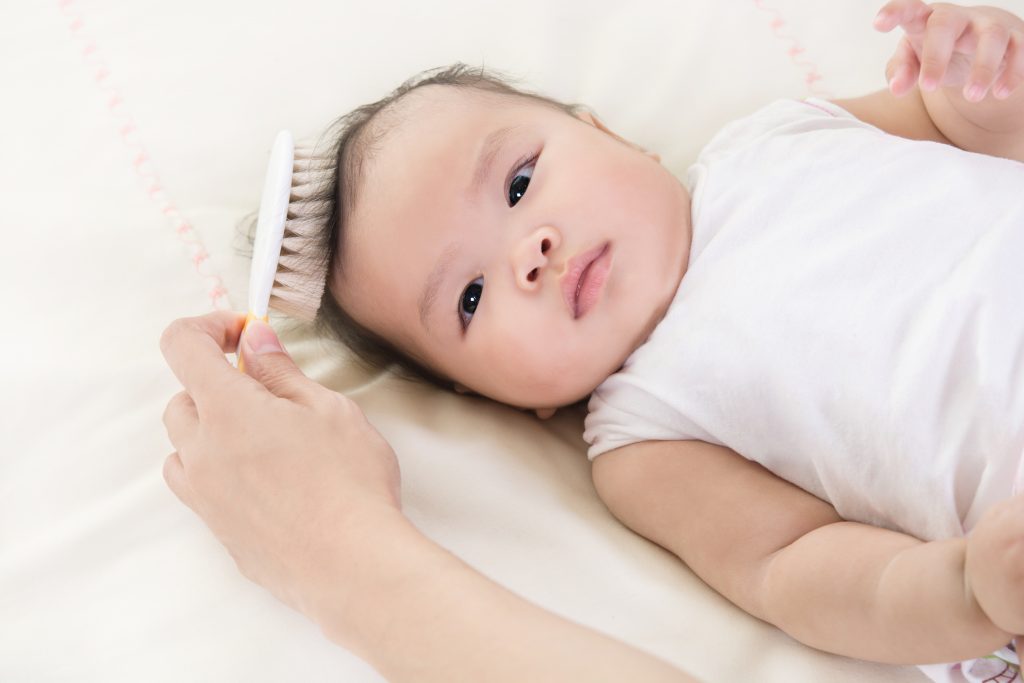 Every mom wants her child to be happy and healthy. But that doesn't mean we should ignore their looks.
In most cases, moms just want their kids to look cute and neat. They want their baby to have a hairstyle, and they want to enjoy that.
Another reason for caring too much about a baby's hair is the hair texture. Some types of hair are difficult to handle and take care of.
You just want to give your best and solve all the hair issues your child has. Sometimes you want to give your child the care you never had.
In the past, baby hair and baby clothes weren't necessary, and we looked quite funny when you think about it.
We just want to give our kids something we missed when we were little. We want to give them full treatments and create a good habit when it comes to hair.
Some women are so invested in their baby's hair because they don't know how to take care of a certain hair type. For example, you have straight hair, and your baby got curly hair from your partner.
You're not skilled and experienced enough to make your child's hair look pretty. Therefore, you try to get the best products, watch many videos, and read a lot about baby hair care.
You want to know when does baby hair texture change and if there is something you can do about it. Well, you can't.
You can make an effort to create a good hair care routine, and you can work on teaching your little one to care about hair.
When you care for your child's hair even when they have no idea what you're doing, you're being a great mom. When they get older and become aware of their amazing hair, they will thank you.
They will be confident and proud of their hair.
Many people think that modern moms are exaggerating when it comes to babies' clothes, hair, shoes, and similar things.
This can be true in some cases, but most moms just want to express their love by taking good care of every little detail connected to their child.
Conclusion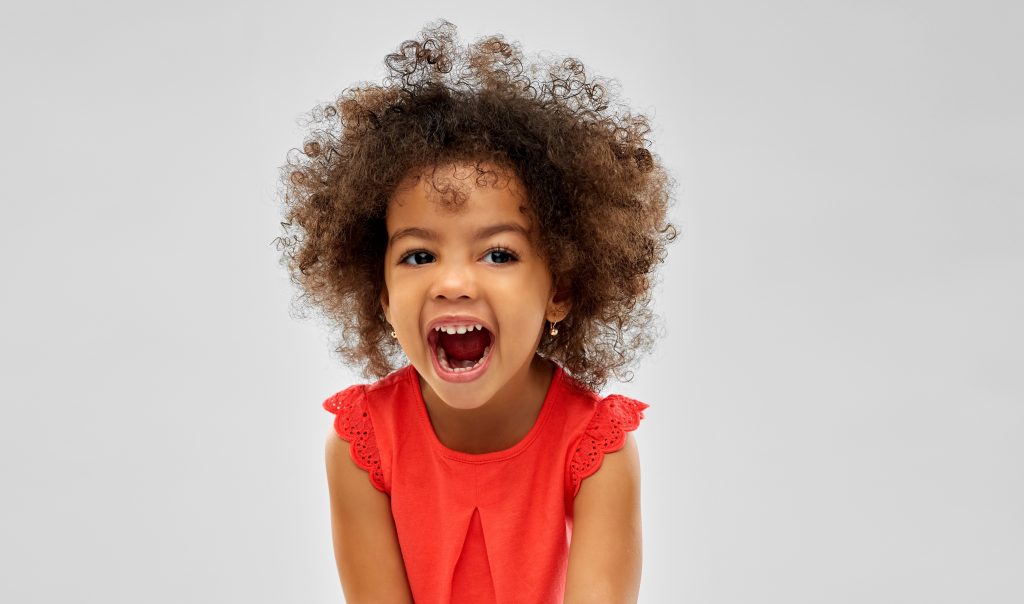 Now that you know when does baby hair texture change, why, and how, it's time to focus on setting up the best hair care routine for your child.
There are other important things, and it's okay if you're not into hair care. I think it's good to create these positive habits connected to hair care.
A good hair care routine matters for both boys and girls.
You need to set up an example for your child. Choosing the best products and sticking to your routine is difficult initially, but you will enjoy it later.
Besides, taking care of your baby's hair can become your little family ritual.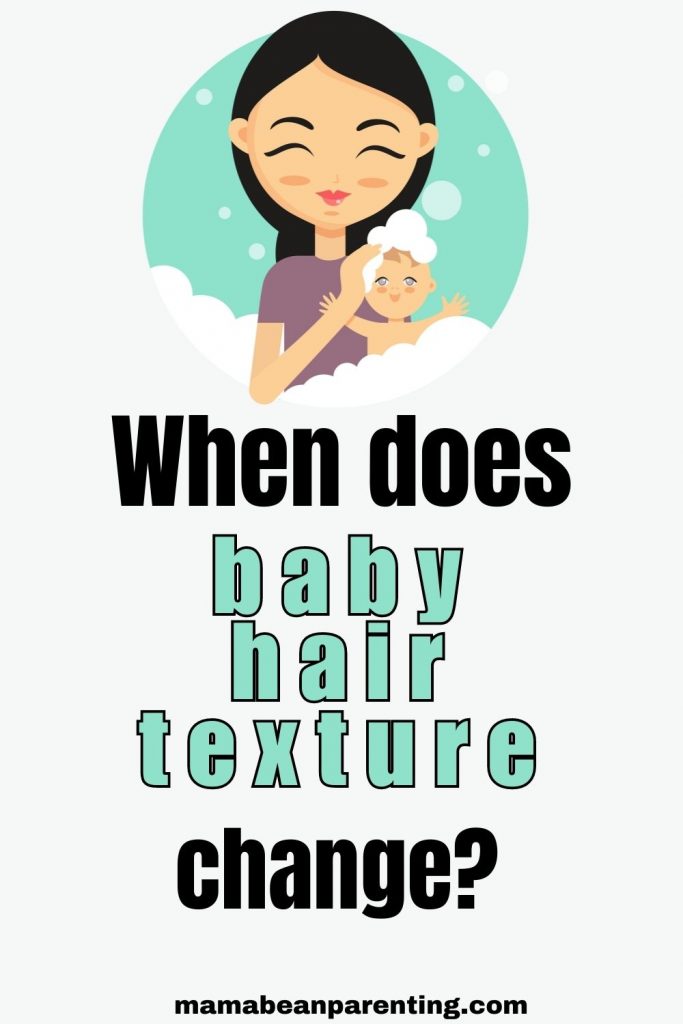 Hi all, I am Sidney, an accountant, a hobbyist photographer, and a mother to two sweet girls who are my motivation. I love sharing the tips and tricks I gained all these years I've been a mother. I hope it will help you!