Planning to get your friends and family together for a baby shower?
A fun way to break the news is to plan a cookie pregnancy announcement.
Not only is it a creative way to share the news of your pregnancy, but a delicious one, too!
From basic to elaborate designs, we got you covered.
Worried that you're not exactly a maestro in the kitchen?
Making pregnancy cookies is pretty easy, but it's not impossible to mess them up. Why not give it a shot? Even if they don't turn out exactly how you want them to, it's still a fun experience for parents-to-be.
If you're a perfectionist, you can always hire a professional to bake them for you.
Usually, parents-to-be break the news over phone calls or in person, but when you're planning a special event for everyone to enjoy, it's always a memorable experience.
Besides, if you take pride in being artsy and know your way around the kitchen, baking sugar cookies will be right up your alley.
There are so many cute and creative ways to announce your pregnancy with cookies that it's no surprise why it's gotten so popular.
With pregnancy cookies it's all about decoration.
Decorating cookies can be a little tricky, so you may want to consider taking a cookie decorating class if you really want to make them yourself. However, there's no shame in ringing up a talented baker or a cookie decorator and letting them work their magic.
This article aims to explore the benefits of cookie pregnancy announcement, as well as the ins and outs of how to bake and decorate cookies.
On top of that, we will provide a list of cute, creative, and innovative ideas to preheat the oven and get the inspiration flowing.
When to Break the Good News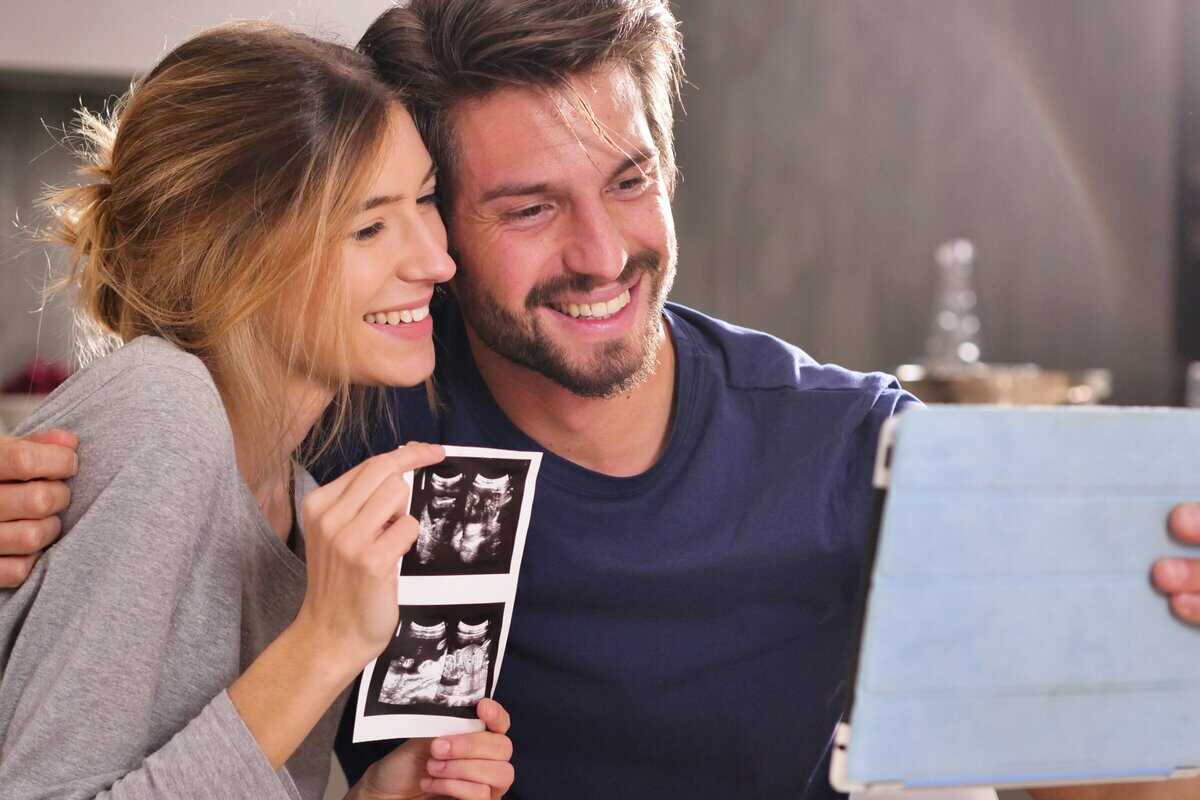 First things first – when should you announce your pregnancy?
There are no rules. It's a personal decision that you have to make yourself.
However, there are certain things that you may want to consider.
Some couples first refer to their cultural traditions and personal beliefs. Is that important to you as a couple? Is it something that you value and base your decisions around?
Then, you may want to take your cultural traditions into account before breaking the news.
Other than that, there's one key guideline for expecting parents to consider.
The risk of a miscarriage is highest during the first trimester.
As such, it's generally advised for parents-to-be to wait until the 12-week mark before announcing their pregnancy, with or without cookies. Still, it's not a rule set in stone.
Some couples announce their pregnancy earlier, and some later.
Do you need help from your friends and family?
You may want to break the news sooner to get more hands on deck.
Do you want to avoid unwanted attention? Then, you're better off waiting until the later stages of your pregnancy to avoid any pressure.
The decision is entirely yours. If you're here, you've likely already made up your mind.
So, let's start exploring the delicious world of cookie pregnancy announcement ideas.
Why Cookie Pregnancy Announcement?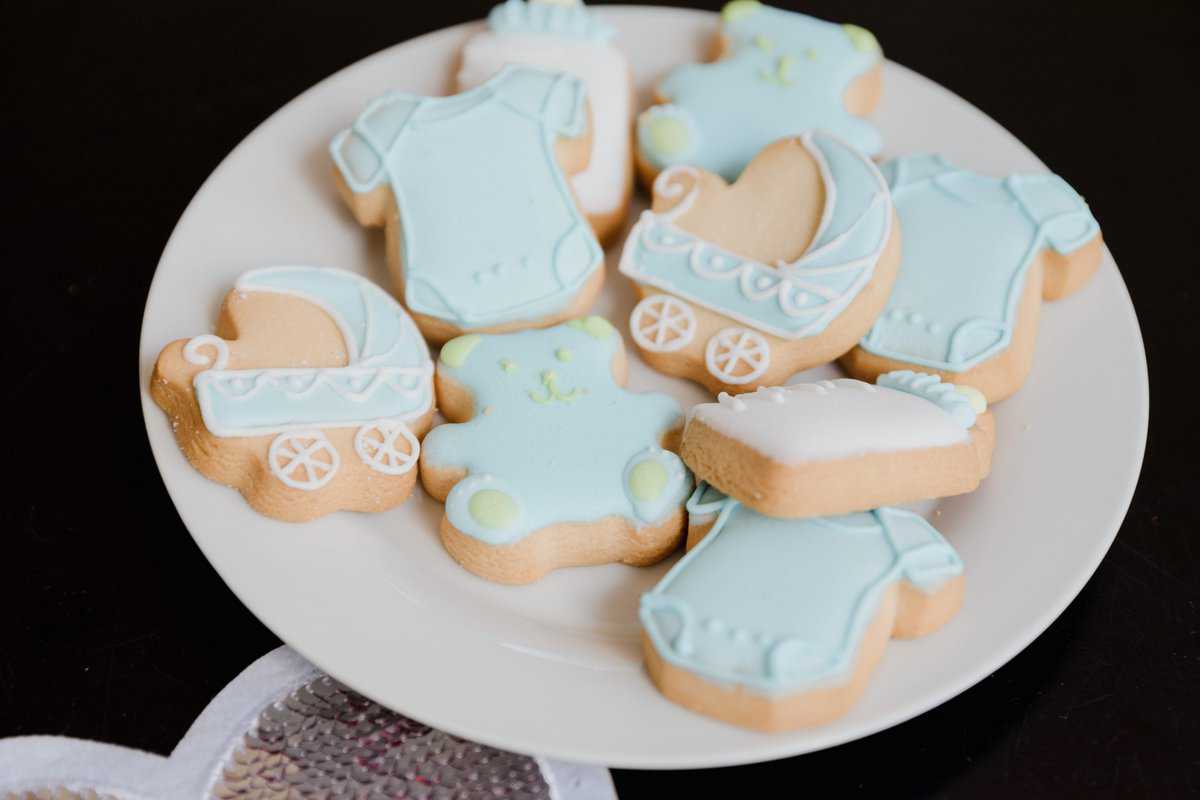 A pregnancy announcement is a big deal.
From planning an event to thinking up cute and clever captions, there's a lot that parents-to-be have to take into consideration to make sure that the announcement goes smoothly.
There are many ways to spill the beans – so why cookies?
In recent years, cookie pregnancy announcement has become a popular trend. With good reason, too, because it's a sweet and thoughtful way to break the big news with style.
• First of all, cookie decorating is a creative process.
You get to choose from a variety of shapes, colors and themes. You can personalize pregnancy cookies however you want. There's an endless amount of ideas to explore.
• Speaking of which, personalization is a huge plus.
Think big. How do you want to design your cookies? Do you want to make them funny, witty, thoughtful or just sweet and cute? Make your cookie pregnancy announcement really stand out by adding a personal touch. Think color, hobbies, interests and more.
• Cookies are great for taking photos!
Plan to post your pregnancy announcement on social media?
Getting a close-up photograph of your cookies is a wonderful way to share your excitement with friends and family that can't make it to your pregnancy party.
• Cookies make your event truly unique.
By sharing your pregnancy cookies with your loved ones, you create beautiful memories for everyone involved. It's an unforgettable way to celebrate the arrival of a new baby.
There are lots of benefits behind cookie pregnancy announcements.
How you want to go about it is your decision, but in our opinion, it's best to host a get-together and to present the cookies as a surprise to get the party started.
Some parents, however, are too busy with work and opt to send cookies to their loved one's homes.
Some, on the other hand, just bake them to take photos and post them online.
However you want to go about it, that's your choice.
Either way, announcing your pregnancy with cookies is a fantastic idea.
Making a Cookie Pregnancy Announcement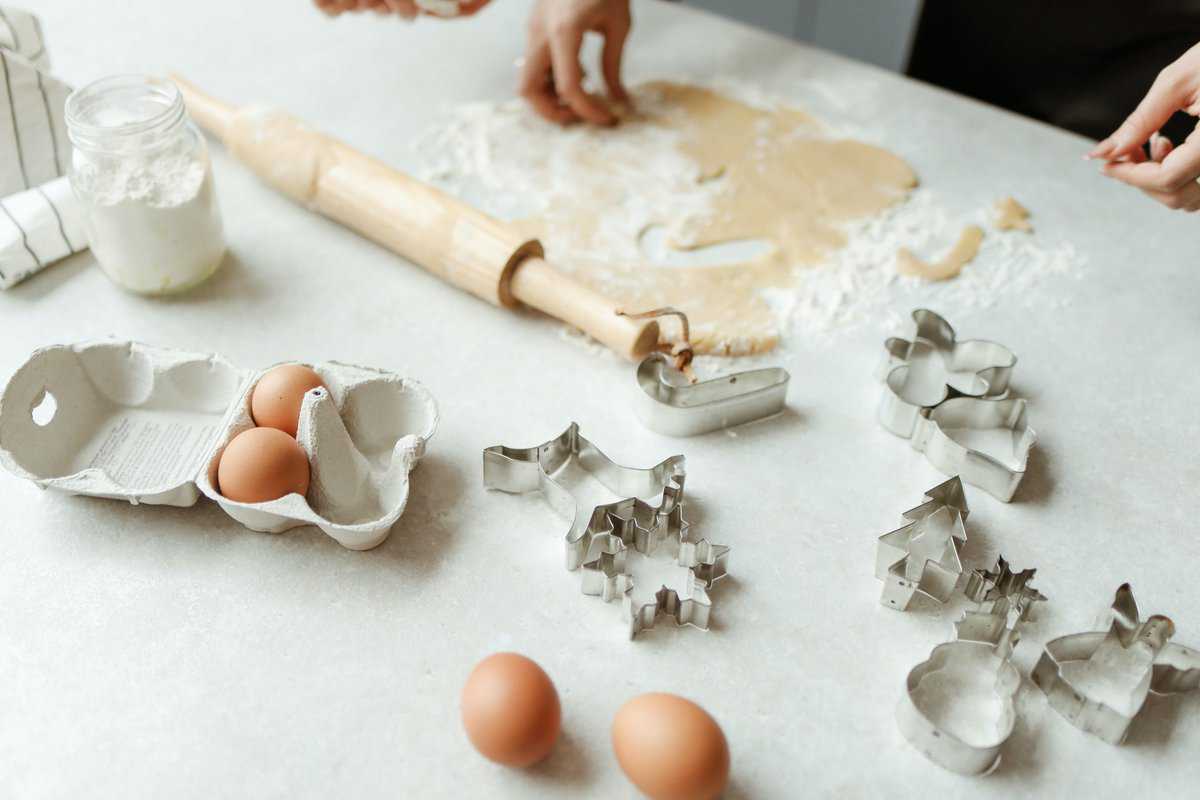 A baby is on the way and you got the chef's apron ready, but you don't know where to start?
It doesn't matter if you're a first-time baker or a seasoned expert. We're here to help you make the best pregnancy cookies by providing an insightful step-by-step guide.
Depending on what you're going for, there are different ways to make cookies.
We're not going to teach you how to bake cookies, but how to make a cookie pregnancy announcement.
If you don't want to try making them yourself, you can still entrust your idea to a professional and work alongside them to make the best cookies for your event.
• Start by choosing the type of cookie you want to use for the announcement.
Cookies come in all shapes, sizes and colors. From baby to diaper-shaped cookies, you have so many designs to choose from. Take the time to explore your options thoroughly.
• After you figure out the cookie and the shape, it's time to decorate.
Cookie decorating is a skill in and of itself. It encompasses a variety of techniques, including icing, frosting and sprinkles. Plus, you need the right tools by your side.
Plan ahead and consider the general theme.
• Do you have a message that you want to write down?
By piping the words onto the cookies with icing or frosting, you can write a variety of things, most common of which include the baby's name. Get creative, and don't be afraid to personalize your message. Do you want it to be funny, witty, or lighthearted?
You can write down anything that you want.
• After baking the cookies, it's time to display them.
Now, there's a variety of ways to display cookies. From baby-themed boxes to baskets, cookies are great for decoration and work best in combination with other items, such as stuffed animals and baby blankets. Mix it up. Think creatively and start decorating.
If you want your cookie pregnancy announcement to be a surprise, you can serve them later on instead. Or, you can hide them in a box on the table and open them later.
However, that depends on whether you're organizing an event, a baby shower, or you're just baking cookies to send out as gifts, or even just posting them on social media, like Instagram or Facebook. Still, make sure to share the cookies with those you love.
Ideas for a Cookie Pregnancy Announcement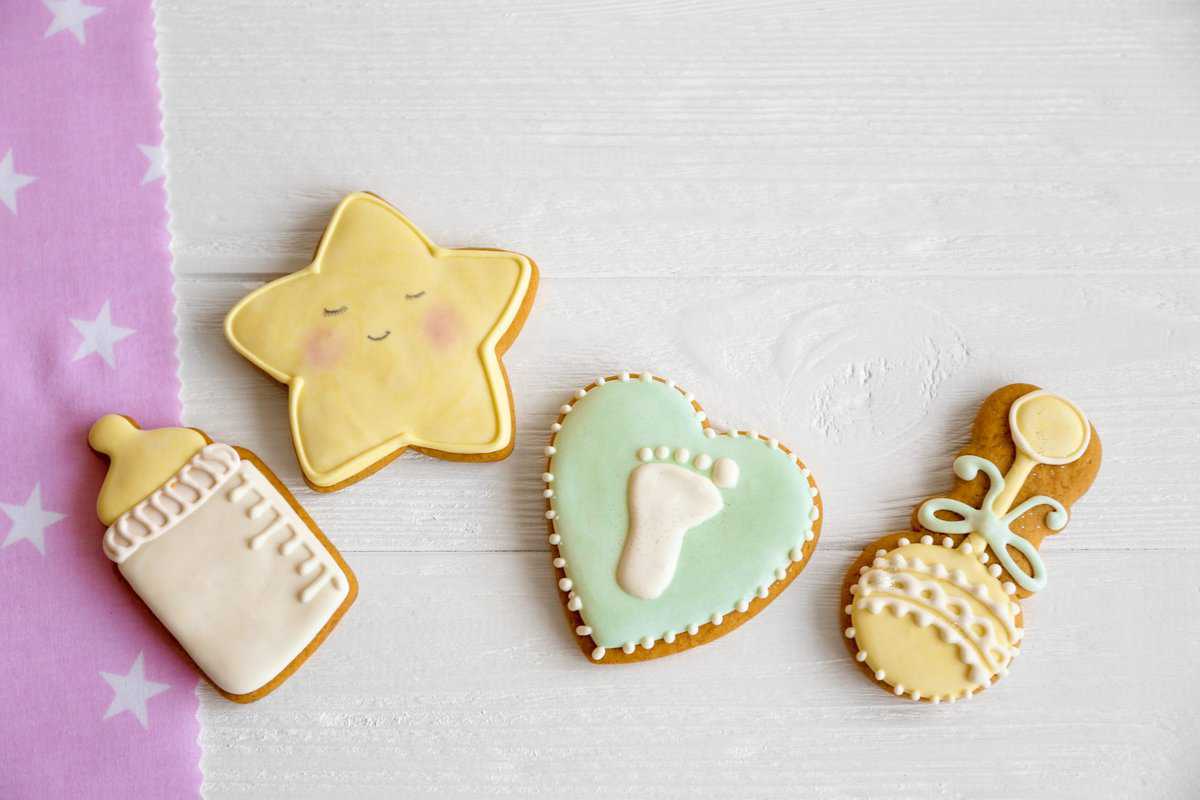 You're all set to start baking, but we need to find the perfect idea first.
You have all the freedom of creativity in the world, maybe even too much of it. Finding the right idea takes time, but we're here to help you, even if it's just to get you thinking.
Remember, the best ideas are unique ideas, so we encourage you to personalize your baby announcement cookies.
Adding your own personal touch makes it all the more special, all the more unique and memorable for you as parents, and your guests, too.
Here's our selection of ideas to get the creative juices flowing:
1 • Baby bottles, calendars and onesies.
This combination of baby items is a classic cookie idea.
Simple but effective, baby bottles are maybe the most popular design for a cookie pregnancy announcement. With just a little bit of icing finesse, you can create either a realistic bottle design or something more magical, instead. As always, it's up to you.
A calendar design takes a bit more time, but it's rewarding to make.
The best part about it is that you can mark your due date or your first ultrasound appointment, instead. Besides the date, you can also add a personalized message.
Aside from the baby bottle and the calendar, go for onesie cookies, too.
With a onesie cookie cutter, you can easily create a lot of onesie cookies with different decorations, designs and messages, which allows parents-to-be to go wild with ideas.
Combine these three baby items together and you get a perfect cookie announcement.
2 • Cookies for a family gathering.
Are you planning a big event or a baby shower exclusively for your family?
Then, this idea fits you like a glove.
It's rather simple, actually. All you need is a list of all your family members that are going to attend.
The cookies you make can be shaped however you like, but the purpose of the idea is to write down kinship terms (such as aunt and uncle) for your family members.
For example, if you have a brother, then he is going to be your baby's uncle.
Simply write down 'uncle' on the cookie made especially for him.
Likewise, your parents will be your baby's grandma and grandpa, and so on.
By including these terms on your cookies and presenting them as a surprise, you leave it up to your family members and guests to put two and two together and break the news.
3 • Surprise your guests with fortune cookies.
Fortune cookies are a little different and require a bit of know-how, but they are still considered easy to make. If you want a truly unique way to surprise your guests, fortune cookies are the way to go. Just make sure that the decorations don't spoil the surprise.
If you have all kinds of baby decorations set up, then your guests will know what's going on before you have a chance to serve your fortune cookies. Play it smart and be patient.
If you don't know how to make them, simply order a custom-made batch.
Prepare unique and clever messages for your fortune cookies and mix them up. You can include messages such as 'We're expecting' or 'Our family is growing'. Get creative. The best messages are always personalized and filled with love, excitement, and anticipation.
4 • Nature-themed baby announcement cookies.
If you're the outdoorsy type, this one's perfect for you.
It's a little bit more out of the ordinary, but it's ideal for couples that love the outdoors.
Especially if you're organizing a baby shower or a gathering in nature, making nature-themed baby announcement cookies is a fun way to share the good news with your guests.
Nature is a theme in and of itself, but you can narrow it down, if you prefer.
From animals to trees to camping themes, there's a world of possibilities to explore.
Making these cookies, however, is a bit more complicated. You will need to make various shapes, such as leaves, trees, and animals, but it's doable. Don't be afraid to experiment until you find the right shapes to make this cookie pregnancy announcement stand out.
It's best if you include personalized baby messages, especially since a nature theme may not be as apparent in conveying the message of 'Yes, we're actually expecting a baby.'
With a little bit of planning and creativity, this idea can be a home run.
5 • Pink and blue cookies.
Another classic choice for parents-to-be, pink or blue cookies are a safe and fun way to announce to your friends and family that you have a baby on the way.
Although this idea implies a strict color palette, there's still room for you to get your creative groove on.
However, you have to know your baby's gender in advance.
Some expecting parents even plan a gender reveal baby shower with pink or blue cookies.
They add personalized messages that usually read 'It's a boy!' or 'It's a girl!'
If you're not doing a gender reveal party, it's still a neat option to consider. Pink or blue cookies, depending on your baby's gender, make for a traditional baby announcement.
6 • Go vibrant with rainbow colors.
Looking for something really eye-catching?
Baking rainbow-colored cookies are sure to make your event stand out.
They're bright, colorful and certain to grab the attention of your guests. Plus, the colorful design of rainbow-colored cookies is ideal for posting pictures on Instagram or Facebook.
The aim behind this theme is to spread the joy of welcoming a new baby to this world.
Not only is it a joyful idea, but a creative one, too.
On top of that, you can make them however you like.
Any kind of shapes, sizes, themes or personalized messages that you have in mind are doable, and they're sure to look fun and eye-catching at your baby announcement event, or if you're sending them as gifts.
7 • Christmas or Halloween-themed cookies.
Is Christmas or Halloween just around the corner?
Why not plan your baby announcement event for the holidays?
Combine the festivity with the excitement of expecting a baby.
Halloween and Christmas themes are recognizable. They allow for a variety of shapes, depending on the celebration.
It's an exciting way to acknowledge and enjoy the holiday season and to celebrate your gathering with a jolly cookie pregnancy announcement.
A good reason to host your celebration on such events is that everyone is already happy and merry during the holidays. This adds extra excitement to the festivities.
On top of that, holiday-themed announcement cookies are sharable. They will look amazing in any photos you take if you want to spread the news on social platforms, too.
The possibilities are endless, but try not to deviate too much from the general theme. After all, it's the holiday season, and you want to capture the essence of festivity and merriment.
8 • Warm and fuzzy teddy bear cookies.
Nothing says cute and cuddly quite like a teddy bear – especially a cookie teddy bear.
If you're looking for something really adorable, any animal will do just fine, but there's something so innocent and pure about teddy bears that we just had to include them.
Teddy bear cookies can be made in a gender-neutral way. If that's something of interest to you, the color palette of browns and yellows provides a neat gender-neutral option.
There's something so unique about teddy bears, and it's perhaps the fact that they're often perceived as symbols of childhood and innocence, which is why they make such a fitting idea for announcement cookies.
They're soft, cute and cuddly, just like a new baby.
Plus, you can customize teddy bear cookies however you like. We advise personalizing them by adding your baby's name or including a message that announces your pregnancy.
Either way, we're sure that you're going to have a blast with this idea.
9 • Go for a simple black-and-white design.
If all of the above sounds like too much work, you can always keep it simple.
After all, some of the simplest ideas are the best, but they must be executed properly.
Simple baby announcement cookies with a black and white palette are a classic and timeless combination and perfect for parents-to-be that want a more elegant look.
On top of that, there's a lot of room for creativity since black and white isn't a theme per se, but a combination of colors that, with a few creative ideas, can look sophisticated.
Also, it's a perfect option for a gender reveal baby shower, too.
Baking elaborate designs can be quite time-consuming, but simple black-and-white cookies are easy to make. How complex and elaborate you want them to be is up to you.
To top it all off, they go well with most decorations since black and white is always easy to match. Just make sure you don't go too vibrant and colorful with your decorations.
10 • Keep it classy with gold and white.
Regarding cookies for baby announcements, we can't cover black and white and not mention the elegant and luxurious combination of gold and white. Together, they convey a sense of importance and grandeur that other colors simply fail to match.
Whether you're a veteran in the kitchen or just a beginner, white and gold cookies can be made in various ways. You can keep them simple or go for something with depth instead. Either way, you can also present them in creative ways, such as a gift basket.
White and gold cookies are easy to match and they go with everything.
If you're looking for something that never goes out of style, look no further.
This idea is right up your alley, especially if you're organizing an elegant party.
11 • Guess what's in the oven?
Basically, what you're going to do is decorate an oven and a little bun inside of it, alongside a message that reads 'Guess What's in the Oven?'.
A creative way to announce your pregnancy, this idea is certain to catch your guests by surprise in a positive way.
Of course, you can personalize these announcement cookies however you like, but the idea should still remain the same.
One clever way to serve them is to have the guests actually guess what's in the oven before taking the cookies out and serving them.
Unlike other ideas, this one adds an element of real interactivity.
If you want to make your event really memorable, don't be afraid to try this one.
12 • Waiting for a stork to deliver the baby.
It's a myth as old as time, but also an interesting idea for baby announcement cookies.
The idea of a stork delivering a baby is a longstanding and beloved tradition. It's a really heartwarming and charming way to announce to your guests that you're having a baby.
Everyone has heard stories about storks delivering babies. We mostly heard it from our parents, and that makes this theme a neat nostalgia trip.
So, if you want to add a little bit of playfulness and a little bit of nostalgia to your event, storks make for a great theme.
The best part is you can design them in a variety of ways.
There are even stork cookie cutters to make it easier for novice chefs.
With a cute design and a personalized message, stork cookies make for a truly charming and playful way to announce your pregnancy. Plus, they're ideal for taking photographs.
13 • An ultrasound on a cookie.
Let's finish the list with a truly unique cookie pregnancy announcement.
Getting an ultrasound on a cookie sounds impossible, but some professional bakers work miracles.
They can put a photo on a cookie, without which we wouldn't be able even to entertain the idea of an ultrasound on a cookie unless you're a wizard.
Not only is it a fantastic idea, but a memorable keepsake to hold on to.
The picture of your ultrasound is as personalized as personalized gets. It's an exciting way to break the news, and a creative one, too.
Even though you can gift the cookies to your friends and family, we advise hosting a get-together and making it truly memorable.
After all, it's an ultrasound on a cookie – what else has to be said?
In Conclusion
That concludes our detailed list of cookie pregnancy announcement ideas.
We have explored thoroughly what specifically makes this way of sharing the news so fun, creative and popular among many expecting parents.
We have also covered how to create your own cookie announcement, as well as provided a list of fun and unique cookie ideas.
What now?
Well, we're sure you're eager to get baking.
Hopefully, our selection of sweet ideas for shower cookies has inspired you.
The possibilities are endless, so don't be afraid to experiment until you find something right. Bake cookies with your partner because this will be a unique experience.
Remember to tailor your announcement to your personal preferences and not to pressure yourself to share the news until you're completely ready.
This is a special milestone for all parents-to-be and it deserves to be celebrated with those you love and care about deeply.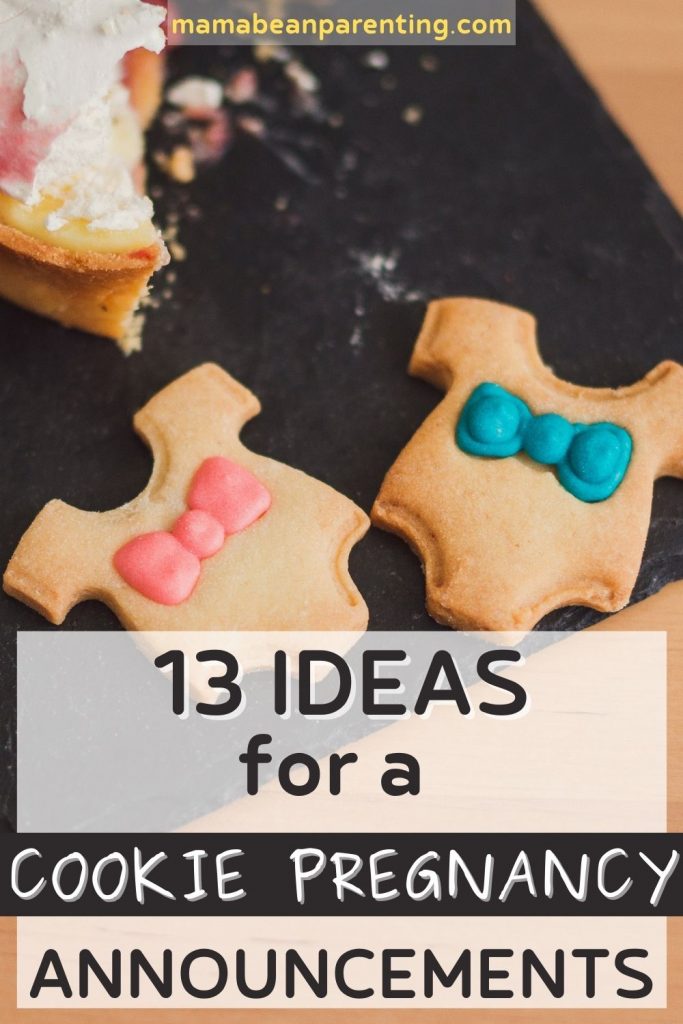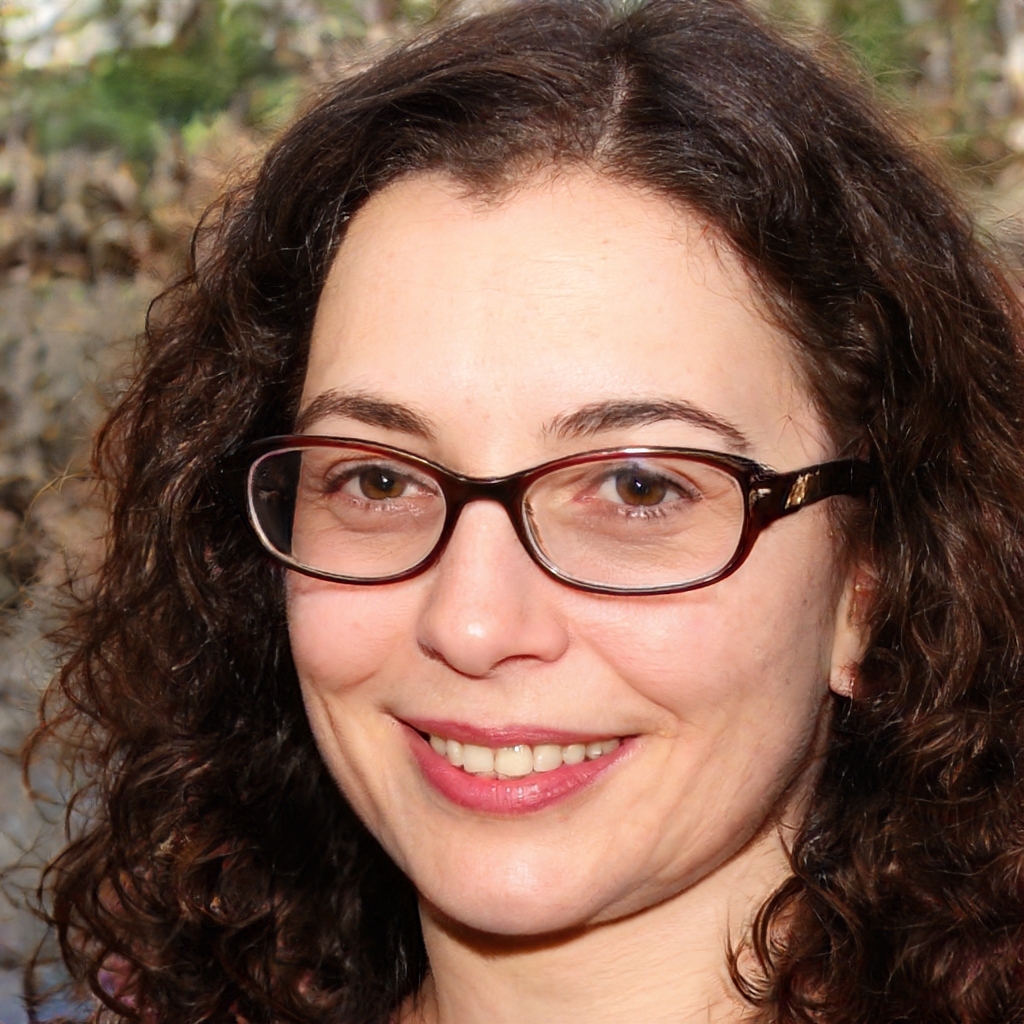 Mother of three and a primary school teacher. I've always loved being around children and helping them, so I chose my path as a teacher. It is sometimes hectic with three children, but I am 100 percent into it and wouldn't change it for anything in the world.