Mama bear quotes capture the fiery side of a mother's love and protective nature.
If you're a mama bear, you go to great lengths to protect and provide for your children.
You would put yourself in harm's way in the blink of an eye to shield your young ones.
Strong, assertive and unyielding like a bear, you're a mother who prioritizes your baby's safety and well-being, making sure that nothing in this dangerous world can harm them.
It's your children who make you fearless no matter the circumstances.
Mama bear quotes can help you reflect on your maternal instincts and give you an extra oomph of energy and strength when you find yourself burdened by everyday challenges.
Being a mama bear is tough – but necessary.
By reflecting on these quotes and sayings, you empower yourself as a woman and a mother. They remind you to stay focused on your goals and committed to your kids.
The benefits are many, so let's start from there.
Benefits of Reading Mama Bear Quotes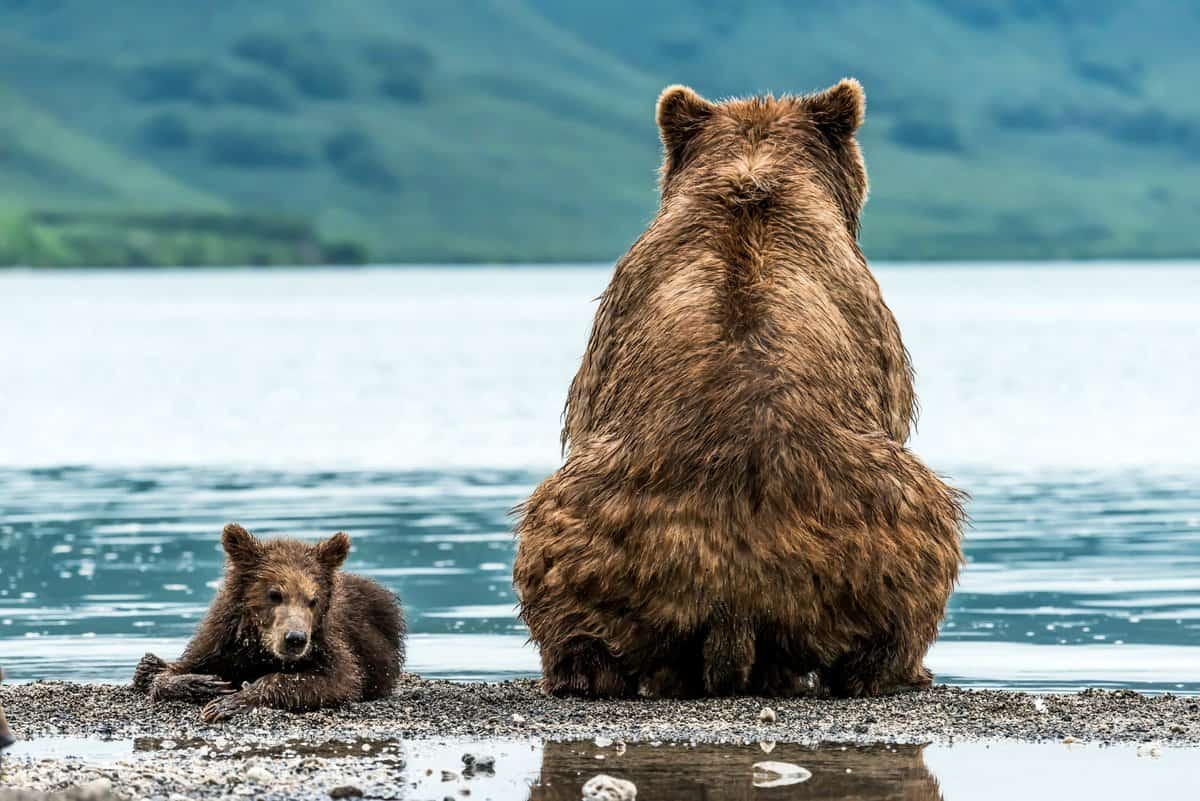 Being a mama bear is something that comes naturally, but it's a hard line of work.
Every mom is a superhero in her own way, but sometimes we get tired, demotivated, overworked and overstressed. Because of that, we need to find ways to stay empowered.
Consider reading quotes specifically written for exhausted moms.
Reading mama bear quotes also provides a powerful source of inspiration.
Let's take a look at some of the key benefits.
• INSPIRATION & EMPOWERMENT
These quotes focus on the beauty and strength of maternal instincts.
On one hand, they empower your protective nature. On the other, they make you feel more determined, more inspired to persist and to fight teeth and nail for your children.
Reading these quotes allows you to tap into that endless source of strength.
Ultimately, you are your children's guardian.
The world is harsh, but you have the power to stand up to anything that dares to threaten their safety, making you feel more confident and capable of facing any kind of challenges.
That's what it means to be a mom. Life is often chaotic, but you keep the boat afloat.
• POSITIVE PARENTING
Parental protection has its benefits, but it's important not to overprotect your children.
A mama bear's protective nature is a natural thing and it can help you build a strong bond with your little ones. Every baby and toddler needs an assertive and determined parent.
You are responsible for their safety and being a mama bear means that you're doing a great job. You are creating a safe environment for your little ones to grow and thrive.
By reading mama bear quotes, you are reminded of the importance of providing safety for your kids, to be more active and present in their lives, more involved in their bringing-up.
For this parenting style to work, you have to make sure that you're not overprotective in the sense that you're limiting growth opportunities and not allowing for independence.
Parenting can be tricky, but it's almost always about balance.
That's why mom quotes can help keep us grounded.
• BUILDS CONFIDENCE
For mama bears that lack in confidence, reading these quotes is a great way to help you overcome your personal limitations and to use your strengths to learn and develop.
The messages contained in these quotes encourage you to be assertive and confident.
They do so by reminding you of the strength you already have within you.
It's just a matter of tapping into that inner energy and letting the mama bear out.
Parenting is often stressful and challenging, but mama bear quotes remind you of the power of your maternal instincts and abilities and strengths you have at your disposal.
If you're confident, then you're teaching confidence to your little ones, too.
• STRENGTHENS RELATIONSHIPS
As a mama bear, you have a strong bond with your kids built on trust.
Your little ones see the world through your eyes. You are their sanctuary.
These quotes often focus on that unbreakable bond you share with your children, serving as a reminder to be the best parent you can be and to lead your little ones by example.
They focus on the importance of communication and understanding.
The best quotes for a mother strengthen your relationship.
A child that feels safe in their mother's presence is always willing to open up and to talk about the important things in life, regardless of age and regardless of the topic at hand.
Your protective nature provides comfort and fills them with confidence.
• MOTIVATION
Motherhood is a journey teeming with challenges.
One day you're fine, but the next you're doubting yourself and your abilities.
By reading these quotes and staying open-minded, you allow for positive energy and reinforcement to enter your life and to strengthen you to persevere on this hard path.
Powerful, uplifting and to the point – mama bear quotes capture the essence of what it takes to protect and stand up for your little ones and to provide pure unconditional love.
Here's a quick recap of all the benefits:
Inspiration & empowerment.
Positive parenting.
Builds confidence.
Strengthens relationships.
Motivation.
Mama Bear Quotes: Strength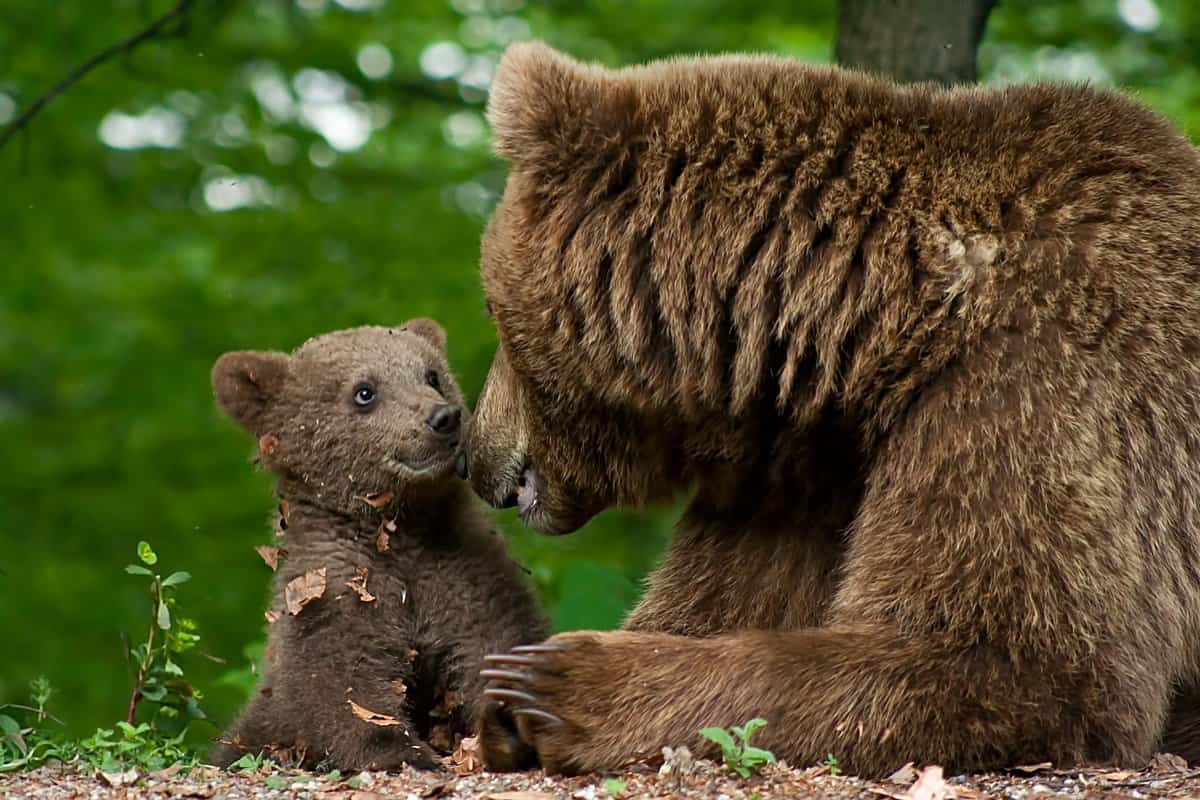 Motherhood isn't easy, but it's always rewarding.
Every mama bear needs strength to raise her cubs right.
You need strength – strength which you already have within you.
You're able to achieve the impossible, to move mountains for your children, to overcome each and every challenge placed on your path with determination that knows no bounds.
Let's reflect on what makes mothers strong and unbreakable with these quotes.
Here's to strong women. May we know them. May we be them. May we raise them.

– Unknown
Acknowledge, celebrate and empower the women around you – including yourself.
By looking after each other, helping each other, we can achieve the impossible.
Draw inspiration from this quote to learn from women who are strong, resilient and courageous. Aspire to be one yourself, because every mama bear has such qualities.
Embody these qualities and do well to raise strong, independent children.
Sometimes the strength of motherhood is greater than natural laws.

– Barbara Kingsolver
The bond between a mama bear and her cubs is that of endless love and protection.
Remind yourself of that by reading quotes, quotes that uplift and empower you.
The incredible power of maternal love is able to defy the very laws of nature.
Do you remember your expectations? When you became a mother, you were worried and self-doubting. Now, having done so many impossible things, you're confident.
You're strong and able to keep your children safe and loved.
Being a mother is learning about strengths you didn't know you had, and dealing with fears you didn't know existed.

– Linda Wooten
Becoming a mama bear is a journey of self-discovery.
Be grateful for the challenges you've faced and those that are yet to come, because they have been transformative. This journey has brought to light your finest qualities.
From strength to resilience and courage – you've got it all.
However, every day brings something new.
While you're discovering your strengths, you're also discovering your fears.
Keep going. Seize every opportunity for growth and improvement.
Tell the story of the mountain you climbed. Your words could become a page in someone else's survival guide.

Morgan Harper Nichols
From failure to success, you have gained experience and matured.
As mothers, we need to look after each other.
The lessons you've learned by facing your own challenges and emerging victorious could help someone else. So, provide guidance when necessary. Share your success stories.
Instead of hoarding knowledge, let your experience help others in their journeys.
Equally, don't hesitate to ask for help whenever you need it.
The more you learn, the better a parent you become.
All that I am or ever hope to be, I owe to my angel mother.

Abraham Lincoln
We have to be thankful to all the mothers who have raised their kids right.
A mother's love, support and encouragement is invaluable. Mothers are responsible for shaping their children's personalities, values and beliefs while developing their strengths.
Raising a child the right way is no small feat.
Find comfort and inspiration in knowing the sheer significance of your purpose.
Mama Bear Quotes: Protection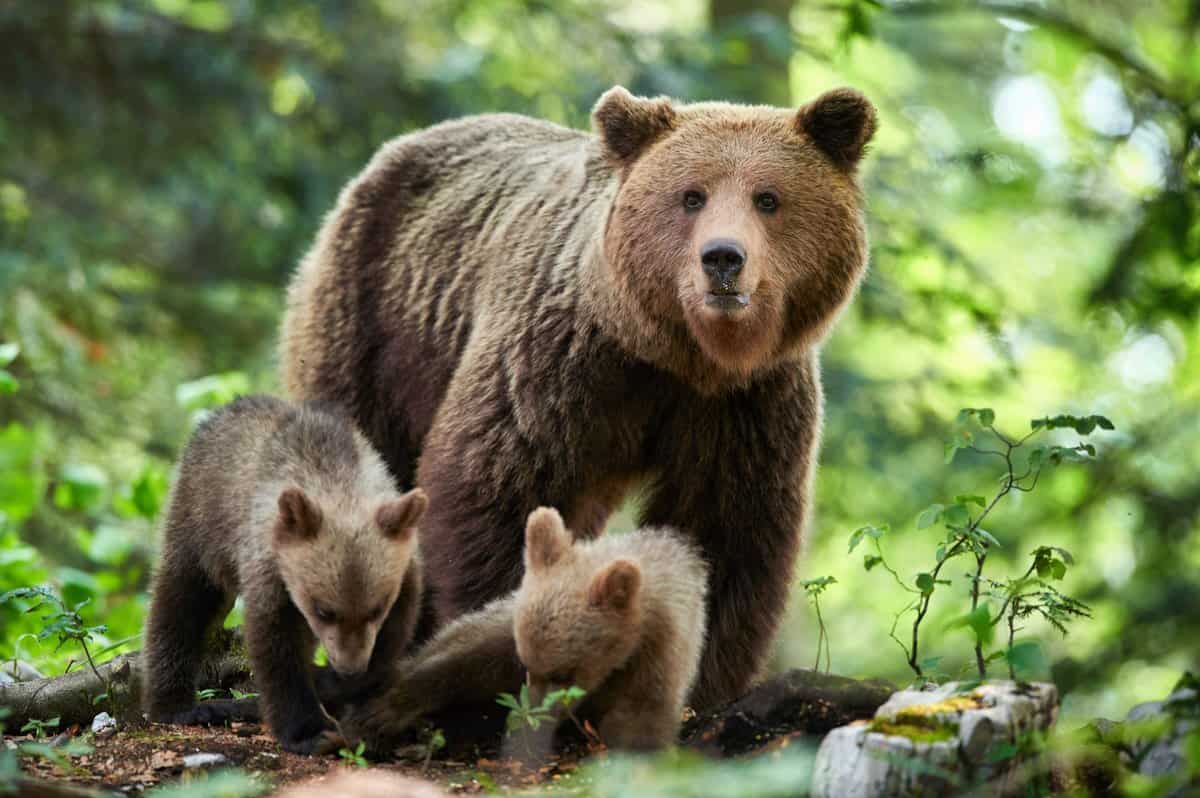 Every baby needs protection – and that's what a real mama bear provides.
These quotes aim to tap into your intuitive protective nature and to empower you.
After all, when you hear the term 'mama bear', the first thing that comes to mind is the bear mama protecting her cubs, keeping them safe against anyone who poses a threat.
Let's take a look at some of the best quotes that inspire mama bears to protect their cubs.
A mother's love for her child is like nothing else in the world. It knows no law, no pity, it dares all things and crushes down remorselessly all that stands in its path.

– Agatha Christie
A mother's love is an all-powerful force.
Motherhood has not made you invulnerable to fear, but it has given you wings to soar.
To protect your little cubs, you will do whatever it takes without flinching. You will stop at nothing to ensure your children are always safe, loved and out of harm's way.
No matter the odds and the challenges – you will go to any length. That's what moms do.
Protecting your cubs takes priority, and these quotes highlight the urgency.
Mothers are like glue. Even when you can't see them, they're still holding the family together.

– Susan Gale
As mothers, we often feel as if our contributions and efforts go unnoticed.
However, a mama bear's love and protection keep the family safe.
The safety we provide goes beyond the physical. From always listening to providing guidance, a mother does anything to create and nurture a sense of stability in her home.
Sometimes, our work is not as appreciated as we would like it to be.
Nevertheless, know that your contributions are vital to your family.
Mothers possess a power beyond that of a king on his throne.

– Mabel Hale
Even though mothers wear invisible crowns, the impact we have is tremendous.
As a mama bear, you shape not only the life of your kids, but your family and community, too. Your impact on those around you fails to be measured by material things.
Your ability to nurture, guide and protect is fundamental to this society.
Quotes such as this one serve as reminders of what it means to be a mom in today's world.
So, appreciate and celebrate yourself. Know your worth.
A mother's arms are made of tenderness and children sleep soundly in them.

– Victor Hugo
For your baby, there is no safer place than your embrace.
When you hold your child, you hold them in an embrace that radiates tenderness and love, but to all things outside of that embrace – your arms are an impregnable fortress.
A mama bear provides security that is not just physical, but emotional, as well.
In your arms, your children are continuously warm, safe and comfortable.
I can imagine no heroism greater than motherhood.

– Lance Conrad
A mama bear that protects and nurtures her cubs embodies the qualities of courage, strength and selflessness. Every day you make countless sacrifices for your little ones.
You would put your own life on the line to protect them – without a second thought.
That's what mama bears do; we love and we protect.
There is no greater heroism than being a mama bear for even a day.
Mama Bear Quotes: Love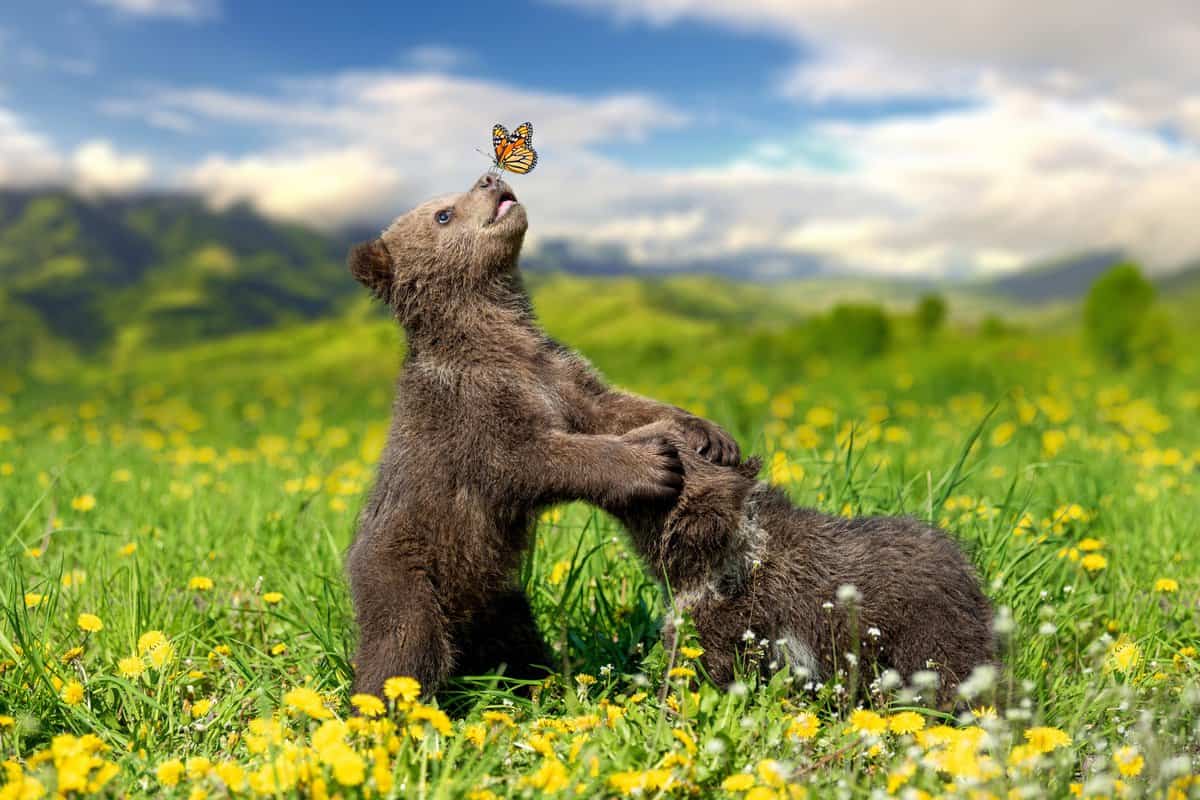 A mother's love is like no other. Fierce, fiery and protective – just like that of a bear.
Your love is not only a feeling, but an action, a willingness to do whatever it takes to keep your cubs safe. Your love is unwavering and nothing in the world can hope to lessen it.
There are many types of mama bear quotes. From life quotes to inspirational quotes and even funny quotes, but nothing empowers and inspires a mother as vividly as love quotes.
Therefore, let's explore the endlessness of your unconditional love.
Motherhood: All love begins and ends there.

– Robert Browning
Love comes in many shapes and we often tend to mistake it for something else.
However, there is no mistaking the purity of a mother's love.
It is the most important form, the highest form of love there is.
Motherhood has transformed you into a mama bear. You have all these great qualities. Every day, you make sacrifices for your child's development and their sense of security.
No matter the challenges, you never waver.
That's because your love for your cub allows you to transcend hardships.
The natural state of motherhood is unselfishness. When you become a mother, you are no longer the center of your own universe. You relinquish that position to your children.

– Jessica Lange
When we're young and carefree, we tend to be self-absorbed, thinking that everything revolves around us and that we're the main actor in this silly little play called life.
That changes as soon as you give birth – and what an experience that is.
When you have kids, you become the incarnation of selflessness.
Suddenly, what you want doesn't matter as much. Your child becomes the very center of the universe, and you're determined to help them achieve whatever their hearts desire.
That's why it's crucial to read quotes. Quotes help us stay open-minded.
The moment a child is born, the mother is also born. She never existed before. The woman existed, but the mother, never. A mother is something absolutely new.

– Rajneesh
Becoming a mother transforms you.
Do you remember how you thought it would be like? If you do, it likely seems silly now.
You have become a different person, a better person.
Motherhood simply cannot be understood unless it's experienced.
That's why being a mama bear comes so naturally to you – because it is. You have found your strength, resilience and you know that no one should ever mess with a mama bear.
However, it's important that you continue to evolve and transform. Just like your kids who change every day, you must ensure that you continue learning your lessons.
That's how you can keep your kids safe and help them live life to the fullest.
Reading quotes that celebrate motherhood can uplift you, because quotes allow us to relate to other moms who have faced their own challenges and learned their own lessons.
When you look at your mother, you are looking at the purest love you will ever know.

– Mitch Albom
Sometimes we take the 'unconditional' part for granted, especially when we're kids.
Now that you feel it brimming inside you, the true breadth of that unconditional love, perhaps you wish that you were somewhat more grateful when you were a little child.
It's the purest, most powerful form of love.
Mothers hold their children's hands for a short while, but their hearts forever.

– Unknown
The bond mama bears create with their cubs lasts forever.
There will come a time when your cubs won't need as much of your protection. You will still want to protect them, but it's important to accept the fact that they have to be free.
Besides, your little cubs will be mama or papa bears one day.
Therefore, the lessons you teach them are invaluable.
Despite the years that come to pass, your little ones always remain little. You won't hold their hand any longer, but they will forever remain in your heart – kept safe, as always.
Mama Bear Quotes: Inspiration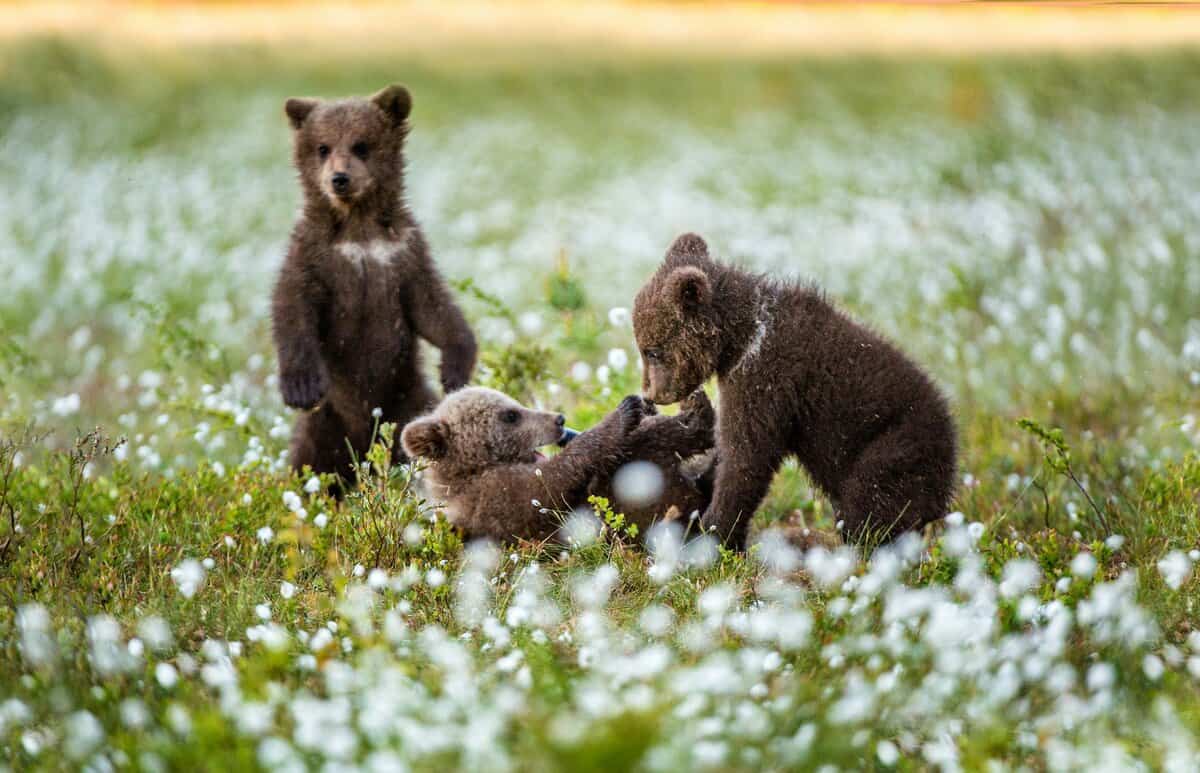 Being a mama bear can be extremely demanding.
Sometimes it feels like you're always on edge, always worrying about your little one's safety. There's not much you can do about it, because it's hardwired in your brain.
What you can do, however, is find the inspiration to keep going.
To stay grateful and positive-minded.
Here are a few inspirational quotes to give you a little push.
To describe my mother would be to write about a hurricane in its perfect power. Or the climbing, falling colors of a rainbow.

– Maya Angelou
As a mama bear, you are a force to be reckoned with. Remind yourself that no one can mess with mama bear and her cubs. You're strong, powerful, determined and persistent.
You have all the qualities of a great mom.
Despite the fierce and fiery nature of your instinct to protect your little ones, you're also as calm and as comforting as the breeze. In your arms, your children feel safe and secure.
Every mama bear is simultaneously tough and gentle.
Having children just puts the whole world into perspective. Everything else just disappears.

– Kate Winslet
Everything in life starts making sense after you have children.
That's because your children become your purpose.
If, for some reason, you haven't cared before, now you care for the world, because you want your kids to have a safe place under the sun for them to live their lives peacefully.
Following that new sense of purpose and direction, you focus on what truly matters.
It's not a matter of everything else fading, but a matter of seeing the world differently through your children's eyes. It's as if everything is suddenly connected to your cubs.
This new understanding makes you want to be the best mom you can be.
Children are the anchors that hold a mother to life.

– Sophocles
This quote sheds light on the transcendent bond between a mom and her child.
The reason why this quote refers to children as anchors is because they keep us grounded.
Your child connects you with the world around you in a powerful way.
As a mama bear, you're always present. You're always vigilant and watchful.
That doesn't mean that you're rigid or that you're not easygoing, but that your children's safety is always your number one concern, and that's what keeps you steady and focused.
You provide stability and security, but your cub is the source of your motivation.
Mother – that was the bank where we deposited all our hurts and worries.

– T. DeWitt Talmage
A mama bear provides a safe place for her cubs to express themselves emotionally.
No fear, judgment, and no rejection – only guidance, trust and love.
The world can be a harsh place, and not just physically. That's why every mom needs to take proactive steps towards encouraging her children to open up about their emotions.
In doing so, you build trust and strengthen your relationship.
This quote reminds us that we're responsible for our children's emotional development.
So, always be willing to listen and to guide your cubs.
Youth fades; love droops; the leaves of friendship fall; A mother's secret hope outlives them all.

– Oliver Wendell Holmes
Many things in life are temporary. They pass.
A mother's love, on the other hand, is eternal. It endures and persists no matter the distance, no matter the passing of time, and no matter the circumstances that transpire.
Mama bear quotes such as this one aim to remind us to cherish and preserve the boundlessness of love that we received from our mothers and now give to our children.
Everything matters. Every hug, kind word and subtle act of kindness matters.
Even if you don't recognize the impact you're making in the moment, continue doing what you're doing, being a good mom and ensuring a safe and happy future for your children.
In Conclusion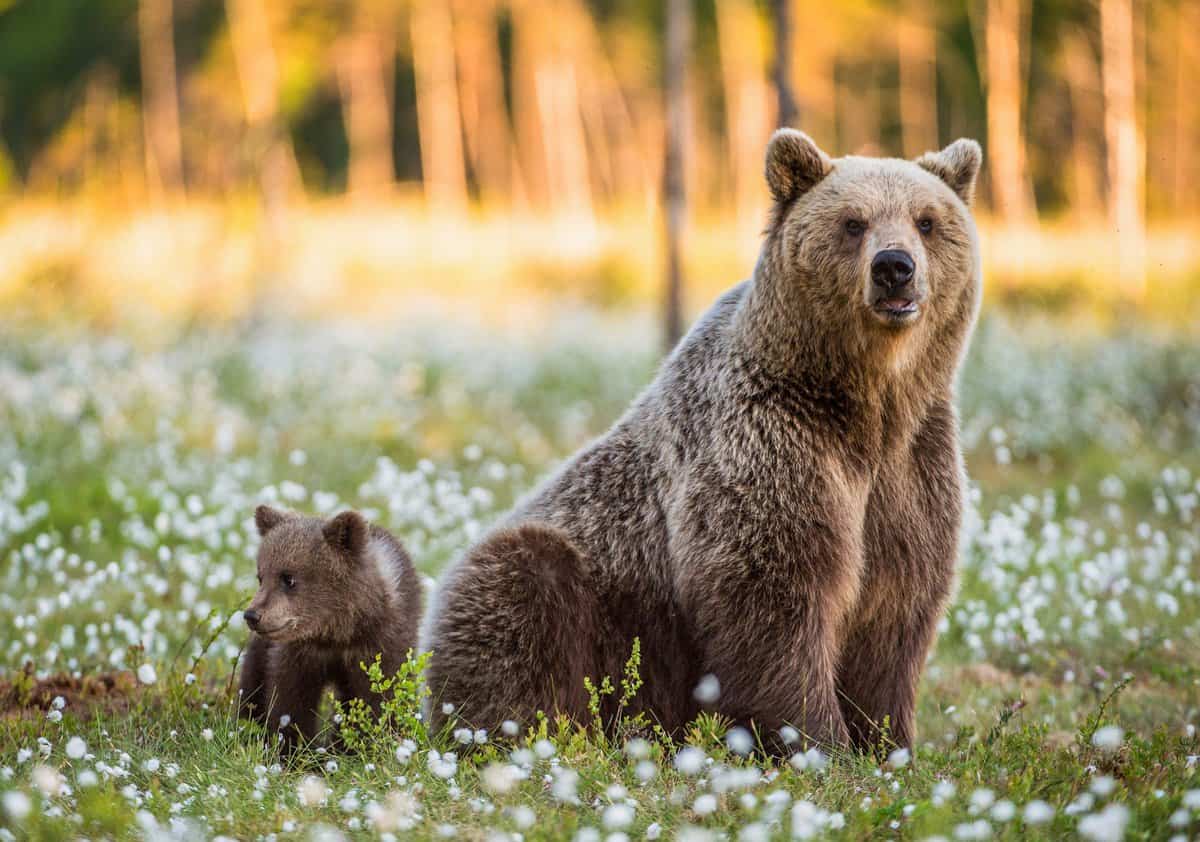 There's no instruction manual on how to be a mama bear, because you are the instruction manual. A bear mama is a bear mama because it's basically hardwired into our brains.
Sometimes, however, life happens. You get stressed or overworked. Something demotivates you. That's why reading mama bear quotes helps you stay positive.
There are many different types of mama bear quotes.
From quotes that are funny and humorous in nature to mom quotes that focus on empowerment, and love quotes that celebrate the purity of your unconditional love.
Hopefully, our selection of best mama bear quotes helps you be the best version of yourself that you can be. Keep learning, because this journey is all about self-growth.
Whenever you need encouragement or inspiration, find strength in words, sayings and quotes that focus on sparking you into action and reminding you to stay persistent.
Mama, you taught me to do the right things. So now you have to let your baby fly. You've given me everything that I will need. To make it through this crazy thing called life.

– Carrie Underwood
You never stop being a mama bear.
However, one day you will have to let your kids take care of themselves.
You never stop being there for them, but it's funny how fast they grow up.
The best part about these life quotes is that they truly celebrate the essence of what it means to be a mom. Life gets hectic, but somehow we manage to stay on top of it all.
Stay positive. Remind yourself of your purpose.
Remind yourself that you're the true embodiment of the spirit of the mama bear.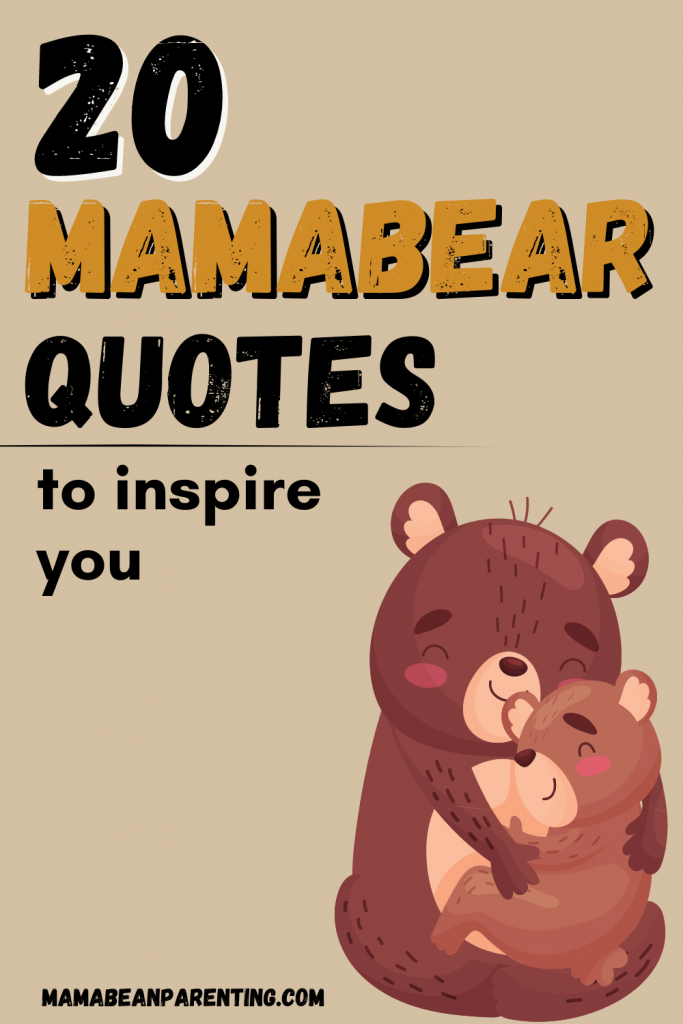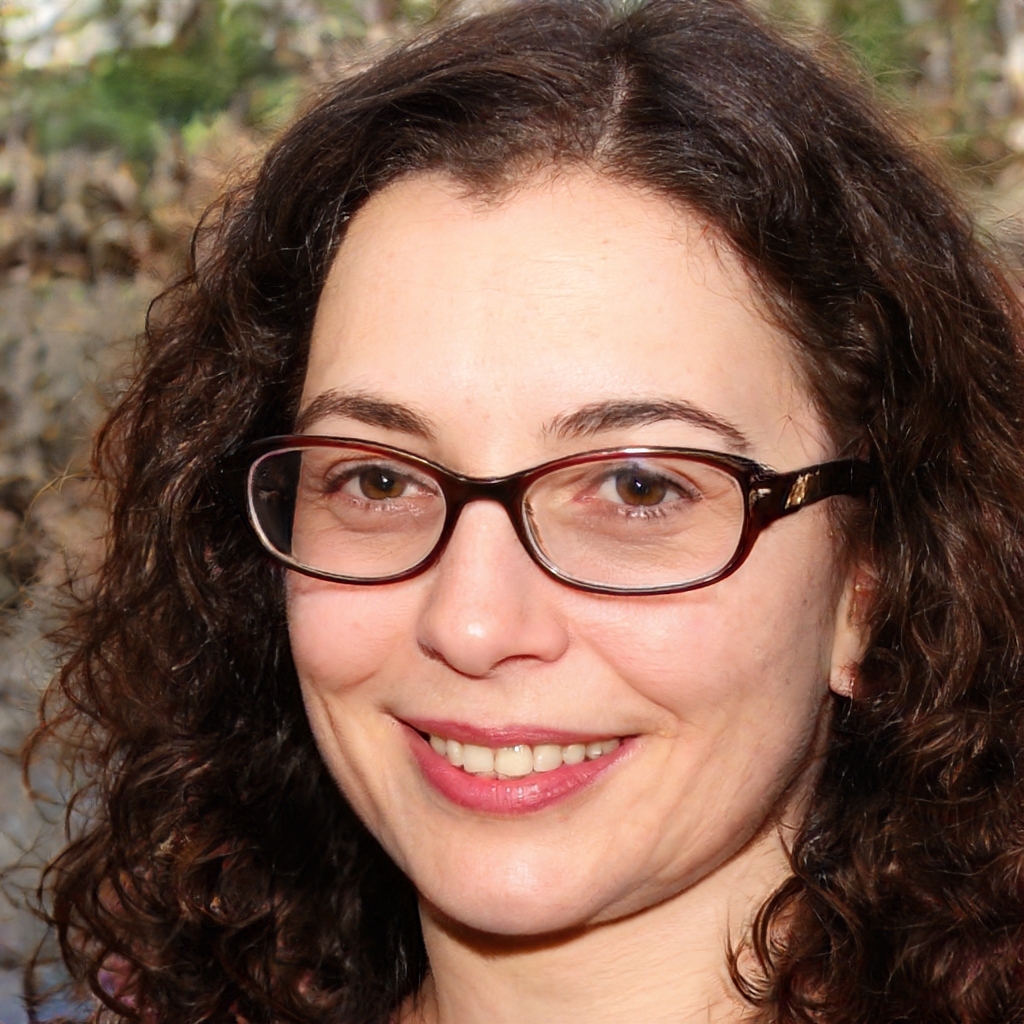 Mother of three and a primary school teacher. I've always loved being around children and helping them, so I chose my path as a teacher. It is sometimes hectic with three children, but I am 100 percent into it and wouldn't change it for anything in the world.