Pregnancy-safe dry shampoo is probably one of your cosmetic concerns during this period of your life.
As a future mom, you're always doing your best to choose the things that are safe for your baby.
Many women don't pay attention to beauty products and their ingredients, but it's actually important to do this.
It's important to feel beautiful when pregnant. This is the reason why so many women are interested in finding out more about hair care and face care.
Even though many pregnant ladies won't have any reactions to certain things, some women will, and it's better to prevent that kind of negative outcome.
Pregnancy-safe dry shampoo will save you in those situations when you didn't have time to wash your hair and get rid of that excess oil.
Pregnancy-Safe Dry Shampoo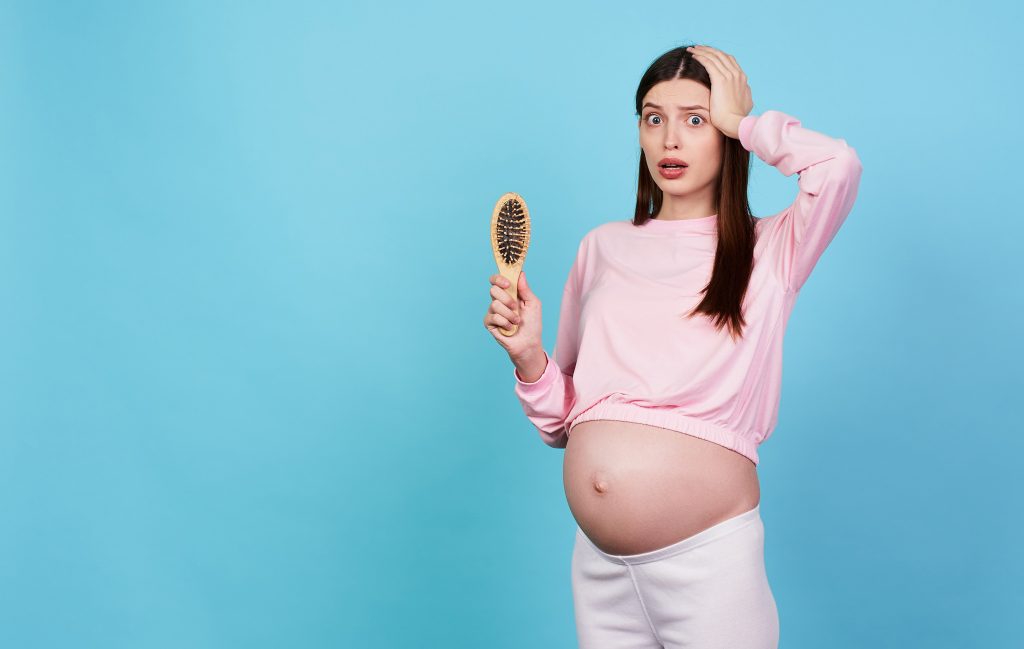 Pregnancy-safe dry shampoo definitely exists. There are a few kinds that are safe for pregnant women, and this article will help you find them.
Rahua Voluminous Dry Shampoo
Rahua Voluminous is a pregnancy-safe dry shampoo made from natural, organic, and plant-derived ingredients.
This brand offers other pregnancy-safe products if you're interested in them. This pregnancy-safe shampoo can be used on all hair types.
It cleans your hair and gives it a great smell. It also adds texture to the hair, so you don't have to worry that your hair will look flat.
Happy Hair Dry Shampoo
Happy Hair is a pregnancy-safe dry shampoo that doesn't contain any harsh ingredients or chemicals. This shampoo is affordable, in powder form, and it's great for using every type of hair.
Women with dry hair love this pregnancy-safe dry shampoo because it doesn't dry out the hair at all.
Another benefit of it is the fact it's very affordable compared to other dry shampoos.
Hair Dance Volumizing Dry Shampoo
This is one of the best dry shampoos for pregnant women. It's vegan, organic, cruelty-free, and made from all-natural ingredients.
It's suitable for all hair types, even for very oily hair. It will give your hair amazing volume and smell.
This pregnancy-safe dry shampoo comes in a convenient size which makes it a perfect travel companion.
Act+Acre Plant-Based Dry Shampoo
This is a plant-based, dry shampoo that doesn't contain any harsh chemicals or bad ingredients.
It comes in a form of a spray, so it's easy to use. It gives your hair a clean look with great volume and texture.
Another great thing about this pregnancy-safe dry shampoo is its power to remove bad smells from your hair and give you a new, fresh one.
Moroccanoil Dry Shampoo Light Tones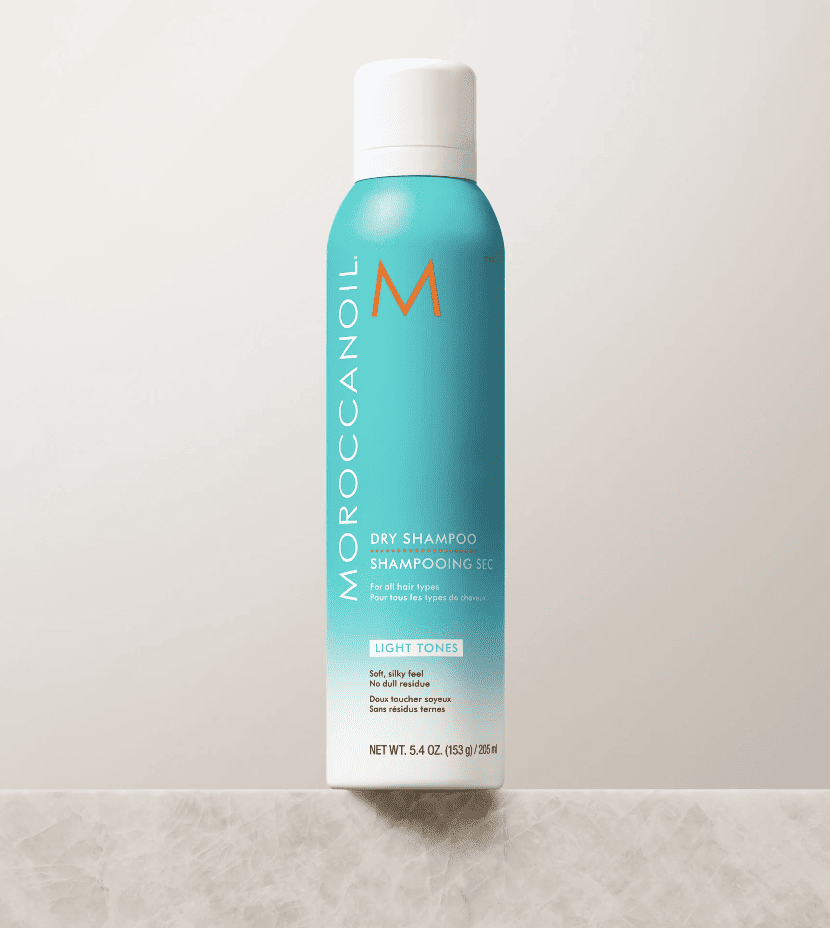 This is a pregnancy-safe dry shampoo without any harmful ingredients, but it's reserved for lighter hair.
If someone with darker hair used it, it might leave a white residue. The greatest thing about this dry shampoo is that it comes in a larger bottle, so it lasts longer.
We all know that dry shampoos in the form of spray don't last for a long time, so this would be a great purchase.
This shampoo will make your hair look clean, fresh, and voluminous, but it will also neutralize brassy or yellow tones.
Batiste Dry Shampoo – Original Fragrance
Batiste is probably the most popular brand when we talk about dry shampoos. Many women didn't know that this brand has a pregnancy-safe dry shampoo.
This dry shampoo is available everywhere, and it's a great option if you've already used this brand.
Batiste dry shampoo – the original fragrance is a vegan-free formula that is safe to use during pregnancy period.
This is an award-winning, best-seller dry shampoo, so it's a great option. It will give you clean and fresh hair with a great texture.
Amika Perk Up Talc-Free Dry Shampoo
This is another pregnancy-safe dry shampoo that will help you to achieve the look of clean hair, even if you haven't washed it in days.
The best thing about this dry shampoo is its ingredient list. Not only does it not contain harmful ingredients, but it also has vitamins and nutrients for hair.
This dry shampoo will give you a clean look while nourishing your hair at the same time.
HASK Coconut Monoi Nourishing Dry Shampoo
This is a great choice of pregnancy-safe dry shampoo. It will give you cleaner hair that smells amazing.
It doesn't have any bad ingredients. On the contrary, this dry shampoo contains Monoi oil.
Monoi oil is an amazing thing for hydration and skin sensitivity. So, if your scalp is quite sensitive and easily irritated, this dry shampoo is for you.
Pregnancy Safe Shampoo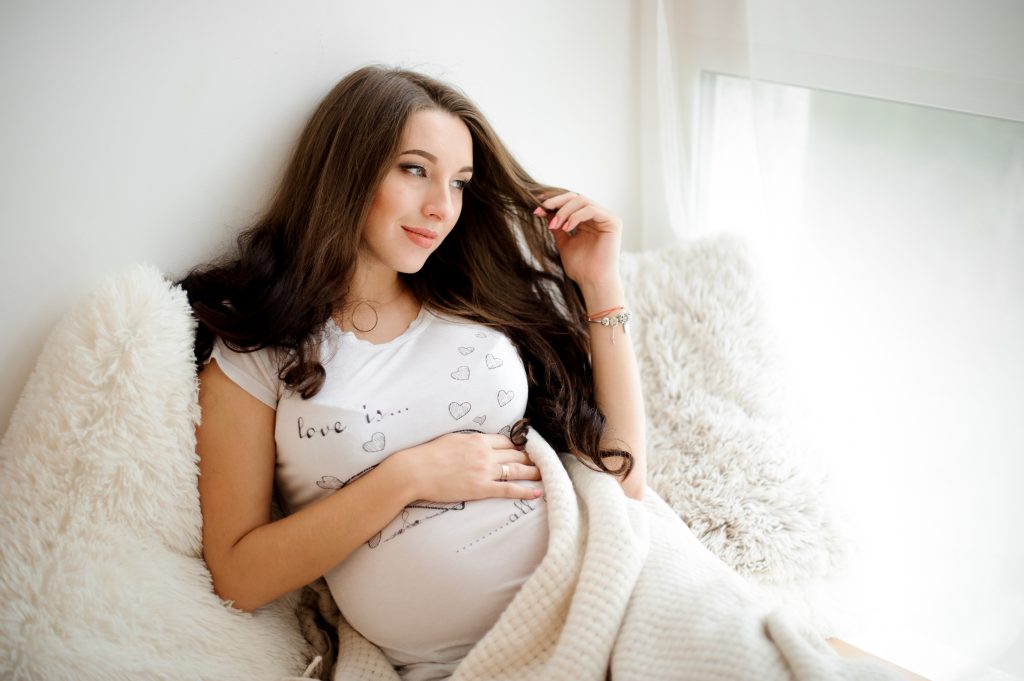 Now that you have some recommendations for pregnancy-safe dry shampoo, it would be good to know which regular shampoos are safe to use when pregnant.
Dry shampoo is great as a quick solution to get rid of the excess oil for a while, but you still have to wash your hair regularly.
The most important thing to know about shampoo that's safe for pregnancy is that it should be sulfate free.
Sulfates are substances that act like detergents. They're responsible for creating a foam, and they can clean your hair really well.
However, most studies show that sulfates are too harsh for our scalps. It's okay to use a shampoo with sulfates once in a while for deep cleaning.
For regular use, you need to find a shampoo that is sulfate free. Many women have problems with this because sulfate-free shampoos are more gentle, and those with oily hair feel that they don't work.
It does take some time to get used to these shampoos, but once you do, you will be amazed by the effect.
Even women who aren't pregnant are using sulfate-free shampoos because they're healthier and more suitable for frequent hair-washing.
So, let me recommend a few pregnancy shampoos that will be healthy and effective.
Herbal Essences Shampoo Honey and Vitamin B
This shampoo is made from mostly natural and organic ingredients that will moisturize your scalp and hair.
Honey is amazing for dry hair, and vitamin B does wonders for hair growth and thickness.
Burt's Bees Sulfate Free Shampoo
Burt's Bees is a brand that has a lot of natural products that are safe during pregnancy.
This shampoo is healthy, and it has good ingredients. Usually, sulfate-free shampoos can't give you a lot of volume or texture.
However, this shampoo for hair will also be the best shampoo for volume. It acts as a hair food and regenerates the hair.
CLEVOS Natura Foresta Natural Organic Hair Shampoo
This organic shampoo is healthy for your hair, but it's even more beneficial if you're struggling with an itchy scalp or dandruff.
It contains gentle, acidic ingredients that will exfoliate your scalp to remove dead skin cells that are causing irritation and itchiness.
AROMATICA Cypress Deep Cleansing Shampoo
This is a great pregnancy-safe shampoo that is both healthy and efficient. It's clinically proven that this shampoo can remove build-up from other products and scalp impurities.
If you're struggling to find a good, natural shampoo that truly cleans your hair and scalp, you need to know that this shampoo exists.
It is also a great shampoo for volume since it cleans so well that it lifts it from the scalp.
Dry Hair During Pregnancy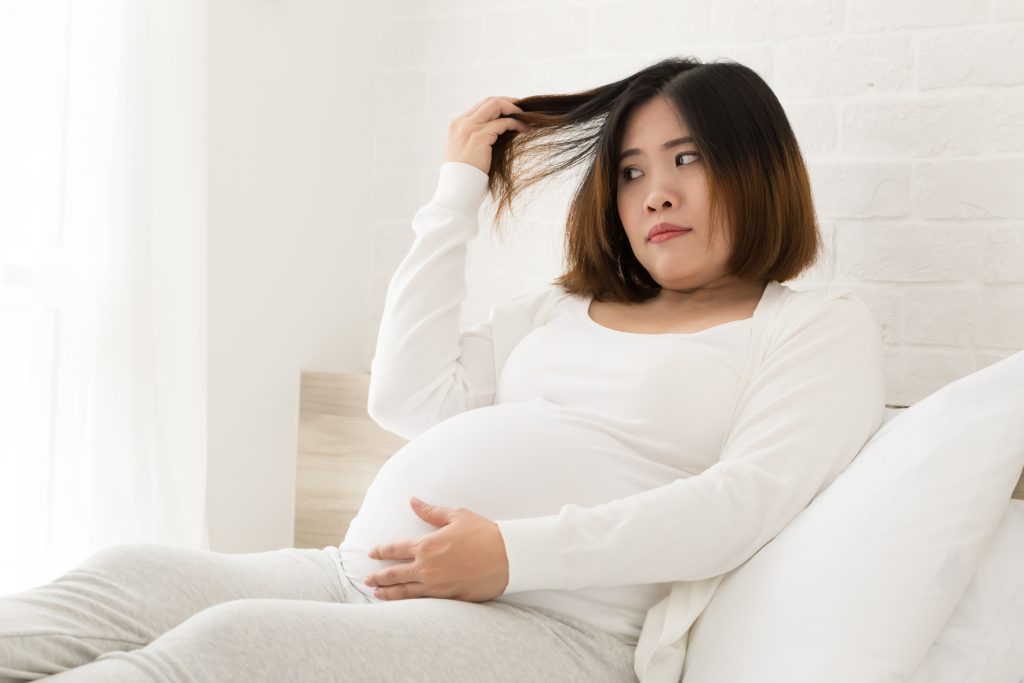 Many pregnant women have no problems with their hair during pregnancy because their prenatal vitamins, combined with increased hormones, are doing wonders for the hair.
As always, there are exceptions. Some women are more sensitive and have problems with hormonal imbalance while pregnant.
This can lead to problems with hair and skin. Another reason for hair problems is digestive problems, like morning sickness and vomiting.
Your baby takes some of the nutrients, and if you're frequently vomiting or you have diarrhea, your body may be missing some nutrients essential for healthy hair.
Some pregnant women can even lose weight during pregnancy, which can cause hair loss and dry hair.
When you're dealing with hair loss, ask your doctor to give you some good vitamins and minerals that will stop it. Additionally, eat healthy food and drink lots of water to solve this problem.
If you have dry hair during pregnancy, there are many shampoos safe for pregnant women that aren't aggressive.
Sulfate-free shampoos won't dry out hair. You can also try some pregnancy-safe hair masks that will help you to get rid of dryness.
I suggest trying out some natural, DIY hair masks that will help you to have shiny and moisturized hair.
Coconut Oil Hair Mask
Coconut oil is truly amazing for many things. It can be used on our hair and body and as a food ingredient.
Of course, you should always find organic, cold-pressed coconut oil. Coconut oil for hair is quite famous. You can use it in so many ways to promote hair health.
The simplest coconut oil hair mask is the one where you saturate your dry hair with coconut oil and leave it on as long as possible before you wash it off.
This will hydrate your hair and get rid of split ends. It can be washed easily; just shampoo your hair twice.
You can also use coconut oil mixed with some other oil. Olive oil, almond oil, grape seed oil, and argan oil are great for mixing with coconut oil.
Some people like to add honey, raw egg, and even yogurt to coconut oil. This is also a great natural mask for dry hair during pregnancy.
Coconut oil on your scalp will prevent hair loss and promote hair growth. Try to massage it well when you put it on the scalp.
Avocado Hair Mask
We all know that avocado is super healthy. It contains healthy fats that will feed your body and hair too.
You can smash the avocado and put it on your hair, but for better texture, add some natural oil and honey to it. Mix well, and apply it to your hair, dry or wet.
It will take some time to rinse it off, but your hair will be so shiny and voluminous.
You can also mix smashed avocado with some plain yogurt to get the best hydrating hair mask.
Castor Oil
Castor oil is great for hair growth. It's even great for lashes and eyebrows. Most people use castor oil on the scalp only, but this oil is great for your whole hair.
It's a bit thick, so you can mix it with coconut oil or simply warm it up to get a better texture.
It will help you eliminate split ends and frizzy hair after only one use. If you use castor oil for at least two months, you will notice hair growth and thicker hair.
Banana Hair Mask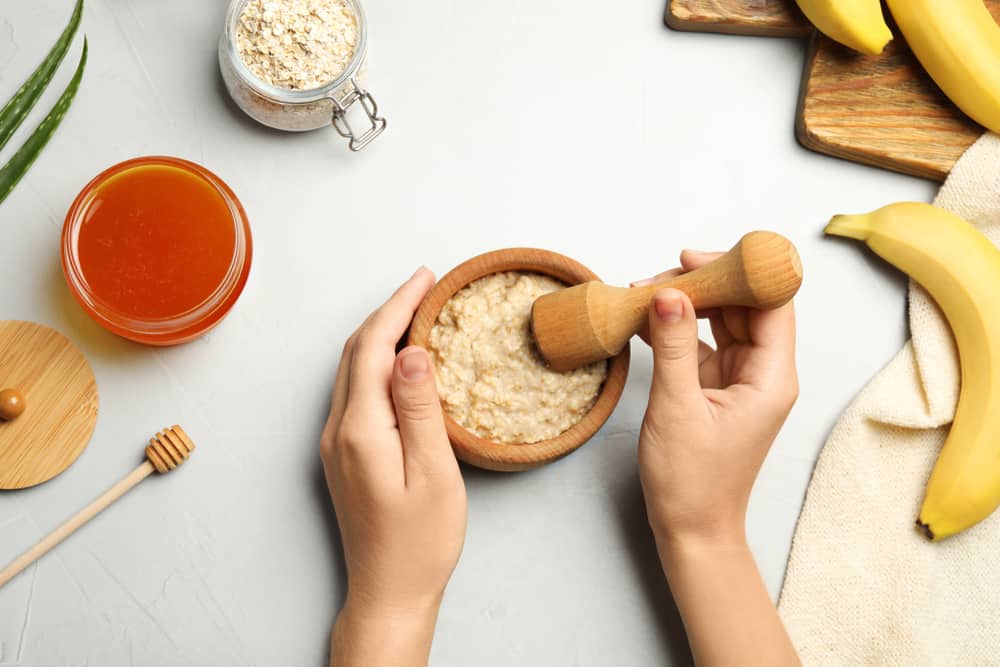 Bananas are delicious and healthy, but they're also a great hair mask. Many women use blended bananas as a natural hair mask, but adding honey and yogurt will make it easier to apply.
It's very important to blend honey and banana well; otherwise, it will be very hard to rinse off banana chunks for your hair.
You can also add a tablespoon of coconut or olive oil to make the mixture smoother.
Mayo Hair Mask
I know it sounds a bit disgusting when I say that putting mayo on your hair is good for dryness.
However, it truly is. You can use the mayo independently, but you can also add an egg and some oil. Mayo is made of eggs and oil. Eggs are filled with protein, and hair is built from protein.
This mask will make your hair stronger and better-looking. If you use it regularly, you will notice that your hair is longer and thicker.
Sea Salt Mask
Sea salt is usually something that dries our hair out.
However, this sea salt mask should only be used on your scalp. Even though your hair is dry, you should use scalp masks and peelings for quicker hair recovery.
Some sea salt mixed with water or lemon juice will get rid of dead skin cells and build-up.
This will make your scalp cleaner, and every beneficial ingredient will absorb faster. When your scalp is healthy and clean, your hair will grow faster, and it will be stronger.
Some people use baking soda and water for hair peeling. Others use coffee and water.
Rice Water Mask
Rice water for healthy hair is commonly used in Asian countries. You must soak some rice in water for a day or more.
Use that water for the final rinse of your hair when washing. You can also try using it in a spray bottle, even when your hair is dry. This would serve as a leave-in spray.
Rice water doesn't smell so great, but if you add some rosemary or a few drops of your favorite essential oil, you will solve this issue.
Rice water is typically used for hair growth, but it also makes your hair shiny and nourished.
Rosemary Hair Spray
Rosemary is not only used for removing bad smells from natural hair remedies. This herb is amazing on its own.
You need some fresh or dried rosemary and a pot of water. Boil the water and rosemary for 10-15 minutes.
When it cools down, transfer it to an empty spray bottle and spray it everywhere. This will make your hair healthier and longer. Your hair will smell amazing.
If you don't like the smell of rosemary, you can use some essential oil for a better scent.
Rosemary water is also great as a natural face toner. If you're interested in making your skin look great, think about HydraFacial treatment during pregnancy.
Is Dry Shampoo Safe for Pregnancy?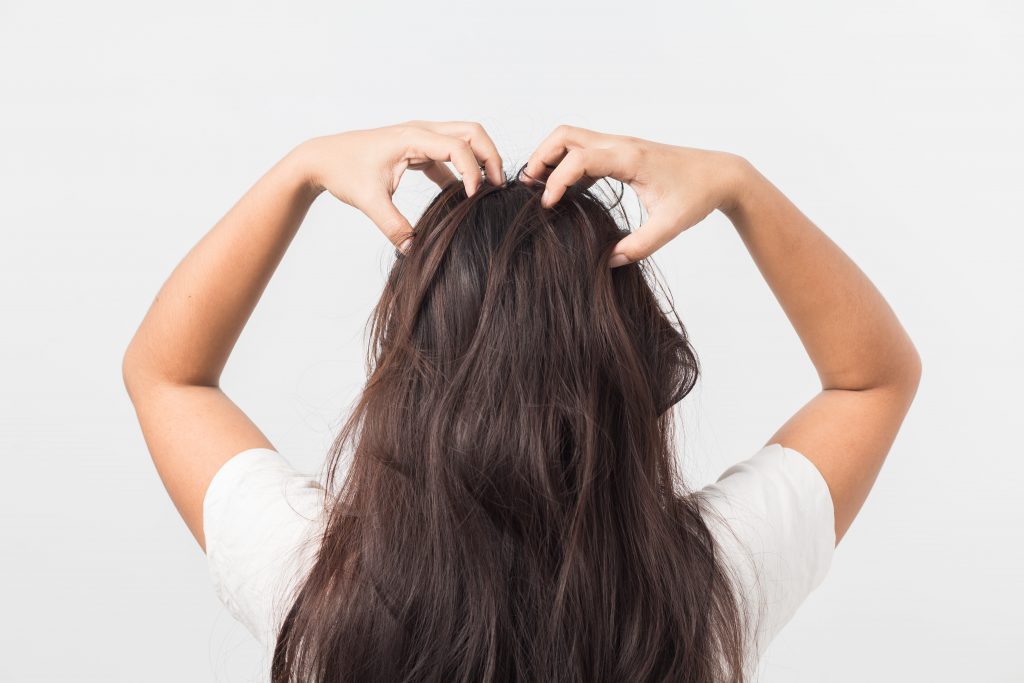 Many people believe that dry shampoo is responsible for itchy scalp and dandruff. If you use a dry shampoo that doesn't have healthy ingredients, you could cause some negative reactions.
This is why it's good for all women to use pregnancy-safe dry shampoo. Just because you're not pregnant doesn't mean you should use something potentially harmful.
Using pregnancy-safe dry shampoo is safe as long as you don't use it all the time. Even if you use a dry shampoo without harmful ingredients, it's still important to wash your hair.
Many hair experts claim that you shouldn't use dry hair shampoo on dirty hair for more than a day or two.
Dry shampoo build-up combined with already oily and dirty hair will create a mess if you do it all the time.
Some women use dry shampoo even when their hair is clean. Dry shampoo gives volume and texture, and that's why they like to use it.
There is nothing wrong with this as long as you use it in moderation. Choose safe dry shampoos, and you should be fine.
Since washing your hair for real is important, I suggest using a deep cleaning shampoo more often if you're using dry shampoo.
This will prevent build-up, dandruff, and itchy scalp. Using scalp peeling is also beneficial. It will not just help with the dirt on your scalp, it will also keep your hair cleaner for a longer time.
Oily Hair
Some women have oily hair, others have dry hair, and some of them have both oily and dry hair.
This usually happens when the scalp is oily, and the rest of the hair is very dry. This is a combination that requires a lot of discipline.
Luckily, all the natural masks, shampoos, and dry shampoos are great for all these problems.
Pregnant women can struggle with dry hair during pregnancy, but many of them have problems with oily hair due to hormonal changes.
The pregnancy-safe dry shampoo is a great help when you have this problem, but it's also wise to purchase a good regular shampoo.
I suggest finding a mild shampoo for frequent use and another shampoo that is meant for deep cleaning.
Dandruff
Having dandruff during pregnancy is also caused by hormonal changes. Dandruff is a condition where the skin on your scalp is flaking.
It's usually connected to dry skin, but some people with oily scalps also have dandruff.
When your case of dandruff is not too serious, it's easy to get rid of it. Regular washing and exfoliating should help.
A mild shampoo is a must, and avoiding aggressive hair products. Another important thing is to avoid dry shampoo if you have dandruff.
This could worsen the condition, and it doesn't matter if the dry shampoo is healthy or not. It's okay to use it from time to, but frequent use will not be helpful at all.
Certain medical conditions can affect your scalp, and they're similar to dandruff.
Seborrheic dermatitis is a condition where your scalp is itchy, inflamed, and flaky. This condition looks like a severe case of dandruff.
Some people use natural methods to get rid of it, but I recommend going to the doctor or consulting a pharmacist.
Many medicinal shampoos contain substances for dealing with seborrheic dermatitis.
Most of them shouldn't be used for a long time. Some people use these shampoos when they have a regular case of dandruff. That's okay for a quick fix, but don't use it more than a few times.
When you get rid of seborrheic dermatitis or dandruff, you have to pay attention to your hair care.
If you're prone to these conditions, they will be back if you're not careful. Using high-quality products is a must. Natural hair care is also beneficial.
The biggest problem with seborrheic dermatitis is that it can be triggered by stress. So, if you have this condition, try to work on your mental health.
Just like many other things in our bodies, our hair is also affected by our mental well-being.
Healthy Hair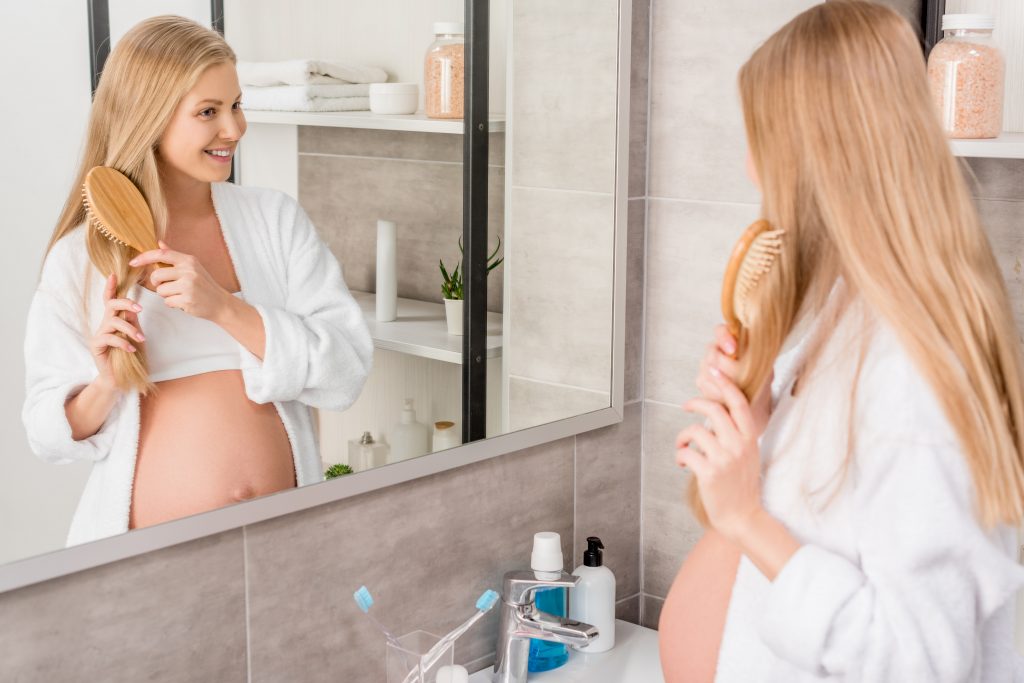 Having healthy hair is important for every woman. Pregnant women and postpartum moms are more sensitive and emotional, and their appearance is important to them.
Pregnancy-safe dry shampoo is a great trick to achieve a great hair look quickly. It's also good for creating different hairstyles since it helps with texture.
As I've said, even though they're safe, just don't use them all the time. Your hair is a very important part of your feminine appearance.
You should find good shampoos and hair masks that will promote hair health. During pregnancy, it's important to pay attention to their safety and ingredient list.
I think this is important even for non-pregnant ladies. I always like to avoid toxic ingredients.
It's also good to find high-quality leave-in products. This will protect your hair from polluted air, heat, and sun.
Besides good products and natural hair remedies, there are also some tips and tricks to have great hair.
First of all, avoid using heat. I know that many women can't imagine air-drying their hair, but it's much healthier than using a hair dryer.
If you really have to use a hair dryer, then buy a good one. Luckily, there are so many amazing hair dryers that aren't damaging at all.
They have amazing features that will keep your hair silky and moisturized. They're more expensive than regular hair dryers, but they're worth it.
Blow-drying your hair with a good hair dryer and a brush is acceptable. However, using a flat iron and a hair curler should be done rarely. When you use heat on your hair, make sure to use a good heat protector.
Another important thing for good-looking hair is a good hairbrush. You need to find the one that won't damage your hair or make your daily brushing painful.
There are many options available, and you should find something based on your hair type. The wrong hairbrush can break and damage your hair.
It's also important to avoid using hair ties. A high ponytail is a great hairstyle, but this will break your hair and cause hair loss if you do it every day.
You have to be gentle and careful. Treat your hair like it's alive. Don't pull it, and don't break it. Even when you're washing your hair, try to be gentle. Don't rub it too hard. It's even more fragile when it's wet.
Last, but not least, protect your hair from the sun. Use products for sun, UVA, and UVB protection.
Wear hats and learn to create a protective hairstyle, like loose braids, for example. Treat your hair with respect, and I am sure results will come.
Final Thoughts: Pregnancy-Safe Dry Shampoo
Pregnancy-safe dry shampoo is easy to find if you're interested in it. This product is great when you need a quick fix, and there are many safe options for pregnant ladies.
Hair is important to many women, and many women struggle to have beautiful, healthy hair. It can be hard to achieve a great hair look, but it's not impossible. A good hair routine and good hair products are all you need.
Luckily, many natural remedies will make your hair healthier and more beautiful. There don't hesitate to try them out.
It can be hard to accept your pregnant body, but you should always strive to find ways to feel better about yourself. Your confidence is always stronger when your hair looks amazing.
Many pregnant ladies are looking for the best natural hair products, body lotions, pregnancy-safe mascara, and similar.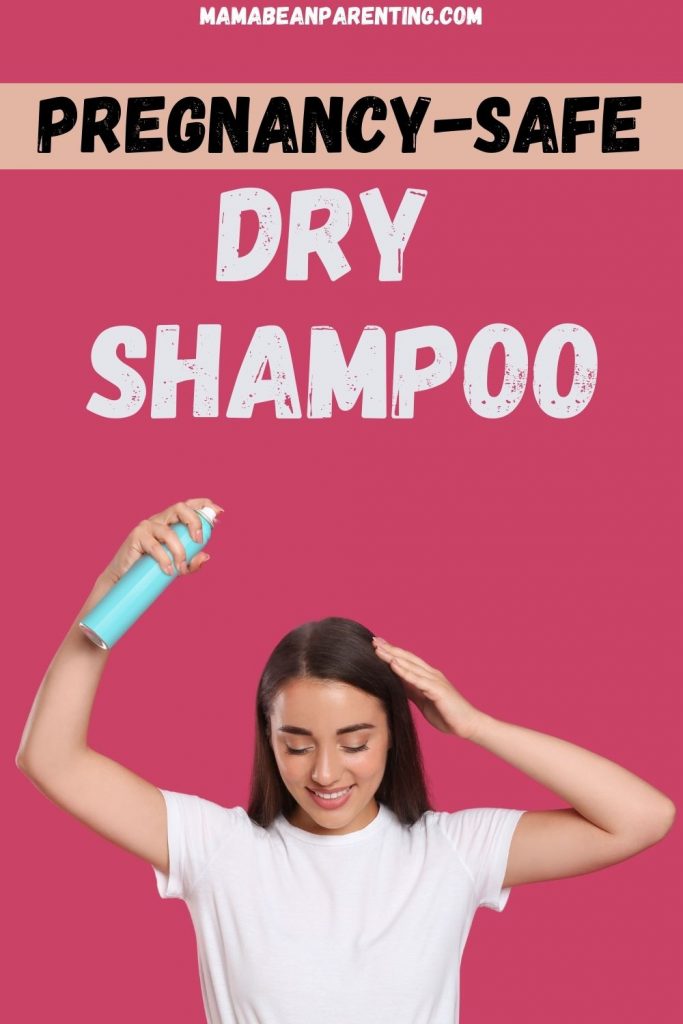 Hi all, I am Sidney, an accountant, a hobbyist photographer, and a mother to two sweet girls who are my motivation. I love sharing the tips and tricks I gained all these years I've been a mother. I hope it will help you!