Freezing the formula for teething sounds like a great idea, especially if your baby doesn't consume anything else but milk.
This article will help you find out if freezing formula milk for teething is safe, and how to do it.
The teething period can be stressful for both the mom and the baby. The child is in pain, and you can't do much about it.
This is why it's important to learn more about methods that could make this period a lot easier. Luckily, we have the internet and many parents share their positive experiences when we talk about teething.
Some methods might not work for your child, but others probably will.
Can You Freeze The Formula For Teething?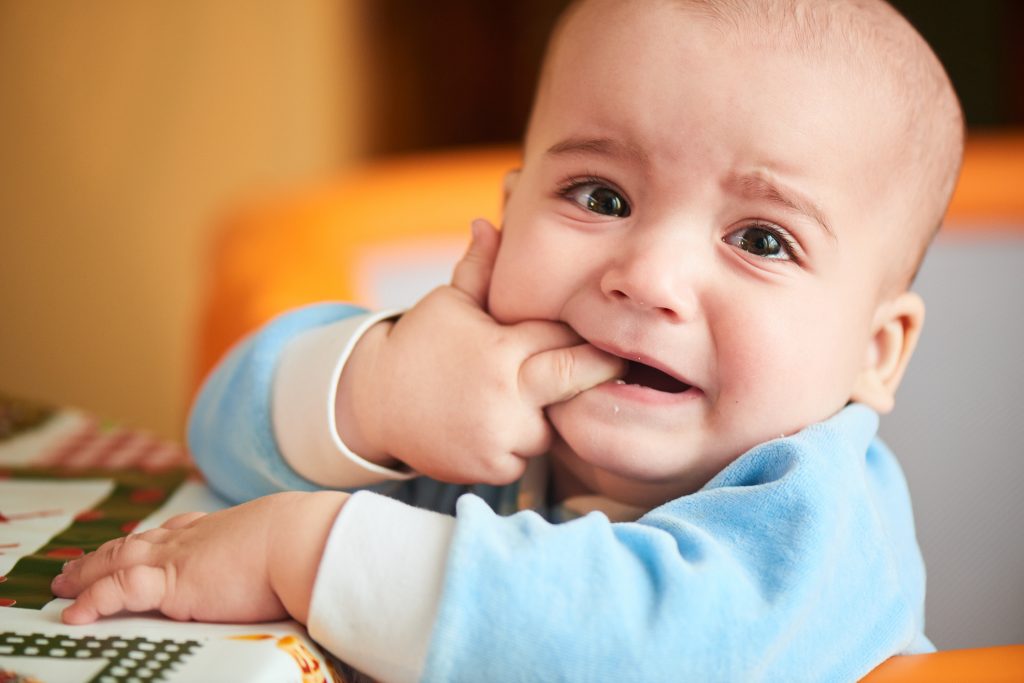 If you're wondering if can you freeze formula milk for teething, this is where you'll find your answer.
The short answer is no – you can't freeze the formula for teething. It wasn't tested and professional opinions indicate that it shouldn't be done
The longer answer is a bit more complicated. Some experts believe that freezing formula milk is not safe due to possible bacteria. Others believe that it's safe as long as you sanitize everything and keep it clean.
They advise you to simply freeze formula milk and use it as a soothing agent. Freezing breast milk would be even more effective, but the formula is also beneficial, according to other people's experiences.
Formula milk contains valuable nutrients and vitamins that will have a healing effect on inflamed gums. When it's cold, that effect will be even stronger. Cold things will reduce the swelling and take away the pain.
This information is valuable and I am sure that these parents mean well when they recommend all of this.
My advice is to try something else. Try other teething assistants because I am sure you will find something good that doesn't have the potential to grow bacteria.
Breast milk is sterile, and you can't guarantee that with formula. Many people have tried freezing formula milk for teething and it worked, but I wouldn't risk it.
Some people decided to risk it, and they think that it's not effective because the formula was changed after freezing.
Apparently, the formula milk gets separated, and it loses its flavor. It simply doesn't taste right.
Freezing Breast Milk For Teething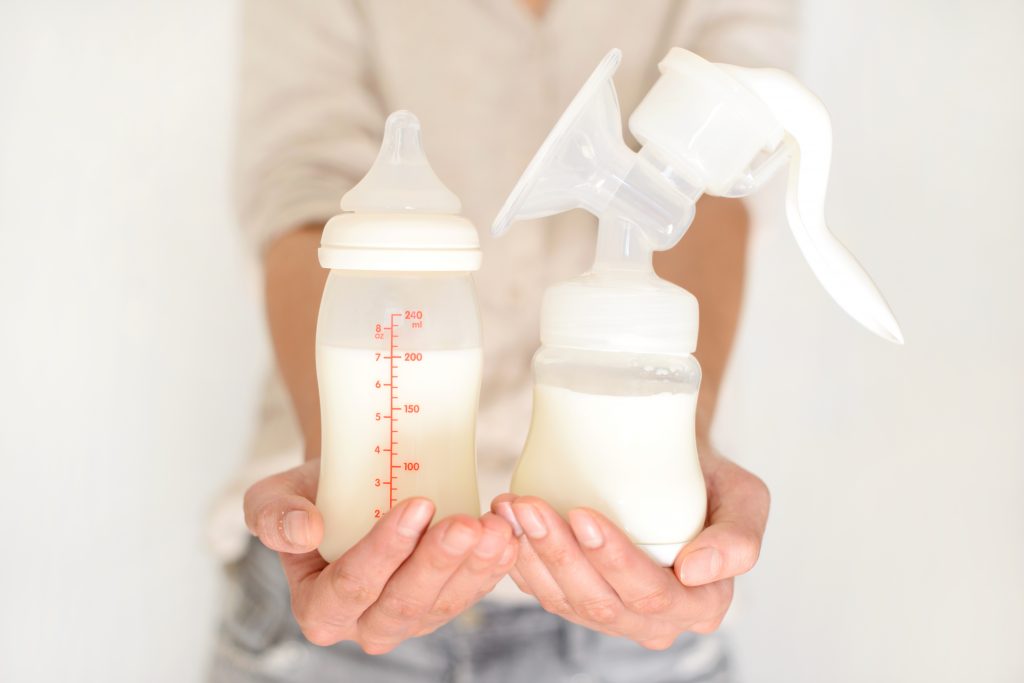 Freezing breast milk for teething is safe and recommended.
Frozen breast milk for teething is called baby breast milk popsicles or momsicles. Of course, this means you should use popsicle molds to make them.
Chewing a momsicle relieves the pressure that happens when teething. Coldness works wonder its pain and swelling, and breast milk is healing as always.
Baby formula popsicles can also turn out fine, but formula milk loses a lot of its nutrients when frozen. On the other hand, your milk stays pretty much the same.
With formula milk popsicles, you only get the cold sensation. Since that is something you can get with other things that can't develop bacteria and go bad, I would avoid freezing formula milk for teething.
Mother's milk is filled with ingredients that have healing and anti-inflammatory properties. These homemade popsicles will give the baby that amazing cold sensation, but they will also heal inflamed gums.
Breast milk works as a baby pain killer. Formula milk is a great replacement for your milk when it comes to feeding.
When breast milk is used topically, formula milk can't be used as a replacement. It's simply not the same.
Since the question is can you freeze formula for teething, you probably don't have any breast milk.
It's never too late to start breastfeeding. So, even if you could extract a little bit of milk just to make a breast milk popsicle, that would be a great solution.
At the end of the day, don't stress yourself. Teething is exhausting, and sometimes nothing can calm your baby down.
So, to resolve this issue with a simple statement – if you can, freeze your own milk and use it for teething. Formula milk is not good for this, according to experts.
How To Deal With Teething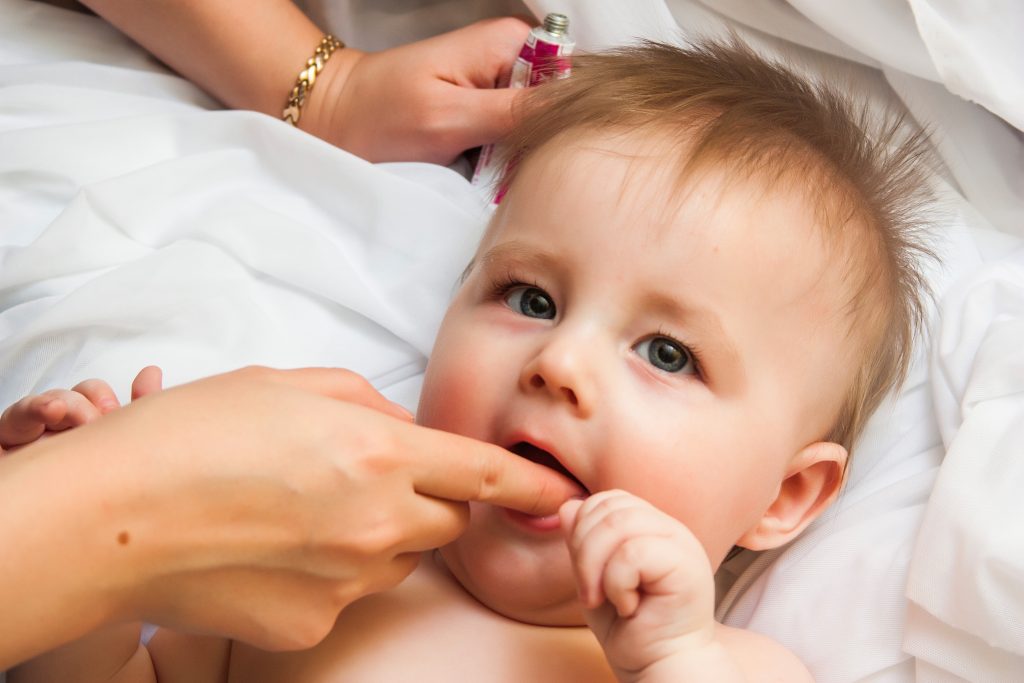 Now that you know that frozen milk formula is not a good idea for your teething baby, let's find out what is.
You simply want to help your baby, and if the frozen formula is not safe, you have to find other ways. Teething usually starts when the baby is 5 or 6 months old. In this period, it's okay to try some methods that aren't milk.
If you have problems with a teething baby that won't sleep, try some of these tips and tricks.
Frozen Fruit
Frozen fruit is a great cold snack that will amuse your baby and relieve the teething pain.
It's important to cut the fruit into pieces that aren't too big or too small. It shouldn't be too big because the baby won't be able to massage the gums with it.
If it's too small the baby might choke on it. Therefore, choose medium-sized pieces of fruit.
Teething Rings
I think the most logical method for relieving the teething phase is buying a few teething rings.
They're available everywhere, and most of them have some toy that will attract the baby's attention.
That way, the baby will massage the gums while playing with the toy. Most of these rings are made from silicone and they can be placed in the refrigerator.
Just ensure they're not completely solid because that could hurt the baby's mouth.
With frozen fruit, it's different because it starts melting as soon as it touches the baby's gums. Teething rings need a few minutes to become softer.
Some of them aren't supposed to go to the freezer, so pay attention to the direction on the packaging. There are different colors, sizes, and designs, so you will easily find something acceptable.
Cool Spoon
A cold metal spoon is a simple way to soothe your teething baby. Wash your spoon, and put it in the freezer.
I recommend that you use a spoon to massage the baby's gums. This is a hard object and the baby could hurt itself.
If you give the spoon to the baby, be there to observe the situation.
Teething Snacks
The modern era has everything, including teething snacks. In most cases, teething snacks are teething biscuits or cookies.
Usually, they don't contain any unique ingredients or remedies. Their texture is special and chewing the biscuit helps with the pain.
They're delicious and most babies love to chew on them which is a great thing if you're having trouble putting something into your baby's mouth.
These cookies are recommended for babies older than 8 months.
Teething Gel Or Medicine
Medicine gave us many solutions to our problems. There are many gels and other forms of medication that can be applied to a baby's gums for relief.
These things have active ingredients and substances, so they will probably work. However, it's important to ask for a prescription or consult with a pharmacist.
Some of these medications can be too strong for younger babies, so you have to check with a professional. In many cases, the doctor will recommend home remedies and perhaps a Tylenol or a similar medication.
According to other people's experiences, teething gels and ointments are effective, but that effect doesn't last for too long.
Since you can use it all the time, it's not worth the money and exposing your baby to chemical ingredients.
Massage
You've noticed that teething remedies are all about coldness and massage. Sometimes you don't need anything except your own clean hands.
Simply massage the baby's gums with your fingers. This will take away the pain and it will promote blood circulation.
You can also find little silicone fingers with soft bristles that will make this massage even more efficient.
Massaging gums with your finger or something else, like a teething ring, will reduce the pain and create better blood flow which is good for faster teeth growth.
When we talk about massage, foot massage is also a good way to deal with teething.
Baby's foot massage is not just about relaxation, it's also about massaging certain points on the feet that could help with the pain.
Being Gentle With Your Little One
I know that it's frustrating to go through teething, and you're also tired. However, find the strength inside you to be patient and gentle.
Cuddle with your child, and try to calm them down. Try to amuse them, and make them feel safe.
Your baby is in pain, and even if the pain stops for a while, anxiety and fussiness kick in. Besides, teeth problems will always be there. Right now it's the teething.
In the future, you will deal with babies grinding teeth or kids' yellow teeth. It's always something.
Fever When Teething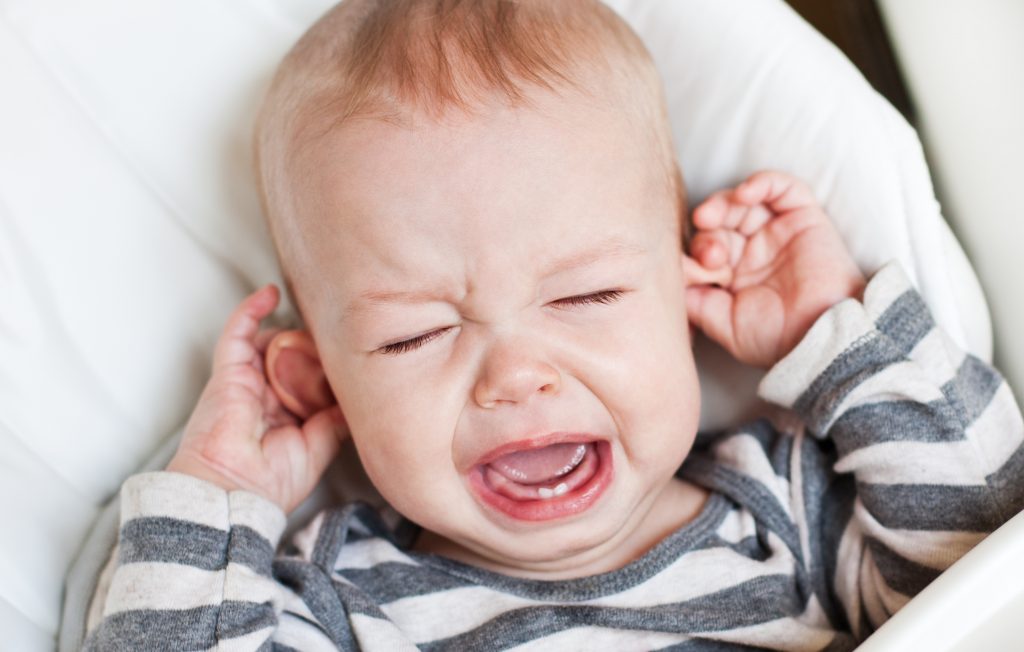 It's easy to mix teething with a cold or flu, but it's possible to have a fever when teething.
Teething can cause slightly increased fewer. It usually happens because the baby is under a lot of stress, and all the crying and fussiness lead to raised body temperature.
In most cases, you shouldn't give your baby any medication. Try to calm down the situation, and give your baby a bath.
Conclusion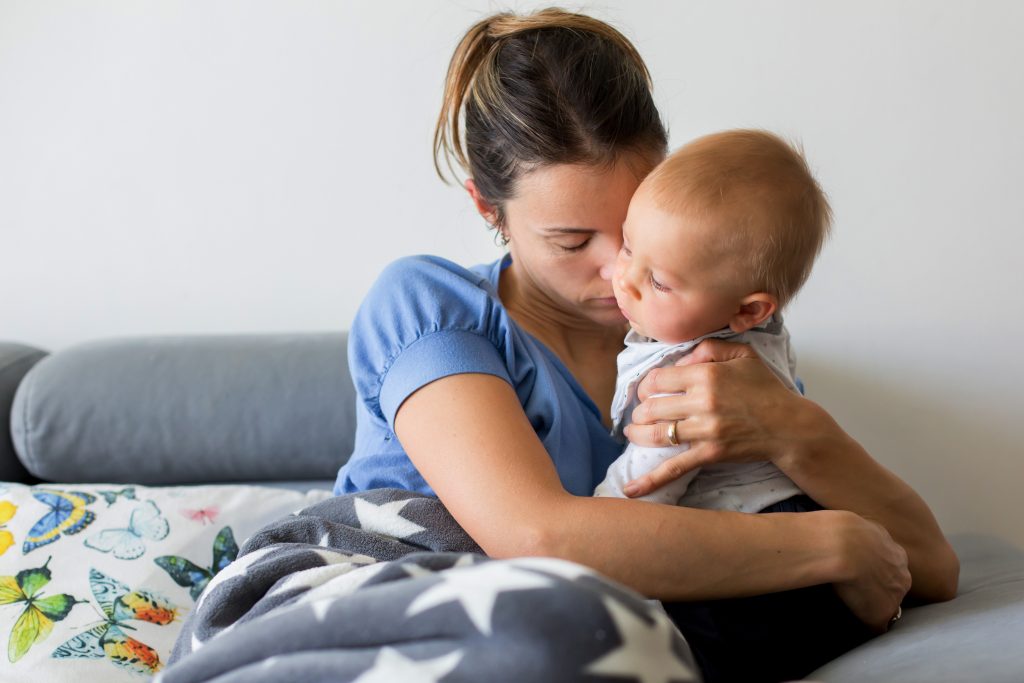 Teething is a difficult chapter of motherhood and a baby's life. Luckily, babies forget all about it, so it leaves a greater mark on the mother.
If you've been wondering if can you freeze formula for teething, this article gave you the answer. It's recommended to avoid this kind of trick for teething.
Many ways can help you through this period, and I am sure you will find something that works for your little one.
Even if nothing helps, this period will pass. Teething doesn't last forever, and sometimes all you have to do is wait. Be calm and patient no matter what.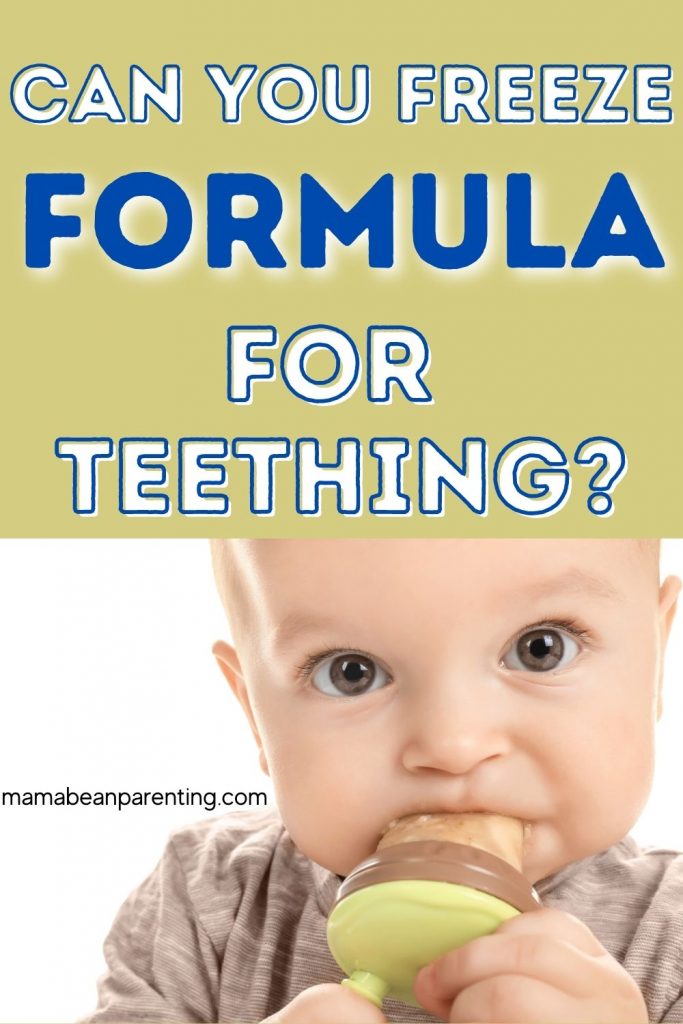 Hi all, I am Sidney, an accountant, a hobbyist photographer, and a mother to two sweet girls who are my motivation. I love sharing the tips and tricks I gained all these years I've been a mother. I hope it will help you!