Pregnancy is a special time and it needs to be celebrated.
Taking photographs allows mothers-to-be to create lasting memories to look back on. However, in order to truly capture your pregnancy glow, you will need the best maternity photoshoot outfit ideas.
When you make a decision to celebrate your changing body, the right outfit means everything. Many pregnant women find themselves lacking confidence, but a stunning look elevates you and makes you feel sexy.
We're here to help you find the perfect outfit.
From dresses to skirts and even lingerie, maternity clothing is a world to get lost in.
Finding your personal style, deciding on what colors to wear and making it all work together cohesively is a difficult but fun challenge.
With our selection of maternity photoshoot outfit ideas as well as general outlines to follow – it gets a lot easier.
Let's help you love and cherish your pregnant body by celebrating your heavenly curves with just the right clothing.
Before we dive into specifics, however, it's vital to go over the factors you have to consider when choosing clothing for a maternity photoshoot.
Whether you're pregnant for the first time or expecting a second child, a maternity photo shoot will help you feel powerful in your body and allow you to create lasting memories that you can fondly look back on and even share with your kids in the future.
Imagine your child looking at your maternity photography with him/her in the belly. Nice feeling, right?
How to Choose the Perfect Outfit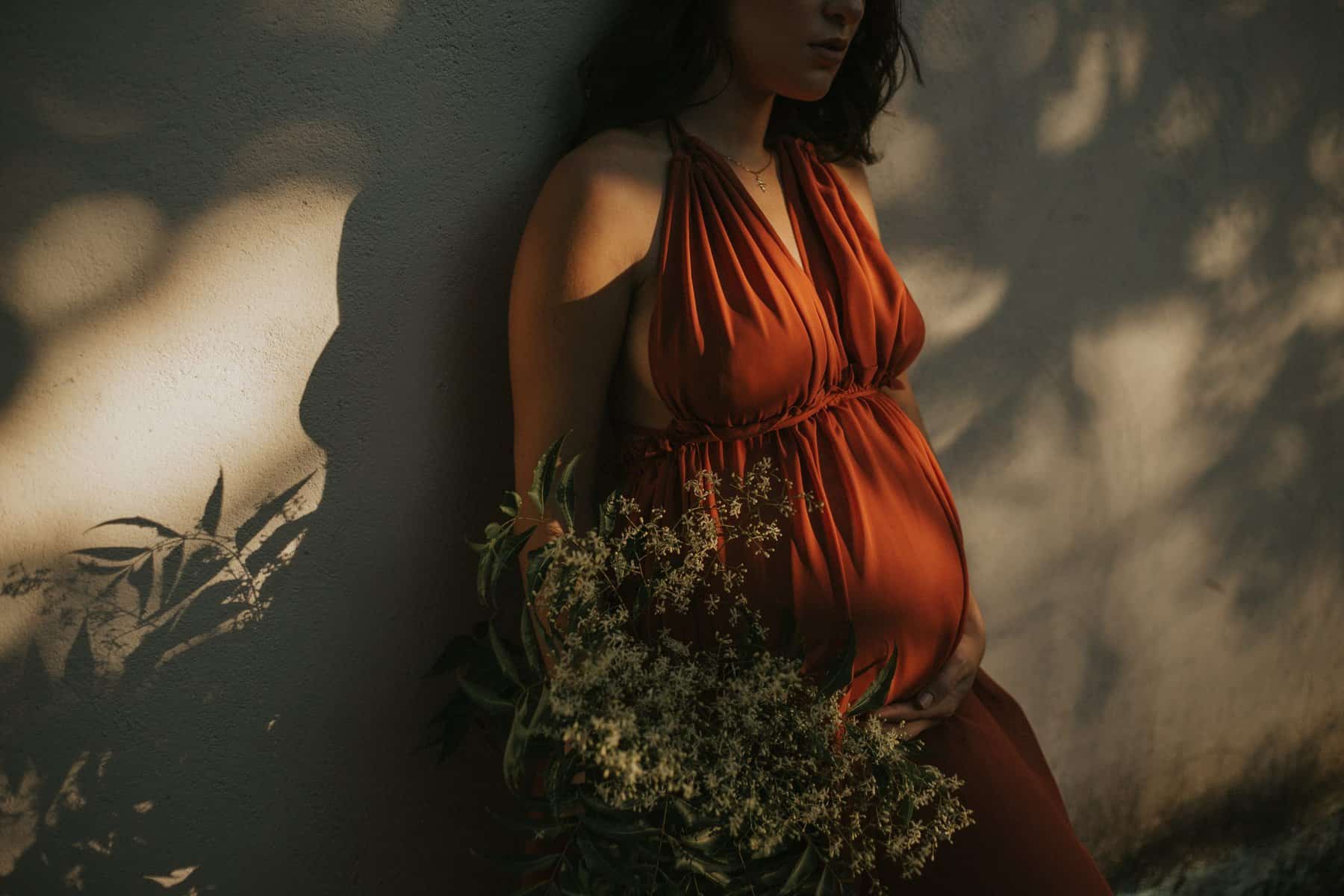 We know that it's all about the dress, but there are certain filters, so to speak, that can help you find the best one.
For example, you can't choose the perfect maternity clothes if you don't know the location of the photo shoot yet. Take the time to prepare adequately for photography.
Here's a few factors that you have to consider when choosing a maternity attire.
1 • The location is crucial.
The setting should always complement the outfit. When you have determined an ideal location for the photoshoot, it gets easier to think and experiment with colors and themes. For example, a formal setting directly implies a formal attire.
If you're finding it difficult to decide on colors, consult the photographer. They can point you in the right direction, because they understand the importance of the foreground – which, well, is you – and the background. They know how to take a harmonious photo.
2 • The second thing that you want to consider before diving into maternity photoshoot outfit ideas is, of course, the season.
Every outfit varies depending on the time of year. So, is it summer, fall, winter or spring? The season determines the clothes that you can wear.
3 • What's your personal style?
If you want to feel comfortable, choose an outfit that perfectly matches your personal style. After all, the goal of a maternity photoshoot is not only to celebrate your beautiful form, but to make you feel confident and comfortable.
Even if some of our maternity photoshoot outfit ideas are based on vivid colors, you're still encouraged to trust your intuition. Do you prefer gentle tones and a muted palette? That's fine, too, because the goal is to find a maternity attire that reflects your personality.
4 • How far along are you?
Knowing when to take maternity photos is part of the process, because you have to consider your body shape. In order to find an outfit that highlights the beauty of your body, the clothes you wear should showcase your bump.
5 • Plan on taking photographs with your partner?
Then, you have two outfits to worry about! When choosing your clothes, consider your partner's, too. The two attires have to work together fluidly in order to highlight the depth and intimacy of your connection.
6 • Last but not least, make sure that your maternity clothing is comfortable. The last thing you want is to hide a painful grimace when you should be enjoying taking photos of your pregnancy baby bump.
Go for breathable fabrics that allow for ease of movement.
This is a special time, and it's important for mothers-to-be to celebrate each and every moment. So, take all of these factors into account in order to find just the perfect outfit that complements your changing body and makes you feel strong, beautiful and powerful.
Flaunt Your Baby Bump With a Dress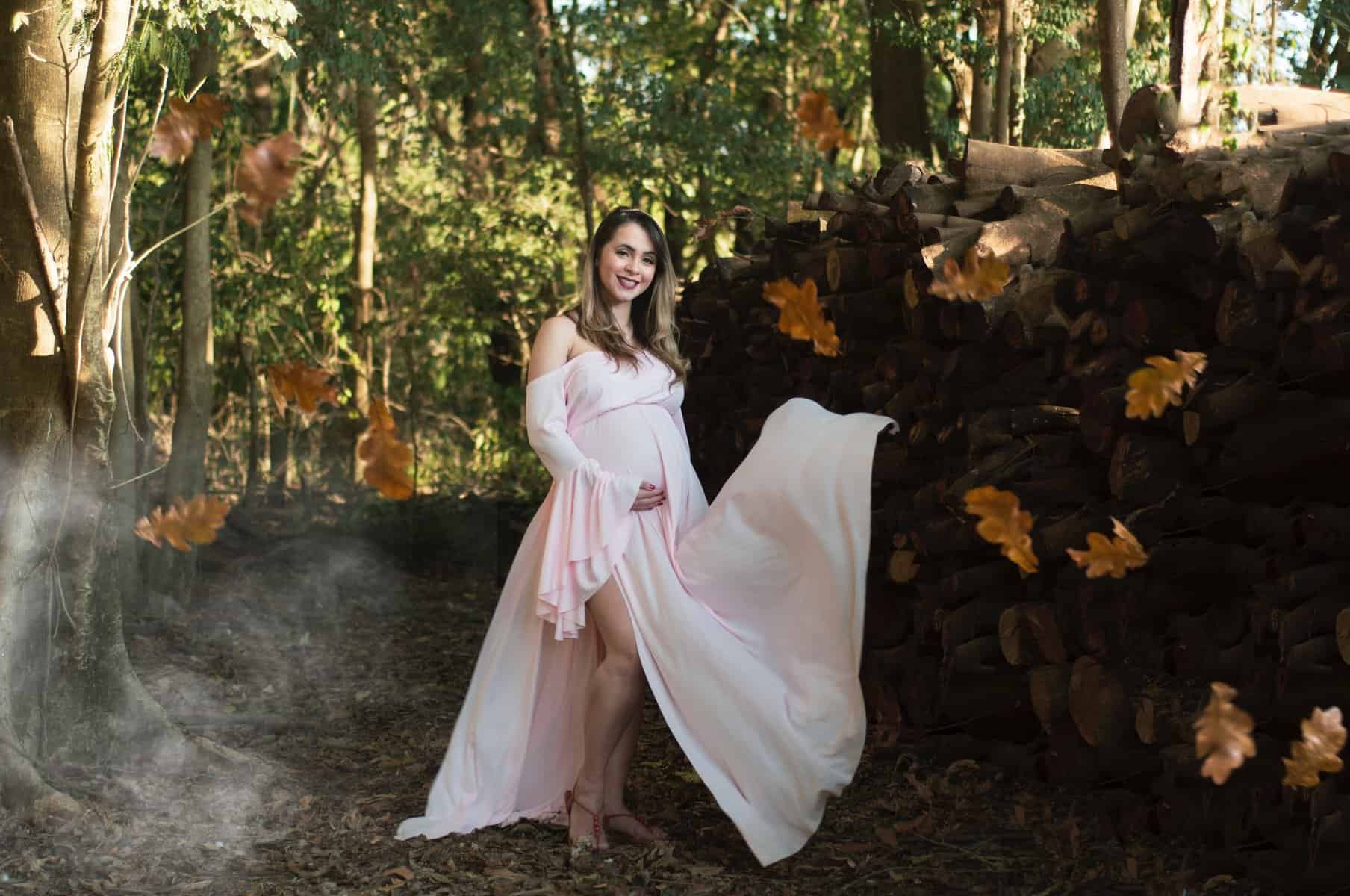 Maternity dresses – the most popular option for photoshoots.
It's a classic. Nothing quite beats it. A maternity dress captures the essence of feminine beauty and power.
The right kind of dress can make you feel like a goddess when you're taking maternity photos. They're comfortable, easy to move around in, and look stunning.
The best maternity photoshoot outfit ideas are based around fabulous dresses.
Finding a dress that fits you nicely and looks gorgeous may at first seem like a daunting task. That's why you need just a little bit of preparation and some key considerations.
Here's a few suggestions for you to consider:
1 • A long, flowing maxi dress.
What exactly is a maxi dress? Well, maxi dresses are long.
They reach either your ankles or the floor, which makes them suitable for cool, brisk weather. Maxi dresses come in all shapes, sizes and colors, so you're able to find the ideal one for just about any setting.
A maxi dress is a popular choice for maternity photography, because the length and flow of fabric perfectly accentuates your changing body. Not only that, moms-to-be love them because they're versatile, able to satisfy any patterns or shapes they have in mind.
If you're going for a maxi dress at your maternity shoot, you will be fully comfortable.
The flowing, loose design of a maxi dress accommodates your baby bump and makes sure that you're perfectly comfortable. They're generally made from light, breathable materials.
Even though a maxi dress is great for brisk weather, it's comfortable during summer, too.
On top of that, they're great for accessorizing, as well. In fact, the possibilities may very well be endless. It's hard to recommend any accessories with so much variety, from belts to necklaces, earrings and even flower crowns. Focus on highlighting your personal style.
If you're going for a maxi dress and wondering about footwear, think of the setting. For example, if you're taking maternity pictures in nature, then sandals are the way to go. However, if you have a more formal setting, long dresses pair wonderfully with heels.
A maxi dress is a perfect dress for maternity photoshoots. Compared to other maternity photoshoot outfit ideas, it may in fact very well be the best choice due to its versatility.
2 • A curve-hugging wrap dress.
A wrap dress is another great option for a maternity shoot. By tying it at the waist, it provides extra breathability and adjustability for moms-to-be. Wrap dresses typically feature a V neckline which elongates your neck and makes your body look taller.
Since wrap dresses usually fall to the knees, they're suitable for warmer weather.
The key aspect of the wrap maternity dress is, of course, the adjustability. Now that you have a baby bump, you need to find suitable clothing that accommodates your body.
Like all maternity dresses, wrap dresses come in a range of colors, prints and patterns – but what about the materials? For a formal dress photoshoot, get a wrap dress made from luxurious silk. Burgundy and dusty rose are great for more lavish maternity photoshoots.
On the other hand, there's a great variety of floral and abstract patterns in bold and vivid colors if you're looking something more laidback to fit a casual and playful photoshoot.
What about accessories? The V neckline is perfect for a statement necklace.
When it comes to maternity photoshoot outfit ideas, we always advise adding your own personal touch with accessories. Don't be afraid to get creative and to personalize the photo.
Make it your own. After all, this shoot is all about celebrating your changing body.
3 • An empire waist maternity dress.
Another dress that makes our list when it comes to maternity photoshoot outfit ideas is the empire waist maternity dress. But, what makes it special? The elegant design features a high waistline that elongates your body while providing space for your belly to breathe.
The unique design gives emphasis to your curves and celebrates your growing belly.
What makes the empire waist dress a viable choice for a maternity shoot is the variety of style and fabric it offers. From cotton to silk and chiffon, the empire waist dress lives up to its name.
Long and flowing, the empire waist maternity dress is truly a timeless look.
In the case of maternity photography, we advise going for a rich emerald green or a deep navy blue. However, the choice of color naturally varies depending on the shoot setting.
The empire waist dress works wonderfully with a dazzling necklace and earrings to match. Since this dress elongates your body, the ideal choice of footwear are wedges and heels, because they add to your height and make you look more slimmer, elegant and feminine.
4 • A sleek and stylish bodycon dress.
Looking for something that fits tightly around your body and highlights your curves in a bold way, something that screams confidence? Then, the bodycon dress is ideal for you.
Made from stretchy fabrics, usually spandex or rayon, this dress spotlights your figure.
Unlike the previous maternity photoshoot outfit ideas, the bodycon dress fully showcases the beauty of your belly, the wonder of a little baby growing inside you.
Yes, the dress fits tightly around your body, but the nature of the materials used allows for extra flexibility.
Naturally, there is a world of colors, prints and patterns to explore. Like all dresses, it may take some time until you find the best one to celebrate your pregnancy.
However, the bodycon dress shines in combinations, too, especially when paired with a blazer.
We love accessories, but it's important not to overdo it here. Too many accessories, and the dress loses its effect. If you're going for details, make them subtle.
Since the bodycon dress is focused on emphasizing your curves, you don't want any distractions in the way.
Despite the stretchy fabric, bodycon dresses may not be the most comfortable. Especially in the later stages of pregnancy, wearing clothes that fit tightly against your body may irritate you.
Nevertheless, the bodycon dress is a fun and daring option for a photoshoot.
5 • A free-spirited boho dress.
Boho draws inspiration from a variety of different cultures and artistic expressions, combining them together into an eclectic style.
For the boho dress to work for maternity pictures, it has to feel organic, in touch with nature and as varied as humanly possible.
From patterned clothing, ethnic fabrics to embroidery and trinkets – anything goes.
How do you make it all work together fluidly?
If boho isn't your personal style, you may have to a little bit of research first. These bohemian or hippie dresses are popular because they're comfortable and free-spirited, but there are layers of philosophy behind it.
Unlike previous maternity outfits, boho dresses are wild and versatile. They work for an impressive amount of settings, but they truly shine in outdoor settings, such as beaches.
The idea behind boho dresses is to celebrate the nature of pregnancy.
Comfort is key.
A boho dress provides enough room for your belly. They come in all shapes and sizes, from short sleeve to long sleeve dresses. However, the key to pulling off the boho look is accessorizing.
You're supposed to overdo it, but make it seem effortless.
Things like sandals, headbands and flower crowns go well with the boho aesthetic.
Creativity is a must when it comes to this maternity photoshoot idea.
Fun Alternatives to the Traditional Dress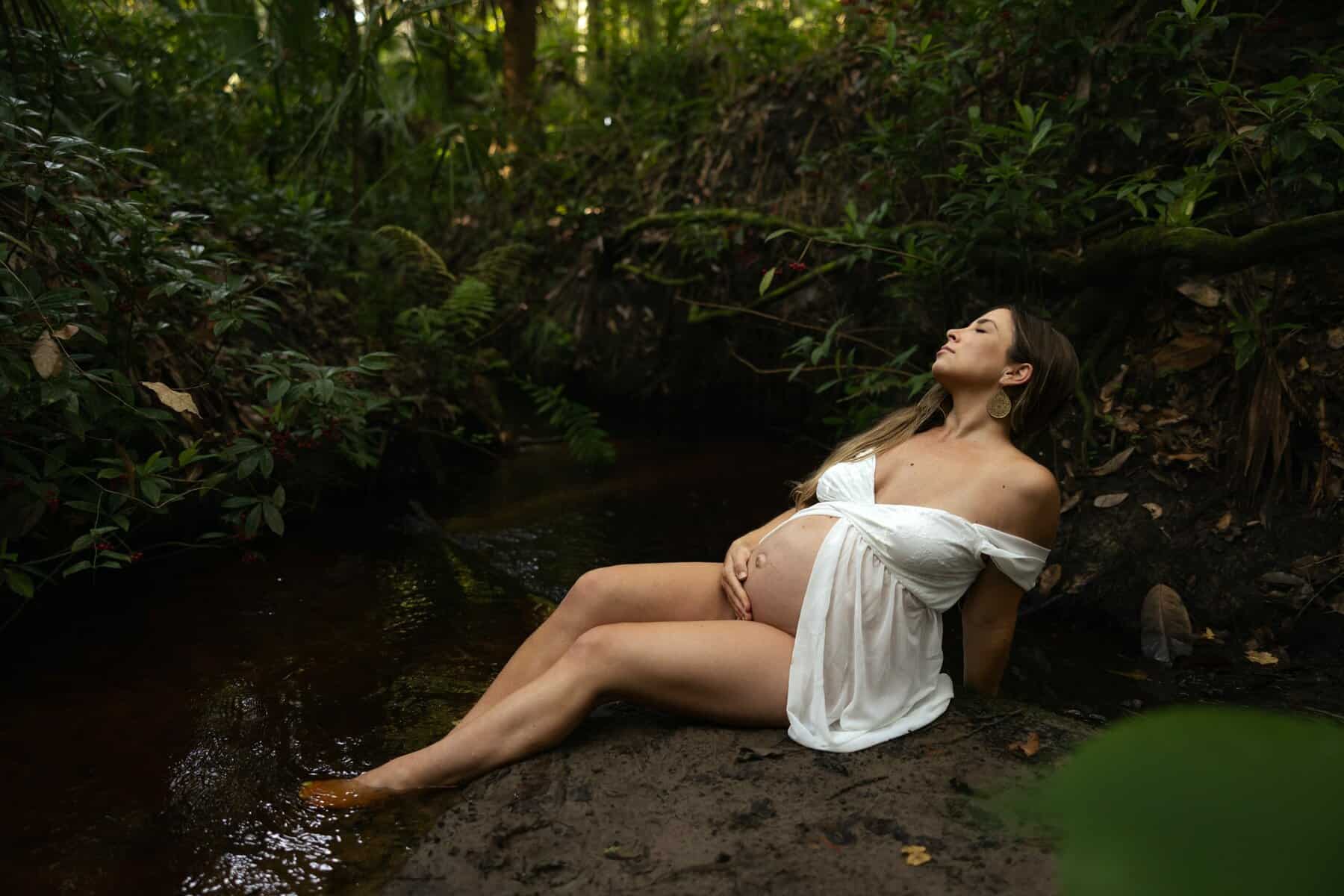 Dresses are a popular, timeless and classic choice for moms-to-be looking to take a few maternity pictures. However, they are not the only option worth considering. There is an entire world of alternative maternity photoshoot outfit ideas waiting to be explored.
1 • Show off your bump.
Some expecting mothers prefer to show off their growing belly in full splendor. Instead of highlighting it subtly with a fancy dress, they want to capture the beauty of a bare bump.
With a tube top, an unbuttoned shirt or a crop top, and matching bottoms, you can flaunt your baby's temporary home in a stylish way. Since your bump is going to be the center of attention, solid colors are a safe option. Just make sure that you're totally comfortable.
Flaunting your bare bump takes confidence. If you're feeling hesitant and need an extra push, talk with your partner. Have them pose with you. They can stand behind you with their arms reaching around you, hands gently placed on your belly in a loving embrace.
2 • Play with textures.
Want to get creative? After all, most of maternity photoshoot outfit ideas are based around solid colors. That gets old quick, doesn't it? You want something different and unique.
Freshen things up by introducing textures. What kind? It depends on what kind of effect you want to achieve. Textures can add depth to your outfits. They can make the photo look more dynamic, interesting and dimensional. Still, be careful not to overdo it.
Mixing textures takes a little bit of know-how.
Some of the more popular texture choices for a maternity photo include lace, knits, velvet and denim. However, the textures you choose should be comfortable and suitable for the season. Don't be afraid to experiment until you find something that really stands out.
3 • Celebrate your sensuality.
Want to capture the beauty of your changing body? A sensual, intimate maternity shoot is a beautiful way to make yourself feel confident and sexy. Some mothers-to-be prefer to pose completely undressed, but we're here to explore maternity photoshoot outfit ideas.
Yes, there's less clothing, but every detail matters.
Even though you're free to delight in your own sensuality, we advise taking a maternity photo or two with your partner. Focus on your connection and let the experience create lasting memories and reignite your passion while highlighting the beauty of pregnancy.
First things first, you have to find a private location. If you don't want to do it at home, you can go to a private photography studio and organize a creative and interesting setting.
Consider the tone of your maternity photo. Do you want it to be romantic? Your choice of clothing determines the mood of your photos. Consider the options you have available.
From lingerie to sheer dresses to lace robes – the possibilities are endless.
Make sure to hire a professional photographer for this occasion. They can help guide you through the process, especially if you feel uncomfortable posing. Do what feels natural. Let your photographer handle the magic while you focus on celebrating your sensuality.
Tips & Tricks on How to Get the Best Shots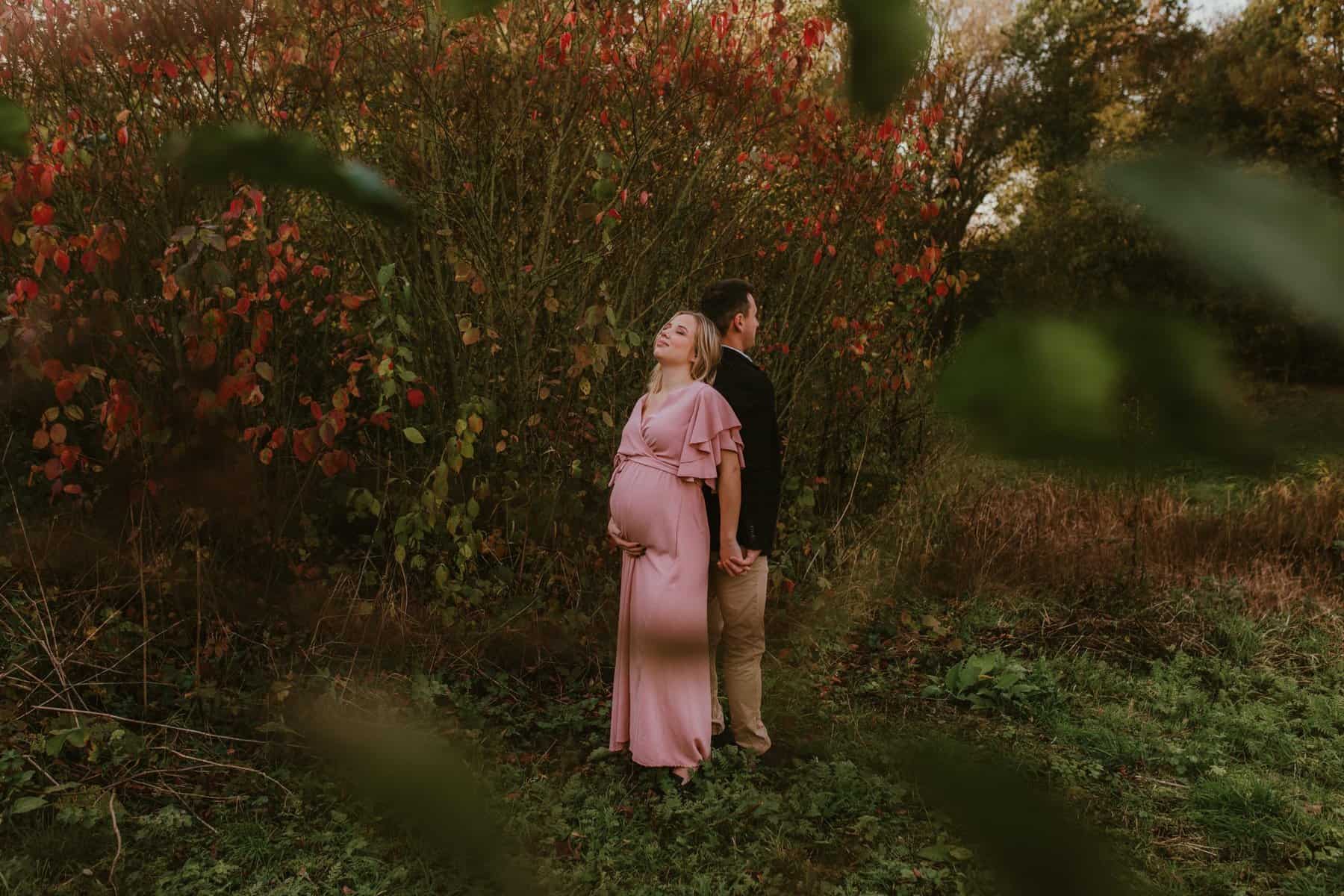 Taking photographs of your pregnancy journey is so much more than finding the right maternity photoshoot outfit ideas. It's about telling a story – your story.
Every little detail matters. From the location to the pose to the outfit, everything reflects your personal story.
Don't hesitate to personalize the shoot. For example, you can organize it at a location which has special meaning for you and your partner. Somewhere where you enjoy spending time together or maybe the location of your first kiss or your first date.
Remember, the photoshoot doesn't have to include just you, your partner and the background. You can get creative with props. For example, you can include ultrasound pictures or baby shoes. Maybe you can write something witty on a sign and hold it.
Basically, anything you want or have a desire to add or do – you can do it. This is your photoshoot. We're just here to share tips, tricks and maternity photoshoot outfit ideas.
Don't delay the photoshoot endlessly or the boat may very well sail. If you're wondering when to take maternity photos, the ideal time to take them is between 28 to 36 weeks of pregnancy.
You get to show off your bump without facing difficulties or getting tired.
Still, the ideal time depends on other things, too, such as personal preferences, your health and how ready you feel. So, make sure to schedule for whenever you feel comfortable.
However, the number one tip we can share is to have fun. It sounds corny, yes, but pregnancy is supposed to be celebrated and enjoyed.
This photoshoot is a great opportunity for you to relax and unwind, to enjoy yourself and make memories.
In Conclusion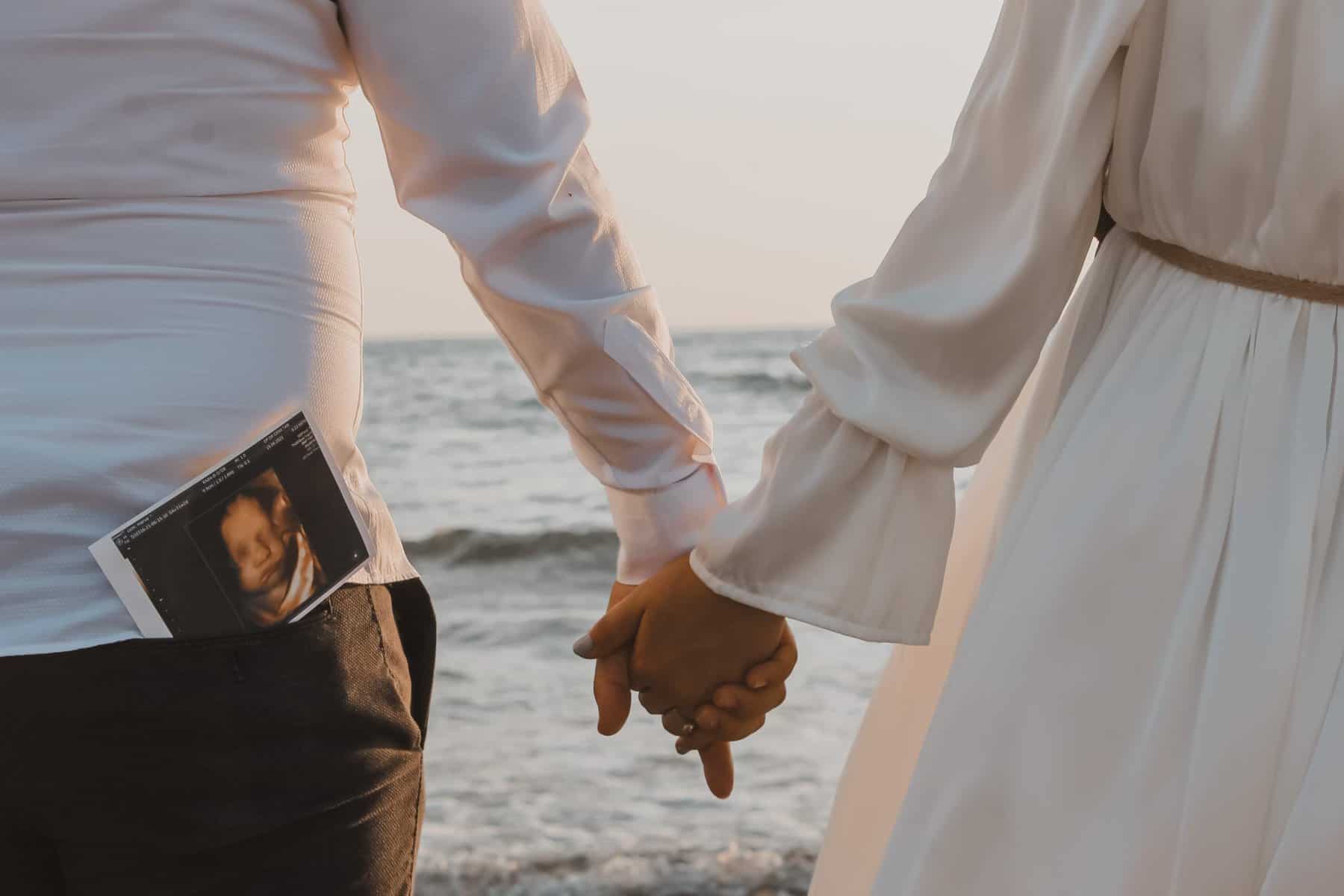 A maternity photoshoot is an experience that you don't want to miss out on. Even if it's your second baby, you deserve to celebrate your pregnancy and capture the moment.
If you're here, then you likely don't need any convincing. You've already made up your mind. Hopefully, our guide and suggestions can help you think in the right direction.
By following our guidance, we're certain that you will create timeless, genuine photos with an outfit that matches you to perfection.
Whether you want a maxi dress or even an alternative option such as lingerie, our ideas and guidelines will make you look stunning.
Remember to take everything into account. From the location to the materials of your clothing of choice down to accessories and poses – everything has to fit together neatly.
Keep in mind that this maternity photoshoot is all about you. Whatever ideas you got flowing inside your head – there's nothing to stop you from executing them.
This is your photoshoot, and you get to do whatever you want to celebrate your pregnancy journey.
If you feel hesitant and unsure, that's all right. Take your time. There's no clear answer as to when to take maternity photos, because it's your decision.
Find the right outfit with our help and guidance, and when you feel comfortable and ready, go and capture the magic!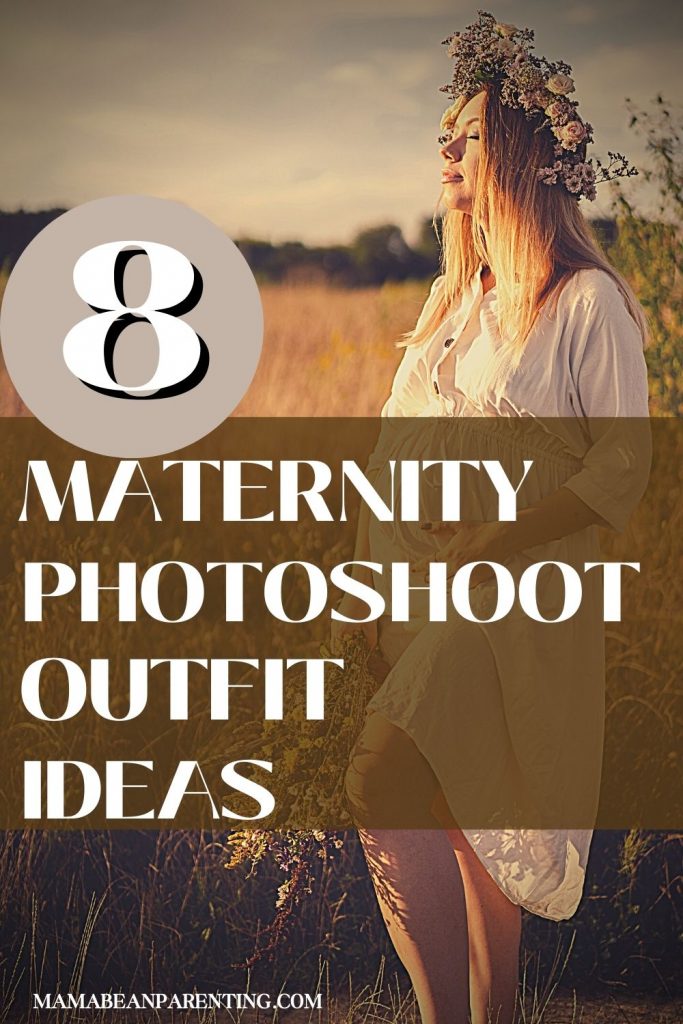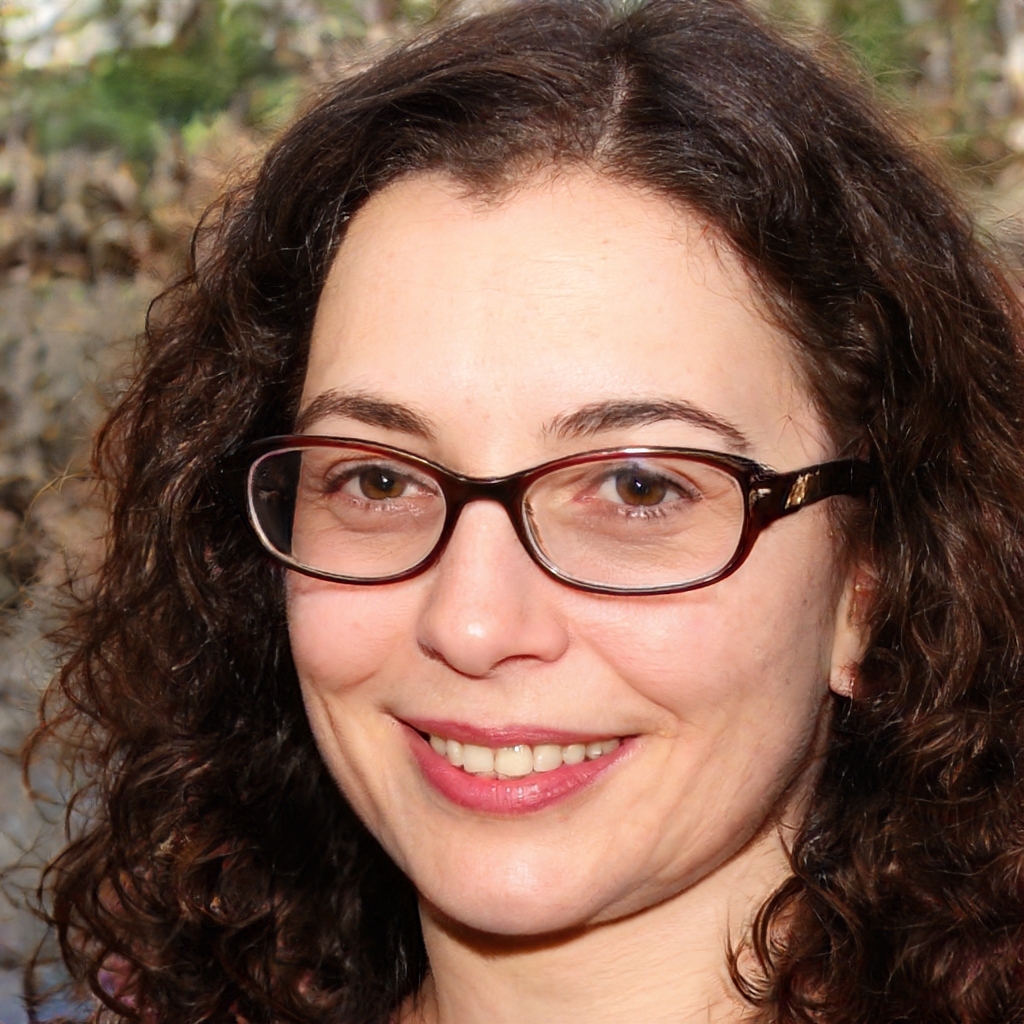 Mother of three and a primary school teacher. I've always loved being around children and helping them, so I chose my path as a teacher. It is sometimes hectic with three children, but I am 100 percent into it and wouldn't change it for anything in the world.