Choosing the best earrings for the baby is probably one of the most essential topics (besides finding super-cool clothes for your little one) for all those new parents who define themselves as fashion gurus.
They would love nothing more but to purchase the best earrings (or jewelry in general) for their little girl and make her even more beautiful (if that's ever possible).
What's interesting is that this whole baby earrings obsession has been present for quite some time. Shortly after the baby arrives, a lot of parents embark on the journey to hunt down the best earrings for their baby girl because they want to turn her into a real princess as soon as possible.
According to the statistics (regarding the best earrings for the baby topic), around forty percent of parents with daughters have already pierced their baby and almost fifty percent of parents have done it by the age of 2.
It's quite unbelievable, am I right?
So if you're one of those parents who are yearning to buy the best earrings for the baby, yet you know nothing about baby fashion, then let's ask me (your renowned, yet self-proclaimed fashion enthusiast) because I'll tell you all the steps that will help you locate the best earrings for baby.
What Sort of Baby Earrings Are the Best?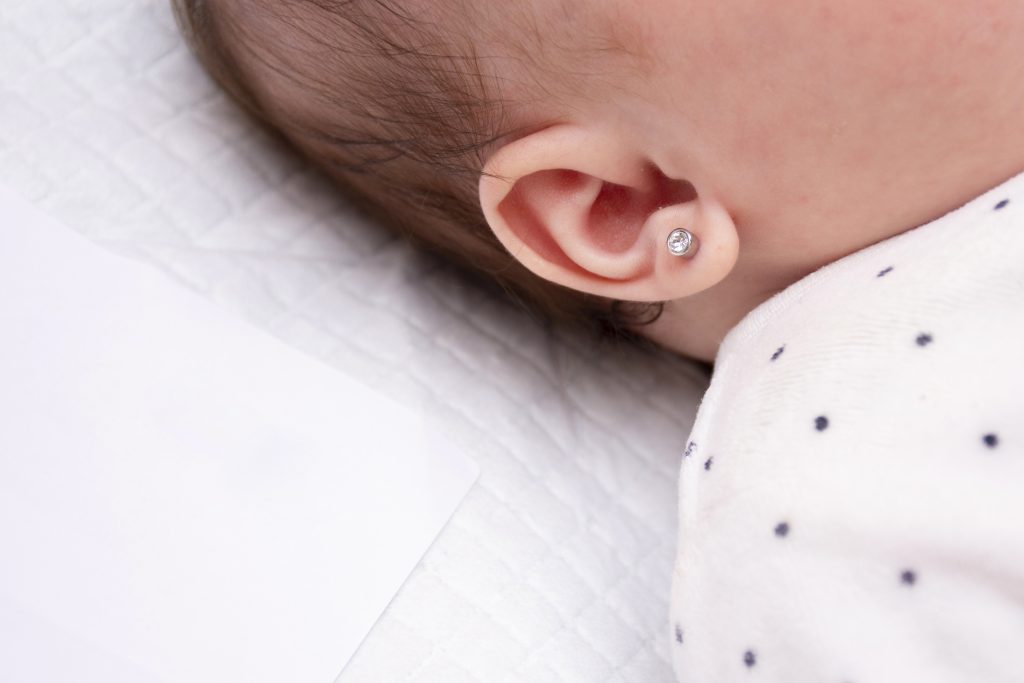 Shopping for the best earrings for a baby (and this includes the best earrings for toddlers) is for sure a very exciting journey because there are so many factors that need to be taken into account, such as secure backings and hypoallergenic material.
Today, I dug up some useful information that will help you select the best earrings for a baby right after the initial piercing.
So what should be prioritized?
Since we're discussing the best baby earrings, you want to obtain something that's very easy to put on, difficult for your baby girl to get off, and above all, a piece of jewelry that's going to accentuate her lovely personality.
Let's Talk About Backs
There are several different options when it comes to this, however, only a couple of them are actually good for babies (safety comes first).
Generally speaking (when it comes to baby earrings), screw backs are a good option (not to mention screw backs are very high in demand) for infant earrings.
One of their biggest virtues is the fact that once you twist them close on the ear (of course, you should be very gentle), they are one hundred percent secure, meaning there's no need for you to twist them so hard as if your life depended on it.
That's why I adore screw-backs so much! One of my favorites when it comes to jewelry.
Unlike adult earrings, these baby earrings are a lot more stable and secure. More importantly, it's highly unlikely that the back will fall off, so you do not have to obsess over it too much.
If you ask me, one of the best earrings for a baby is safety stud earrings due to the fact they do not fall off easily.
So not only are stud earrings safe (and safety is crucial) for your child, but stud earrings are also extremely simple to take off and cute. That's precisely one of the reasons why so many parents opt for stud earrings when they are buying baby earrings.
Now, if you want to secure the best earrings for toddlers and infants, then you shouldn't consider acquiring butterfly backs.
Why is that?
Well, that's because these baby earrings can fall off relatively easily, unlike stud earrings.
What About Material?
When searching for high-quality baby earrings, you need to focus on the material too! Namely, a vast majority of parents usually opt for hypoallergenic earrings for their kids because they know how sensitive baby skin can be.
If you share this opinion and would like to purchase only the best earrings for a baby, then be sure to opt for gold, silver, and surgical steel, because they are generally the safest and non-toxic materials in baby earrings.
Bear in mind that stainless steel is acceptable, only if it's been made from surgical-grade stainless steel, otherwise, avoid it.
So what should you avoid?
In these instances (when finding the best earrings for a baby is your major concern), you should avoid materials that were made from plastic and that are cost-effective (particularly avoid buying cheap things if your baby has sensitive skin).
Safety over price!
If you currently do not have the means to buy something that's of better quality and a bit pricey, then I suggest postponing baby earrings for the time being. You do not want to purchase something that's going to jeopardize her safety when it comes to her ears.
Style, Style, Style
I wouldn't recommend obtaining a hoop or small dangle because both of them can cause an infection (to the baby's ears) or tear the ear out
Instead, it would be much better if you acquired a stud, at least until your kiddo becomes more comfortable with earrings.
How long will it take for your little princess to get used to them?
No one knows for sure because something like this mostly depends on the child. However, according to some of my friends, it may take a while.
In some types of situations, even a couple of years. But so what? There's no need to rush anything. It's not like your little one's ears will turn into cabbage if she wears studs for a certain amount of time.
As soon as the initial stage is over, you can consider a hoop or a tiny dangle. Huggies (huggie hoops) are a great idea (along with the ones that have cubic zirconia) because they do not get caught on anything easily.
And as far as danglers are concerned, they are a great option too. However, if you have a child that's too hyperactive, then use them only for special occasions.
What Are the Best Toddler Earrings (for children with sensitive ears)?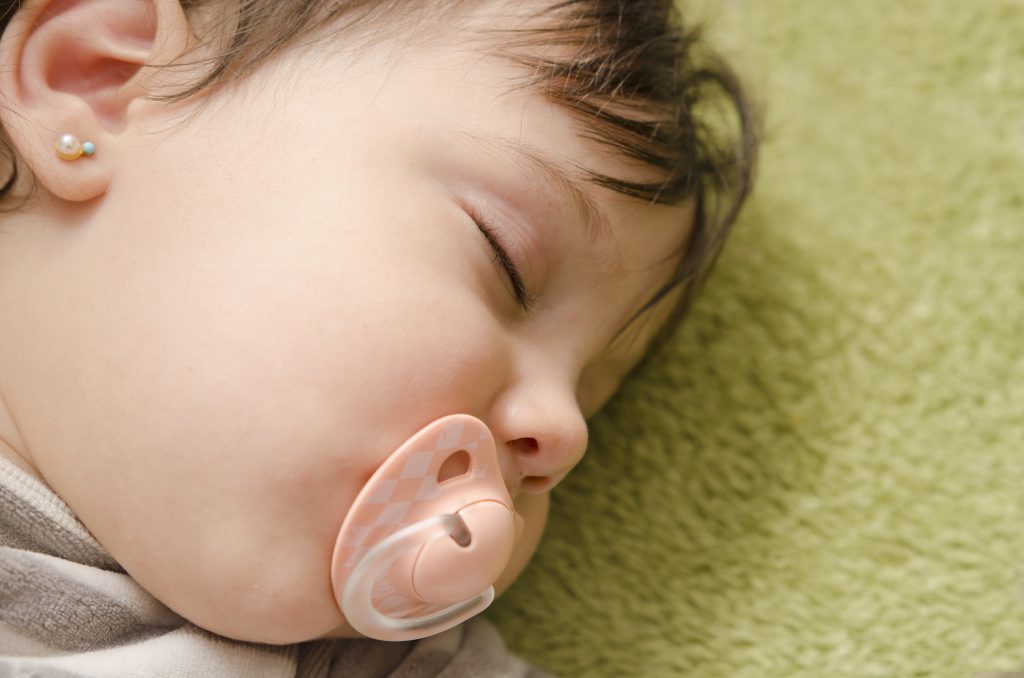 This segment particularly refers to finding the best earrings for toddlers with sensitive ears. Hunting down the best toddler earrings is going to be a bit tricky, because, after all, you need to concentrate on purchasing a pair of earrings that are both safe and lovely.
First things first, when doing something like this (buying toddler earrings), you need to contact a professional who is seasoned when it comes to providing piercing services.
You do not want to select just about anyone, especially now that you have a baby girl with sensitive ears.
Did you know that there are a plethora of physicians out there that are excellent at offering these sorts of services?
Not only are they experienced when it comes to toddler earrings, but they are great with infants as well!
Hypoallergenic Toddler Earrings Are the Best For Toddlers with Sensitive Ears
When obtaining the best earrings for toddlers, a lot of parents are prioritizing the appearance, color, and shape of a certain earring.
And although that's completely understandable, if you have a toddler with sensitive ears, then you must acquire the best earrings for toddlers (in terms of quality) because you do not want her to have something that's going to further worsen the situation.
Consequently, it would be advisable to focus on the material that touches your little angel's ears.
The base and post of the earring frequently have lead, nickel, and, cadmium, and unfortunately, a lot of toddlers (and adults too) are sensitive to all of these materials.
Therefore, it would be smart to opt for nickel-free, cadmium-free, and lead-free earrings and stick with hypoallergenic earrings.
If (God forbid) they experience some allergic reactions, it's called contact dermatitis.
So what happens then?
Namely, in these instances, the skin usually reacts instantly after exposure to a specific allergen and becomes very inflamed and red.
In some cases, it may even cause a very persistent (and at times painful) itch that requires special treatment to subside.
Now, even if your kiddo has been wearing earrings for quite some time, she can still develop dermatitis at some point.
That's precisely one of the reasons why you must purchase only the best earrings for baby toddlers with sensitive ears which are hypoallergenic earrings that are nickel-free.
So What to Obtain Then?
Since you are on the journey to find the best earrings for baby toddlers with sensitive ears, I suggest opting only for eminent stores because they typically have a vast selection of impeccable earrings for sensitive angels.
If you could find a store that employs only titanium and medical-grade plastic, that would honestly be great!
So Titanium Earrings, or Medical Plastic? What's Better?
Generally speaking, both of them are a great choice, however, if I would have to choose one, I would probably opt for medical plastic earrings.
They are normally made from long-lasting plastic that doesn't contain nickel which is a good thing.
If you decide to get your child's ears pierced at an early age, then it would be advisable to buy the smallest medical plastic earrings.
On the other hand, if your kid is a bit older, then titanium earrings are perfectly fine as well!
What Is the Proper Age for Ear Piercing?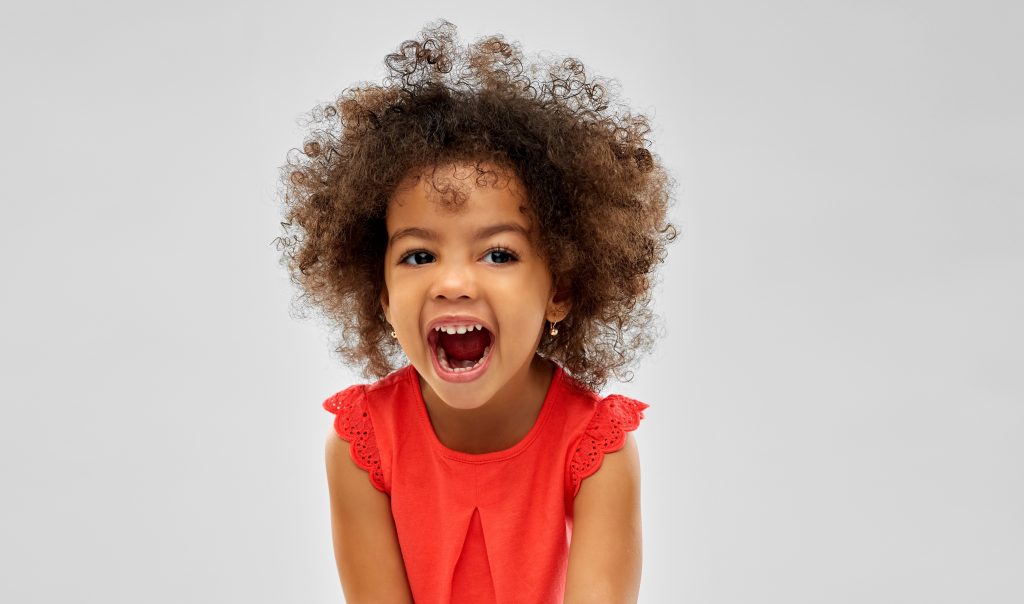 I cannot give you an answer that's one hundred percent accurate, since all of it mostly depends on the decision of a parent, however, what I do know is that you shouldn't be doing it too early.
Why is that?
Well, that's because, in these instances, you are increasing the risk of infection. Therefore, you should wait until your baby is at least six months old to pierce her ears.
Namely, something like this is going to enable her immune system to properly develop and have enough strength to combat any potential infection.
Are Earrings Truly Safe for Babies?
Generally speaking, yes, it's pretty safe to have your baby's ear pierced, but this refers to healthy children only.
As I previously stated, first, you should consider your kid's age. If she hasn't turned 6 months, then you shouldn't be doing that.
And second of all, if your little one has a compromised immune system, then currently this may not be the best idea, at least until you strengthen it.
Why is that?
Well, as I stated above, ear piercing can cause an infection if your baby girl isn't the healthiest.
And you do not want to do anything that's going to jeopardize her health potentially, am I right?
However, if you are positively sure that nothing bad is going to happen, yet you cannot wait to embellish your child's ears by buying a lovely pair of earrings, then at least what you can do is opt for hypoallergenic earrings.
It can even be gold-plated earrings (if they are made to be hypoallergenic, made from stainless steel hypoallergenic material).
What Materials Should Be Avoided?
I know I discussed this briefly above, but I would still like to add some things concerning this topic. Gold-plated earrings should be avoided if they aren't made from hypoallergenic material.
If that's the case, then stay away from them because they can cause lots of damage to your baby girl. On the flip side, if they are made from hypoallergenic material, then I give you the green light.
Then we have gold that's lower than 14k gold. Generally speaking 14k yellow gold is probably the best option for your baby.
Anything that's less than that should be avoided due to the fact that it's most likely mixed with other materials (I'm talking to you nickel).
What about gold that's higher than 18 karats?
As far as this is concerned, it's not exactly recommendable (like 14k yellow gold). That's because the higher karat you obtain, the softer the gold is going to be.
And then your baby is going to have gold earrings that can easily get damaged, which can potentially irritate the sensitive skin of your child, causing an infection.
That's why anything that's above 18k gold is a huge no-no for the time being.
What Are the Best Earrings For a Baby On the Market Right Now?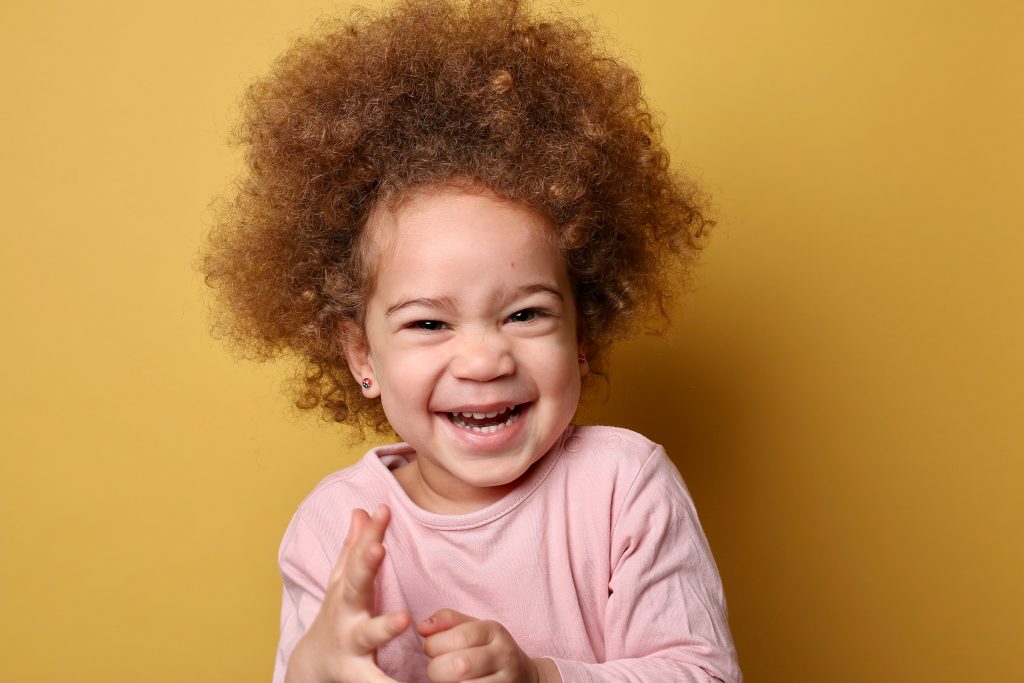 The market is flooded with a variety of different sensational earrings (especially the ones with cubic zirconia) for both toddlers and babies, but somehow (it was pretty difficult) I'll try to enumerate several examples:
Presentski Sterling Silver Mouse Pink Earrings
These adorable earrings are made from cubic zirconia, and top-notch sterling silver and can be found in two colors, blue and pink.
Since they are not too big, or heavy, they make a perfect choice for toddlers, plus, let's not forget to emphasize the fact that they are nickel-free too!
Furthermore, they also contain a tiny butterfly, to secure them properly. I simply love these cubic zirconia earrings!
Wssxc Hypoallergenic Cubic Zirconia Studs
Now, here's something that's perfectly safe even for the most sensitive, tiny ears. They are made from first-class AAA+ cubic zirconia.
What's superb about these stud earrings is the fact that they are both very elegant (particularly due to cubic zirconia), yet classic, meaning that your kiddo can wear them every day, or when attending some special event.
I would like to remind you that this set consists of five pairs of earrings in different sizes, which means that your child will be able to wear them later in life.
Pavoi CZ Cross Baby Earring
If you're raising a true diva that likes to be in the spotlight all the time, then you must definitely purchase this sensational earring.
Namely, this gold-plated earring can be obtained in white, yellow, and rose gold and is embellished with eye-catching cubic zirconia stones.
If your baby girl has sensitive ears, don't worry. The sterling silver doesn't contain any nickel which means that this baby earring is perfect for sensitive ears.
Sterling Silver Unicorn Earrings
If there's one thing little kids adore (and also some adults) that's unicorns. Therefore, it would be such an amazing idea to acquire these beautiful unicorn earrings.
So what do we know about them?
They are made from 925 sterling silver, which means that they are for sure one of the best options out there (in terms of sensitive ears).
Since they contain short posts, they can be defined as ideal earrings (when I say ideal, I mean safe) for babies as well!
Hypoallergenic Hearth Initial Stud Earrings
If there's one thing I love (I'm sure all babies will agree with me on this one) is when I receive something that's personalized.
There's nothing better than that! And then imagine having earrings that are personalized too!
How could you resist these cute earrings?
If there's one word that perfectly describes these, that's gorgeous. And besides that, not only are they true sight for sore eyes, but they are also hypoallergenic!
So if you would like to obtain them, then you have gold, rose gold, and silver at your disposal for each letter of the alphabet.
Besides being one of the most beautiful baby earrings I ever laid my eyes on, they are also very convenient, light, and above everything, lead-free and nickel-free.
What more could you possibly ask for?
Lovearing 14k Yellow Gold Butterfly Cubic Zirconia Earrings
Lovearing is currently one of the most popular companies in the world when it comes to kids' jewelry and these butterfly earrings make a superb present after the starter earrings since they are made from 14k gold.
Not only are they beautiful and elegant (who doesn't like 14k gold), but can be worn by adults as well! (momma, I can see you stealing these 14k gold earrings!)
Conclusion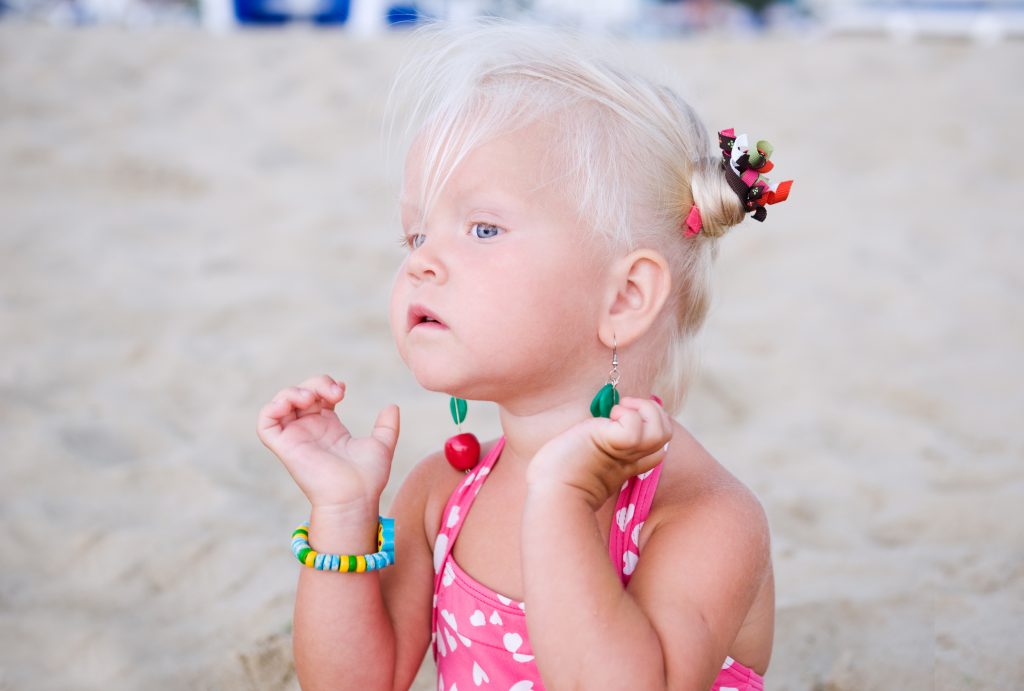 When baby earrings come into play, you just can't get them out of your head.
And I completely understand you, because, after all, we want our little princesses to always look and feel special, so there's nothing else that you can do but ensure you buy the best earrings for a baby.
If you liked any of the suggestions (regarding the best baby earrings) I added above; please let me know!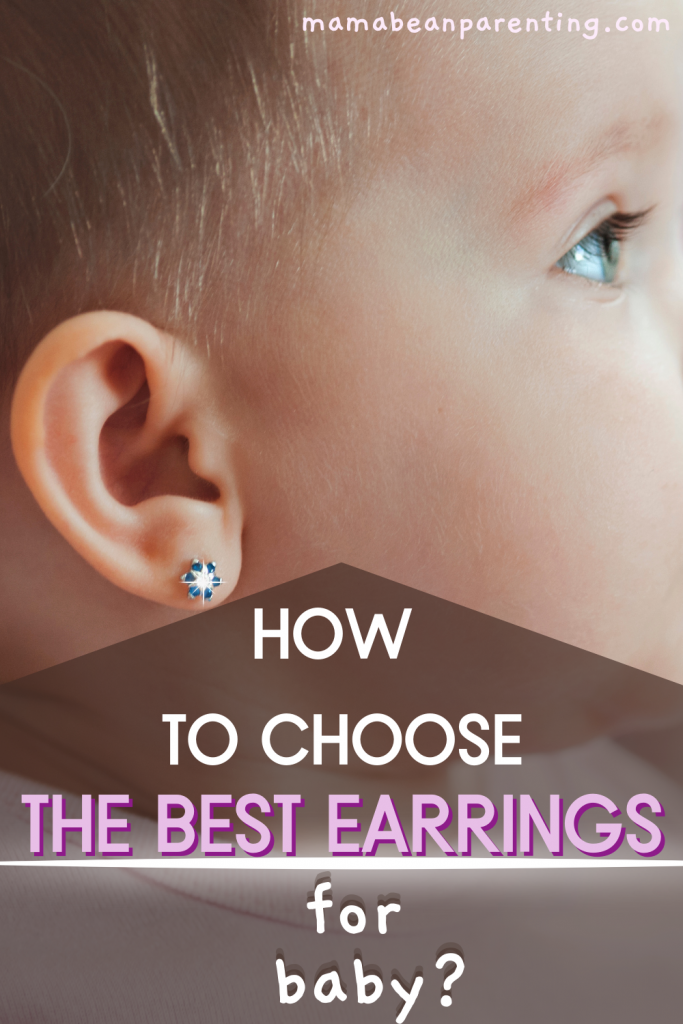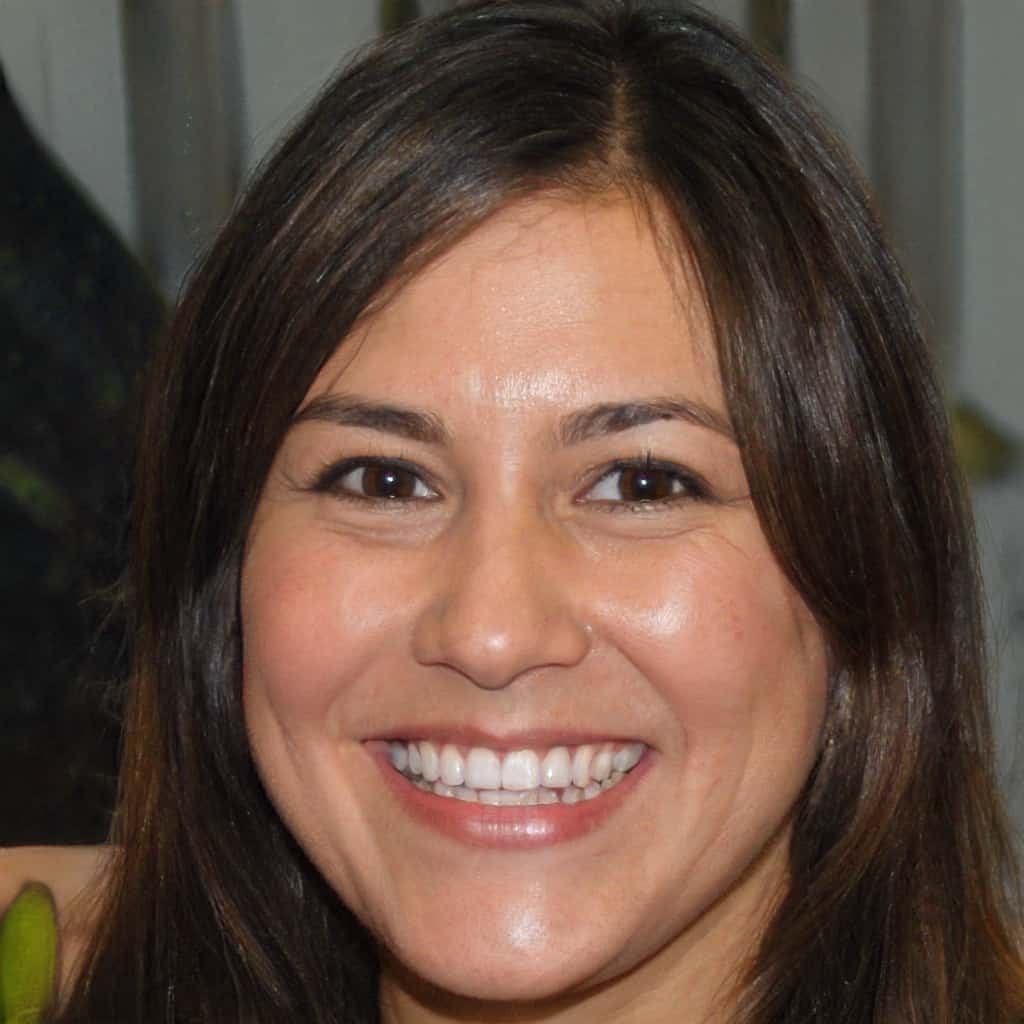 Well, hello there!
My name is Jennifer. Besides being an orthodontist, I am a mother to 3 playful boys. In this motherhood journey, I can say I will never know everything. That's why I always strive to read a lot, and that's why I started writing about all the smithereens I came across so that you can have everything in one place! Enjoy and stay positive; you've got this!