Don't know where to start? Worry not. We're here to help you find the best gifts for a second baby. We understand how difficult it can be to select an ideal present. Maybe you want to personalize it. Perhaps you want to get creative and make a really memorable gift.
Our list of carefully selected ideas makes the process enjoyable and stress-free.
Choosing a gift for a second-time mom can be a little tricky. There's so much room to work with. On the one hand, it can be personalized, especially for mom, but what about the rest of the family? What about the sibling? You don't want anyone feeling excluded.
It's difficult enough to pick a gift for the first baby, but now there's another one on the way and you want to make it extra special. In what ways should this gift be different? What exactly makes it unique? In the following article, we will explain all you need to know.
Our goal is not only to help you find the best gift for a second baby, but to share our collection of tips and tricks when it comes to choosing gifts and personalizing them.
Grab yourself a cup of coffee, and let's dive right in.
Best Practical Gifts for a Second Baby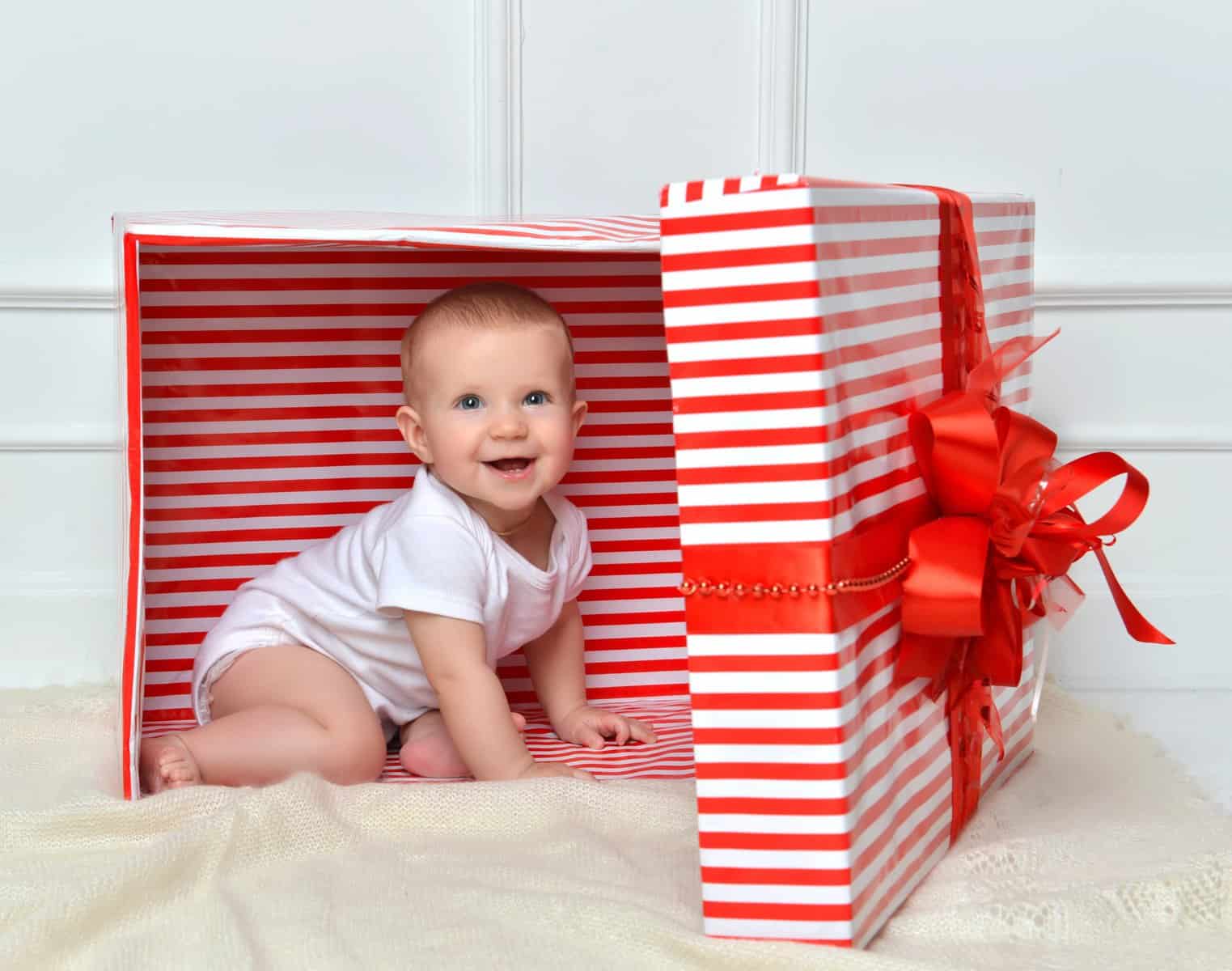 Want to go safe? Go practical. Every parent appreciates a practical gift, though it's hard to make it memorable. Nevertheless, the parents know the drill by now. They would undoubtedly appreciate something that's going to make their lives easier.
There are many practical gift ideas, but the best part about them is that you can still work around them by adding your personal creative touch and making a memorable gift.
1. Nothing says practical quite like a high-quality diaper bag.
Specifically designed for convenience, a diaper bag is a must for any parent on the move. It allows them to keep all their necessities organized and within reach. There are many different patterns, textures and colors – so there's still room for a little bit of creativity.
With room in mind, it's best to go for a spacious diaper bag with many pockets.
Think about it. With another baby on the way, they need double the stuff, and that's exactly why a spacious diaper bag makes for a perfect gift for a second-time mom.
2. A baby carrier is one of the best gifts for second babies.
In fact, we would go so far as to say it's essential. How else can a parent of two be hands-on with their children? They need all the help they can get. A baby carrier allows them to keep their second baby close while getting enough freedom to attend to the older child.
3. Going out can be difficult for a parent of two. That's where double strollers come in.
Having just two hands to work with, and two babies to tend to, it can be rather difficult to stay on top of things. A double stroller makes everything convenient and accessible, because they're designed to keep your children together, allowing for easy access.
On top of that, a double stroller makes it easy for your two angels to interact with each other. Aside from its practicality, it also makes for an excellent bonding gift. You can't really go wrong with a double stroller, but there are a few factors you have to consider.
For example, take age and size into account before making this purchase.
4. For a second-time mom, fresh towels make an excellent baby gift.
Yes, it's likely that the parents already have leftover towels, but – how fresh are they, exactly? Too much use and washing make them worn. Refresh the parent's baby inventory with a brand-new set of baby towels that are nice, cozy and comfortable.
Babies have sensitive skin. So, it's important that parents have a snuggly way to wrap them up or dry them off after a bath. With their delicate skin in mind, it's essential that you go for towels that are made from safe and soft materials, such as cotton or bamboo.
5. A lot of stuff is getting reused. That's the way it goes. But you can't reuse diapers.
No matter how many diapers the parents have, they will need more. Diapers may seem bland as a gift, but they're efficient, and the parents are actually going to use them. Also, make sure to purchase premium diapers, since this is a gift.
For a second-time mom, diapers are an essential item that every parent appreciates.
Some of the best gifts for a second baby are, in fact, practical. The parents' lives may get a little hectic when the second baby comes along. As such, anything that's actually useful means a lot. It helps them easily transition into a new life without sacrificing harmony.
Nevertheless, if you're looking for something more fun and exciting, let's consider what kind of toys and games you can purchase as a gift for this wonderful occasion.
Best Toys and Games Gifts for a Second Baby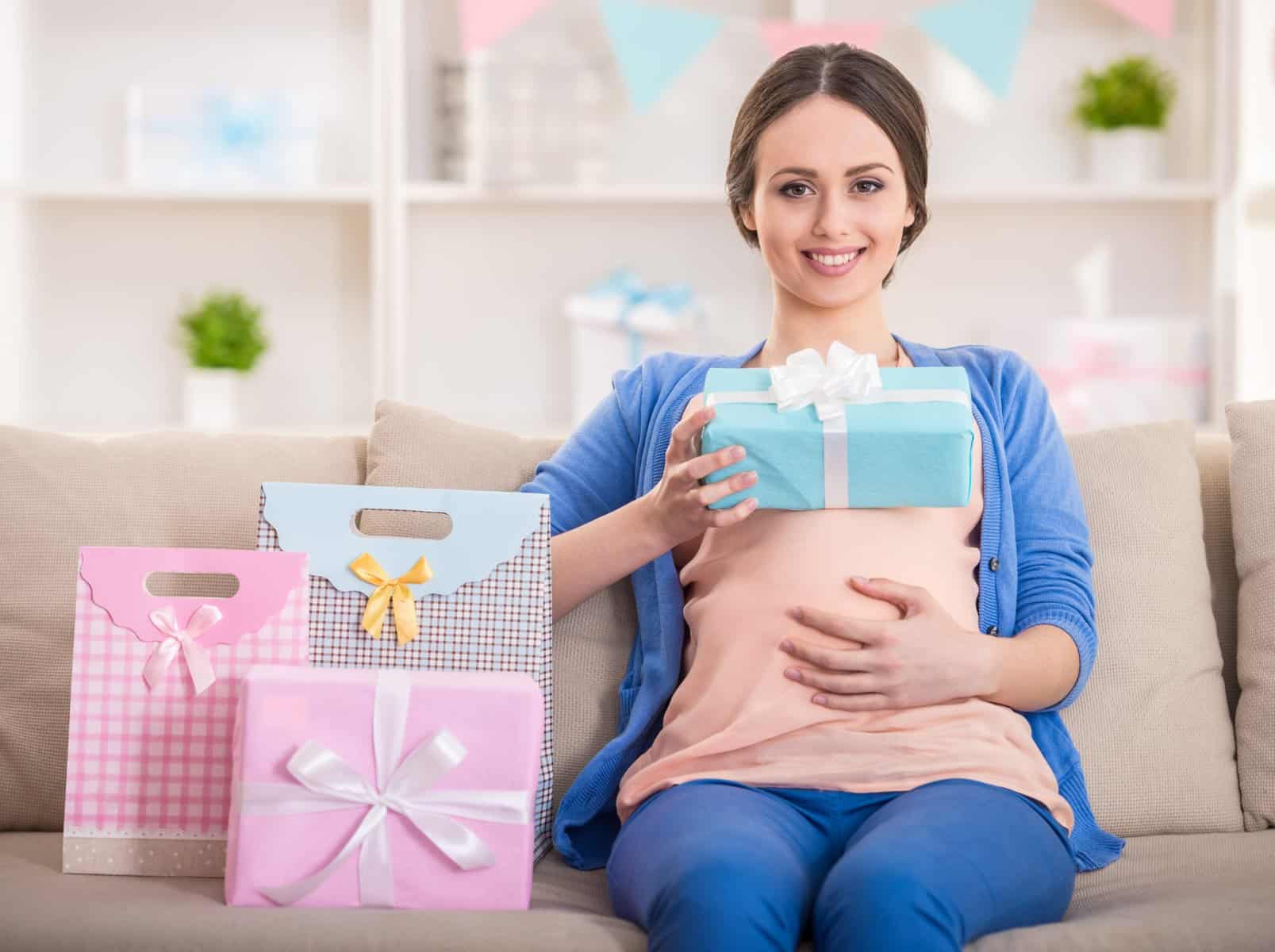 Parents expecting a second child usually already have a lot of toys and games. However, as children grow and develop, building their own self-identity, they need their own things.
Of course, babies should still learn how to share, and some items can be reused.
Nevertheless, some of the best gifts for a second baby are, in fact, brand-new toys and games for them to enjoy. However, remember that newborn babies won't initially play with toys. So, make sure to purchase age-appropriate toys and games for the second child.
You can also purchase toys that both children can enjoy. A second-time mom already has a lot of toys and games, but nothing brings them more excitement than something new and exciting. That's why toys make for an ideal second baby gift.
This area of gifting allows for creativity. After all, toys come in great variety. Ideally, you want something that simulates healthy development and encourages children to bond.
Now, let's go down the list of our favorite gift ideas.
1. Musical toys are some of the best gifts for a second baby.
Why? Well, first of all, they're soothing. They can help your baby fall asleep or calm them when they're acting up. Besides entertainment, musical toys possess a lot of growth benefits, as well, since they're purposefully designed to stimulate healthy development.
With so much variety, there's a lot of room for creativity. From rattlers to music boxes, you have a lot of options to choose from and find an ideal gift for a second time baby.
Musical toys are great for motor skills development, since they require the use of your baby's hands. Consider the age of the baby. Younger babies can interact with age-appropriate toys, such as rattlers. Know that it's fine to invest into long-term toys, too.
2. Consider getting building blocks as a gift.
Although it may take up to 10-12 months for the baby to learn how to play with building blocks, it's another investment for the future. It's going to save the parents a trip to the baby store. Even if the parents already have them, newer is always better and safer.
The best part about building blocks is that they come in great variety. With so much colors, shapes and sizes to choose from, there's room for you to personalize your gift. And it would be desirable if the blocks were eco-friendly.
3. Stuffed animals and plushies make for an excellent gift, too.
However, as with all toys, they have to be age-appropriate. With stuffed toys, experts advise that it's only safe for babies to play with them after 12 months. That's because stuffed animals and plushies can lead to suffocation during the baby's first few months.
Nevertheless, for a second time baby, most fun and interactive gift ideas are actually long-term. That means that the parents may have to exercise patience until their baby reaches certain age milestones. However, there's nothing shortsighted about futureproofing.
There's so many plushies and stuffed animals to choose from that the only possible problem that you can face is that of indecision. Take your time and find a perfect soft, fuzzy and cuddly companion that's certain to entertain and bring comfort to the baby.
4. If you know that the parents have a crib or a cot at the ready, consider a cot mobile.
A cot mobile is a great developmental gift. It provides both visual and auditory stimulation. The moving parts of a cot mobile entertain the baby, but it also has a calming and soothing effect. Depending on the model, there's a variety of settings included.
They come in all shapes and sizes with different music and patterns. So, you're going to have a blast choosing the ideal cot mobile for the second baby. Parents especially appreciate this gift, because it keeps their baby occupied while they focus elsewhere.
Even though cot mobiles appear as if they have a soothing effect that's going to lull their baby to sleep, they are, in fact, intended to gently stimulate the baby's brain. However, some babies may find them relaxing, depending on the model and the features available.
5. Looking for fun gift ideas? Well, look no further than a baby developmental ball.
A bright and colorful baby ball stimulates hand-eye coordination, promotes motor skills development and provides a great source of entertainment. Overall, a developmental ball represents a perfect blend of fun and learning that every parent is going to appreciate.
Every baby develops at their own pace. However, most babies can start playing with developmental balls at around eight months. At first, they may just start rolling the ball around, but as their coordination develops, they eventually learn to pass the ball, too.
All in all, a developmental ball makes for an excellent gift for a second time baby, especially since there's a lot of variety in regard to what kind of ball you can get.
When it comes to gift ideas for a second time baby, toys and games demand a little bit of patience from the parents since they're going to sit on this gift until the baby reaches certain milestones. If you want something that can be used now, consider gifts for parents.
Best Gifts for a Second Time Mom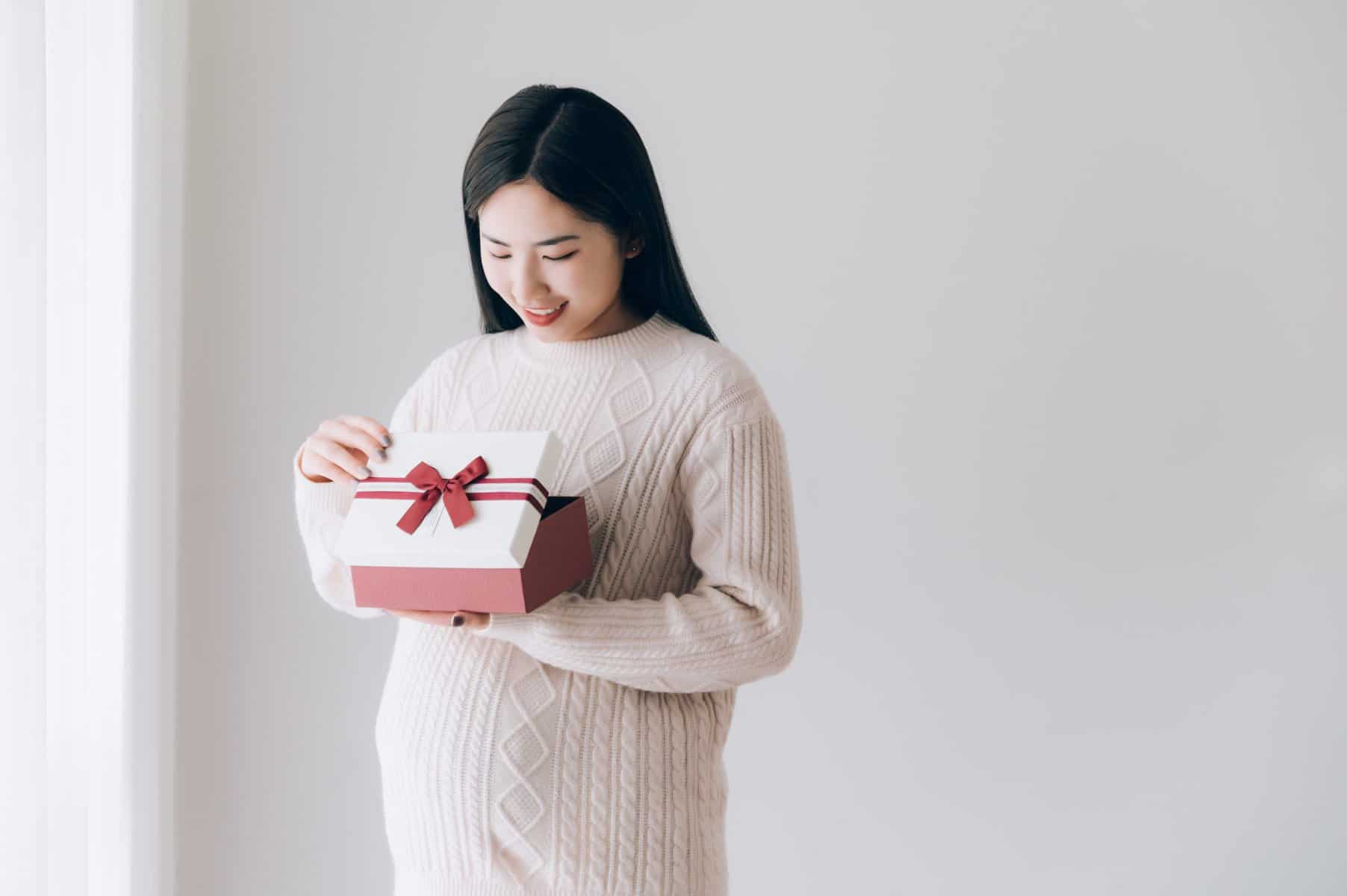 After pregnancy, every mom needs some time to rest and to recover. With our selection of gift ideas for second time moms, you can easily find a gift that's going to bring a smile to her face. Of course, we haven't forgotten about dads. We'll get to them a little bit later.
1. At the top of our list lies the old classic – a spa gift card.
Pregnancy and giving birth are a draining process, both physically and mentally. A lot of post-baby treatments exist to help mothers restore strength and to treat themselves to various wellness services, such as a trip to the spa and all the pampering they can get.
From postnatal services to facial treatments, a trip to the spa is a perfect excuse for a mother to treat herself to some well-deserved self-care. Most spas know in advance the perfect post-baby treatments. Make sure that you get your gift card from a reputable place.
2. What about a selection of teas and coffee?
By now the parents surely have a lot of experience under their belts. Nevertheless, no amount of experience can negate the sleepless nights that lie ahead. As such, they will surely be in dire need of tea and coffee so as to stay calm and well energized every day.
To take your present to the next level, buy special coffees or teas and put them neatly in an organized gift basket. If you're going with a gift basket, add related items and make sure to personalize it. Maybe you can write a heartfelt note? Let your imagination run wild.
3. For another journey, gift another journal or planner
Journaling allows the mother to write about the beautiful journey of motherhood. Even though the mother already has one child, the journey is different every time. When years pass and the baby grows up, a journal becomes such a powerful sentimental piece.
Every mother can find joy in reflecting on motherhood, especially in the words she herself has written, all the little precious memories and milestones carefully documented.
Consider buying a parent journal. You can go for a themed one, instead. There's a lot of variety in the journaling world, so you're sure to find an ideal one for a second time mom.
4. Every second time mom would appreciate bath products.
When the post-birth exhaustion sets in, bath products make an excellent gift, because they're sure to remind the mom to take some time for herself and to practice self-care.
From body salts and lotions to aromatherapy products, you get to customize and personalize your gift. For this one, we advise making a gift basket and putting all these items together with additional decorations, such as chocolate, flowers or even wine.
Sometimes, the best gifts for a second baby are, in fact, gifts for the mother, to help her feel rejuvenated again after the physical, emotional and mental challenges of pregnancy.
5. If you know your way around children, consider babysitting.
Or, instead, you can arrange and pay in advance for a professional babysitter to take care of the kids should the parents need it. With all the stress, the changes, the excitement, having professional help can mean a world of difference to overwhelmed parents.
Even though the mother may initially want to spend most of her time with her child, sometimes work and obligations can make it difficult to do everything. With babysitting vouchers, for example, you provide an easy solution for the mother should she need it.
However, if you know how to care for young children and babies, make personalized vouchers for your own services. Make sure that you state that you're serious about it and that the mother shouldn't hesitate to call you up when she needs some help.
That said, what about the father?
With all the fuss about the baby and the mother – fathers often get overlooked. Let's make sure that doesn't happen by including a few gift ideas for an overjoyed second time dad.
Best Gifts for a Second Time Dad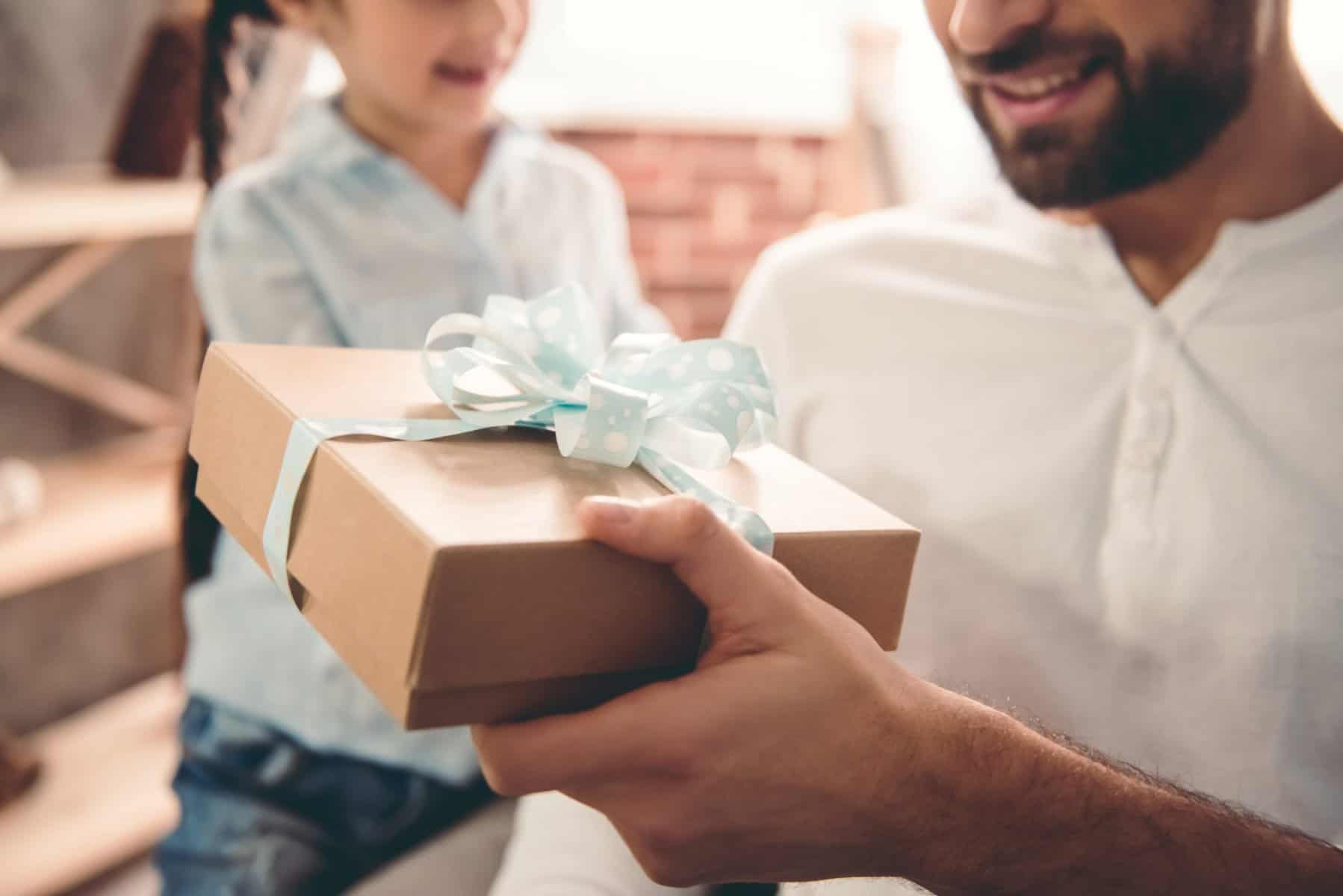 Dads deserve the spotlight, just like moms. So, let's make sure to shine some light dad's way with unique and clever gift ideas that are certainly going to bring a smile to his face.
1. Reignite the romance with a gift card for a night out.
Having one child can dull the romance a bit, but it's manageable. Having two presents another set of challenges for the parents to overcome in order to sustain the romantic flame. With a gift card for a night out, help dad take mom out on a well deserved date.
If the parents like to enjoy a drink sometimes, now that the mother can finally drink beer and wine, consider getting a gift card for a place that you know she will thoroughly enjoy.
A wine date sounds perfect to help rekindle the romance.
It's certain to lift their moods and spark the passion back to life.
2. There's something about dads and beer that just clicks.
Most dads love to unwind with a cold beer after a hard day's work. A beer mug, therefore, in a personalized theme that celebrates the second baby, makes for an excellent gift.
However, don't assume that all dads drink alcohol. Make sure to do your homework and check first so that you don't end up buying a beer mug for a dad that doesn't drink at all.
Nevertheless, you can get really creative with this special gift, since it's not uncommon for beer mugs to include designs and writings about parenthood, about being a good father.
If you want to go an extra step, get beer that matches the mug, too.
3. Does dad watch sports? Get tickets for a sporting event.
No reason why dad shouldn't get to enjoy himself every once in a while by supporting his favorite team. However, it's best if you include two tickets, so that he can take his wife or a friend to the game, too. Just remember that you have to consider the date of the game.
Ideally, you want to choose a game that is to be played a few weeks minimum after birth, since the parents are going to be buzzing around their new baby, getting used to new routines and making it all click. So, keep timing in mind when buying game tickets.
To take your gift to the next level, buy tickets with good seating positions that provide a clear overview of the game. Also, you may want to cleverly present the tickets instead of handing them out like paper. Get creative and put in the effort towards personalizing it.
4. Matching dad-and-baby shirts make for a fun gift.
In this case, you may want to get three shirts. You don't want the older sibling to feel left out. In fact, you may as well get four shirts for the whole family to wear together. Either way, there's a lot of room for creativity when it comes to shirts, but don't forget quality.
Babies have sensitive skin and they need healthy and comfortable materials to wear.
5. Lastly, consider dad's hobbies when choosing your gift.
For example, if dad likes to cook, there are many practical gifts you can take into account, even recipe books. From vegetable choppers to personalized cooking boards, finding a gift for dad's hobbies gives you much freedom and room for creativity.
If you need additional information about what dad likes to do, don't hesitate to ask around. It's best to check with the mom since she knows him best. Do your homework first to ensure that you can find something that will make the father as happy as a baby.
In Conclusion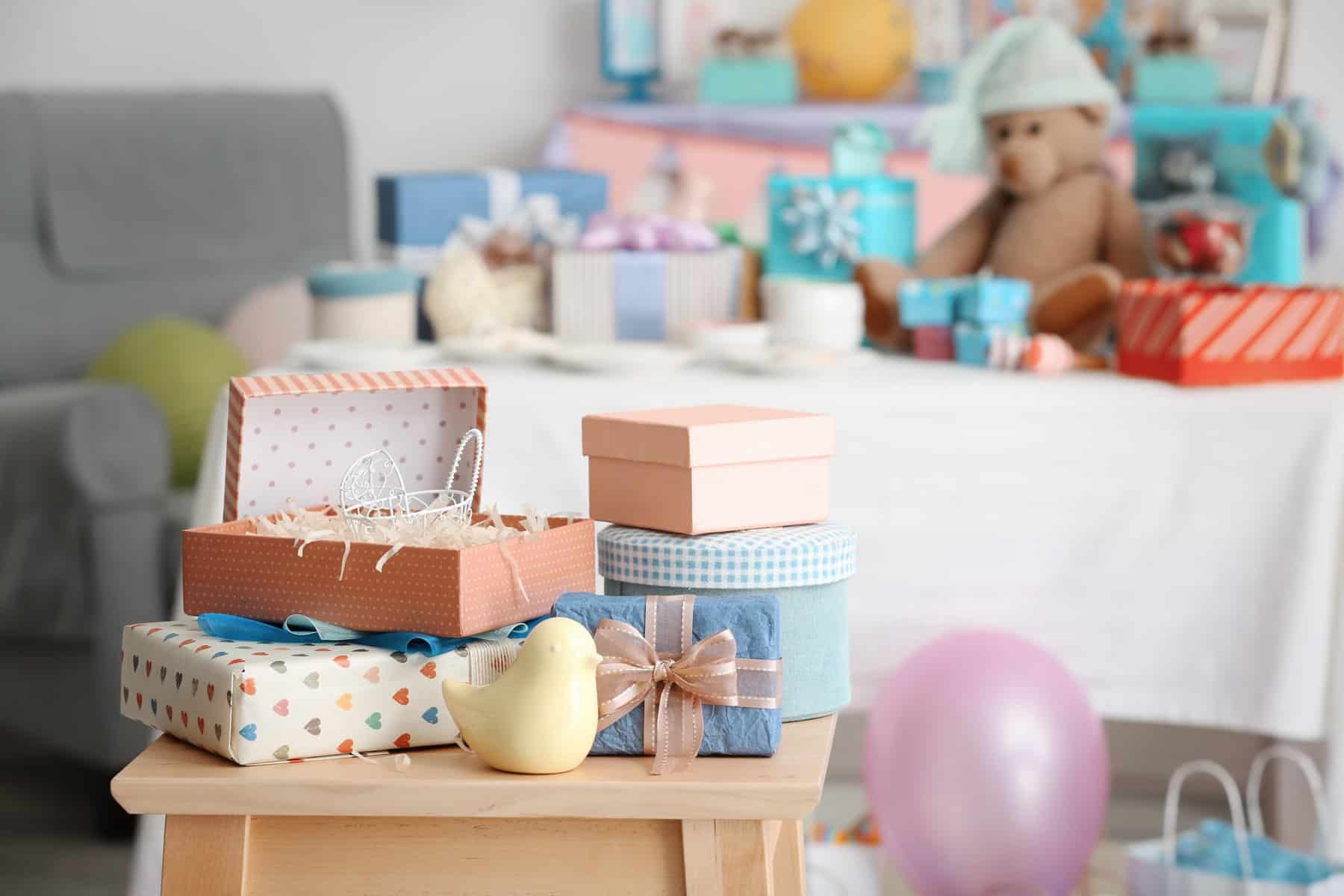 Sometimes, having too many choices can be a challenge in and of itself. For a second baby, there are a lot of gift ideas that you can come up with. From practical gifts to fun gifts to gifts for mom and dad – there's really no end in sight to this gift-filled rabbit hole.
That's why our selection focuses on quality rather than quantity. All in all, try to remember that the best gifts for a second baby are personalized and meaningful.
Take everything into account, such as the parent's needs and preferences, as well as the age of the baby. Trust your intuition, too. In our experience, it's better to take a chance on a more fun and daring gift idea than to stick to what's safe. After all, it's the second baby.
The parents are already up to speed, have plenty of experience, know what to do and likely have everything they need to be prepared already. So, this allows you to get creative and help the parents in other ways by coming up with a truly clever and memorable gift idea.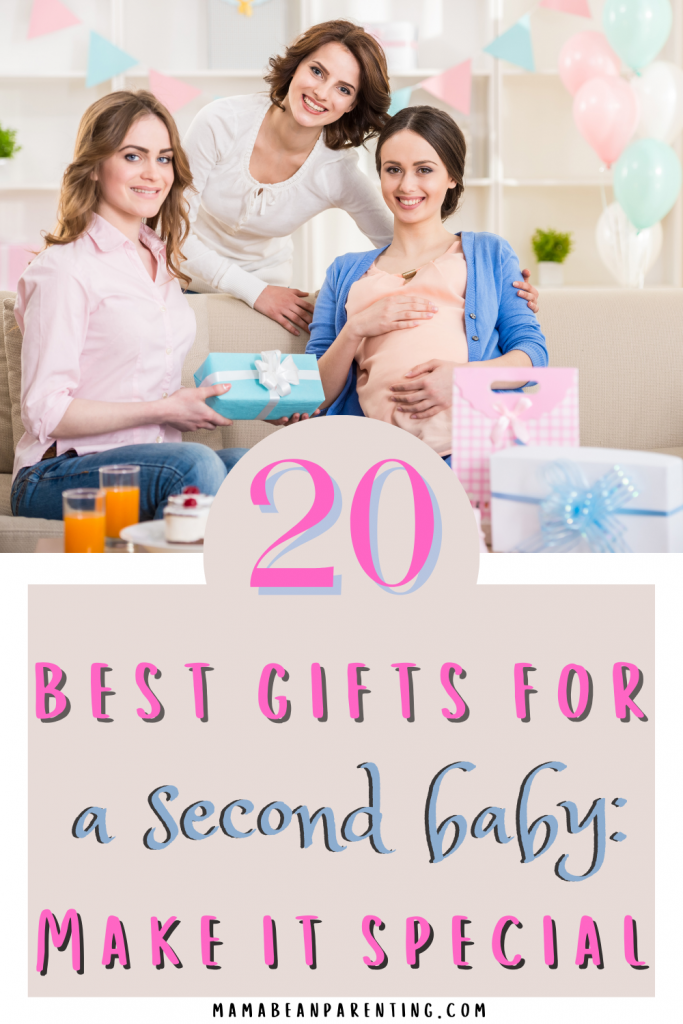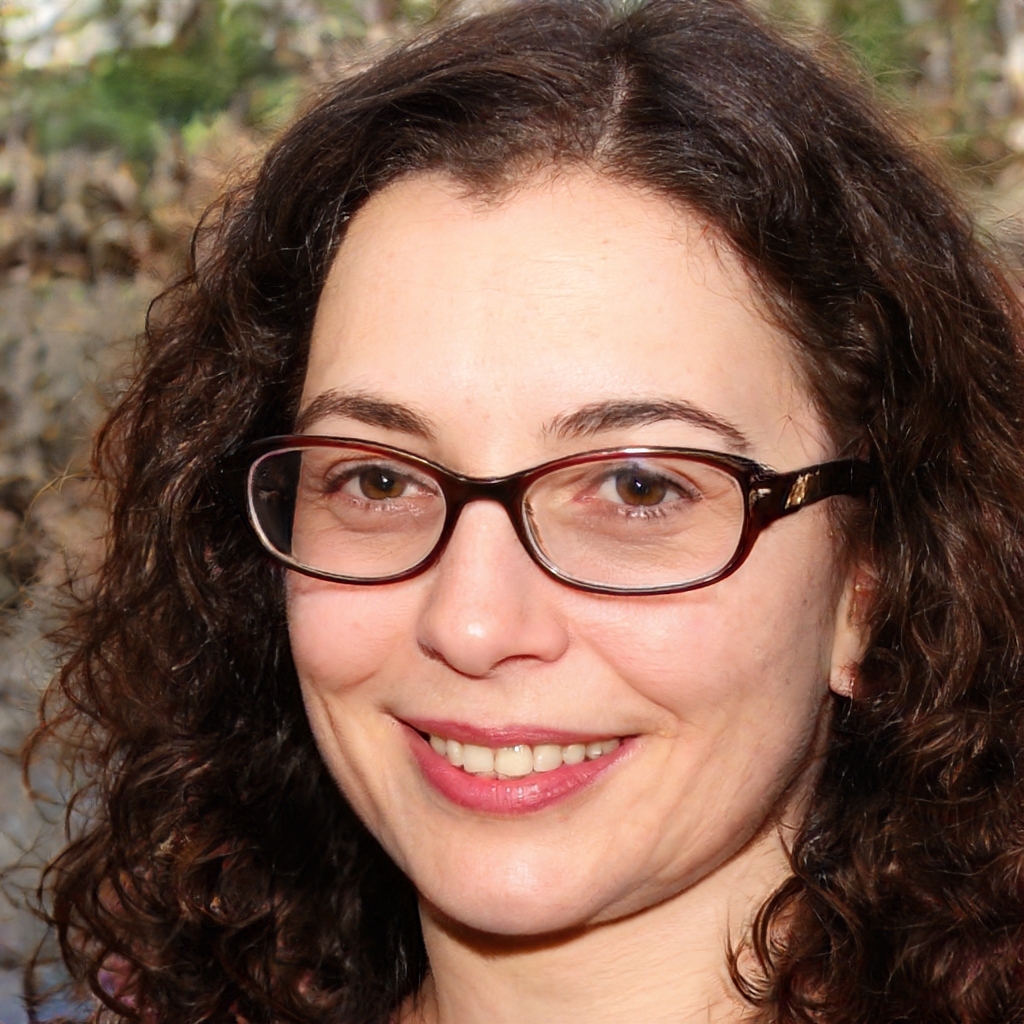 Mother of three and a primary school teacher. I've always loved being around children and helping them, so I chose my path as a teacher. It is sometimes hectic with three children, but I am 100 percent into it and wouldn't change it for anything in the world.