Pregnancy juice recipes will help you with making your perfect juice menu.
There are many great juice recipes that will make you feel better during your pregnancy. Sometimes it's hard to find the right combination that will be healthy, nutritious, and delicious.
Because of that, I will give you the best pregnancy juice recipes. Juicing will motivate you to live a healthier lifestyle.
Why Are Juices Good For You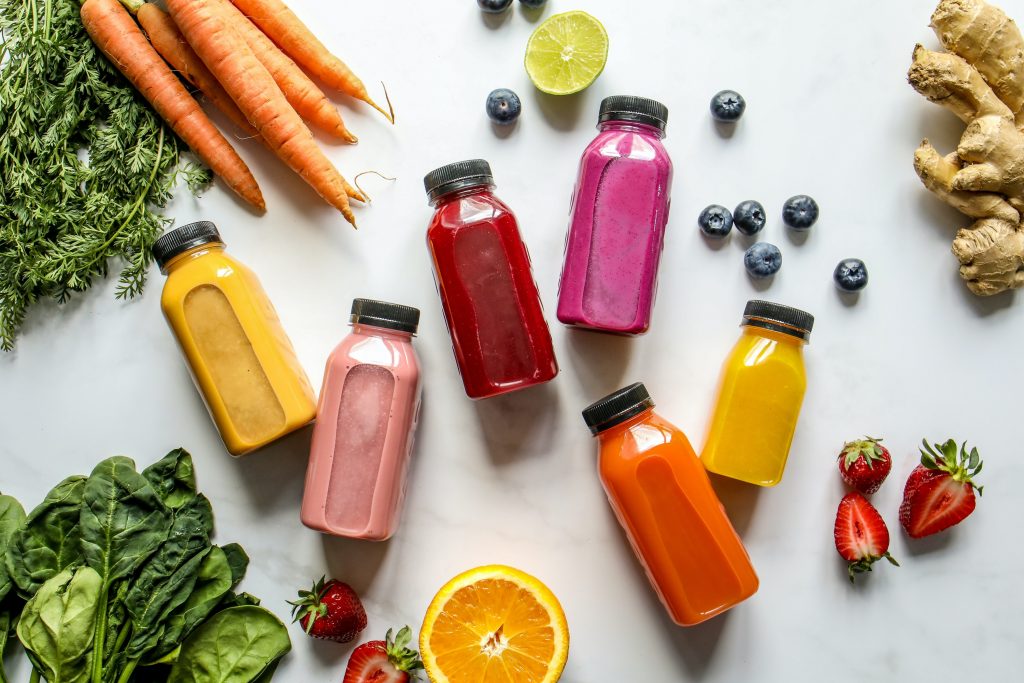 Homemade, natural, and tasty juice is always good for you, not just when you're pregnant. They are a great source of vitamins, minerals, and other essential things for your health.
For me, the greatest thing about juices is the fact that you can consume so many great things by juicing them. Imagine how long it would take to eat a pound of fruit or veggies. By juicing them, everything fits in a big glass.
Drinking juice is a great way to hydrate yourself. It also has a positive effect on your digestion. Finally, the juices are delicious.
Maybe you don't mind the taste of some foods. However, juicing allows you to make amazing combinations that will astonish you. You will become addicted to certain flavors and combinations.
Of course, try to make your own juices with fresh, organic ingredients. People often give up on the idea of juicing, because they don't know which ingredients combine. That's why I'm here.
When it comes to pregnancy juice recipes, it's important to inform yourself about ingredients pregnant women shouldn't consume. Don't worry, recipes will be perfectly safe.
Some people say that juicing isn't so great because you can't pasteurize them at home, but as long as they're freshly made, you're good to go. Of course, there are ways you could pasteurize them at home if you wanted to.
Having a good diet is essential during pregnancy, and it can be hard to consume everything that's good for you. That's why juicing is great. So, find a good juicer, wash your fruits and veggies and wash them well to avoid toxoplasma. Also avoid sprouts, since sprout seeds can contain bacteria.
The Best Pregnancy Juice Recipes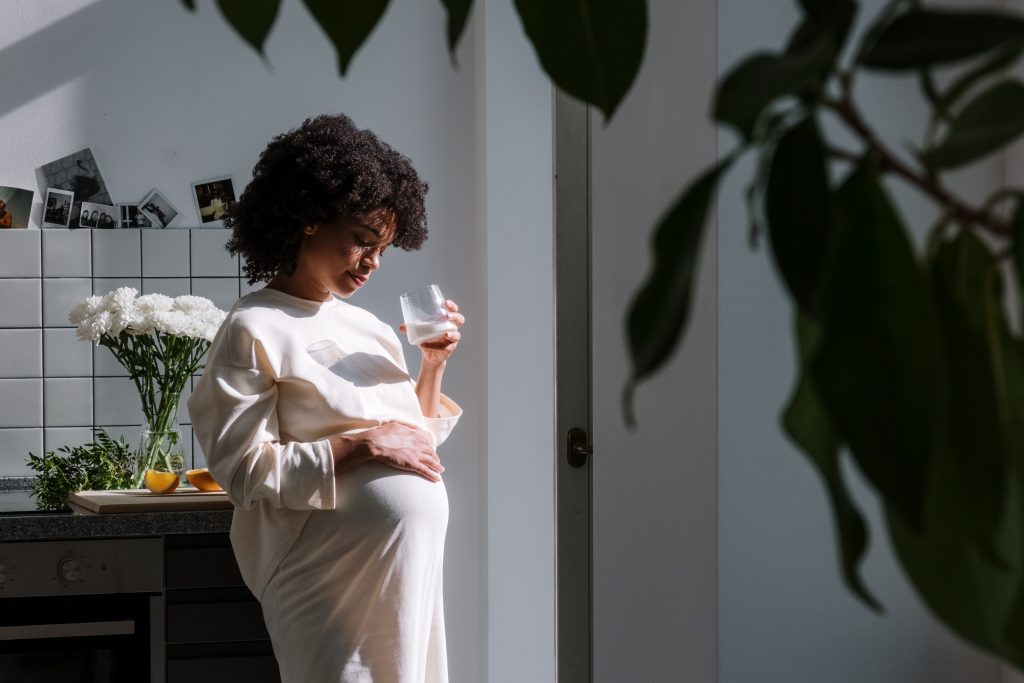 In this article, you will have many choices. Of course, it's up to you which healthy juice you will choose to make, but I suggest trying them all. Some of them won't be so special to you, but others will amaze you.
Beetroot Juice
Wash and peel the beetroot
Put it in a blender or a juicer
When you're done, ad a little bit of sugar, water, and lemon juice
This pregnancy juice recipe is very simple. It's great for your prenatal health. Beetroot juice is filled with folate – vitamin A and potassium. Both of these juice ingredients are great for your blood and heart. Beetroots' intensive color is there because of the antioxidant called betalain.
Sweet Beetroot Juice
Wash and peel the beetroot, one lemon, and a pear
Cut these ingredients into small cubes and blend them with a splash of water
This kind of beetroot juice is filled with minerals and vitamin C.
Apple Carrot Beetroot Juice
Wash, peel, and clean 3 apples, carrots, and beetroot
Cut them into small pieces, and blend them
Avoid using a lot of water, and try to add lemon juice
This amazing blend of healthy juices is very popular because it's great for iron deficiency, blood, and the immune system.
Apple Juice
Wash and peel your apples, and cut them into smaller pieces
Put them in a pot, and cook them in water
After cooling the mixture, blend it
Add lemon juice if you want
This pregnancy juice recipe is basic and you don't need a lot of ingredients. However, apple juice has a lot of variations. Many ingredients go well with apple juice. Also, apple juice is great for weight loss, digestion, and skin.
Minty Apple Juice
Wash some apples, mint, and a small piece of ginger
Clean them well, peel them, and cut them into smaller pieces
Blend the apple with ginger, add a little bit of water if needed
Add some mint, and use a wooden spoon to press it a few times inside the glass
This recipe for pregnancy juice will help you with morning sickness and heartburn. Ginger is great for avoiding nausea and vomiting.
Green Juice (Green Apple Juice)
Wash and clean apples and 1 small cup of spinach
Cut your ingredients, and blend them with water and honey
There are many versions of green juice, but most of them contain apples. Green apple juice is a great source of antioxidants and vitamin C. It helps with weight loss and it's great as a detox juice.
Carrot Apple Juice
Wash, peel, and clean apples and carrots.
Cut them and blend them
This version of apple – carrot juice is very popular among kids and adults. This healthy juice is delicious and packed with nutrients like potassium, magnesium, beta-carotene, and iron.
Cranberry Apple Juice
Wash, peel, and clean your apples
Boil them in water
Add cranberries and crush them into apple juice
Mix well, and water or lemon juice if necessary
This healthy juice is very tasty and packed with fiber, flavonoids, vitamins, and minerals.
Carrot Juice
Wash, peel, and blend carrots with some water, or
Wash and peel the carrots and put them inside the juicer
Wash and peel the carrots, and boil them in water
Carrot juice is filled with antioxidants, beta-carotene, and vitamin A. This healthy juice recipe is great for your eyesight, blood pressure, and cholesterol. There are many ways of preparing this amazing pregnancy juice, so find the one that you like the best.
Orange Juice
Peel, clean, and squeeze them
Orange juice is probably the most popular fruit juice in the world. I believe that you already knew how to make it. Of course, you can always use a juicer or a blender. However, using the squeeze method is fast and easy.
Orange juice is the easiest one to make, since the cleaning and juicing is fast. Also, you won't end up with a lot of dirty dishes. It has a lot of vitamin C and folic acid, and it's a good source of antioxidants.
Celery Juice
Wash and clean a few stalks of celery and put it in a juicer (or a blender, but strain it after blending)
Celery juice is not the most delicious one, but this pregnancy juice is amazing for you. It's a great detox juice for pregnant women and it can prevent constipation. Many women use it to boost their metabolism.
I would like to add one important thing about celery juice. Some parts of it can cause contractions of certain muscles, including the muscles in your uterus. Therefore, talk to your doctor before consuming this juice, and don't drink too much of it.
Guava Juice
Clean the guavas well and boil them in water
After boiling, blend them very well
Guava juice is a good source of vitamin C. It can help you with anemia by boosting your hemoglobin levels.
Strawberry Juice
Wash and clean some strawberries
Juice them, blend them, or crush them
Add some lemon juice, water, or honey if you want
Strawberry juice is tasty and it has a lot of benefits. It has a lot of vitamin C, folic acid, and antioxidants. It can also help with your immunity.
What Else Can You Add?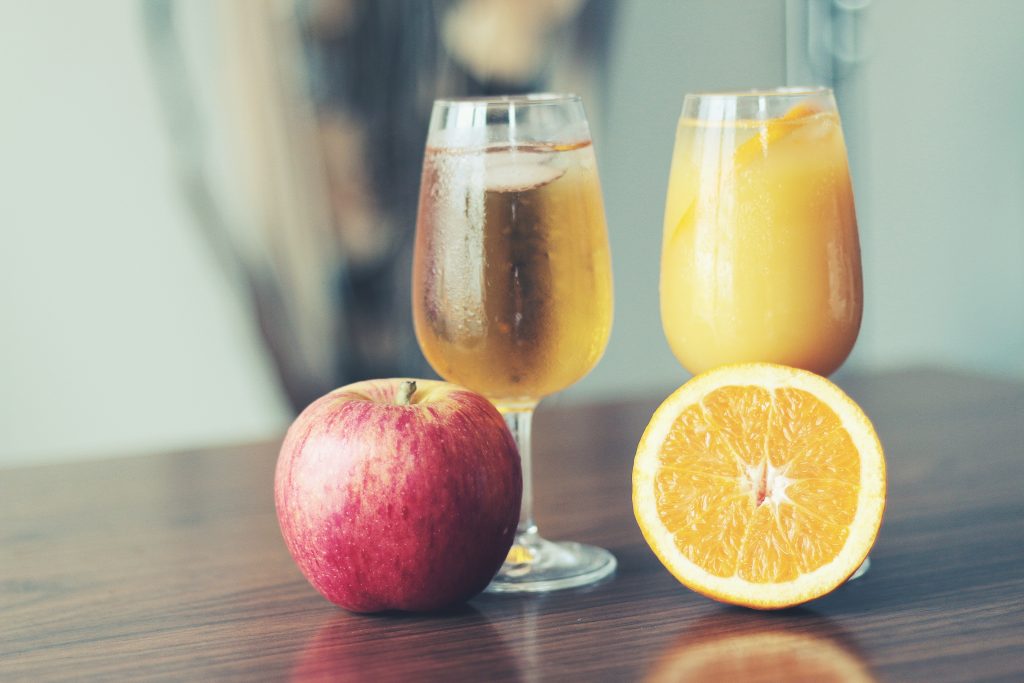 These juicing recipes are great but play with them. Lemon juice is a great thing that can improve the taste of many drinks. Honey and sweet ginger are also very favorable. Adding ice cubes is great and refreshing too.
Lemon juice can be consumed on its own if you like it. Adding greens like spinach, kale, or cucumber is always a good choice. These are just some basic recipes that many other pregnant women like.
You can use a juicer or a blender. If you use a blender, you can strain the juice, or you can drink it like a smoothie. Either way, it's good for your health & body. Avoid adding sugar, or anything that is artificial.
When it comes to the amount of these ingredients, that is also up to you. I suggest you start small, just in case you don't like the juice. Make yourself a glass of juice, and if you like it, make some more.
I also suggest not making a lot of juice, if you can't drink it that day. Most of these juices could be refrigerated, but it's better to drink them fresh.
Weight Loss And Juices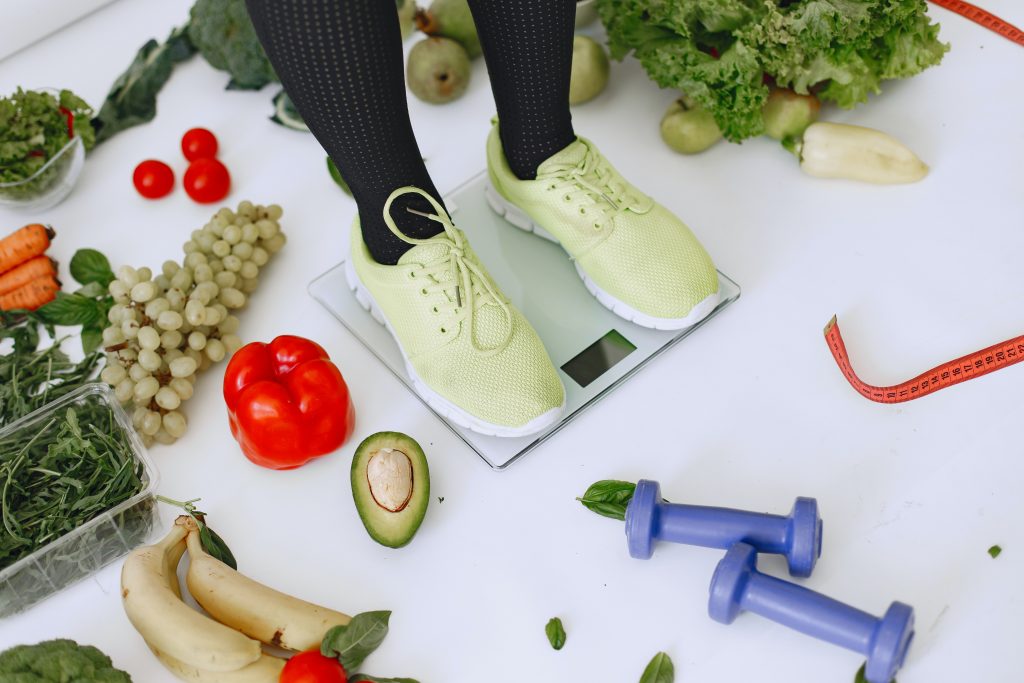 Many men and women who want to lose weight are drinking fresh juices. Juices are tasty, they can give you energy, and they speed up the metabolism.
As you know, water is essential for losing weight, but since some people are struggling with their water intake, drinking juice is a great way of hydration. Some juices are great for cholesterol, metabolism, and similar.
However, if you're a pregnant woman, don't try to lose weight without consulting your doctor. Remember that it's normal for your body to change during pregnancy.
You're growing a little human inside you, and weight gain is usually inevitable. Also, your hormones are going crazy and they're making you crave certain foods.
Of course, if your doctor thinks that you've gained a lot of weight, you can try to manage that. Don't do it on your own. See a certified nutritionist that will give you a good meal plan.
It's not necessary to starve yourself to lose weight. You will still eat, but healthier. Your baby needs essential things to grow, and you have to see a professional if you want to manage your weight during your pregnancy.
Taking a walk or doing some mild, pregnancy exercises can also help you with your weight gain. Also, some pregnancy exercises can help you feel better in general.
Many professionals give exercise classes to pregnant women. Those exercises are great for managing your weight and strength. Additionally, some exercises can prepare your body for delivery.
If your doctor suggests a certain diet to manage your weight, you can use some of the mentioned pregnancy juice recipes to help yourself.
Sometimes, a pregnant woman can have a certain medical condition that can be controlled with the help of weight management. So, if that's the case, listen to your doctor if you want to have a healthy pregnancy.
Weight loss during pregnancy is not the correct term. Weight control is. Your baby will come out soon, and you should be patient. Any kind of diet on your own could be harmful.
Your body is amazing, and don't feel bad because you look different. You won't be pregnant forever, and all of this will pass.
When we talk about weight loss and pregnancy, I would like to mention unintentional weight loss. That kind of weight loss usually happens during the first few weeks of pregnancy.
The main reason for that is nausea, morning sickness, and vomiting. Some women have these problems throughout the whole pregnancy. Of course, sometimes, the reason for the weight loss is unknown.
If you can't do anything about it, try to take care of your prenatal health. Take prenatal vitamins, eat nutritious foods and go to the doctor's office regularly. Healthy juices could help you with this a lot.
As I've mentioned, some of these juices are great for morning sickness. If that's not the problem, these juicing recipes will help you to consume more vitamins, minerals, and all those great ingredients.
You will feel better, and your baby will get all those important nutrients. Drinking juices is also great for those women who struggle with eating. If you're eating enough, but still losing weight, it can be hard to eat more.
That's why juices are a good source of additional energy, calories, and healthy ingredients.
Pregnancy Diet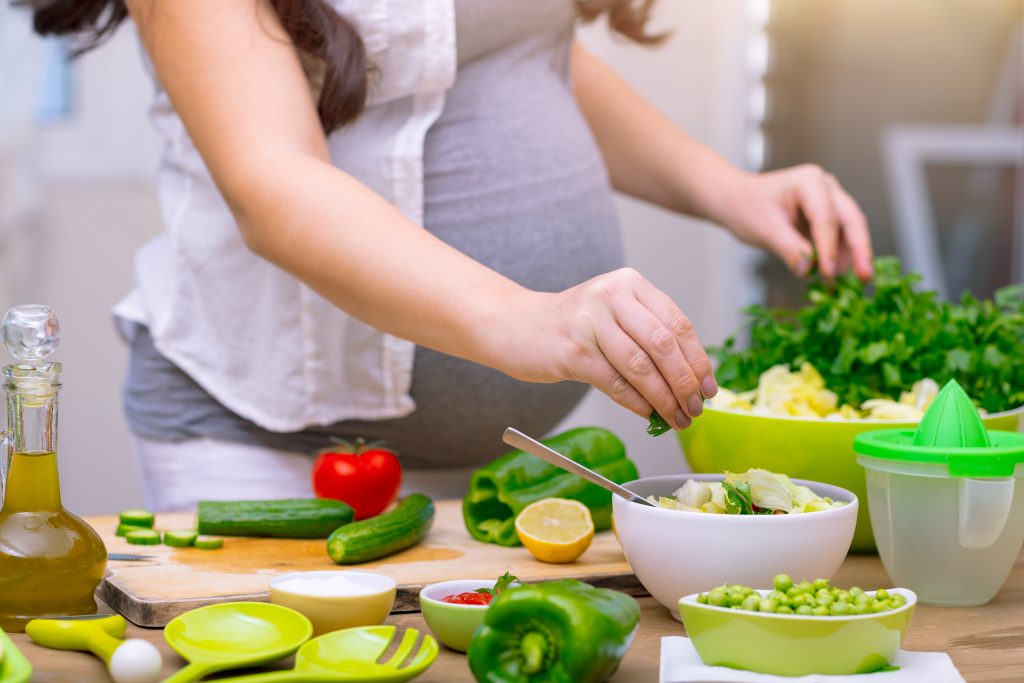 Many women think that eating a lot is crucial during pregnancy. However, you only need 300 extra calories per day. You could get those calories from drinking a few glasses of some delicious juice.
However, it's also important to eat healthy. Maybe you think that taking prenatal vitamins, juices, and supplements is enough for a good pregnancy and baby development.
Your whole diet is important. So, try to eat better. Lean protein foods, whole grains, carbs, and healthy fats are important for good health. Fruits and vegetables will heal your body. Water is the best drink.
All these rules should control the way you eat. Juicing is a great way to consume more fruits and vegetables. Chicken and fish are great sources of protein. Sweet potato and beans will give a lot of energy.
I believe you know what a healthy diet looks like. It's usually not so fun, but it can be. Your pregnancy is a great time to experiment with some healthy recipes. You should be persistent and dedicated because your body is not only yours right now.
A healthy diet is important for you and your child. Besides, as a new mom, it's important to have a good diet. So, try to get used to it. Breastfeeding, energy, and sleep will be much better when your diet is on point.
Another reason to work on your diet is to set a good example. I know that your baby is not even born and the idea of a healthy diet will come much later in his or her life.
However, it's good to start learning about healthy eating habits as soon as possible. That way, you will be an experienced mom that will know a lot about healthy food.
Before wrapping this up, I want you to know that it's okay to make mistakes. Nobody's perfect and most of us enjoy eating burgers and drinking sodas. It's okay to do that sometimes. You have your craving and sometimes you have to indulge.
It's good to build better habits, but it's okay if you're not good with doing that. If you're healthy, don't feel pressured to change your lifestyle. Just do your best, focus on your mental health, and everything will be okay.
Pregnancy is difficult and beautiful and the same time. Your mind is filled with so many emotions and opinions, and it's okay to be overwhelmed. It's okay not to be perfect. Give yourself enough love and care, and your pregnant days will be memorable.
Conclusion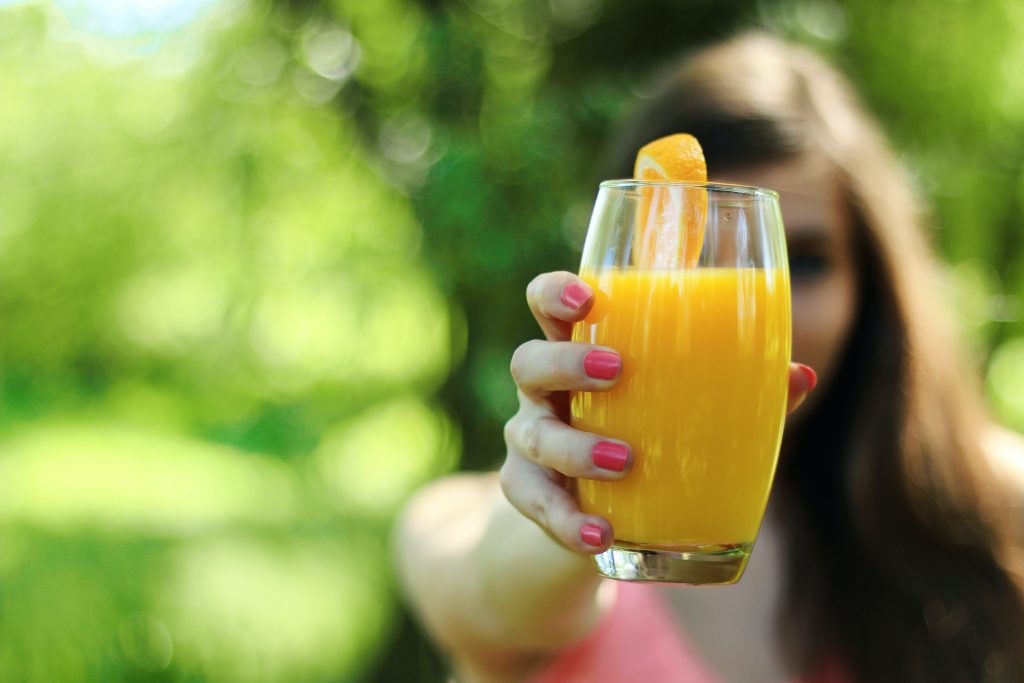 I believe that this article gave you a lot of valuable information about juice recipes. Additionally, you've learned some important things about nutrition and weight loss during pregnancy.
I've explained some of these things because everything is connected. Your mental state, your diet, your habits, and your activities – everything is connected.
Our bodies are amazing, and everything you hear, see, eat, or drink has a positive or negative effect on you. Therefore, make an effort to choose the right things for you.
Educate yourself about a proper diet. There are so many resources nowadays, and it would be a shame to ignore that. Also, there are so many tips and tricks that will help you to have fun while having a good, healthy diet. With the right attitude, everything is better.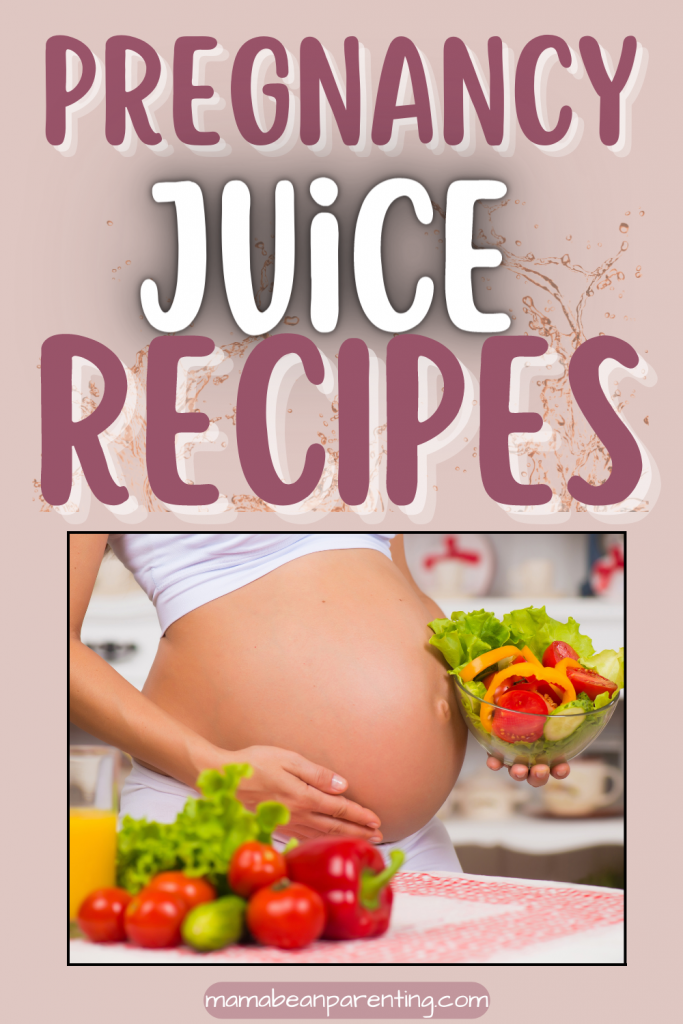 Hi all, I am Sidney, an accountant, a hobbyist photographer, and a mother to two sweet girls who are my motivation. I love sharing the tips and tricks I gained all these years I've been a mother. I hope it will help you!