The nursery is finished. Maybe you're waiting on the crib to arrive. Maybe it's already here, but it just doesn't match the aesthetic you're going for. Could be that you're looking to breathe a little life into the room with color. So, what non-toxic paint for cribs is safe?
Either way, the crib sticks out like a sore thumb and you're eager to fix it.
However, before you roll up your sleeves and start painting, you must learn what non-toxic paint for cribs is safe for your little one. As always, it's every parent's responsibility to do everything possible to keep their baby safe. We're here to help you.
With our in-depth guide, you will find it easy to identify safe paint for a baby crib.
Traditional paints often contain harmful chemicals. Even though the risks are low, even the smallest risk is a risk that you want to avoid. Understanding how these harmful chemicals work is just as important as choosing the right non-toxic paint for cribs and the whole nursery.
In recent years, there's been a general increase in awareness in regards to what kind of safe paint for a crib to use. With our insight, you can easily make a well-informed decision.
First things first, we have to go over the risks and benefits associated with paint.
The Risks of Traditional Paint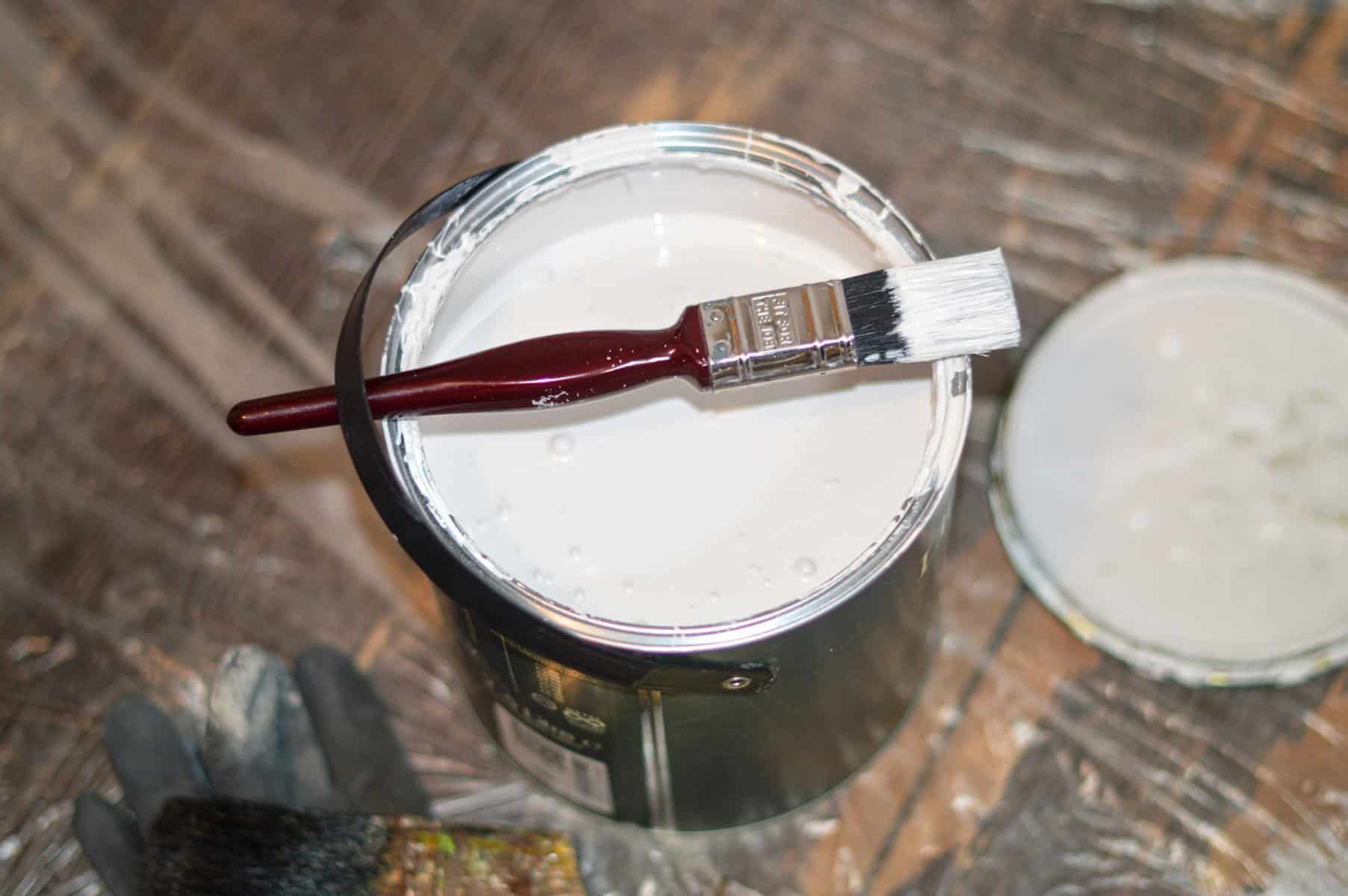 Picking safe paint for a baby crib isn't as simple as going to the store and looking at colors. In fact, it's all about understanding the chemicals. Have you heard about volatile organic compounds, otherwise known as VOCs? That's what we need to watch out for.
Here's a brief overlook of the risks associated with using conventional paint:
Volatile organic compounds (VOCs).
Baby chewing on a crib, exposing the paint.
Other harmful chemicals.
The off-gas process.
The type of paint you use for your baby's furniture in the nursery is crucial.
When breathed in regularly, VOCs can cause a variety of health issues not only for your baby, but for everyone in the household. Some of the most common health problems caused by VOCs include respiratory problems, headaches, nausea and dizziness.
However, there's an even greater risk associated with babies. Babies tend to chew on things. Therefore, a baby chewing on a crib painted with traditional paint can experience poisoning.
You want to take every safety measure to stop that from happening.
VOCs are dangerous if inhaled, but they're all the more hazardous if the paint has been damaged.
If the inner layer of paint has been exposed – by chewing, for example – there's a big risk of your little one ingesting toxic paint particles and getting sick as a result.
Unfortunately, VOCs aren't the only thing you have to worry about.
Conventional paint contains other kinds of harmful chemicals, as well. These include lead, cadmium and phthalates. Toxic metals and phthalates are harmful to young babies. In fact, among other serious health problems, they can even cause developmental delays.
Another thing you have to consider is the process known as off-gas.
What does off-gas mean? Well, even after the smell has gone, freshly painted furniture still emits particles. For the fumes to fully dissipate, it may take years.
While off-gas is not considered as dangerous as inhaling fumes during painting, it still remains undesirable.
This continuation of harmful particles being released into your home is something that you want to avoid. That's why non-toxic paint for cribs is considered a much safer option.
How do you choose the right one?
Before we dive into our recommendations and safety tips, let's review the benefits of non-toxic paint for cribs and how they help parents create a safe environment in their homes.
The Benefits of Non-toxic Paint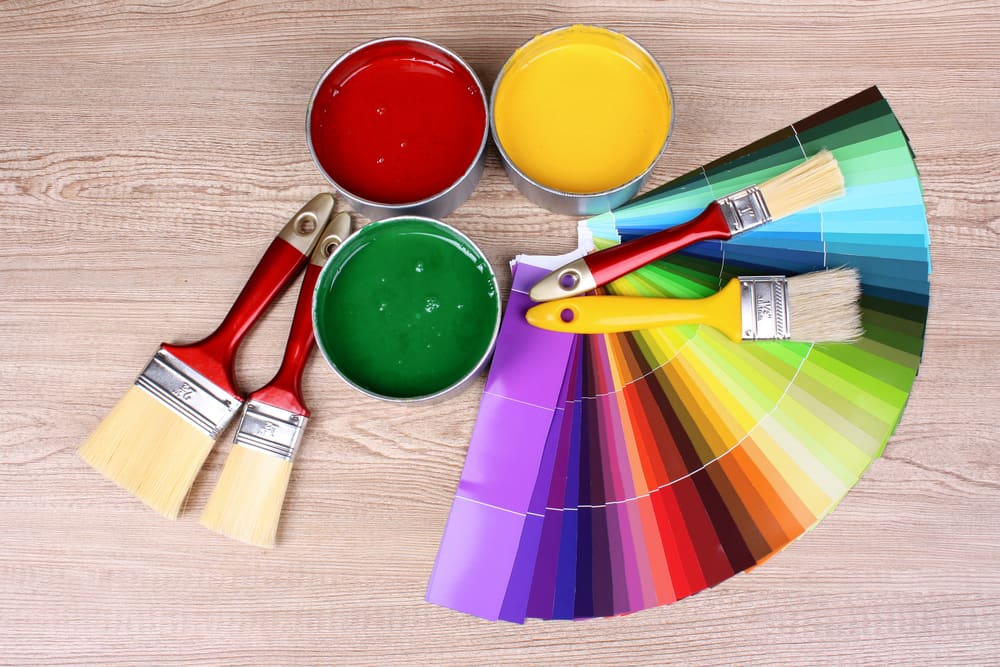 Having read the risks above, it's a good idea to put things on hold until you have a better sense of what kind of paints are safe for your home.
Whatever baby furniture you want to paint, non-toxic paints are the way to go. Let's take a moment to explore the benefits.
Here's a brief summary before we dive into the details:
Free of harmful chemicals.
Easy to apply.
A lower amount of VOCs.
Third-party certifications.
Peace of mind.
When you're thinking about sprucing up the crib with a brush or spray paint, the first thing you have to consider is safety. Non-toxic paint for cribs are free of harmful chemicals and a perfect option for parents looking to minimize risks and provide a safe environment.
Non-toxic paints, such as milk paint, offer a significantly decreased risk of toxicity.
On top of that, you're not compromising ease of use. In fact, non-toxic paints for cribs are just as easy to apply as conventional paints. Besides the price point, there is nothing to separate the two options in regards to functionality besides safety and higher quality.
Of course, the main benefit of using non-toxic paint for cribs is the amount of VOCs.
Environmentally friendly options often have third-party certifications which tell us that the paint has been fully tested in order to meet standards for low chemical emissions.
In the long run, choosing non-toxic paint is a versatile, cost-effective choice, but perhaps the biggest benefit you're getting out if it is peace of mind. Knowing that you're painting your baby's crib with their safety in mind means less things for you to worry about.
How to Pick the Right Paint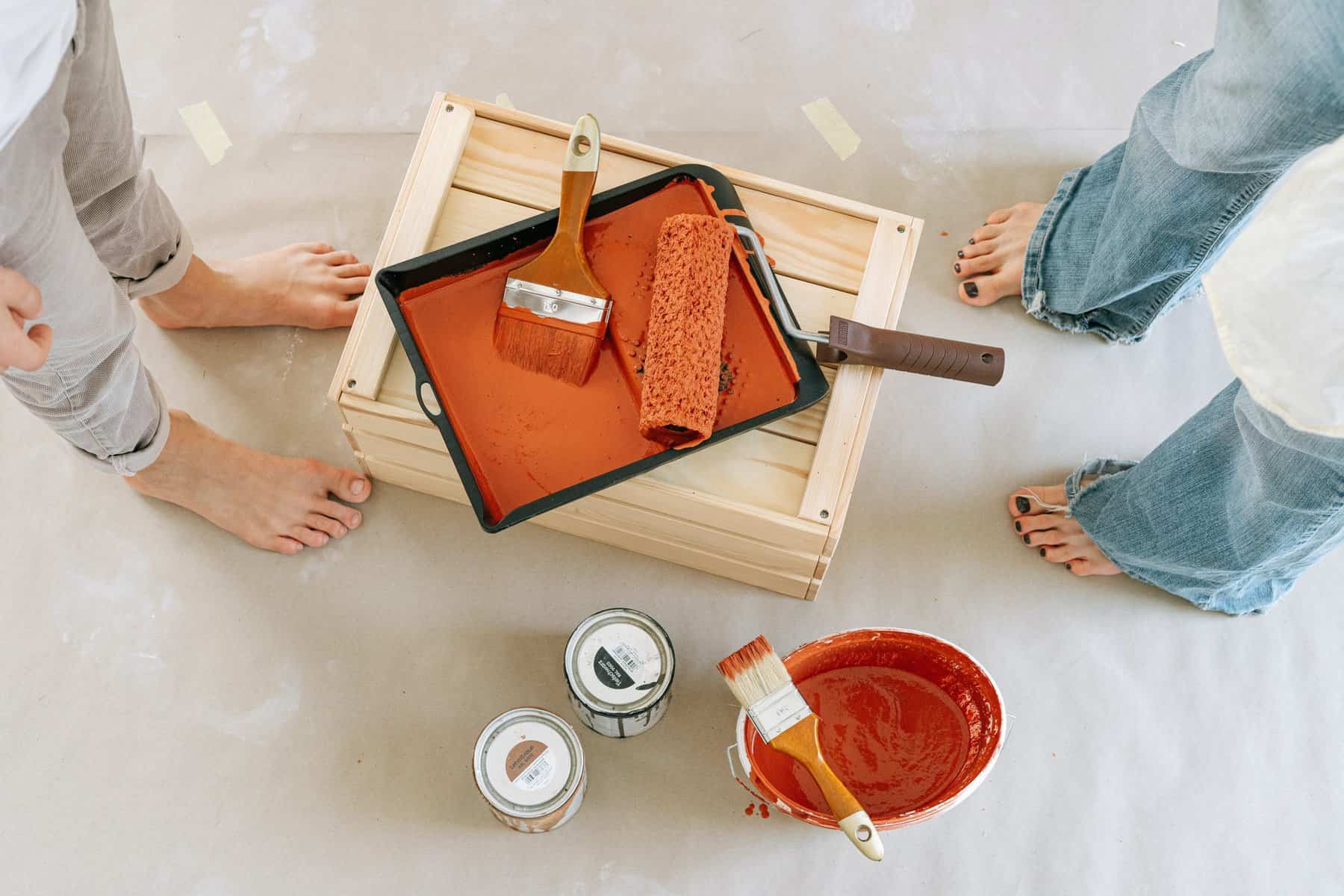 Just because the paint says 'non-toxic' does not necessarily mean that it's 100% free of harmful substances. Yes, it may imply a lower VOC percentage, but not zero.
Finding the right paint for a baby crib in the nursery takes a little bit of know-how. Luckily, we're here to help you.
Volatile organic compounds are the main culprit of toxic fume release. So, look for paints that have lower VOCs or, ideally, zero VOCs. Make sure to read the labels carefully. milk
Steer clear of oil-based paints. Instead, opt for the best water-based paint, because it's generally safer. Water-based solutions have less chemicals and other benefits, as well. For example, they are effectively faster to dry and easier to clean up if you accidentally make a mess.
Non-toxic paint for cribs is made from natural ingredients. As such, odorless alternatives to conventional solutions are always better. Make sure to go over the ingredients. If the paint in question has not completely disclosed the ingredients used – avoid at all costs.
Pay attention to non-toxic certifications. A perfectly safe paint for a baby crib should have a non-toxic certification from a reputable organization, which guarantees that the paint has been thoroughly tested and verified not to contain any harmful substances.
Besides VOC, you want to ensure that the paint you're looking to buy is lead-free. That's because a baby gnawing on a crib with lead-based paint can experience lead poisoning.
If your baby has allergies or sensitive skin, you may want to consider hypoallergenic solutions. This type of paint for a baby crib contains no VOCs, which means that it's free from common allergens and irritants, making it an ideal eco-responsible paint option.
Painting baby furniture takes some research, regardless of whether or not you're good with a brush. From all-natural paint for a baby crib to non-toxic paint for cribs, you want to make sure that you find a perfectly safe alternative as opposed to conventional paints.
Whether brush or roller painting – the same rules apply.
Look for natural paints free of toxic chemicals or zero-VOC alternatives.
Best Non-toxic Paints for Your Baby's Crib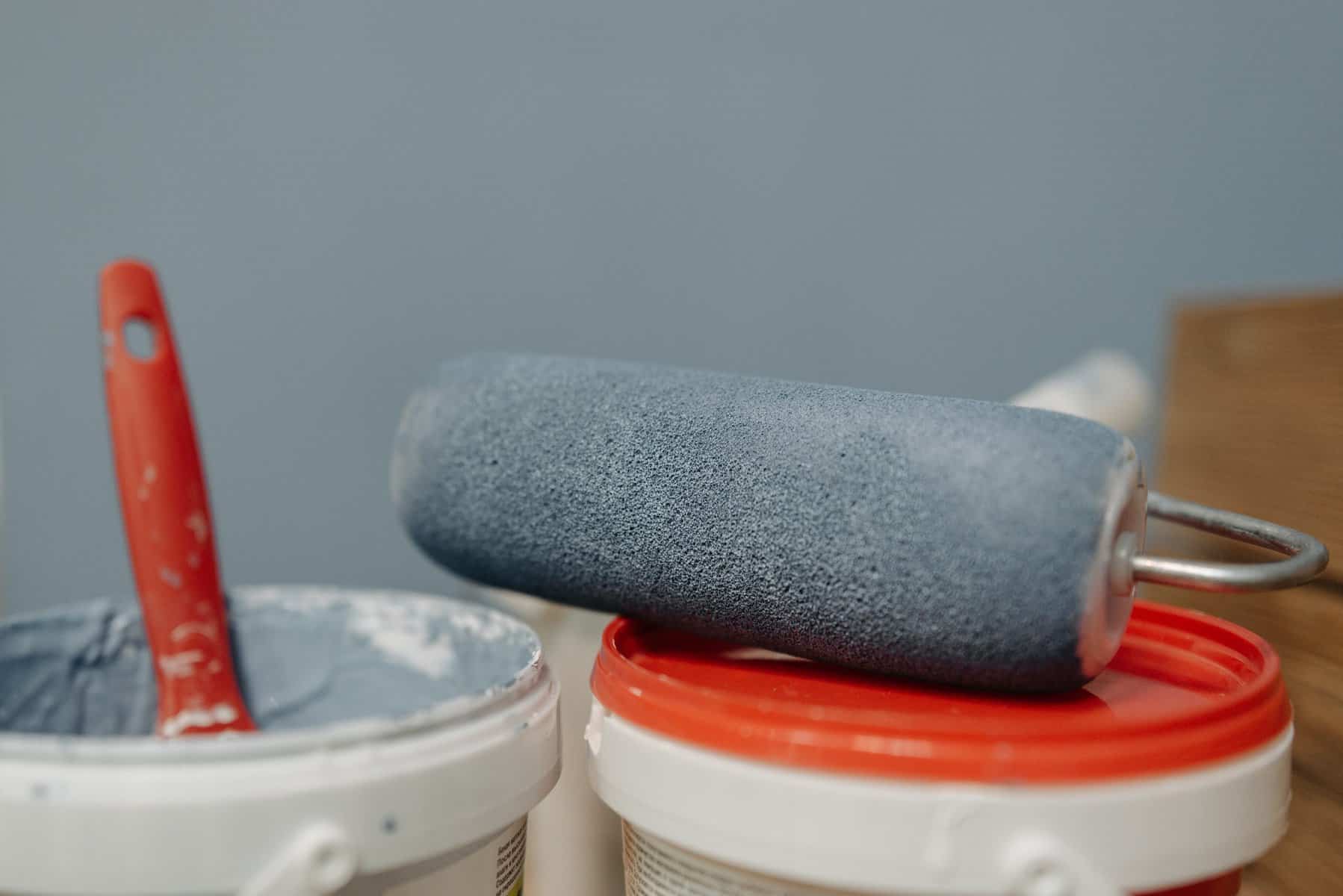 With the risks and benefits in mind, it's time to introduce our suggestions of safe paints.
Most of these suggestions have multiple qualities, including natural ingredients, zero VOC and non-toxic certifications. Even though you're already set to find the best and safest baby furniture paint – there's just so much variety! Let's point you in the right direction.
1 • ECOS Paints is a popular option for parents looking for a safe way to spruce up their home with fresh and inviting colors. ECOS Paints provides a non-toxic, eco-friendly, water-based solutions that are completely zero VOC and have no harmful chemicals.
Not only are they safe for your baby – but for your pets, too.
ECOS Paints offers safe paint for a crib or any kind of furniture, but it's not only safety where it excels at; this brush and roller paint provides highest quality and coverage.
Additionally, ECOS Paints has invented Lullaby Paints, a baby-safe formula with zero VOC, specifically manufactured for nurseries, children's bedrooms and play areas.
2 • BioShield offers an impressive range of natural paints, stains and finishes.
For parents who are looking for non-toxic paint for cribs, the eco-friendly ingredients included in BioShield products guarantee safety for the entire household. In addition to that, this water-based, solvent-free paint provides a rich and authentic color palette.
With BioShield, finding just the right shade for your baby's crib is a piece of cake.
Specifically, you may want to look into BioShield Clay Paint, which is capable of enlivening any kind of environment while meeting and exceeding safety standards.
3 • Sherwin-Williams Harmony is another excellent and safe paint for a crib. In fact, it's designed specifically with a zero VOC formula. It focuses on maximizing safety while providing impressive coverage, durability, and a wide range of colors to choose from.
Everything you need all in one place. Sherwin-Williams Harmony is water-based, which means that it's quick to dry. As a result, it won't take you long to spruce up that crib.
The formula is able to resist and protect against mold and mildew growth, which adds to its overall efficiency. A perfect choice for parents who are looking to brush or roller paint a crib, Sherwin-Williams Harmony meets safety regulations and leaves no room for doubt.
4 • Real Milk Paint offers a variety of powdered, non-toxic paints that are safe for your home. Whether you want a matte, velvet or chalky finish, Real Milk Paint provides an abundance of finishes that are sure to meet your aesthetics and bring the room together.
Made from 100% natural ingredients, such as clay, milk protein, lime, and earth pigments, Real Milk Paint is completely free from toxic chemicals. The ingredients used are entirely biodegradable, which makes it an excellent option for environmentally-minded parents.
Real Milk Paint is one of the best eco-friendly, zero-waste options on the market. Overall, if you're looking for non-toxic paint for cribs that don't compromise on quality, Real Milk Paint is the way to go. From bright to subtle tones, it leaves no shade of color unexplored.
5 • Benjamin Moore Eco Spec takes the cake in terms of paint quality.
Of course, the paint in question has all the features of a perfectly eco-friendly product, which makes it ideal for parents trying to find a safe paint for a crib. With zero VOCs and zero toxic emissions, Benjamin Moore Eco Spec is an excellent choice for any household.
Besides the eco-friendly package, Benjamin Moore Eco Spec is recognized in the industry for its durability and protection. The formula even protects against mold and mildew, too.1
Benjamin Moore Eco Spec encompasses an impressive variety of colors and finishes. No matter the aesthetic that you're going for, you're certain to find it here. From vibrant to pale shades, from modern to timeless decors – Benjamin Moore Eco Spec provides.
6 • Miss Mustard Seed's Paint is a popular milk paint option that offers products safe for its customers. Miss Mustard Seed's Paint is an ideal choice for environmentally friendly parents that prioritize their baby's safety while contributing towards a healthier planet.
Made from all-natural ingredients, this non-toxic paint for cribs is entirely free from toxic chemicals and VOCs. Recognized for its versatility and the uniqueness of color and finishing, Miss Mustard Seed's Paint is perfect for parents looking for an antique decor.
Easily applied with a brush or a roller, painting your crib is going to be a piece of cake. As a parent, time is precious. Therefore, ease of use is extremely important when choosing a safe paint for a crib. With the right choice, painting a crib becomes a very simple task.
Although Miss Mustard Seed's Paint offers an impressive selection of shades and colors, it shines with soft pastels, bold colors and earthly neutrals that have a richness to them.
7 • Earth Safe Finishes is a brand fully focused on eco-friendly products. The zero VOC formula is perfect for parents that want their furniture paint done in a toxic-free way.
Earth Safe Finishes offers water-based solutions that contain no harmful chemicals, which makes it ideal when it comes to non-toxic paint for cribs. The all-natural ingredients, which include clay, chalk and other pigments, provide a completely eco-friendly solution.
Focused on renewable materials, Earth Safe Finishes is committed to sustainability.
If you take pride in being environmentally conscious, or if you just want to contribute to the well-being of the planet as well as guarantee your baby's safety, then Earth Safe Finishes are an ideal choice for you. These safe paints will make your furniture sparkle.
The Painting Stage: Tips & Tricks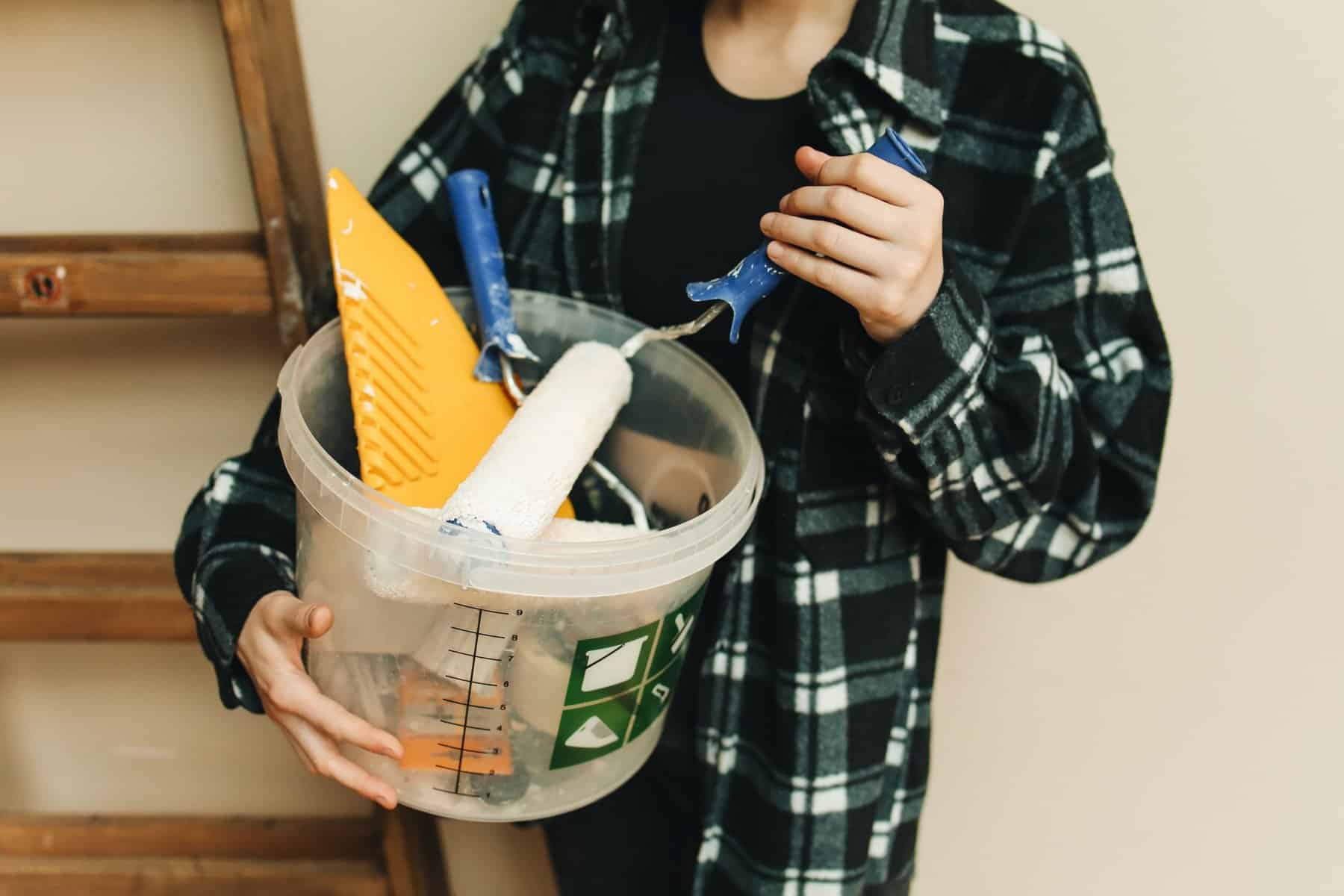 Maybe you've already had a crib. Maybe you've spent ages thinking about your baby's sleeping solution, looking into alternatives, but now you've finally decided on a crib.
The only thing is – the crib needs some paintwork, some sprucing up.
By following our guidelines and entertaining our suggestions above, you can find the perfect non-toxic paint for your DIY project. But, what then? You still have to paint the thing, and if you've never done paintwork before, it may at first seem intimidating.
However, painting a crib is easy, especially when you know that you're using safe paint.
Here's a few tips and general guidelines to get you started:
• Before you start, double-check that you have purchased a baby safe, low VOC or zero VOC solution based on water or milk. Make sure that it includes no harmful chemicals.
• Next, start by preparing the crib. Before you even think about applying any brush or roller paint, you have to clean the crib. Clean it thoroughly in order to remove dust and dirt. If there's any rough or uneven spots, sand the surface and remove the residue.
To note: while it's not necessary, you can disassemble the crib before getting started.
• When the surface is well dusted and sanded, proceed by priming the crib. The primer, however, has to be compatible with the paint you have chosen, safe for baby furniture. Apply a coat of primer in order to help the paint better stick and adhere to the surface.
• After the primer comes the paint. With a high quality brush or roller, apply the paint in a thin layer. Make sure to apply it evenly. Don't use too much paint at once. Instead, go for several coats of paint as opposed to a single thick coat which causes the paint to drip.
Remember to follow the instructions that came with the product.
• After applying the paint in as many layers as the instructions say, let it dry. Be patient and wait for the recommended time before moving the crib back to your baby's room.
• In case you have disassembled the crib, reassemble it, and you're done!
What About Spray Paint?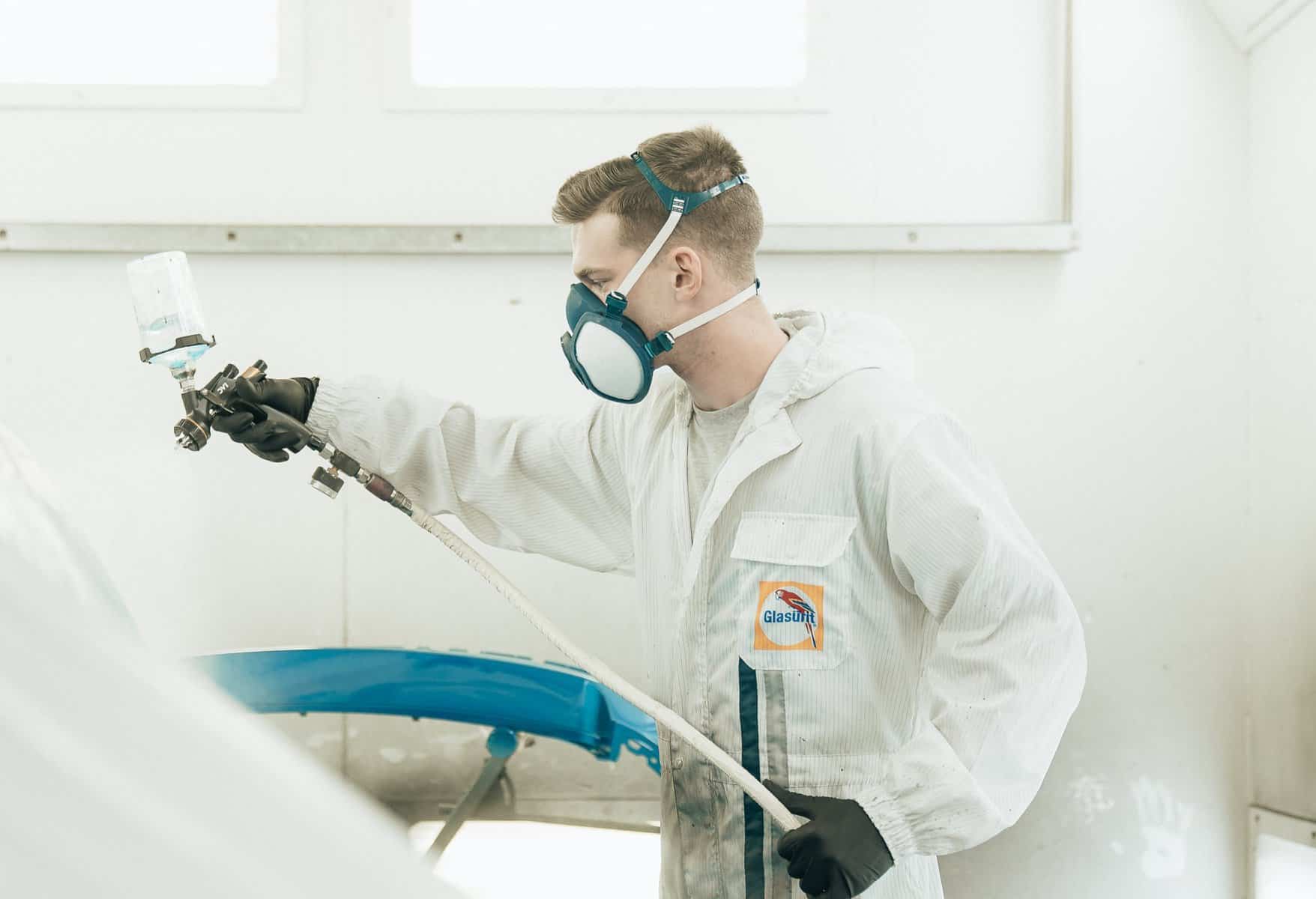 Do you have a spray paint gun at home or in your garage?
Thinking about putting it to good use? Well, you may want to reconsider.
When it comes to painting baby and nursery furniture, using a spray paint gun may not be the best option. In fact, there's no spray paint that's zero or low VOC. Therefore, while using a spray paint gun to paint a crib is easy, it releases harmful chemicals into the air.
Painting nursery furniture with a spray gun, therefore, is not the best idea.
Not only does it harm your baby – it harms you, as well.
Bearing in mind that there are no safe paints for the spray paint gun method as of now, painting with a non-toxic paint for cribs with a good old fashioned brush is the way to go.
While there are technically some benefits to spray paint, the risks far outweigh the benefits. Yes, you can spray paint faster than with a brush, but you have to leave your home and wear protective gear. Not to mention that a spray paint gun is expensive.
Other than that, a spray paint gun is made to work with conventional paint, which, as discussed thoroughly in this article, has many disadvantages as opposed to using baby safe water, milk or even chalk paint. As always, make sure to prioritize the safety of your baby.
All things considered, don't take chances. Go for non-toxic paints and use a brush.
In Conclusion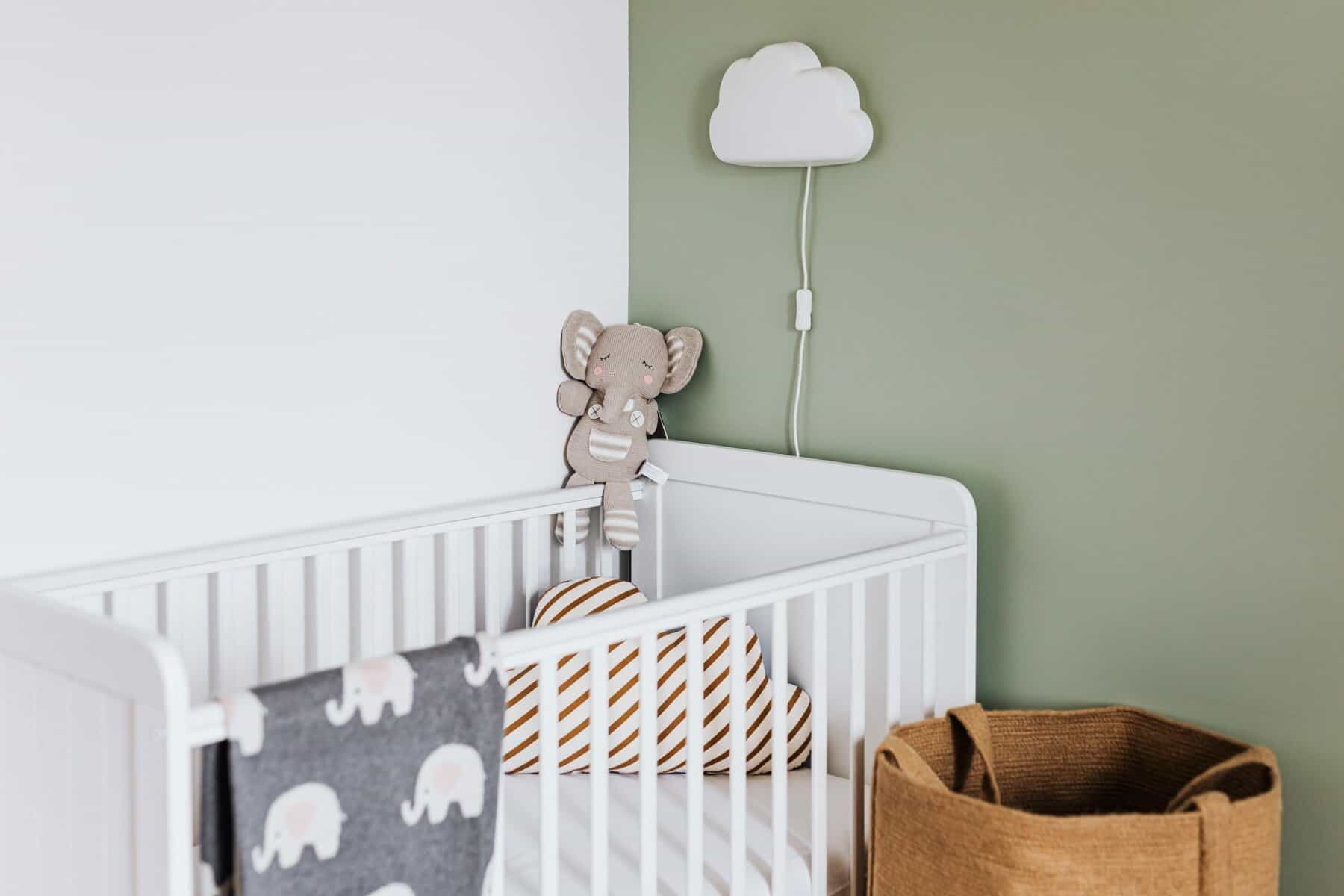 Non-toxic furniture paint has a certain degree of variety, but regardless of your choice – be it water paint, milk paint or chalk paint – the key takeaway is that they are baby safe for use to paint cribs or nursery furniture because they are either low VOC or zero VOC.
There are subtle differences, however. Chalk paint, for example, although water-based and safe for baby cribs, takes four to six weeks for the paint and wax to completely cure.
To provide a baby safe environment for your child, you have to learn how to differentiate different types of paint. However, above all else, you have to steer clear from paints that emit harmful particles and chemicals. These types of paints are conventional paints.
Water-based paints, such as chalk paint or milk paint are excellent alternatives.
With a little bit of research and the information provided above, you can find and use low VOC or zero VOC paints that are free from harmful chemicals and safe for your baby.
If you're having trouble finding the best baby safe option, consider the suggestions we provided. They range from water-based solutions to milk paint, but they're all safe for use inside your home, which helps take away the worry of painting baby and nursery furniture.
Bear in mind that painting your baby's nursery – or any kind of items, really – is a deeply rewarding DIY project in and of itself. Especially when you take away the risks by making sure to use the best non-toxic paints for cribs, you get to enjoy the process stress-free.
So, find the best and safest paint, and get to it. Breathe a little life into that crib with new and fresh color. Remember to use an old fashioned brush, because spray paint is a big no.
Don't forget to have fun along the way. Do the best you can to create not only a safe and happy place for your baby, but to add another sustainable element to your cozy home.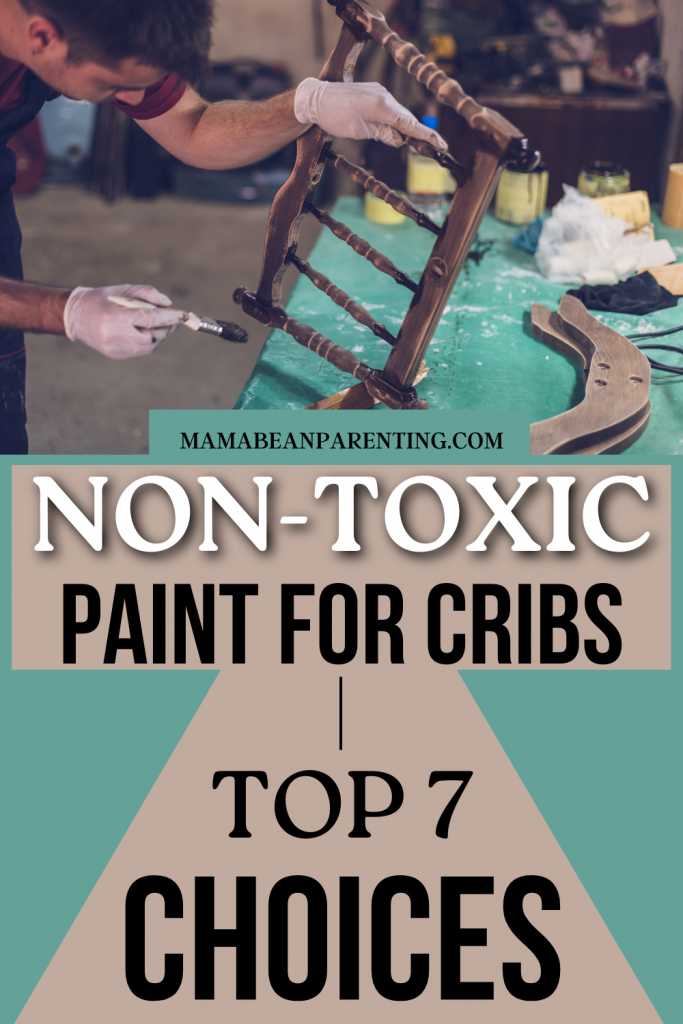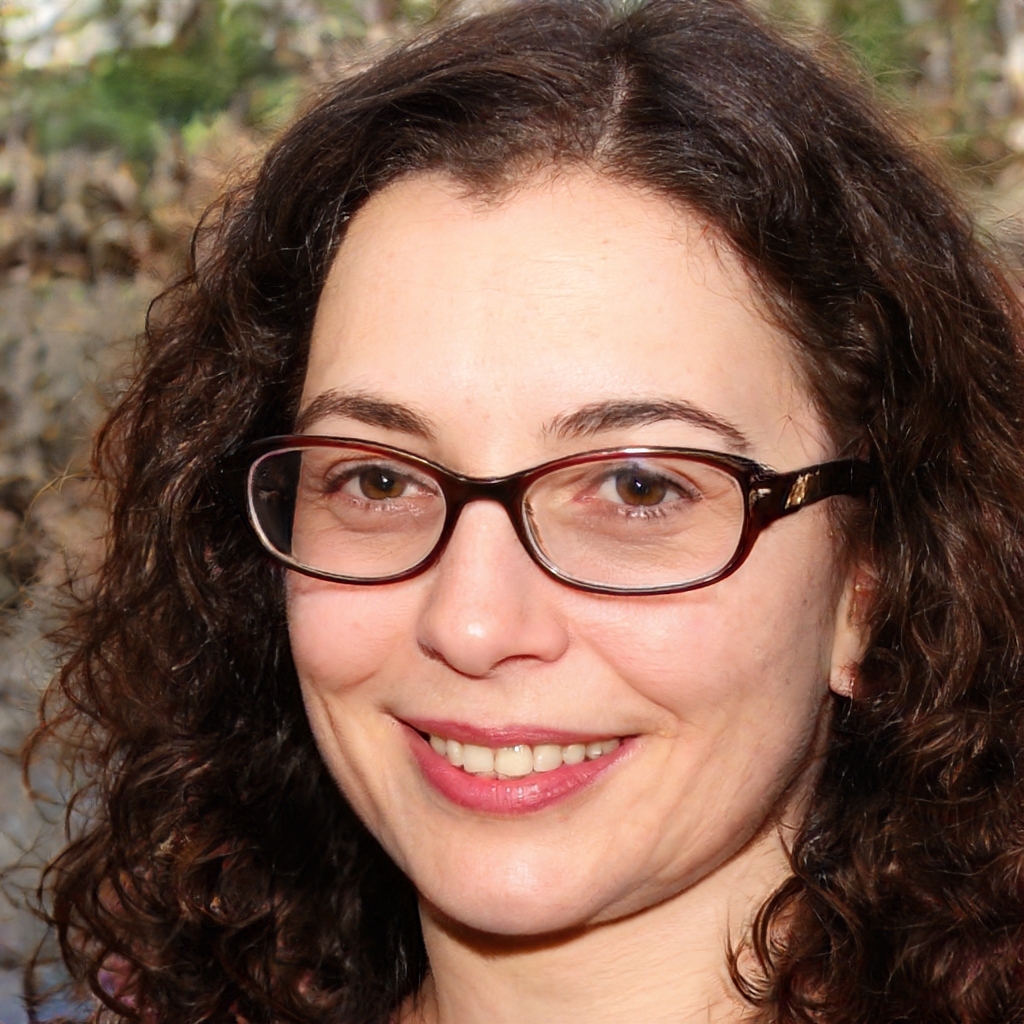 Mother of three and a primary school teacher. I've always loved being around children and helping them, so I chose my path as a teacher. It is sometimes hectic with three children, but I am 100 percent into it and wouldn't change it for anything in the world.