Summer's on the horizon and there's no better way to celebrate the arrival of a new baby than in the warmth and the sunshine. Starting early gives you enough time to plan and organize a fun and refreshing event, especially with our summer baby shower ideas.
We had to stay indoors during winter, but summertime is all about taking advantage of the warm weather and the beautiful scenery. Most of our carefully selected ideas involve an outdoor baby shower. Still, we'll sprinkle in a few indoor themes and activities, too.
Planning a baby shower in summer opens up many possibilities.
From various locations, engaging activities to unique themes and decorations, there's an unfathomable amount of possibilities that can make your baby shower really stand out.
We're here to help you plan a truly memorable event.
Before we dive into the details and start exploring summer baby shower ideas, let's take a look at all the benefits that summertime provides, things that you should keep in mind.
Making the Most Out of Warm Weather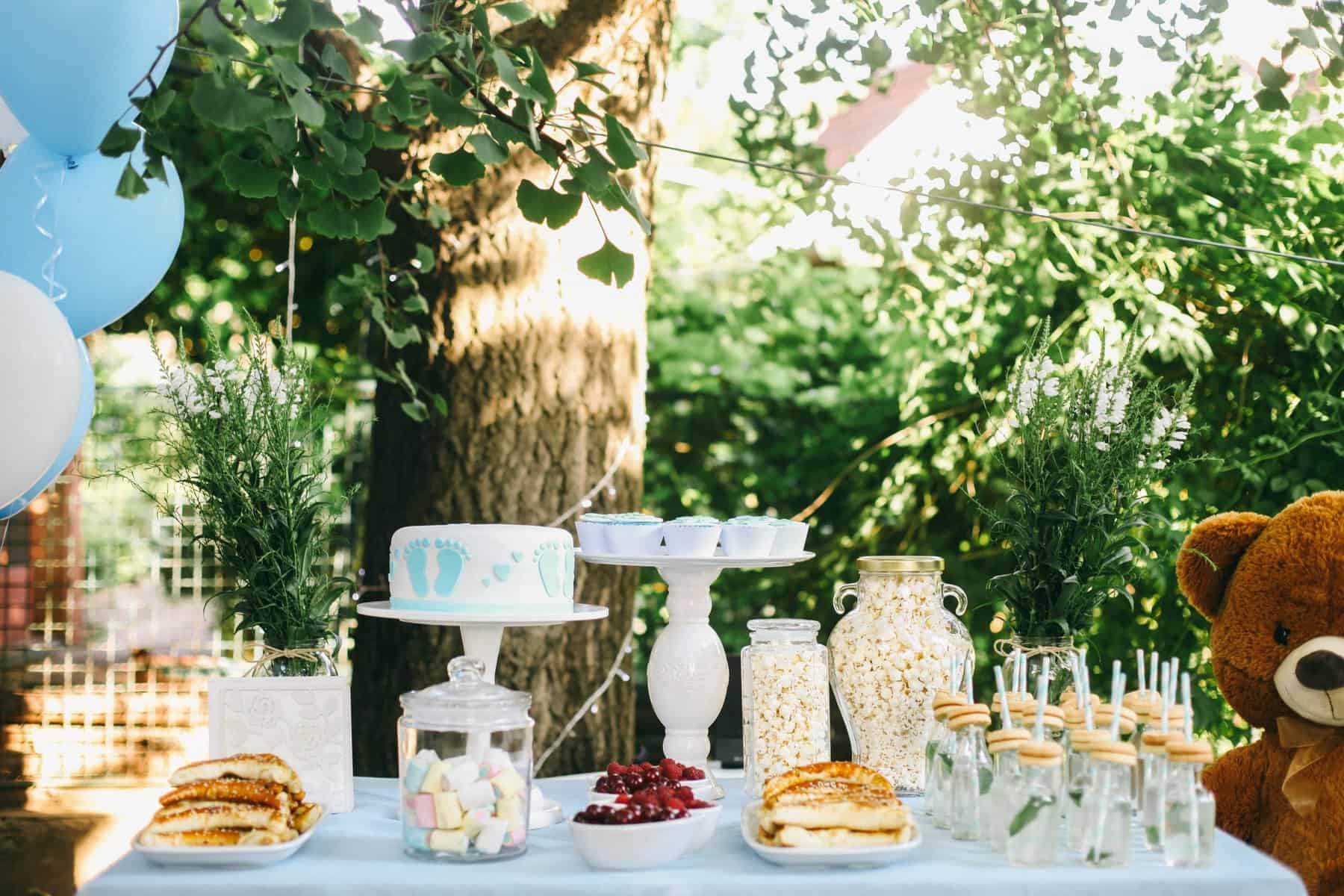 Being able to host an outdoor baby shower under the sun is a real privilege. In contrast to traditional indoor gatherings, an outdoor party makes for a truly unique baby shower.
With so much to consider, where do you even start?
Here's a little breakdown to ease the organization process:
1. Summer is all about the sun and the warmth, but sometimes the weather just isn't on your side. Since most baby showers are planned months in advance, we advise being clear with the guests about the date. Make the date flexible in case of rain or poor weather.
2. Summertime is perfect for relaxation. A lot of our summer baby shower themes focus on relaxation and leisure. Take full advantage of the day by planning laidback activities.
3. When hosting an outdoor baby shower, location is key. Consider the area you live in. Consider the countryside and what it has to offer. During summer, everything is buzzing with activity, so you will have no shortage of options when it comes to the location.
4. Another thing to keep in mind is the actual space. The outdoors offer a lot of space for you to get creative with games and entertainment. Make sure to plan for unique activities that make the most out of the space that nature provides. Water games sound fun, right?
5. Planning an outdoor baby shower is actually cost-effective. Some spaces can even be completely rent-free. That allows you to break your budget elsewhere. For example, you can focus on cashing out on a creative baby shower theme or on better food and drinks.
6. While we're on the topic of food and drinks, summer is the ideal time to get creative with refreshing beverages. From watermelons, lemonades to cold and colorful cocktails, there's a great variety of delicious food and iced drinks that can compliment your theme.
7. And what about the theme? Well, that's the most fun part. Summer provides a myriad of options. With our selection of summer baby shower ideas, from beaches to picnics to camping, there's not a doubt in the world that you will find the perfect baby shower theme.
All things considered, you're already making headway towards hosting a memorable event by keeping these things in mind and making it all click together. What's left is for us to help you spark your creativity or to reinforce the ideas already bubbling inside you.
Only the Best Summer Baby Shower Ideas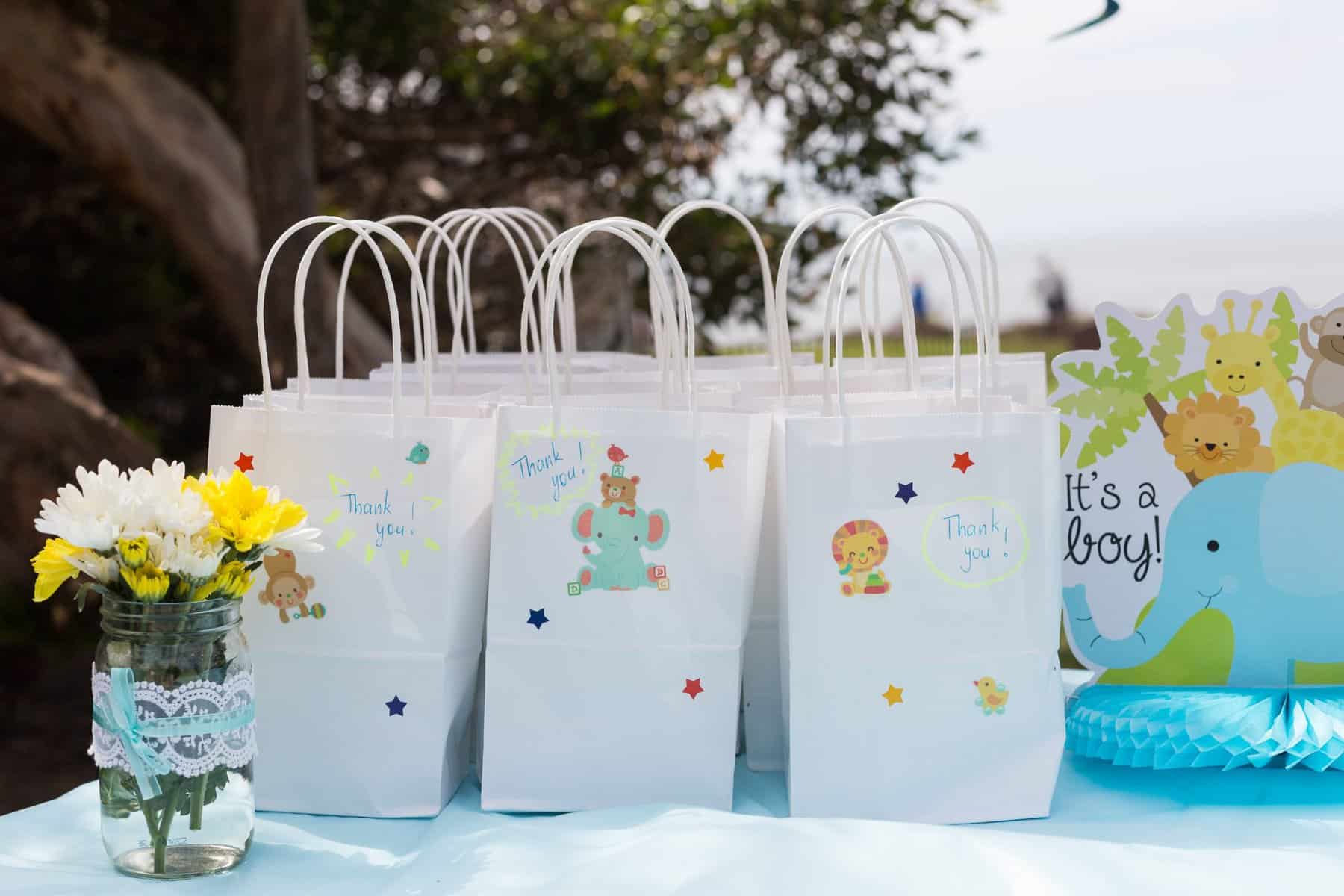 Our ideas incorporate not only the location and the theme, but the food and drinks that would complement it, suitable decorations and theme-appropriate activities for the guests to enjoy. It all has to be cohesive. Each and every aspect has to work together fluidly.
Any baby shower theme can be great if executed properly. So, it's more about what the mother-to-be would prefer and your own personal taste and opinion as a party planner.
All of these summer baby shower ideas make for a truly memorable event, but it's important that you consider the pros and cons before you make up your mind.
Without further ado, let's jump right in.
1. Among Butterflies: A Garden Party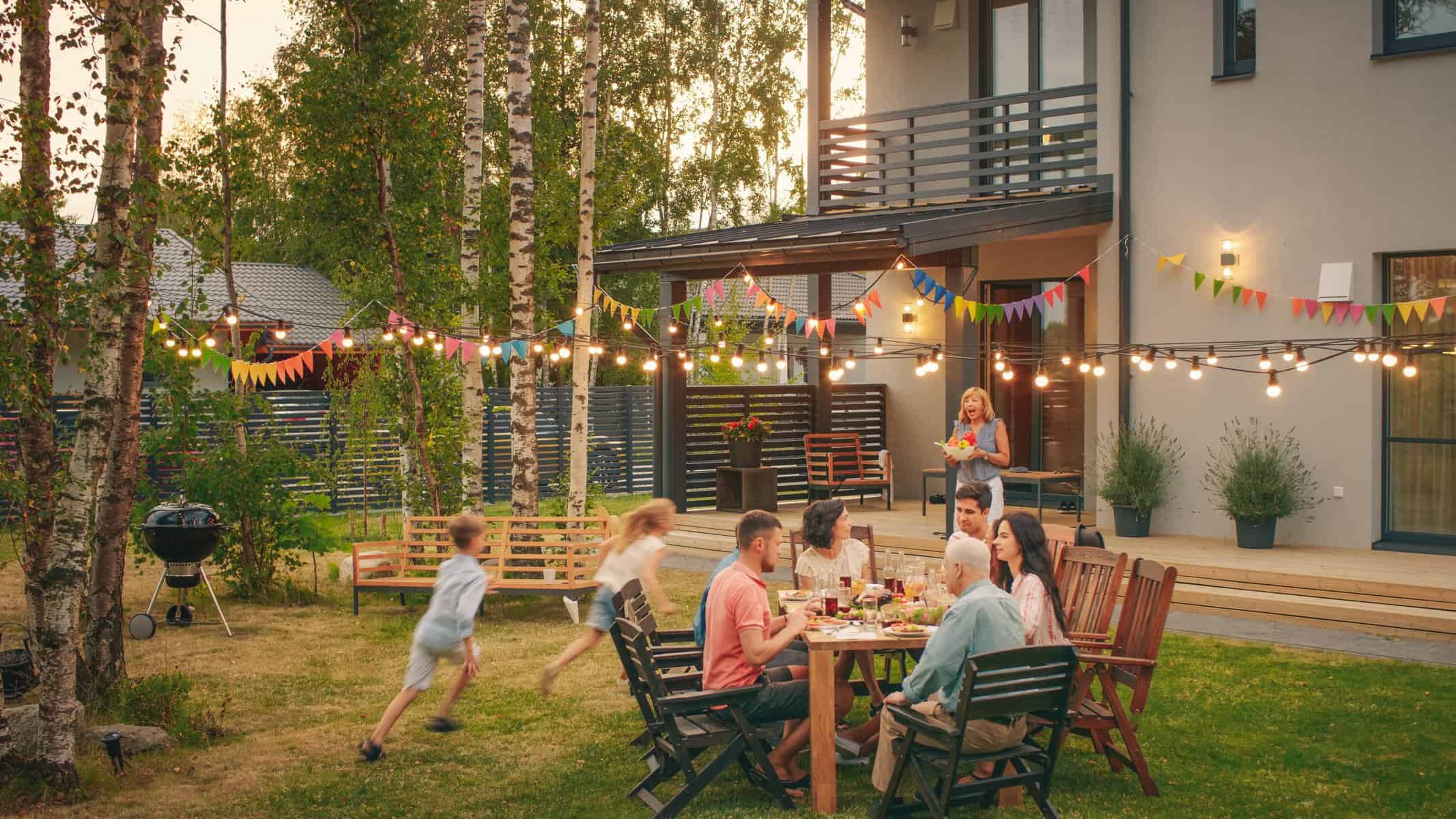 Food & drinks: Summer-inspired dishes, grilled vegetables skewers, caprese skewers, seasonal fruit platters, cheese, watermelon and feta salads, lemonade, iced tea, beer and wine, sparkling water with fresh fruit, sangria, colorful cocktails, ice cream and fruit cake.
Decorations: Lots of flowers, string lights, candles, lanterns, wooden furniture, outdoor rugs and cushions, personalized baby signs and banners, garden statues and sculptures.
Activities: Wine tasting, cornhole, horseshoes, outdoor painting and water games.
Let's start with a baby shower theme that is serene, calming, laidback, a theme that wonderfully stimulates your senses and brings you closer to nature – a garden party.
In case of a garden party, it's all about decorations. You want to make sure that the guests feel cozy in the lush greenery, among bushes and colorful flowers. Natural decorations go a long way towards contributing to the peaceful atmosphere that a garden provides.
Finding the ideal garden for the celebration is your first task. With the theme already sorted, it all comes down to decorating. You want to include a variety of lush and colorful flowers to make the space pop. Wooden chairs and benches add to the overall aesthetic.
Play with lighting. When the sun sets, you want your garden to be lit up properly with string lights and lanterns. Lighting gives a magical touch to the setting and sets the mood for a truly special event. Keep the light a warm yellow glow. Don't turn it into a disco.
What about activities? Wine tasting is a great activity for a relaxing garden party, but the mother-to-be won't be able to participate. So, it's best to check with her before including this activity. You want to make sure that everyone is comfortable, especially the mother.
Other than that, you can include a great variety of outdoor games such as cornhole, horseshoes and water games for the kids (and grown-ups, if they're feeling like it) to enjoy. Some card games can also be perfect to pass the time under the warm sun.
For a garden party, the food and drinks vary. You have a lot of freedom in terms of the menu. We advise going for seasonal fruit platters with a lot of cheese. For drinks, you can go for wine, but don't forget to include refreshing cocktails and chilled beverages.
Take the event to the next level by decorating a corner of the garden for photoshoots. Additionally, if you have money to spare, consider hiring a musician for the baby shower, such as a harpist, to elevate the mood and add a touch of elegance with live music.
2. Sandy and Sweet: A Beach Party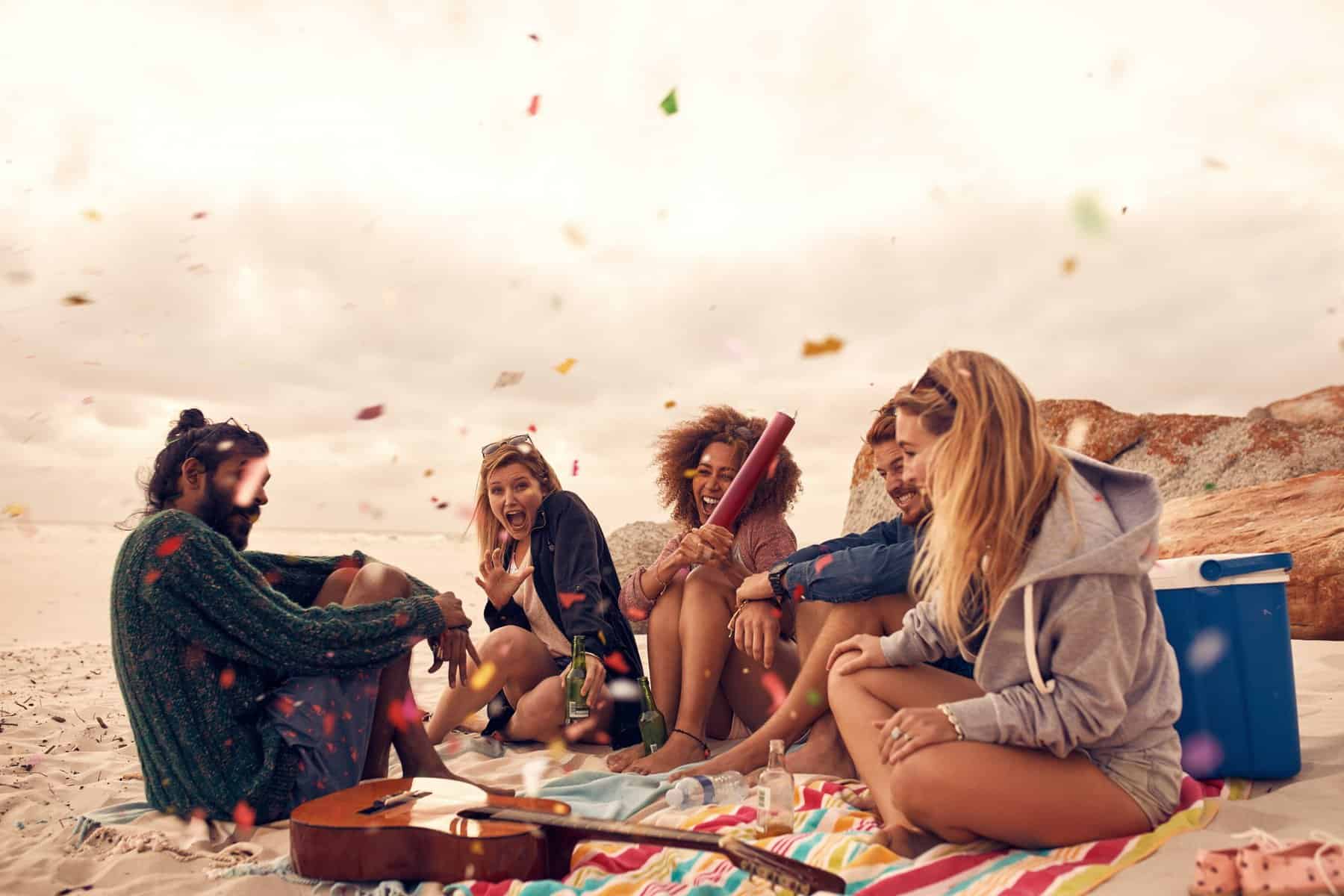 Food & drinks: Seafood platters with shrimps, lobsters and oysters, sandwiches, fresh fruit platters with watermelon and pineapple, cold beer, margaritas, Pina coladas, coconut water or milk, ice cream, popsicles, lemonade, snacks and cold water for hydration.
Decorations: Seashells and starfish, colorful balloons, towels, blankets, sand sculptures, beach-themed decorations such as surfboards, personalized banners, wooden signs, umbrellas and parasols, stylish chairs, string lights, lanterns, candles or tiki torches.
Activities: Playing with a beachball, volleyball, scavenger hunt, photography sessions, water games, kite flying, a cruise, sandcastle building contest and barbecues.
If the beach is just a short drive away, then it's definitely going to be one of the best summer baby shower ideas for you. With a baby on the way, a little getaway party at the beach is going to make for a perfect casual event that includes all sorts of activities.
Digging your toes into the sand, enjoying the sun and going for a swim – all of these things combine to make for a truly memorable party. Still, there's a whole world of possibilities that you can add to make your beach party stand out in a positive way.
As far as decorations are concerned, the theme writes itself. At the beach, you already have all the elements you need. Of course, you can get a little bit creative by organizing a pirate-themed event, for example, but a beach is still a perfect theme in and of itself.
White and blue decorations will make your party pop. Don't forget string lights, lanterns and maybe even tiki torches to keep the baby shower going well after the sun has set.
What about activities? While the mother-to-be is advised to relax, you can still host a few sports games such as volleyball or passing a beach ball around in the sand or the water. If you want to go the extra mile, you can organize a scavenger hunt for your guests to enjoy.
Summer-inspired food and drinks are perfect for a beach party. Seafood, for example, makes for a perfect addition. Keep it light by adding sandwiches and fruit platters. To help keep the guests cool and refreshed, include icy beverages and loads of ice cream.
Just like a garden party, every outdoor baby shower event is improved with the addition of live music. In this case, we advise going for something more summery. If you've got the budget, hire a DJ. At last, don't forget to create a backdrop for photoshoot sessions.
Essentially, a beach baby shower theme combines fun and relaxation. For parents and guests that have gathered to celebrate the arrival of a new baby, the beach provides a relaxing setting that stimulates conversation and encourages engaging activities.
3. Forest Retreat: A Cabin in the Woods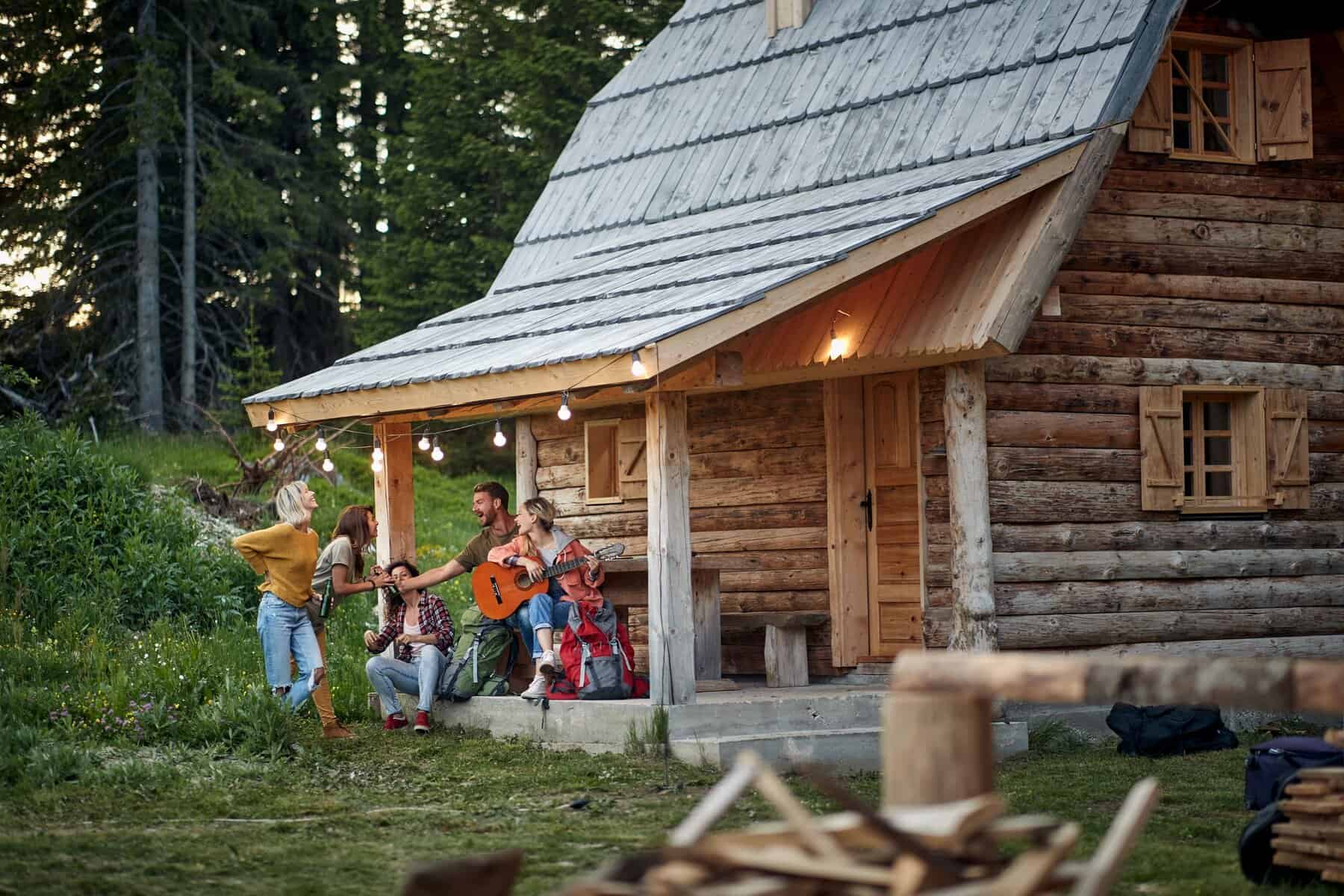 Food & drinks: A barbeque with grilled burgers and hot dogs, barbecue ribs with various sauces, sandwiches, meat dishes, marshmallows, fresh fruit platters, craft beer, warm and comfortable drinks such as hot cocoa or cider, lemonade, sweet foods and popcorn.
Decorations: Rustic decor such as pinecones, twigs and leaves, fabrics in natural colors, string lights, lanterns and mason jars, personalized wooden signs, camping gear, a fire pit or a fireplace, animal horns, deer-shaped decorations and nature-inspired centerpieces.
Activities: Nature walks, hiking, fishing, camping, outdoor games, campfire storytelling, an outdoor movie night, scavenger hunt, beer tasting, board games and poker.
We said we would include a few summer baby shower ideas that can be held indoors. Here's the first one. A cabin in the forest allows for a mixture of indoor and outdoor planning, which makes it a practical choice that meets the needs of all your guests.
The difficulty lies in combining these two settings in a non-intrusive way. Ideally, the cabin you rent should have a big porch, tall doors and maybe floor-to-ceiling windows so as to merge the interior with the exterior. That way you get the best of both worlds.
The best part about choosing a cabin as your baby shower theme is the serenity of it all, the natural surroundings, the forest, the sounds, the intimate and cozy atmosphere.
As far as decorations go, focus on creating a rustic ambience by incorporating woodsy decorations such as pinecones and twigs. If the budget allows it, a brief trip to the antique shop will net you a few interesting items that fit the rustic baby shower theme quite well.
Use natural colors and don't go for anything flashy. Embrace the natural aesthetic. In regards to lighting, warm and cozy yellow lights and a fireplace make all the difference.
There's a great variety of games and activities that you can plan due to the space at your disposal. However, what makes a cabin great is its location. So, organize a nature walk or a not-too-physically-demanding hike through the forest, and maybe a scavenger hunt.
If there's a lake or a river close by, consider fishing. Also, if you want to go the extra mile, you can incorporate a camping trip or just camping somewhere near the cabin after dark.
Then, you can set up a fireplace, enjoy marshmallows and share spooky stories.
With this baby shower theme you want to introduce food and drinks that fit the general mood. From burgers to hot dogs, a barbeque is a perfect option for a relaxing cabin party.
4. Grapes and Vines: A Trip to the Vineyard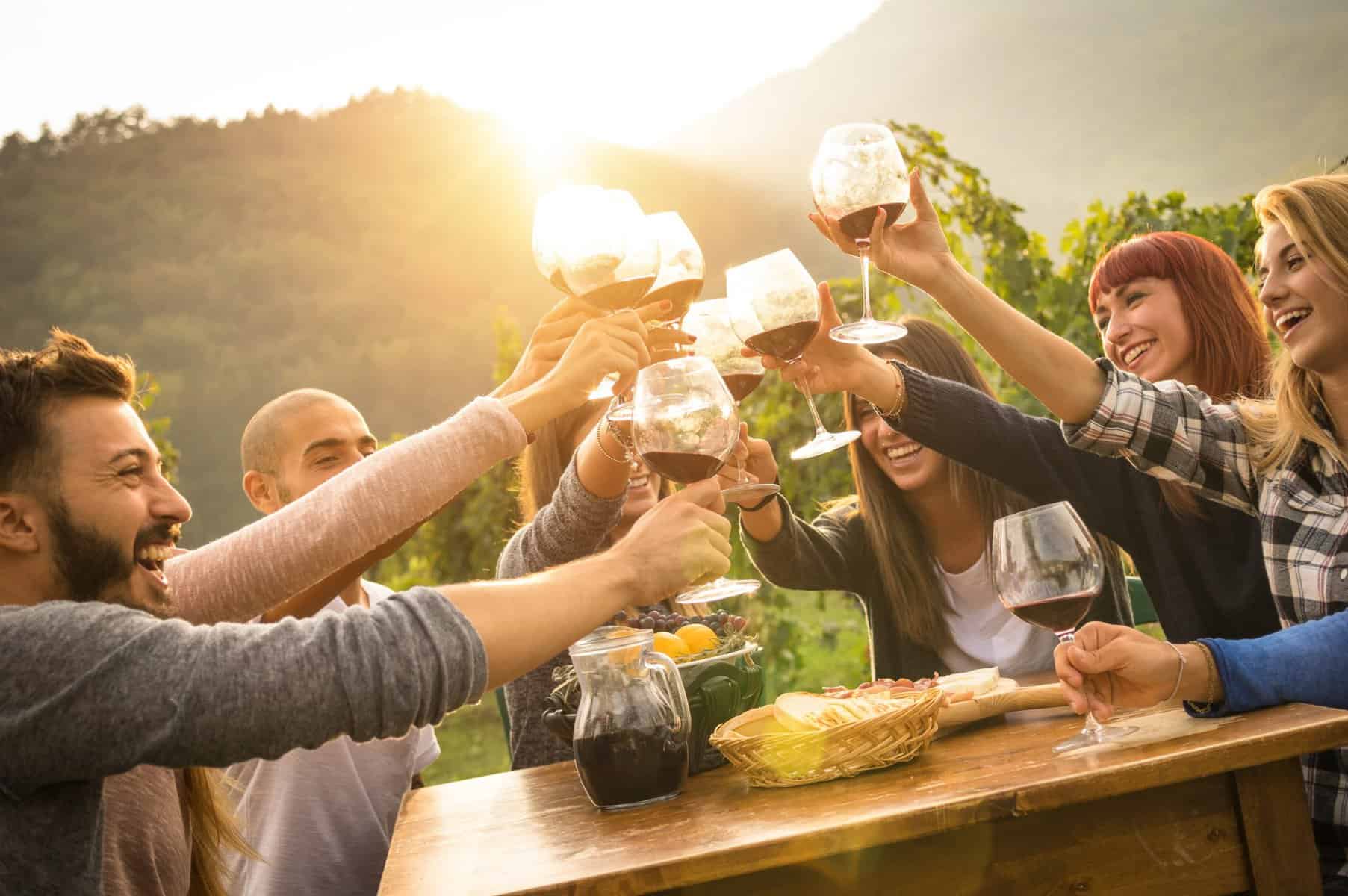 Food & drinks: Cheese platers in impressive variety, good old-fashioned pizza, mini quiches, charcuterie boards with cured meats, a selection of local wines, red and white, cocktails such as sangria or wine mojitos, grapes, non-alcoholic drinks and lots of bread.
Decorations: Wine barrels and bottles, grapevines as a natural decor, candles and candleholders, rustic wooden chairs, benches and tables, and fancy wine glassware.
Activities: Wine tasting, a vineyard tour, wine-making and photography sessions.
A tropical and unusual destination for a baby shower, a day at the vineyard during summer is loads of fun. Although it's an out of the ordinary baby shower theme, that's what makes it all the more special, all the more unique and all the more memorable.
The parents are especially going to love it, because out of all the summer baby shower ideas, the vineyard is surely the most romantic. Surrounded by nature and grape-bearing vines, the relaxing ambience rekindles romance and simply oozes art, poetry and love.
The baby shower theme requires no explanation. It's a vineyard. You want to include decorations such as grapevines, old wine bottles and wine barrels. If you have any, use empty wine bottles to place colorful flowers inside them and use them as centerpieces.
Keep the decor aligned with the theme by using appropriate colors. At the vineyard, you want to incorporate reds, purples, greens and a few golden highlights, as well. Also, if your budget allows it, hire musicians to play live music, preferably a music quartet.
The vineyard makes for a fun baby shower location, but before you start planning, check with the mother-to-be. Since she won't be able to participate in the wine tasting, you want to ensure that the idea sounds good to her before you start making any arrangements.
What about the food and the drinks? Well, it goes without saying that you're going to have a lot of wine on offer – and in great variety, too. But, what else? You have to provide some non-alcoholic drinks, too, a few cold refreshments and ice to help against the heat.
When it comes to the food, wine and cheese are a match made in heaven. So, include cheese platters in impressive variety. Tomato-based dishes go well with wine, but good old-fashioned pizza is a great option, too. Don't forget about fresh fruits and vegetables.
As opposed to previous suggestions, a vineyard doesn't offer many different activities, but that which it offers is perfectly sufficient. From wine-making to tours, nature walks and wine tasting, there's enough variety to keep things fun and exciting for all your guests.
5. Summer Fun: A Pool Party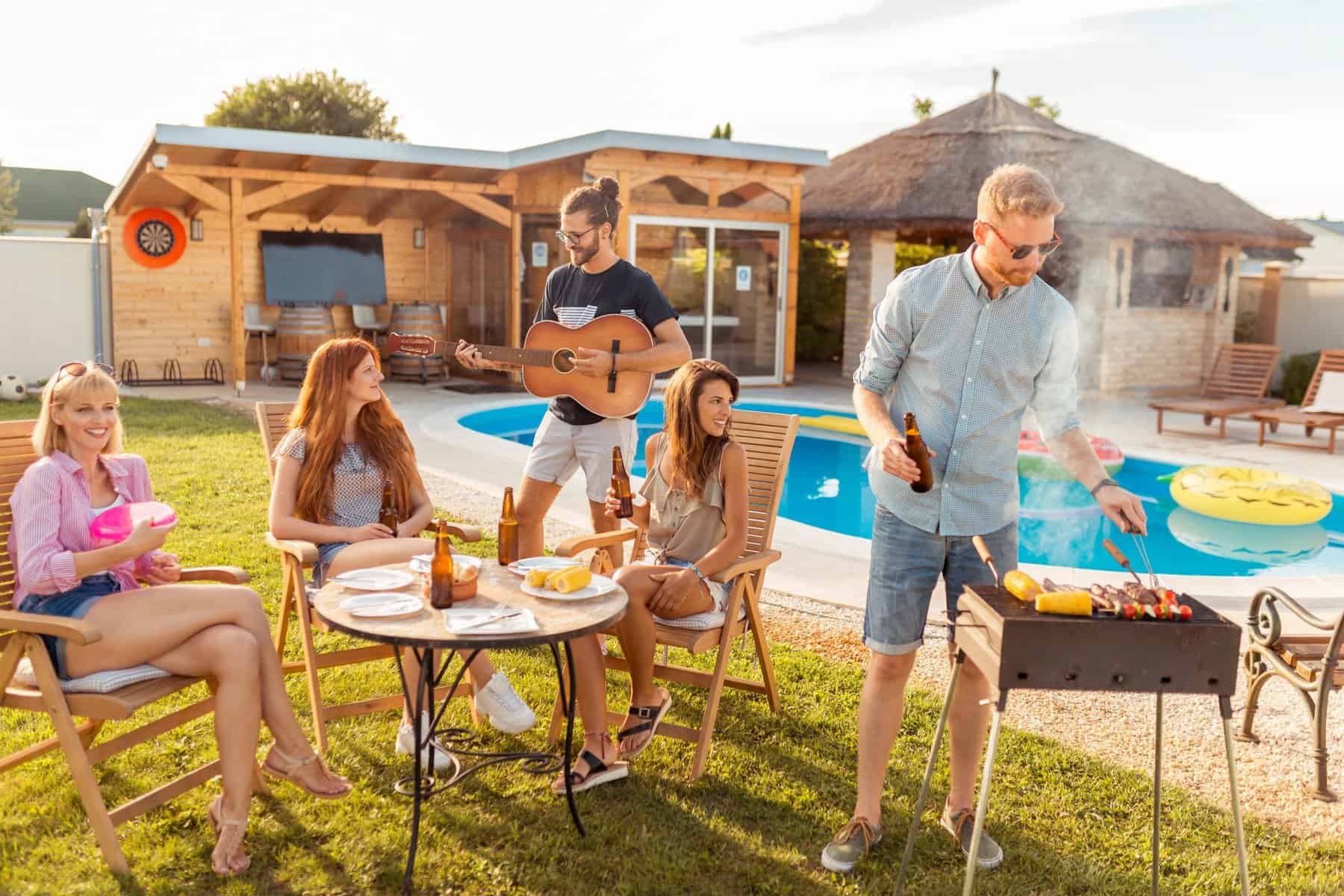 Food & drinks: Variety of fresh fruit skewers, shrimp bites, cold salads, watermelon salads, grilled foods such as burgers and hot dogs, lemonade, iced tea, cold beers, ice creams and popsicles, and summer cocktails such as mojitos and margaritas.
Decorations: Colorful umbrellas and chairs, pool games, inflatable toys such as beach balls and floats, balloons, string lights and lanterns, carved watermelons, flamingo and palm decorations and even inflatable letters that spell the name of the baby.
Activities: Water volleyball, pool basketball, cocktail mixing, dancing and swimming.
Much like the beach, a pool is an equally amazing location to host a baby shower. Your guests get to enjoy the sunshine, the occasional swim and splash in the water with all the benefits of a more private setting, as opposed to the beach, which is open to the public.
Only the best and the most fun summer baby shower ideas include water activities. It's summer, after all, and everyone wants to stay cool and dive into a pool of water. This refreshing baby shower theme combines relaxation and fun in a truly memorable way.
A pool gives you a lot of freedom in regards to themes. We advise going for something tropical and pool-inspired. Use bold and flashy colors, such as blues, greens and yellows. Go wild with decorations. A pool is all about fun, so there's no reason to hold back.
Take full advantage of the pool by organizing games such as water volleyball. Consider hosting tournaments. As an alternative to volleyball, you can include pool basketball. You can even incorporate a diving tournament with the mother-to-be as the main judge.
Although you will want to include refreshing fruits and salads, ice cream and cold desserts, you also want to get a poolside barbeque going for all the guests to enjoy.
A pool party needs music. So, make sure that someone prepares a summer mix.
Much like the other summer baby shower themes, a pool party allows for creative interpretation. If you have something fabulous in mind, don't be afraid to take a risk. From Hawaii-inspired themes to popular nautical kid's movies, you have a lot of options.
More Ideas for a Summer Baby Shower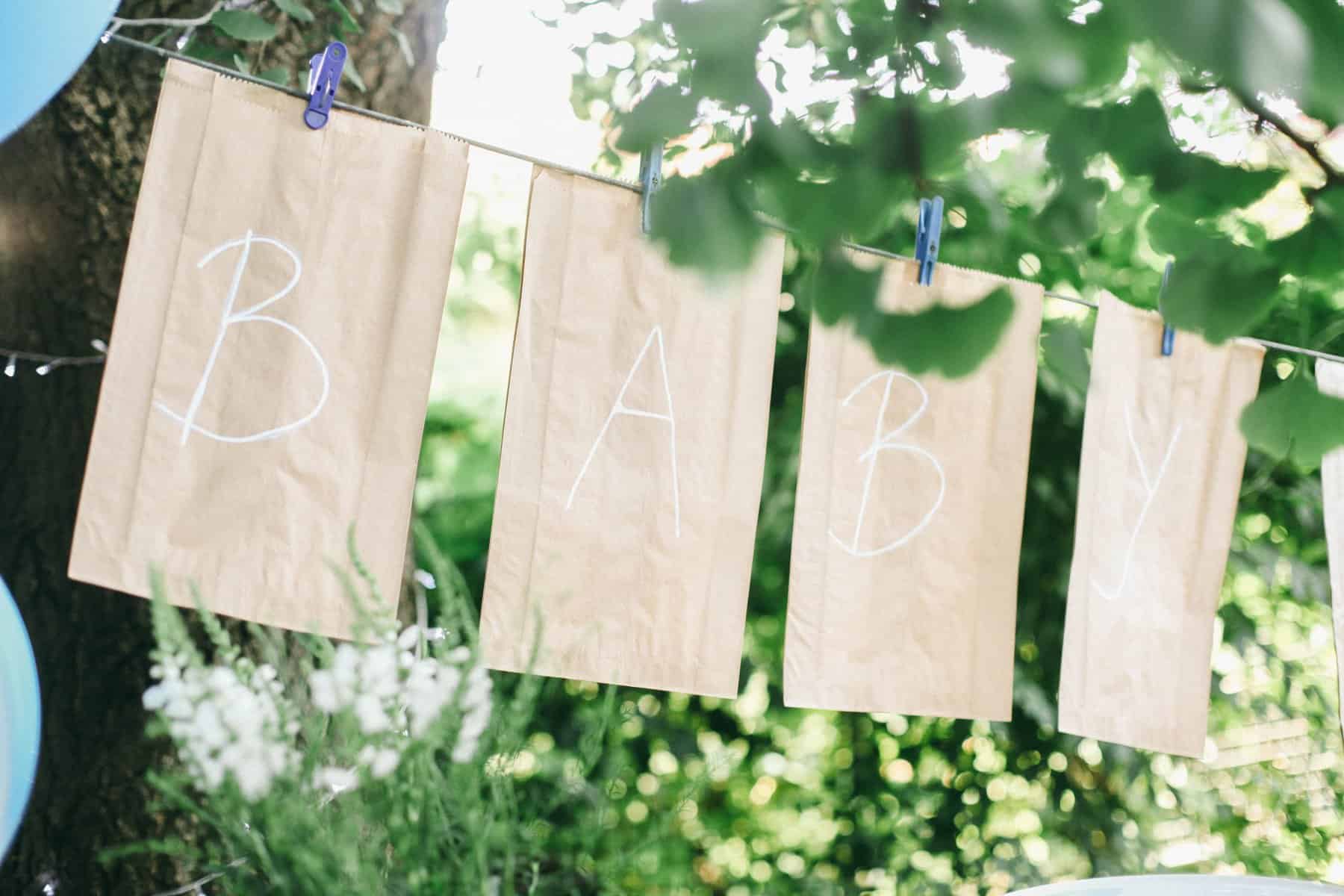 Although the previous five summer baby shower ideas are our top choices, that doesn't mean that there aren't a myriad of other baby shower themes worth mentioning. In fact, we're going to explore them right now so as to provide a fully comprehensive guide.
Some summer baby shower themes work better than others, but as long as you take advantage of the warm weather and pleasant environment, you can use a little bit of creativity and hard work and take these what baby shower themes to the next level.
After all, there's no be-all and end-all reason why these summer baby shower ideas haven't made our top list. You can still use them to make a truly memorable event.
In no particular order, here's a breakdown of additional baby shower themes:
1. Celebrate the arrival of a new baby with a picnic.
After all, the best baby showers during summer are held under the sun, and a picnic is a fun and cost-effective idea. Make sure to pick a sunny day and pack plenty of blankets.
Throwing a picnic baby shower can take place in various locations, even your backyard. From local parks to forests, basically any outdoor spot in nature will do just fine. All you have to do is decide upon a location and start planning your themes and decorations.
The best part about organizing a picnic party as your baby shower is the fact that you can include a variety of games and activities. With so much space at your disposal, don't hesitate to include something a bit more creative in order to make your party stand out.
2. How about a baby shower at an open terrace restaurant?
An open terrace combines all the benefits of an interior with an exterior space to celebrate the arrival of a new baby with a beautiful view. Restaurants that provide space for baby showers will take care of all your needs when it comes to food and drinks.
So, you won't have a lot of things to balance and keep in check. Naturally, you can coordinate with the staff as to what kind of decorations and baby theme you want.
3. Plan a baby shower at a farmhouse.
Some summer baby shower themes strike us as unusual at first, but once we jump into details, we discover a lot of room to create something truly unique and memorable. A farmhouse is one of those locations that may at first undeservingly go unnoticed.
The rustic countryside helps you reconnect with nature and celebrate the mother-to-be and her growing baby in a relaxing and calming environment. Bonus points if the farm has a ranch nearby for the guests to observe, interact and even ride horses, if they choose to.
As far baby shower themes go, there's a lot of room for interpretation and creativity in the countryside, and you get all the space you need at a farmhouse for both indoor and outdoor activities. Guests can enjoy the sunshine, but retreat inside if it gets too hot.
During summer, there's a lot of benefits to planning a baby shower at a farmhouse, but you have to keep the distance in mind. Make sure that the farm is accessible to all your guests.
4. A baby shower inside a tent.
A tent sounds like it can fit three to four guests, but we're talking about spacious tents specifically designed for events – preferably located in nature. Tents add that certain degree of privacy and make it easy for guests to go indoors and outdoors as they see fit.
A baby shower inside a tent allows for complete and total freedom when it comes to themes. So, let your imagination run wild. Keep in mind that you have to search for already established tent venues, since you're not going to buy a tent of this magnitude.
During summer, a tent is a great option for hosting baby showers, providing shade from the sunshine, allowing for a great variety of games and activities, and not to mention that you can go for any theme and decorations that you see fit as you plan this exciting event.
5. A nature retreat to a lakeside cabin.
Although we've covered cabins in our top five summer baby shower ideas, a lakeside cabin differs in many ways because it provides access to the lake and many various activities, such as fishing and boat rides. That alone makes this idea worth considering.
It's nice to get away from the city, especially during summer when you can take full advantage of the weather. A lakeside cabin is a unique and beautiful baby shower location that allows for many interesting activities which are certain to entertain your guests.
Every mother-to-be needs some time to unwind, and who doesn't love a nature getaway? Get creative with food and drinks and don't be timid when it comes to the decor. Use the rustic ambience of the cabin as inspiration and you can make this baby shower special.
6. A baby shower on a boat.
While a baby shower on a boat sounds fun, it can get queasy for some guests. In that case, you want to make it short. Not to mention that a baby shower during summer on a boat is going to cost, especially if you want additional service such as food and drinks.
Still, if it's the mother's wish to celebrate the arrival of the baby by having a baby shower party on a boat or a yacht, then it's important that you tell her just how much it's going to cost. If you still get the green light, then you can really make this baby shower stand out.
Some baby shower ideas require less planning, but with a boat there's no room for mistakes. You need to consider the type of boat, the number of guests, the size, the space, the time, the decor, the accessibility and so much more to make this baby shower work.
Still, if you pull it off, it's going to make for a truly memorable baby shower.
7. An outdoor cinema baby shower.
Organizing an outdoor summer movie night takes a bit of time and investment. First of all, you will need a high quality projector and a big canvas if this is going to work. Those are the main things, but this is a baby shower party, after all, so you have more to plan.
You have to wait until the sun sets before you can even start. So, what until then? Well, consider the location of your baby shower. Write down a few ideas in regards to what activities you can do before you're ready to play the movie. Consider food and drinks.
What baby shower locations actually go well with an outdoor cinema? Well, the old classic rooftop baby shower party comes to mind. You can host it anywhere in nature, provided that you have enough space. You can even host it in someone's backyard.
8. Plan a baby shower at your local country club.
If you're looking for a sophisticated and elegant baby shower location, then a country club is the way to go. Country clubs vary, but the general themes make for interesting summer baby showers that provide a perfect blend of relaxation and entertainment.
First things first, you want to check what kind of facilities and activities the country club offers. Since they're all different, it's crucial that you do your research well so that you can plan games and activities for your summer baby shower, as well as food and drinks.
9. A baby shower in the mountains.
Just like the ideas behind the forest, the beach, the cabin – organizing a baby shower in the mountains offers a beautiful view to celebrate the arrival of the new baby. Ideally you want to include hiking, but keep in mind that not all guests may be physically able to hike.
As such, the very final location of the baby shower in the mountains should be accessible by car, as well. You don't want anyone straining themselves trying to get there. Still, the mountains provide a lot of activities, so you're certain to make this baby shower unique.
In Conclusion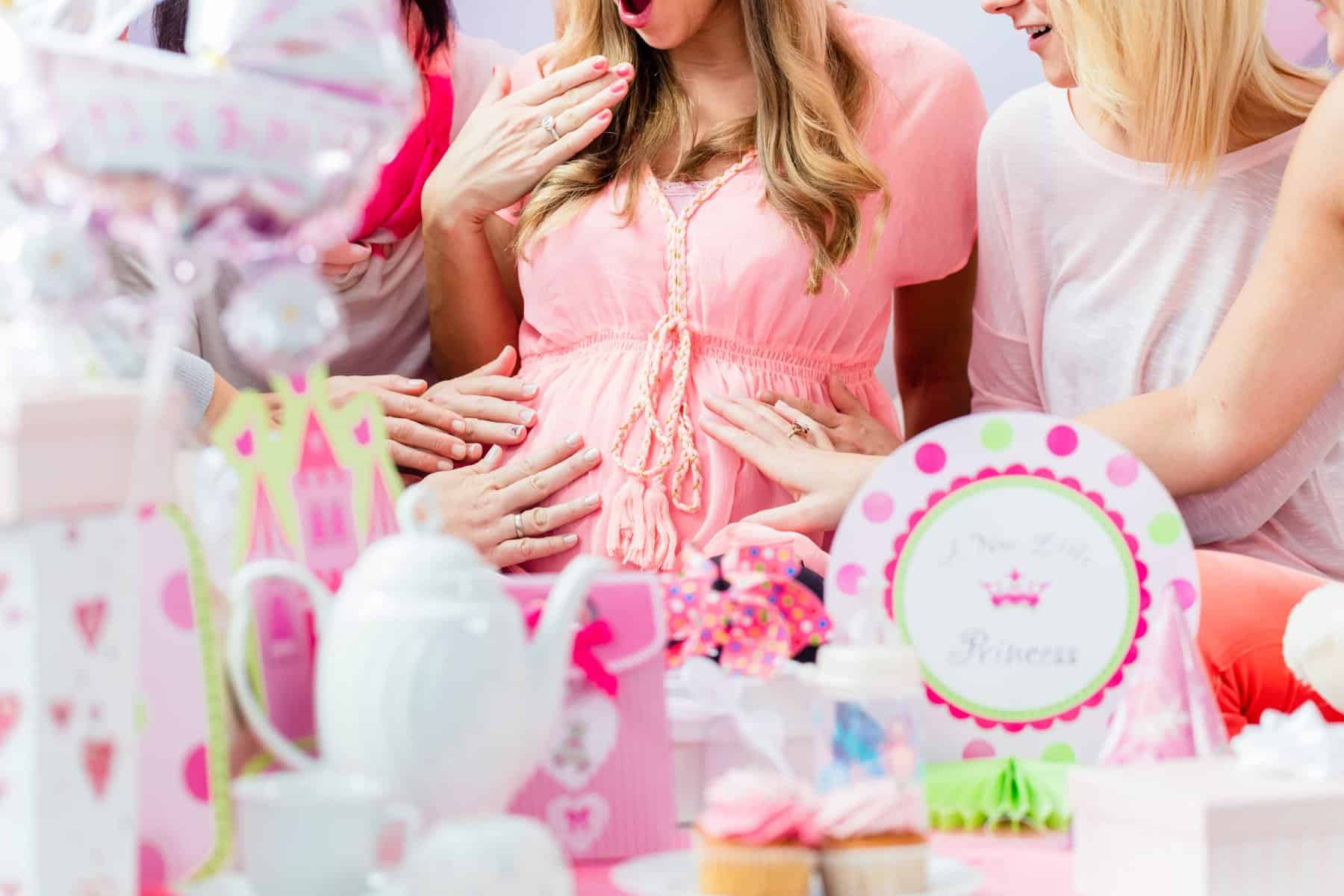 All things considered, summer baby shower themes and ideas come in great variety. As a party planner, you're going to enjoy every step of the process. Just make sure not to forget the mother-to-be. After all, it's her preferences and needs that you actually have to meet.
From garden baby shower parties to cabins in the woods to vineyards and pool parties, there's a lot of summer baby shower ideas and themes for you to explore. Whatever you decide, take full advantage of the weather and don't hesitate to get a little bit creative.
After all, it's creativity that allows you to take your baby shower to the next level and make it truly memorable for all your guests. Not to say that summer activities don't matter just as much, but it's that extra work and effort that makes a baby shower truly special.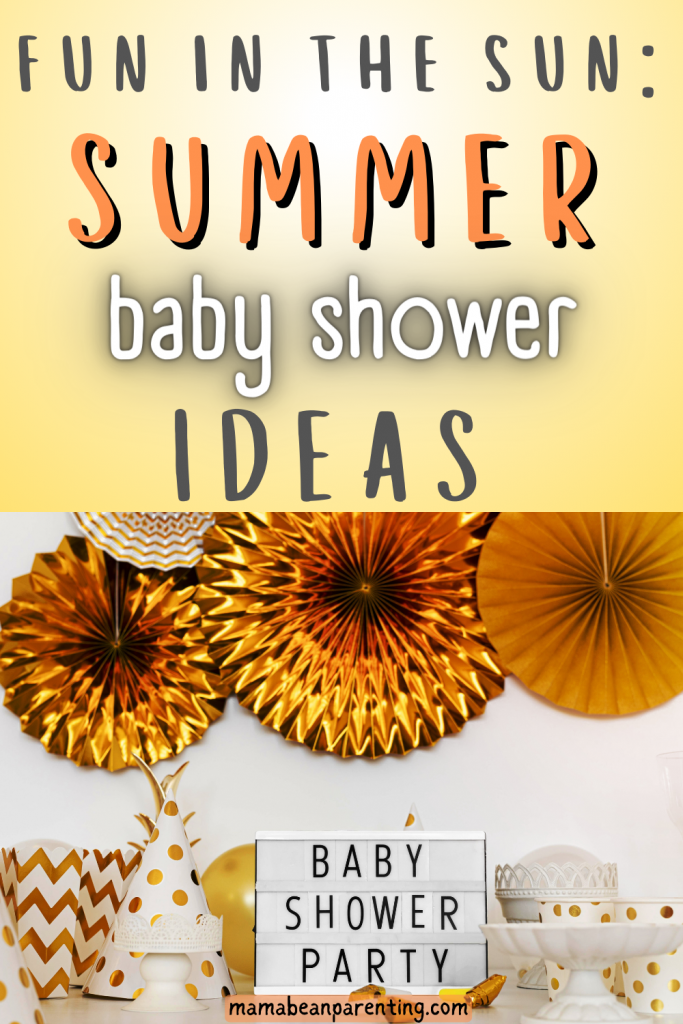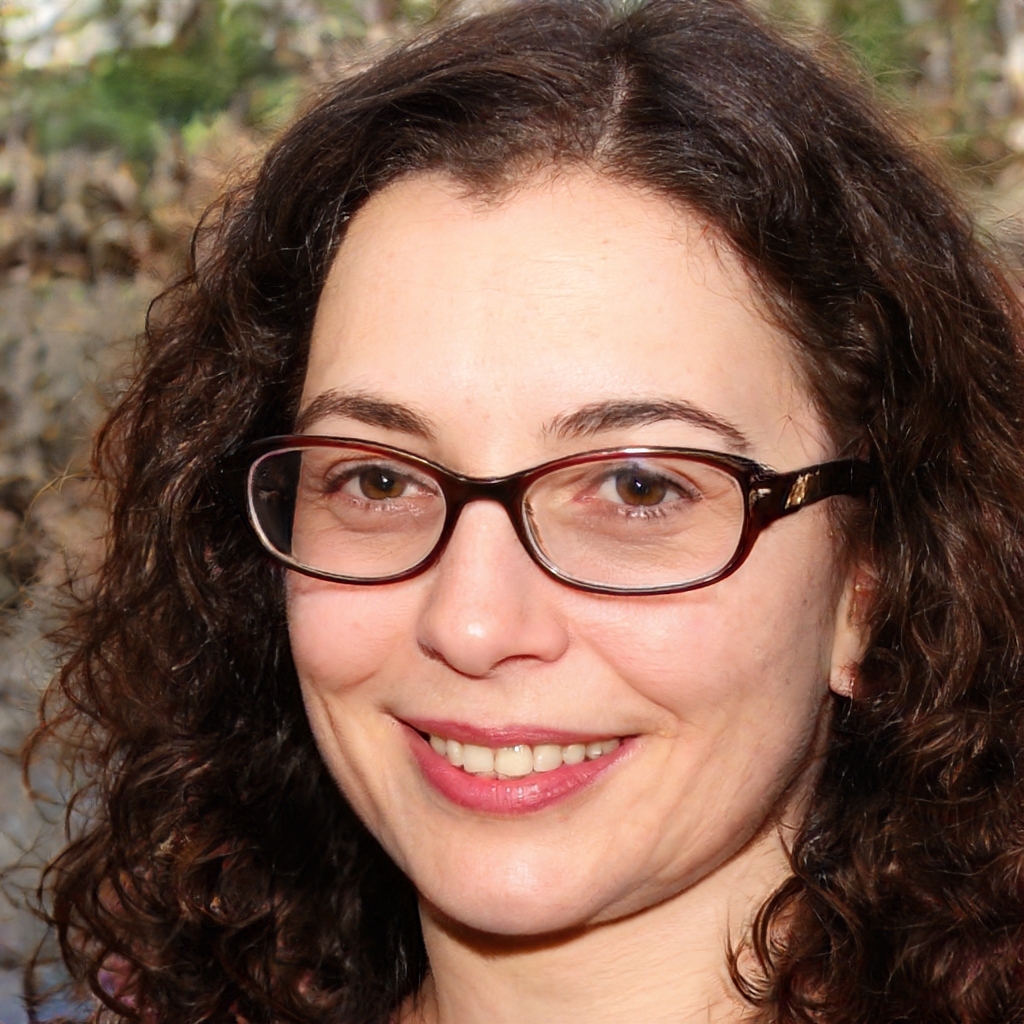 Mother of three and a primary school teacher. I've always loved being around children and helping them, so I chose my path as a teacher. It is sometimes hectic with three children, but I am 100 percent into it and wouldn't change it for anything in the world.